You would not believe the amount of "wow you must be rich!" comments I got from people back in the states when I told them about our RTW trip.
Well, I hate to disappoint people but Tony and I are anything but.
We have been able to afford this trip because we were diligent with our savings over the past couple of years and we have established a strict budget to follow when we are on the road. Some of our greatest expenses include flights, medical insurance, accommodations, and of course (this is me we are talking about afterall), food.
Early into our trip, we discovered that eating out three meals a day adds up quick. We also noticed that food seems to be  the easiest expense to control… and to get out of hand.
Sure, we love to occasionally splurge on a nice dinner out to sample the local global cuisines, but eating out every meal was taking its toll on our wallet and, quite frankly, it was getting a little boring.
We decided to spice things up and bust out our cooking skills in hostels and soon learned that the cheapest way to keep costs down in the food department is to cook meals as often as possible when on the road.
Most hostels abroad offer fully equipped kitchens for their guests, so why not take advantage of this? Trust me, your wallet (and waistline) will thank you.
A hostel kitchen that you are unfamiliar with might be intimidating and daunting, but with these 10 simple rules, you can turn any foreign kitchen into a Mecca for cheap, balanced meals while at a hostel.
10 Simple Rules for Cooking at Hostels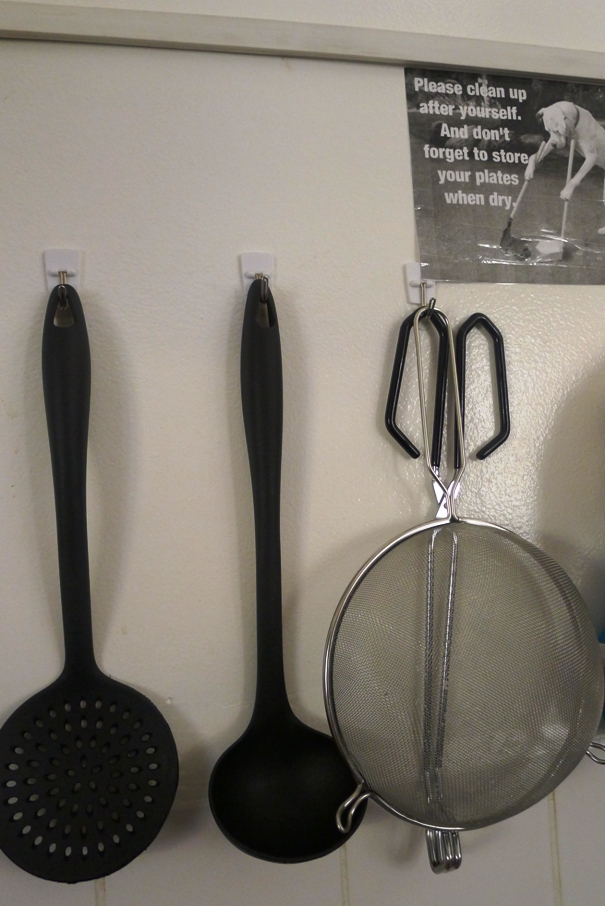 Inspect the Kitchen: When you first arrive at a hostel, see what kitchen utensils are available to use, how much space is available in the  fridge, etc.  The last thing you want is to come to a hostel with a full arm of groceries to make a gourmet pasta dish, only to discover there is no pasta pot to cook with – or room in the fridge to store your yummy leftovers. Epic fail.
Check For Shared Goodies: Also seek out what condiments are for shared use. Hostels often have communal olive oil, butter, and spices for guests to use, which is a huge perk and will save you from buying these at the store (and the hassle of packing them later when you move to your next destination).
Buy Local: When you grocery shop, try and sample the local markets for produce and meat.  They often have fresher ingredients for a fraction of the price you would find in supermarkets.
Think Small: Only buy groceries to last you for the next meal or two.  Don't be that guy in the hostel taking up the entire shared fridge with a week's worth of groceries.  Plus, doing it this way will allow you to shop for what you are particularly craving on a given day!
Balance Your Day: Remember that eating on the road is a balancing act for both your body and wallet. Has your complementary hostel breakfast been heavy on the breads and pastries?  Shop for some protein like chicken or fish for lunch. Had a big meal out for lunch?  Make a light, simple, and inexpensive meal in the hostel kitchen for dinner. You get the point.
Respect Time And Space: Cook meals that require little time to make with the fewest amount of kitchen utensils, such as pots and pans. There are other people that need to use the kitchen too, so you don't want to take an hour using three of the four stove-top burners to make your famous paella.
Keep It Simple: Going along with that, cook with the fewest amount of ingredients possible.  If you buy from local markets, your food is already incredibly fresh and doesn't need a whole lot of additions to make it delicious.  Keep it simple and you will save a ton of money – and time in the kitchen.
Cook During "Off Hours":  In South America, everyone in our hostel wanted to start cooking dinner around 9:00PM. If you're wise, you should be eating by 8:30… Unless you find pure enjoyment in duking it out in the kitchen with 20 other guests for the next available burner or waiting an hour plus for the kitchen frenzy to die down.
Be A Neat Freak: I hope you are already doing this at home, but clean up after yourself once you are done using the kitchen.  Your hostel friends coming in after you will greatly appreciate it.
Eat Balanced And Healthy Meals When You Can: Most importantly, when you have the opportunity to cook, eat balanced, healthy meals. When on the road, you often have to suck it up and eat whatever the airlines, bus companies, tour groups, and restaurants are feeding you. If you can eat a proper meal most of the time, then your body can handle the mystery meals every now and then. Remember, it's all about balance.
To inspire our fellow road warriors, Tony and I will post a new recipe each week. Starting this Saturday, you fill find some of our favorite meals that are quick, easy, balanced, and most importantly, cheap for our readers to utilize. 
We hope you will leverage these tips and recipes on your adventures (and even at home) and we hope you can share some of your favorites with LandingStanding as well… Stay tuned!
About Meg
Exhausted from traveling every week as a Business Management Consultant early in my career, I took a year off in 2012 to travel at my own pace. I am a high-energy girl that loves being active, eating food, drinking wine, and exploring the world with my partner-in-crime (and husband), Tony! I now reside in Portland, Oregon and continue to write about travel, food, wine, and the awesome adventures we have in the Pacific NW!