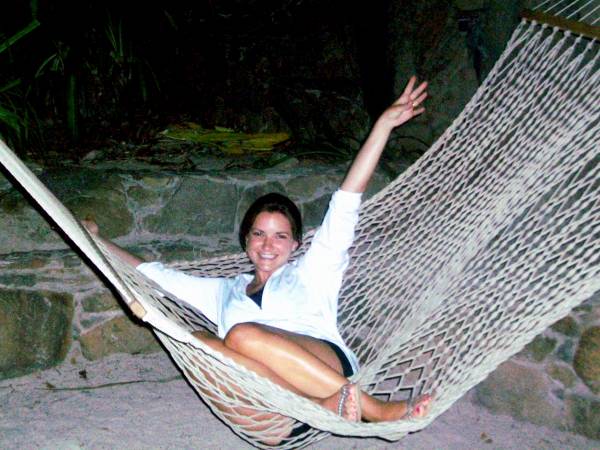 Since Tony recently told work about his plan to leave the company to travel the world, we have decided to introduce ourselves to the world.  Thank gosh for this because I have been dying to let loose since I told my company last December of my travel plans!  Tony recently posted 15 things about him and I figured I would share some tidbits about me as well.
As a travelling consultant for work, I am the female equivalent of George Clooney in Up in the Air. I get frequent upgrades at hotels and with my airline status I get upgrades to First Class about 90% of the time.  That 10% of the time in Coach is MISERABLE.  I have truly become a spoiled princess on the road… Next year is going to be a wake-up call to say the least!
I pretty much rock at any water sport under the sun… But put me on land and I have two left feet and ZERO hand-eye coordination!
Going along with #2, I took PADI scuba diving lessons at the tender age of 11 and got my scuba diving license at 12 in the British Virgin Islands.  Unfortunately, Tony doesn't scuba dive so I probably won't be able to do this all too much when we are travelling the world.
I turn into a grumpy toddler when I have gone more than 3 hours without food… Just ask Tony.
When it comes to food, I love everything and am willing to try ANYTHING.  I cannot wait to try all the great global cuisines next year!
Chocolate is my weakness… And my strength.
I am envious of all show hosts on the Travel Channel – Especially Anthony Bourdain!
I have a nasty scar on my shoulder that occasionally hurts/burns…I like to think it's my connection to Voldemort's feelings.  Oh yeah, and I love Harry Potter.
I am probably the only person today that does not own a Smart Phone… And I REFUSE to get one.  Time away from work and my computer is "me time" and being "plugged in" at all times doesn't appeal to me!
Talking animals on TV FREAK me out – Mister Ed, Night at the Museum, Beverly Hill Chihuahua, The Zookeeper, and other talking animal shows/movies are horror films in my mind!
My favorite travel destination is the Bitter End Yacht Club on Virgin Gorda in the British Virgin Islands.  I went there about 5 times as a kid and took Tony there for our Honeymoon – Magical.
Even though I live in Miami (which is the capital for clubbing in the U.S.), my perfect evening involves a relaxed dinner and a good bottle of wine (or top-notch beer!) shared amongst great friends at home.
My parents ran their own forestry company together in Upstate, NY for the past two decades.  From seeing their love for building a business together, I have always wanted to become an Entrepreneur myself and start-up my own company.  Luckily, I married a guy who shares this dream… and who will make an excellent business partner!
I have a deep fantasy of performing on a talent show like American Idol or So You Think You Can Dance.  Unfortunately, I have zero talents – except for my disgusting (yet impressive) ability to loudly burp the alphabet… Truth.
I married the greatest guy ever – And I am not ashamed to brag about it!
About Meg
Exhausted from traveling every week as a Business Management Consultant early in my career, I took a year off in 2012 to travel at my own pace. I am a high-energy girl that loves being active, eating food, drinking wine, and exploring the world with my partner-in-crime (and husband), Tony! I now reside in Portland, Oregon and continue to write about travel, food, wine, and the awesome adventures we have in the Pacific NW!