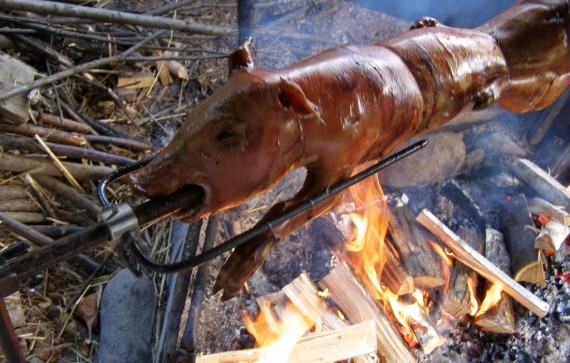 Literally meaning "I Love Porchetta," Porchettiamo celebrates everything I love about Italy: The food, the wine, and the many different ways Italians' have of celebrating both.
It's not just a celebration of any food, either.
But a celebration of Porchetta. A moist, savory, concoction of spice infused Pork kept together by the crispy skin of the pig.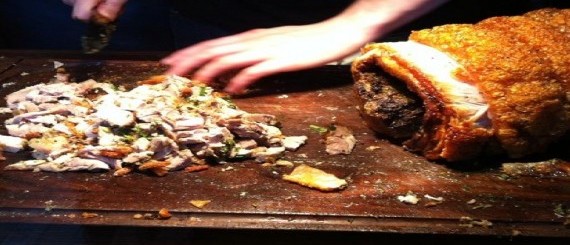 Porchetta is actually held in such high esteem in Italian culture that it was selected by Italy to be on their "prodotto agroalimentare tradizionale," an official list of traditional foods held to have traditional significance.
This festival had taken on mythical proportions in my mind as I kept hearing more about it during my time in Umbria and yet, I missed out on going by only a few weeks. Having run from May 18th until May 20th, anybody with tickets and time was able to eat Porchetta until they were as stuffed as the pigs.
Have you ever had a Porchetta sandwich? If you're a vegetarian, I'll give you a pass if you haven't. But a meat lover?
There is no excuse!
I had my first one 6 months ago at Roli Roti in San Francisco, a food cart outside of the Ferry building during the Saturday farmer's market.
Mothers covered their children's ears trying to keep them from hearing my symphony of inappropriate gurgles, moans, and sighs.
My time in Umbria was fantastic, but my one regret (a giant one), was that my timing was off by a few weeks and I missed out on this ridiculous festival.
It was 3 days of feasting on the best Porchetta from every region of Italy… not to mention drinking all of the Italian wines and local beers you could handle  to help wash down the pork.
From everything I heard from friends in Umbria, this festival is not to be missed.
So I'm telling you in anticipation of next year, prepare to have your taste buds assaulted by awesomeness and book your flights now for next years event.
It's already on my calendar…
Your turn: Is there a food that makes you drool and melt into an uncontrollable blob? And have you ever been to a festival of Pork? Maybe even Porchettiamo itself? If so… please share in the comments and let me live vicariously through you!
About Tony
Quit his job to try actually following his dreams for once... and is currently loving it. He is working hard to to make this life-style permanent by writing about his adventures and brainstorming money making opportunities with his partner-in-crime, Meg.