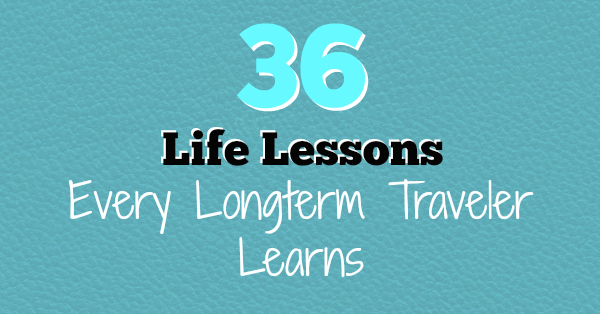 In 2012, we traveled outside of the US for an entire year. Our experiences were our own, but there were some universal lessons learned that every longterm traveler knows.
If you haven't traveled longterm, you might recognize these lessons as well. But nothing brings them into more clarity than seeing them at work for 12 straight months.
A 20 hour journey that only takes 19 will always seem better than a 5 hour trip that unexpectedly takes 10.
It's very, very hard to pack less than you actually need.
A life of adventure lies in saying yes more than no.

Always bring a bathing suit.
If everyone else in a new culture does the same "weird" thing… you're actually being the weird one.
You can work out anywhere… but you don't have to. Just don't make excuses.
The most memorable parts of travel come not from the destination, but in the uncomfortable travel in between.
You can sleep anywhere… seriously.
Bathroom culture can be very, VERY different in other countries (this means yours too).

Do not judge a place to eat by its appearance, but by the line of locals waiting to eat.
Corollary to #10: Food poisoning awaits those who eat at the sparkling clean – yet empty – restaurant.
People are infinitely nicer than you imagine.
Trust the person who you ask for help.
Be wary of the stranger who volunteers to help.
People – and travel – are all about contradictions.

Money is relative. You will drop a few nickels on the ground while trying to get through airport security and forget to pick them up. But you will haggle for twenty minutes at a stall in Indonesia to get a 1,000 Rupiah discount.
Technology has made the world smaller. Keep in touch with friends on Facebook and family through Skype.
Technology has made the world bigger. Go anywhere with advanced knowledge of what to expect and where to stay.
Cliches are OK and cliche for a reason. Don't hesitate to eat that warm croissant at the base of the Eiffel Tower in Paris.
You WILL fall in love with a street dog – and your heart WILL break.
Shower sandals are not just for college.
Love of good food is the great cultural equalizer. If you don't speak the same language as someone, eat a meal with them.
You don't need much to be incredibly happy.

The places you never expected to visit become the places you can't imagine leaving.
Talk to people you don't know. Every day presents you with a whole new group of people to meet.
Spend less time moving between places and more time in places.
Never stay no to a night of staying up late drinking with people from other countries.
Never stay up late drinking by yourself.
Having no WiFi is infinitely better than dealing with slow or intermittent WiFi.
Experiences are better than things.
Things are still pretty nice.

Long distance travel does not get easier the more you do it. Your personal pain and aggravation threshold just increases.
Merino wool travel clothes are expensive. But so very worth it.
If it's been awhile since you showered and you are just starting to notice that you smell bad… Sorry, but everyone else noticed yesterday.
Patience truly is a virtue.
Your Job
Help us make this list better by doing two quick things: Tell us the #1 lesson you disagree with and then share a lesson you learned that isn't on the list.