Tony.
Chocolate.
Really bad TV shows…
These are a few of the things that I love in the world.  Another one on the list: Bargains.
I get unbelievably excited when I am able to find uber cheap accommodations abroad. Hostels, cheap apartment rentals, housesitting gigs… I am down with anything that will give us more money in our wallet to spend on food and entertainment when traveling.  Most of the time, these accommodations are surprisingly nice… But there are always some duds thrown into the mix.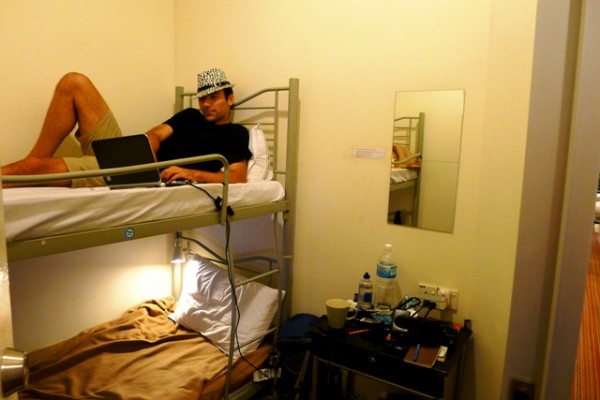 Not the best place we have ever stayed at
The one time I will not care about finding a bargain is after a long flight.  After flying overseas or on red eyes flights, I am groggy, stiff, and all around cranky.  The last thing I want is to check into some crappy and noisy hostel.
Call me a princess, but on travel days, I like to take things up a notch and pamper the heck out of myself!
Apart from drinking lots of water, doing some goofy yoga stretches, and trying to stay awake to adjust to a particular time zone, Tony and I think that treating ourselves to a fancy hotel stay is the perfect way to recover from these epically long flights.
Luckily, with the hotel points I have accumulated from my previous job as a Business Management Consultant back in the states, I do not have to be a rap star, professional athlete, or Christian Grey to treat myself to 5 star accommodations.
To give you a little insight on how I like to recover from long flights, I will take you through our first day in Sydney… And my very own 5 Stages To Airline Recovery Program:
Stage 1: Arrive In Style (Well, Sort Of)

After a 9 hour flight from Kuala Lampur, Tony and I arrive into SYD Airport tired, sore, and flat out disgusting.  We lack the energy to take public transport into downtown and decide to pay an extra $30 to have a cab take us to our hotel.
Our cab arrives at our hotel, the newly renovated Park Hyatt Sydney in Sydney Harbour.  I feel a little out of place waltzing trough the chic lobby looking like a homeless person with my dirty backpack and jeans, which are speckled with chocolate stains from my airplane candy binge, but the hotel staff is friendly as ever as they greet us.
Because of my status, Tony and I have been upgraded to a Deluxe Suite… WOOT WOOT!  While we are waiting for our room to be ready, we enjoy complementary snacks and refreshments in the lobby, which hit the spot after our long flight.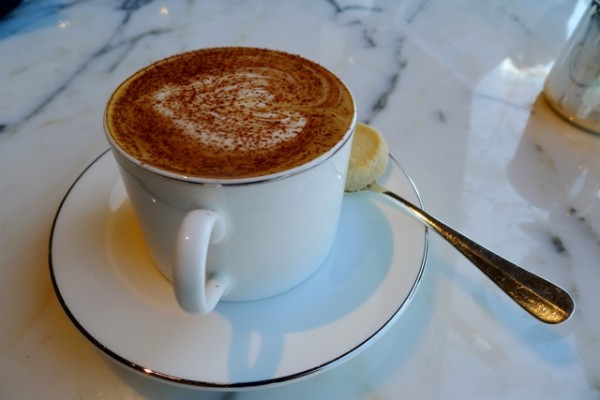 Our friendly bell boy shows us to our room and we are instantly breathless and we enter and take in the views of both the Sydney Opera House and the Sydney Harbour Bridge from our balcony.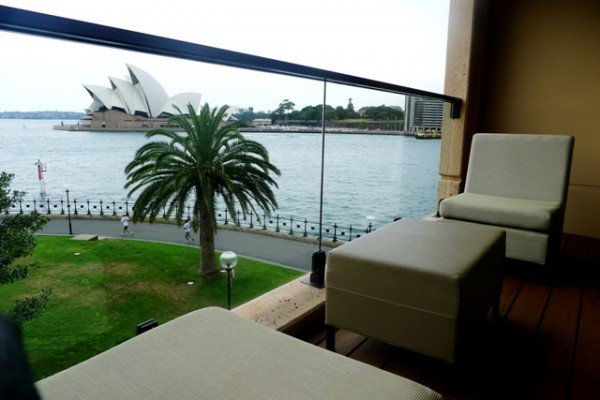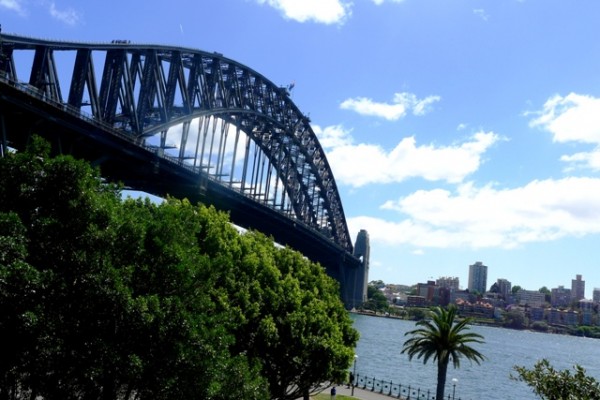 Not only do we have great views, but a bottle of wine, our own espresso bar, and a fruit basket to welcome us.
Stage 2: Robes, Slippies… And Dance Party!
As soon as the bellboy leaves, I instantly hop in our bathroom's rainforest shower, turn the water on as hot as I can take it, and stand underneath the shower head to wash the ick of the plane off of me.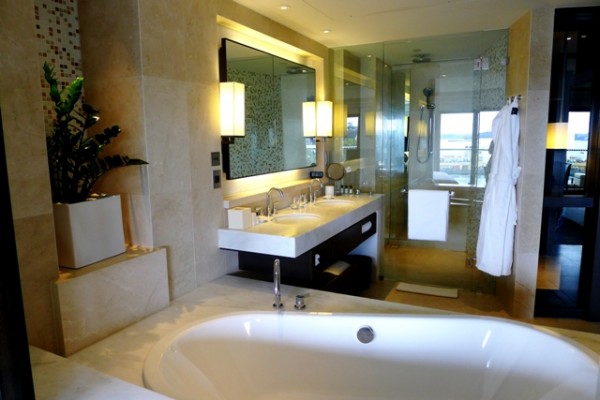 Once I have fully washed the bad memories of the plane ride down the drain, I hop into the Hyatt's plush and comfy terry bathrobe and slip into some matching slippers.
Ladies and gentleman, if your hotel offers bathrobes, please use them.  It's a disgrace to wear uncomfortable clothing in a hotel room when robes and slippies are available.
Up next: I pop in my iPod to the room's MP3 dock, throw on some Beyonce, and have an impromptu dance party on our king size bed… This childish hotel ritual of mine is one I hope to never grow out of.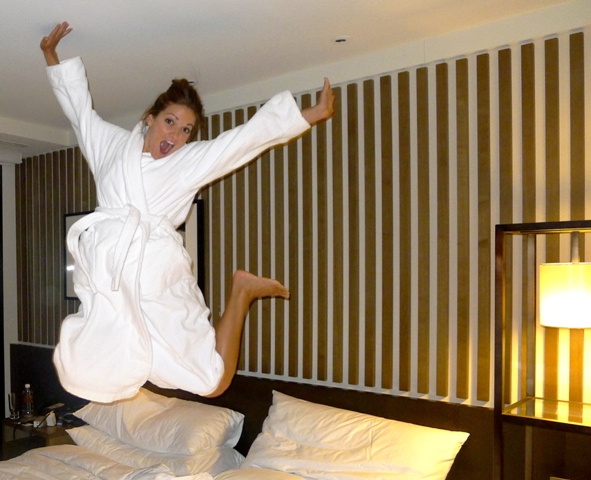 Not only is it wildly fun, but it's a great way to loosen up from a flight and to prep your body for Stage #3.
Stage 3: Sleep It Off
Once I am all danced out, Tony and I decide to break the cardinal rule of adjusting to a new time zone and take a 4 hour nap. As much as we wanted to stay awake, the Hyatt's king sized bed with feathery pillows was beckoning us.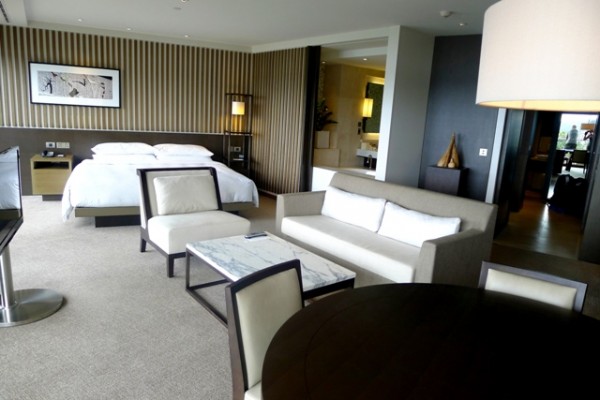 Combine that with blackout window blinds… Sweet dreams!
Stage 4: Wineing and Dining
We awoke in our swanky hotel room at 6PM full of energy and excited to see the sights.  But after only having a light snack in the lobby earlier in the day, we were FAMISHED and needed to get some food in our bellies.  We hastily got ready and went down to the Hyatt lobby to enjoy a dinner at the hotel's premier restaurant, The Dining Room.
The Dining Room had stunning views of the harbour from its floor to ceiling windows encapsulating the restaurant.  We were invited to join Maryam Awang (the Marketing Communications Manager at the Park Sydney Hyatt) for a five course tasting menu at the Dining Room.  Now this is what I call post-flight pampering!
We were beyond hungry and were incredibly excited to experience the Australian-inspired contemporary dishes that the Dining Room's chef, Andrew McKee, is famous for.  In addition to tasting the chef's delicious dishes of local produce and authentic flavors, we also would be participating in a wine tasting of both Australian and international wines selected by the restaurant's sommelier… Wine may not be the best beverage of choice to re-hydrate with after a long flight, but we weren't complaining!
Over the course of the meal we enjoyed chilled baked clams topped with crispy prosciutto, savory pan roasted scallops, goat's curd gnocchi,  48 hour braised molasses glazed Wagyu beef,  and a beautiful dessert of Hazelnut dacquoise with milk chocolate ganache.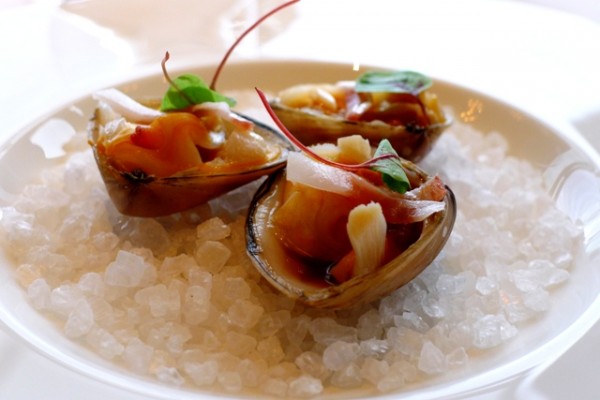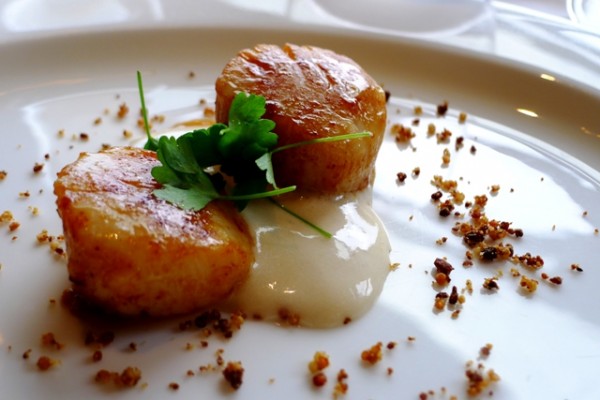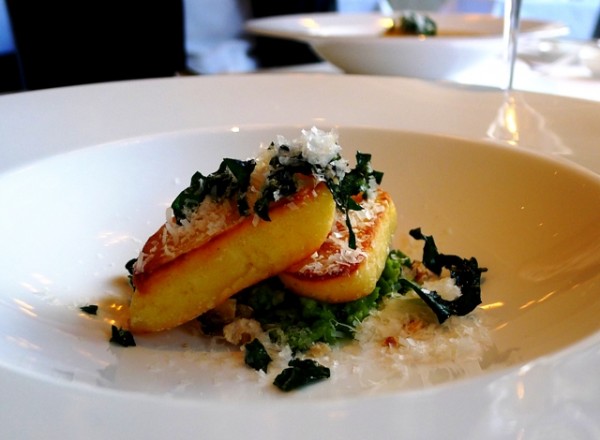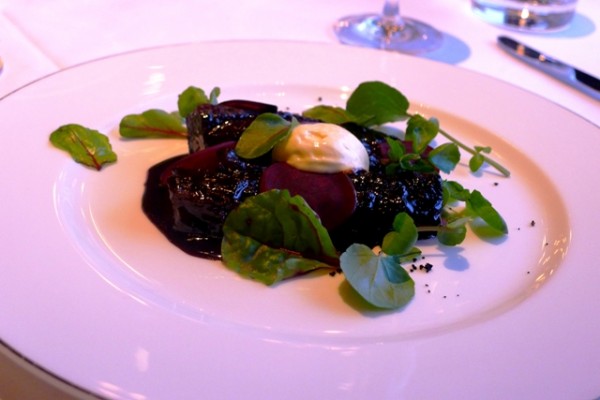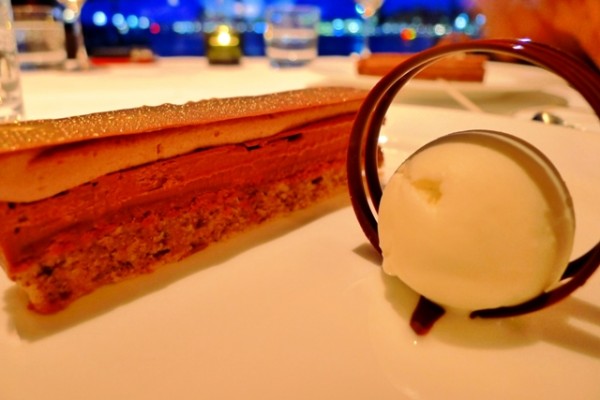 The entire meal was spectacular!  We especially loved the gnocchi, which was almost like a French fry hybrid – Crispy on the outside but with a tender center.  I would even go as far as to say that it was the best gnocchi I have ever consumed.  We also fell in love with the sweet and tender Wagyu beef.
In addition to all the great food we consumed, we loved all the wines that were paired with the dishes.  This was our first real experience with fine Australian wines, and we were not disappointed.
The scallops were paired with a 2009 Tapanappa Chardonnay from the Piccadilly Valley in Sothern Australia, which was Tony's favorite wine of the evening.  It was buttery, light, and very drinkable… It was perfection in a glass! I, on the other hand, could not get enough of the Barossa Valley 2010 Spinifex 'Bete Noir' Shiraz, which gave the Wagyu beef a lovely peppery kick.
Not only was the food and wine incredible at The Dining Room, but the ambiance was unbeatable.  The open air restaurant was directly facing the water and the Sydney Opera House and it was so serene watching the sun set over the harbour throughout the meal.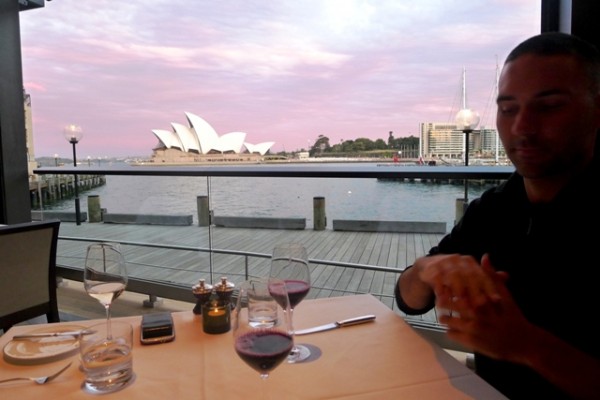 By the end of the meal, my memories of the long flight had completely washed away.
Sidenote: We also enjoyed some epic (and large) breakfasts at The Dining Room during our stay at the Park Hyatt.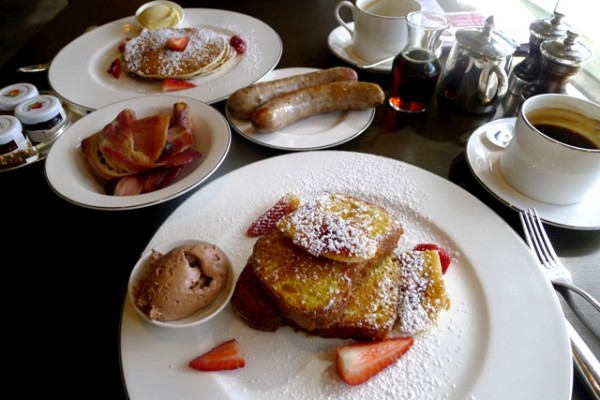 Step 5: Hit the Town
After dinner, I was feeling a little fuzzy from the wine and part of me wanted to go right back up to our room and curl up in our luxurious bed.  But a larger part of me was so excited to go and see some of Sydney.  We were in a great location at the Hyatt to take a quick evening stroll around the Sydney Harbour.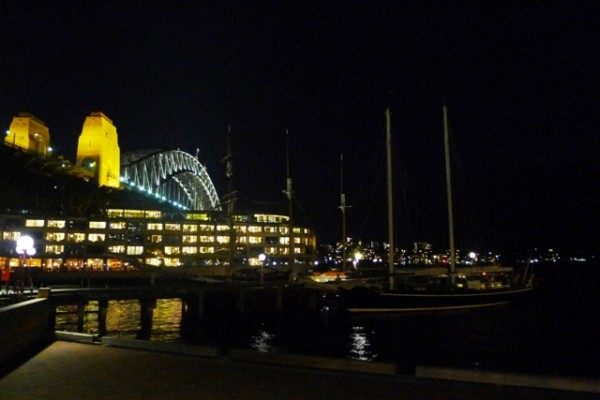 It was a great way for us to immediately soak in some sights of this new city, while not overdoing it after our long flight… And if anything, it helped clear up my delightful wine buzz from our meal at The Dining Room.
Looking back on our first few days in Sydney, there is no place I would rather be after our long journey from Malaysia than the Park Hyatt Sydney.  The hotel was so tranquil and we felt so spoiled during our stay there that we were back on our itchy travel feet in no time!
So, if you are traveling the globe and have some extra hotel points stashed away, be sure to save them for a rainy day… or a travel day!
Your Turn: How do you like to recover from long flights?
The dinner we enjoyed at The Dining Room was sponsored, but as always, our opinions are our own.
About Meg
Exhausted from traveling every week as a Business Management Consultant early in my career, I took a year off in 2012 to travel at my own pace. I am a high-energy girl that loves being active, eating food, drinking wine, and exploring the world with my partner-in-crime (and husband), Tony! I now reside in Portland, Oregon and continue to write about travel, food, wine, and the awesome adventures we have in the Pacific NW!