Tony and I just completed our trip around the world and as we are reconnecting with friends and family from home, I keep getting asked the same question: "Did travel change you?"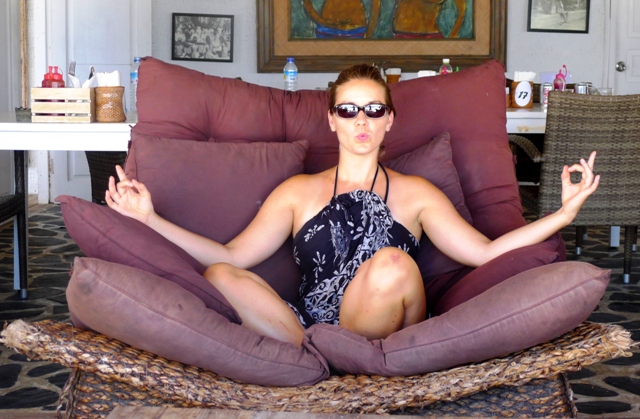 Relaxing in Gili Air Indonesia – Instagram: @LandingStanding
In short: Nope! I am still the whacky girl that left on a jet plane last January to explore the world with my equally whacky husband. But one thing did change… Traveling made me a happier person and made me appreciate life and love so much more. If there is anything I learned this year, it is that life is precious (and short)…  so don't waste it on being anything but completely HAPPY.
But what exactly did I do that made me such a happier person? Aside from frequently embarking on exhilarating adventures all around the globe with my partner in crime, I made a conscious effort to put myself (and Tony) first in life and live each-and-every day like it was the last…. I know, it's a cliché.  But IT WORKED.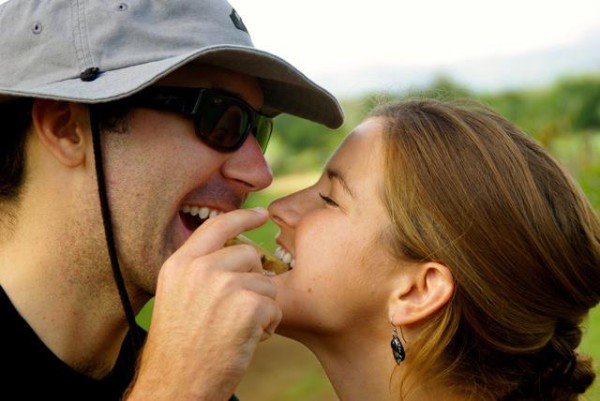 And it's never too late to put yourself first and live life on your terms. Here are some incredibly simple (and random) steps you can start TODAY that will help you look, feel, and BE awesome… And enjoy life that much more.
50 Ways To Be AWESOME
Make yourself a priority in life
Set both big and small goals for yourself
Actually stick to your goals!
Sing in the shower
Eat chocolate… daily.
Surround yourself ONLY with people that make you a better person
Go for a run… just exercise DAILY.
Workout in the morning: It will wake you right up and there is nothing from your busy schedule holding you back
Take a cold shower after you workout: You will hate it (and me) for the first 5 seconds… and then you will feel incredible!
Enjoy a good meal with great wine and conversation
Listen to ridiculously awesome music while cooking!
Get 7-8 hours of sleep each night
Eat as many fruits and veggies as humanely possible!
Play with a dog whenever you get the chance
Enjoy a good Charcuterie or cheese plate with friends every now and then… Nom nom!!!
Keep a journal
Drink LOTS of water
Make S'Mores year-round (in the microwave or via stovetop)
Say "YES" more than "No"… MUCH MORE.
Snuggle
Smile
Laugh often
Splurge on a fancy dinner out… and do the damn tasting menu!
Create daily to-do lists…. and crush them.
Spend family and friend time over a game of cards or a lively board game
Talk dirty
Wear sexy or goofy underwear no matter what the occasion is
Go on a romantic date with your sweetheart as often as possible
Engage in PDA
Have sex… Hi mom!
Get outdoors and get your daily dosage of Vitamin D
Wear sunscreen
Get addicted to TV comedies (personal faves: Arrested Development, Parks & Recreation, New Girl… The list goes on)
Be content with doing absolutely NOTHING
Go outside your comfort zone as often as you can
Stop caring about what other people think of you
Engage in potty humor
Create a bucket list…. and don't wait until you retire to check items off of it!
Plan as many getaways and vacations as possible!
Make eye contact with others
ALWAYS follow the Golden Rule: It is amazing how elated you feel when you are nice to others… Especially complete strangers!
Pig out on horrible (but delicious) junk food… Just remember everything in moderation!
Become a member of a club or team (a book club, Weight Watchers, a kickball team, etc.)
Learn to laugh at yourself: I am the most accident-prone person I know and probably should roam this earth wearing a helmet… But through my clumsiness, I have learned to not take life too seriously and to laugh at my ridiculousness!
Get a caffeine rush from a good cup of coffee… Or just use the coffee as a hand-warmer!
Strive to learn something new everyday… and read as much as possible!!!
Stop making excuses
Throw spontaneous dance parties no matter where you are or what you are doing
TRAVEL
Your turn: What awesome tips would you add to this list?
About Meg
Exhausted from traveling every week as a Business Management Consultant early in my career, I took a year off in 2012 to travel at my own pace. I am a high-energy girl that loves being active, eating food, drinking wine, and exploring the world with my partner-in-crime (and husband), Tony! I now reside in Portland, Oregon and continue to write about travel, food, wine, and the awesome adventures we have in the Pacific NW!