Or if you're like Meg and lean more towards Harry Potter fandom, it's more like "What Hermione Granger Can Teach You About Travel Packing."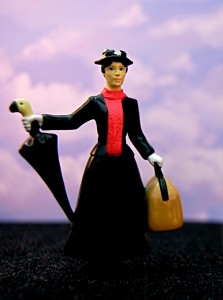 So what do Hermione and Ms. Poppins have in common?
An endless supply of goodies and surprises from a travel bag that seems bottomless.
While they both relied on magic to be the envy of every traveler, you only need to do your research. Focus on finding the absolute minimum size and volume of each travel item you pack and you can fit all kinds of cool extra things that will leave other travelers marveling at your very own magic bag.
Or save yourself some time and just check out these 8 tiny must have travel items that kept us well equipped on the road while ensuring we had maximum room in our bags and were the envy of other travels. Some of these items might seem unimportant from the comfort of your home, but they all will become invaluable when on the road.
We can't take full credit for this one, because our friends Leah and Leanne gifted it to us while we were in Buenos Aires. But damn…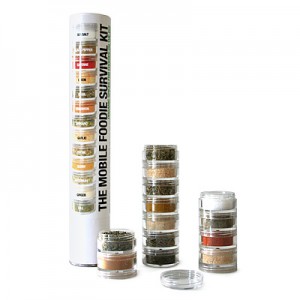 If we didn't go through these spicy powders like we were Johnny Depp in Blow.
Small spice containers stacked one on top of the other and all connected by an ingenius screw top design. This skinny container slid perfectly down the inside of my bag and took up almost no room.
Having access to a variety of small spices took hostel cooking to a whole new dimension. Plus, when you whip out ginger and cinnamon from your backpack while cooking in a hostel kitchen, famished travelers will flock to you. No cheaper way to make friends then by sharing some spicy deliciousness in the kitchen. Probably the #1 must have travel item for any traveling foodie.
These next two might seem a little boring, but trust me, they were great to have.
Laundry can be done cheaply in many countries that you travel to, but sometimes you don't have the time to wait around. Plus, if you're packing lightly like we were (only 1-2 workout shirts), you just might need to wash your clothes more frequently.
For around $5, this little baby turns any sink into a wash basin. It works on almost any drain and will save you some dollars and stank. If you have quick dry clothing (which you should!), a quick sink wash and overnight hang is all you need to have a fresh shirt in the morning.
Might seem a little stupid now, but when you or your travel partner is taking 24 hour bus rides with little time to find a laundry shop, you'll be glad you have this. Plus, you get big travel cred from the other travelers in your dorm… just don't do this in the shared kitchen sink!
If you're washing your clothes in your sink, you can use the regular hand soap that you find at your hostel. But really, that's only in a stank emergency. We found that using regular hand soap left a soap mildew on our clothes and only masked the odor.
That's why it's nice to travel with a liquid soap detergent like this one from Sea To Summit.
It fits all TSA requirements for travel liquid size and will last awhile as you only need a few drops to get a good suds going. This detergent plus the sink stopper ensures that you will have clean clothes no matter how remote or in a hurry you are.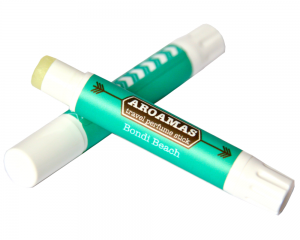 This must be the stink portion of our list as this is the 3rd straight stink deterrent listed. But after you've been on a few South American buses, the last thing you want to be is the "stinky guy." There are enough of those already!
We weren't lucky enough to have something like this on our trip last year, but how perfect it would have been. A solid perfume that can be applied with a few simple rubs and that doesn't come in a glass container. Maybe you're in such a rush that you can't even use the sink stopper and travel detergent, but you can at least use a little perfume. Or maybe throw it on before going to a nice restaurant to class yourself up?
These come in such a small container that it makes sense to buy a few and keep them handy for as long as you're traveling. I know if Meg bought these during our travels, I probably would have stolen a tube more than once. I'd probably go with Almaty Apple… I always did dig me some green apple essence


This has got to be the one travel item that I was asked about more than any other.
Three 2-inch long USB chargers that will charge almost any type of electronic device you have. Anybody who has had to wrangle long charger cords or try to find room to store them in your already tightly packed bag would greatly appreciate these babies.
There were so popular when I pulled them out on the road, that I have received multiple emails from people I have met asking me where I got them. They just… make… sense.
We made due with using old plastic water bottles, but even they take up a surprising amount of room and get funky quickly.
That's why having a collapsible water bottle that you can wash easily is the perfect solution. Bury it at the bottom of your bag when you don't need it, but then fill it up at the nearest water fountain when you get past airport security.
You can never have enough water when you're traveling and sometimes you don't know when you'll have access to clean drinking water, so it is a high priority that you have a backup.
Made infamous by modern helicopter parents, but a necessity for travelers.
Have you ever read how dirty bus and airplane seats are? Seriously, it's disgusting. The last thing you want to do is eat food after touching these surfaces that are on par with the floor of a NYC subway car.
While not the sexiest recommendation, a quick splash of hand sanitizer will put your mind at ease and greatly reduce your chance of catching some weird germ. Hand sanitizers can be found in most stores around the world, but it is key to pack at least one with you before you depart.
This recommendation is only for the camera capability of a smartphone. Instead of packing a huge DSLR camera and worrying about getting it stolen, why not just pack your smartphone. The cameras on these are getting better every year and take some incredible pictures.
If you don't have a smartphone or don't want to travel with the latest model, buy a used one online that still has a good camera and don't pay for a cell phone plan. Just use the camera function and upload your pics when you get a wifi connection.
Smaller than a high-end camera, a fraction of the cost, and all while still letting you take great pictures.  Plus, you'll be able to use it as a smartphone whenever you get wifi access, which is way more common then you would imagine when traveling.
How About You?
What are the best tiny things that you packed that have become your must have travel items? What are the ones that became the envy of other travelers you met?
About Tony
Quit his job to try actually following his dreams for once... and is currently loving it. He is working hard to to make this life-style permanent by writing about his adventures and brainstorming money making opportunities with his partner-in-crime, Meg.