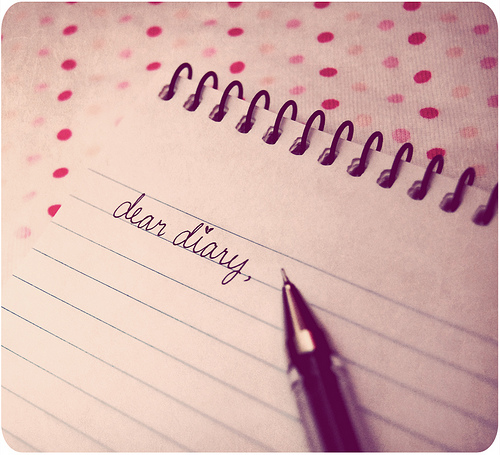 Confession: I hate tourist traps and I hate crowds!
Hate is a strong word and is a word I do not like to use often. Nevertheless, my hatred of tourist clusterf*cks is unwavering. I knew about this personal trait before starting our trip, but it became more refined during our travels.
So here I am, standing in line for the underground Berliner Unterwelten Dark Worlds Tour of the WWII bunkers with a hundred other tourists having a mini panic attack.

I'm going to be trapped UNDERGROUND with a buttload of tourists.
Shoot me.
Thoughts of Ron Burgandy trapped in a phone booth were swarming through my head… This is not going to end well.
Tony and I really wanted to see some WWII sights during our trip to Berlin, but at what price?!
Regardless, I bit the bullet and decided to face my fear and go on the darn tour.
Did I make it out alive?
Yes!
Did I enjoy myself?
Surprisingly, YES!
In fact, at 10 euros per ticket, the Berliner Unterwelten tour is a MUST see attraction for anyone visiting Berlin.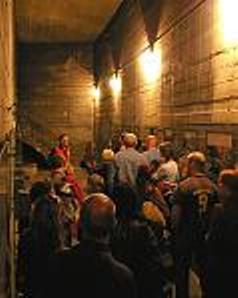 During this 90 minute tour, small groups of 30 people at a time are taken through the WWII bunkers where many Berliners spent the majority of their days during the air-raids.
Our knowledgeable and entertaining tour guide took us through one of the very few remaining bunkers in Berlin tucked away under the Gesundbrunnen metro station.
While leading us through the underground bathrooms, medical clinics, sleeping quarters, and bomb rooms, he gave us a detailed impression on what a day in the life of a Berlin citizen was like when the city alarms erupted during the war that destroyed 80% of the city.
Another confession: During most guided tours, I am pretty quick to tune out… But this tour kept me engaged the entire time.  I learned a great deal about how WWII affected the residents of Berlin.  In addition, I picked up a few pieces of history that I never knew (or thought about).
Women were responsible for cleaning up the city of Berlin after it was destroyed from allied bombing.
Doors inside the bunkers had to be opened every several hours to allow oxygen into the rooms. Candles were used to measure the oxygen levels in the room via the candle flame.
People continued living their lives in the bunkers… Babies were born and people were married underground even in these dark times.
The walls of the bunkers were painted with glow in the dark paint in case bombs knocked the lighting out… Clever, huh?
Roughly 600 tons of unexploded bombs from the war are discovered in Germany every year!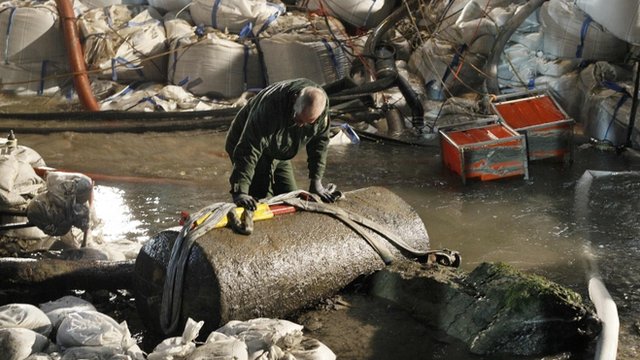 Despite my claustrophobia when it comes to crowds and tourist sites, I had a wonderful time on the Berliner Unterwelten Dark Worlds Tour.
It is a cheap and fascinating way to learn about an important part of German history… all while escaping the summer heat of the Berlin streets!  I would highly recommend it to both visitors of the city and Berliners alike.
Many thanks to Berliner Unterwelten and Visit Berlin for sponsoring our underground tour.  All opinions, as always, are our own.
About Meg
Exhausted from traveling every week as a Business Management Consultant early in my career, I took a year off in 2012 to travel at my own pace. I am a high-energy girl that loves being active, eating food, drinking wine, and exploring the world with my partner-in-crime (and husband), Tony! I now reside in Portland, Oregon and continue to write about travel, food, wine, and the awesome adventures we have in the Pacific NW!