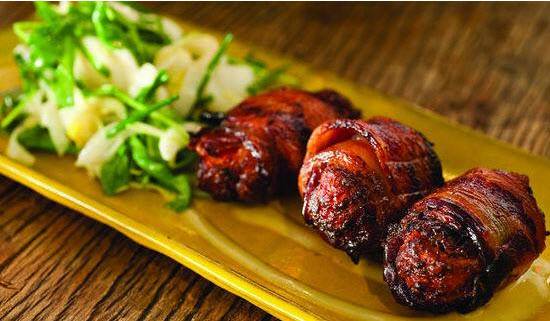 As this week marks our final week in Miami before our RTW trip, I find myself reflecting on all the things I loved (and sometimes loathed) about this unique city while living here for the past two years.
I loved the weather, being on the Latin timetable, hearing Spanish everywhere I went (even though I barely learned the language), and always having the beach right at my fingertips.
Some things I was not such a fan of? The traffic (but what city doesn't have that?), the lack of city history (a Duck Tour in Miami basically drives around celebrity beach mansions), and the inability to walk from neighborhood to neighborhood without the fear of getting stabbed (one thing I took for granted in the extremely walk-able city of Boston).
Despite Miami's flaws, the one thing that made up for all of it was the city's mouth-watering food scene.  Being true fat kids at heart, Tony and I strategically planned our weekends around where to eat… and when to eat.  By spacing out our weekend feasts accordingly, we could cram all of our favorite foods into our stomachs, while still fitting into our bathing suits on our weekend visits to South Beach.  Don't judge.
In our last few weeks here, we actually made a Miami Food Bucket List of all of the places we had to hit up one last time before our move.  If you are ever in Miami, please do yourself a favor and treat this list like your Food Bible, as it sums up the best the city has to offer.
Here are the restaurants that made the cut:
Sugarcane Raw Bar & Grill– This three-kitchen Design District tapas restaurant is the tits. Sugarcane seems to be the place where we always take our out-of-town friends and family to when they are visiting.  It is the best!  Here are our favorite things about this wonderful restaurant:

Ambiance: Whether inside or outside, the ambiance is so romantic, yet casual and relaxed.  We prefer to sit outside since it is a little quieter (and we like the patio feel) but indoors is a great experience because you get to see all the kitchens at work.
Bar: The bar here is our favorite in Miami.  Their Eden is the perfect drink after a long day in the Miami sun. Their bar is also a great setup as well, as it is half indoors/half outdoors.
Food: AMAZING.  They are always adding new items to their menu, which is great since every visit seems like a totally new experience.  Their food is also so innovative.  The dishes we love the most are things that we would have NEVER thought to order at a restaurant.  But I always trust the judgment and recommendations of the staff at Sugarcane.  Here are some of our favorites: Bacon Wrapped Dates, Goat Cheese Croquettes, Scallop Crudos, Brussels Sprouts…Yum!  We recently tried their special, the Beef Tounge (waiter's recommendation), which was hands down the best piece of meat I have ever had.  Even my vegetarian sister-in-law went ga-ga!

Sra. Martinez – Also in the Design District, this restaurant is a close second to Sugarcane.  It has an overall smaller menu (operating out of one kitchen) but the food is exceptional (and Tony can't get enough of their Sezerac).  Some of our favorites on the menu include the Crochettas, the Oxtail, and Shashito Peppers.
About Meg
Exhausted from traveling every week as a Business Management Consultant early in my career, I took a year off in 2012 to travel at my own pace. I am a high-energy girl that loves being active, eating food, drinking wine, and exploring the world with my partner-in-crime (and husband), Tony! I now reside in Portland, Oregon and continue to write about travel, food, wine, and the awesome adventures we have in the Pacific NW!