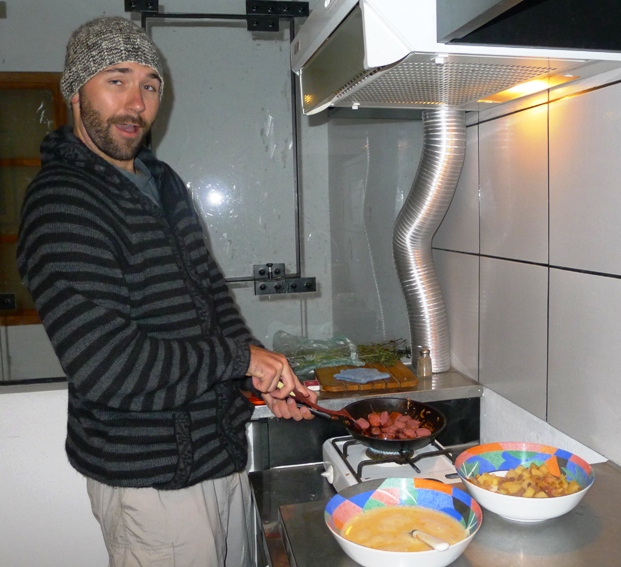 Over the past three months, Tony and I have tried many traditional South American dishes.  Some were delicious and others… not so much.  But one dish we fell in love with during our food tour of Buenos Aires was the Spanish Tortilla (a.k.a. Spanish Omelet or Tortilla Espanola).
A Spanish Tortilla is basically a thick egg omelette made with potatoes & onion and fried in olive oil.
While studying abroad in Barcelona in 2005, I thoroughly enjoyed the many opportunities I got to eat Spanish Tortillas, but our food tour in Buenos Aires was Tony's first experience with this dish.  He loved it so much that I knew I would win the "wife of the year" award if I learned how to make this meal on my own.
So in our hostel in Cusco, Peru that is exactly what I did. Even with the limited resources in our hostel's kitchen, the Spanish Tortilla was very easy to make.
For our tortilla, we leveraged the HostelCookers.com recipe but modified a few parts of it to make the dish extra simple and delicious.  One such modification would be our addition of spicy sausage into the tortilla… Try it and thank me.
The recipe below may look intricate, but the steps are easy to master and I found that (like any omelet recipe) the recipe is so effortless to memorize that you will be a Spanish Tortilla master in no time!
As a side note, making the Spanish Tortilla works best if you are using a non-stick pan.  It can be a little tricky if you are using a crappy pan (like we were in our hostel kitchen)… However, it is still do-able!  If the omelet keeps sticking to the bottom of the pan, just be sure to keep working the bottom of the omelet with your spatula throughout the cooking process.
Here was our recreation of the dish (makes two servings):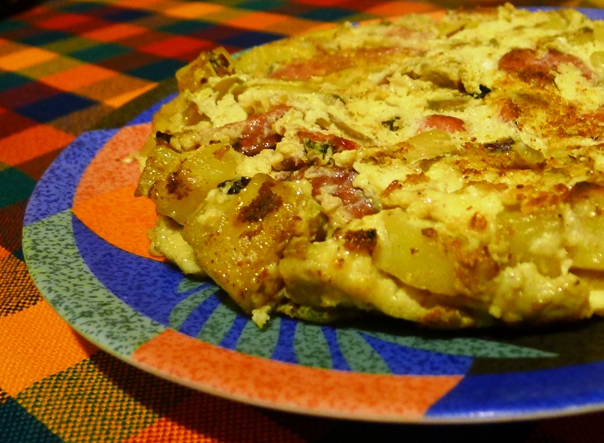 Ingredients
1 large potato
1 onion
6 eggs
2 spicy sausage links
3 tbs oil
Salt
Black Pepper
Directions
Slice potatoes into dice-sized cubes
Slice onion into small strips
Slice sausage links into ¼ inch thick slices
 Mix potatoes, onions, sausage, salt, and pepper in large bowl
Add 1 tbs of oil to frying pan, heat up on medium-high heat
Pour mixture into frying pan and fry until sausage and potatoes are done (Potatoes should easily cut with a fork)
Once mixture is finished, pour it into a bowl and set aside
Crack eggs into large bowl and beat by hand with a fork
Add the potatoes, onions, sausage, salt, and pepper mixture into the large bowl with eggs and mix all ingredients together
Heat 1 tbs oil in frying pan over medium heat and pour mixture into frying pan
Cook until the bottom part of the mixture has browned (the side touching the frying pan) The middle will still be a little bit runny. About 3-4 minutes
Now we are going to flip the omelet. Place the plate on top of the frying pan (bottom of plate facing up)
Over the sink, flip the frying pan and plate together. The omelet should fall onto the plate… If it doesn't you will be able to give it some motivation with the spatula
Take the now empty frying pan and add 1 tbs of oil, bring back to the medium heat burner
Once oil is warm, bring the omelet on the plate over and push it onto the frying pan with the spatula. The runny side should be down
Fry for 2-3 minutes and it will be ready to eat!
About Meg
Exhausted from traveling every week as a Business Management Consultant early in my career, I took a year off in 2012 to travel at my own pace. I am a high-energy girl that loves being active, eating food, drinking wine, and exploring the world with my partner-in-crime (and husband), Tony! I now reside in Portland, Oregon and continue to write about travel, food, wine, and the awesome adventures we have in the Pacific NW!