Tony and I spent this past month on the Thai island of Koh Samui, house-sitting a beautiful luxury villa and taking care of some amazing German Shepherd dogs.  But when we weren't playing with the pups at the beach, we were checking out some great dining spots on the island that were participating in the semi-annual Samui Fine Dining Festival.
One of the participating restaurants of the festival was The RockPool at the Karma Samui Resort.
Ever since we participated in a wine tasting event one afternoon at the RockPool bar (story on this wonderful event to follow!), we had been dying to visit this restaurant for dinner.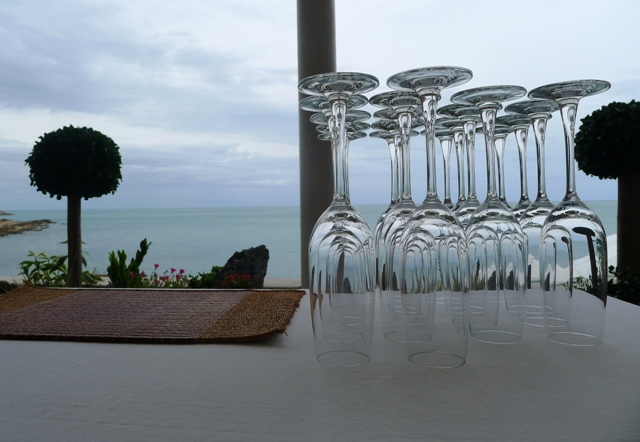 Luckily, during this wine tasting event, we were able to meet the fun British chef of RockPool, Martin Selby, and immediately hit it off with him.  After several glasses of wine, he graciously invited us to return to RockPool for a meal at his esteemed restaurant.
Now, as a part of the Samui Fine Dining festival, chefs prepare exclusive and elaborate set tasting menus of some of their truly incredible creations.  Many items on the festival set menus, however, are not on the seasonal menus of these featured restaurants.
Martin felt that we would be able to learn more about his restaurant and his cooking if we tasted an assortment of dishes from his regular menu – instead of following the set menu of the Samui Fine Dining Festival.  At the wine tasting event, I got the chance to casually glance at the regular restaurant menu, so I knew this would not be an issue for us.
Everything looked PHENOMENAL!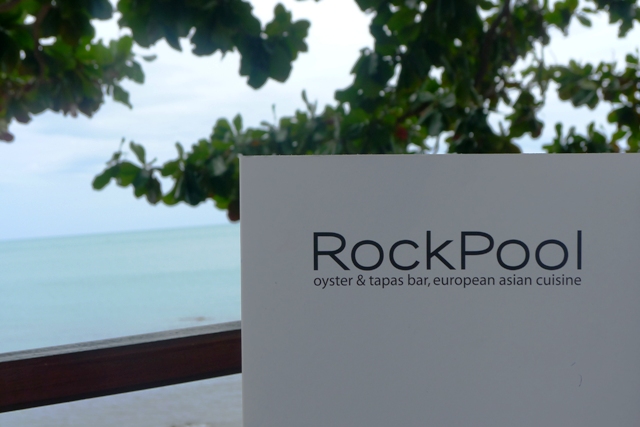 So, did the regular menu wow us when we finally dined at RockPool?
Answer: YES!
Let's just say that RockPool ROCKED our world!
First off, the restaurant ambiance is just STUNNING.  Upon arriving at the Karma Resort (where the restaurant is located), guests are immediately whisked away in a golf cart and driven down to the beachside cliffs where the restaurant is situated.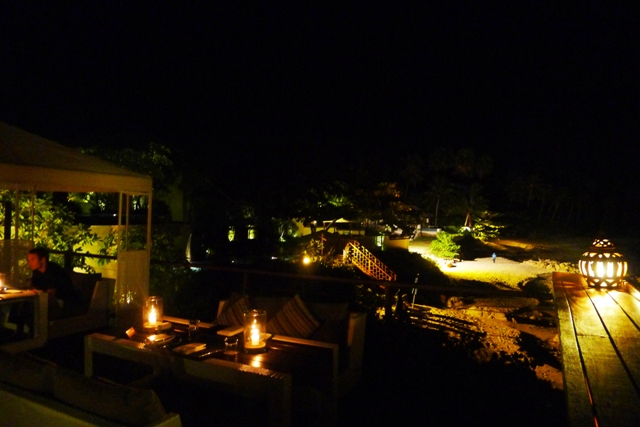 The restaurant is completely outdoors, boasts phenomenal views of the Gulf of Thailand, and is decorated with white cabanas and candles galore.
Could it be a more romantic setting?  I think not.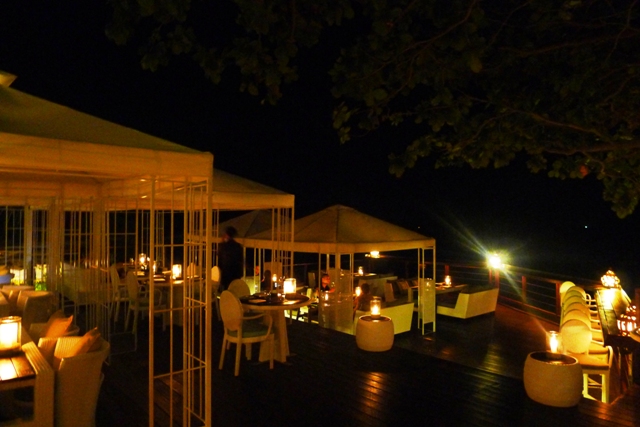 Upon being seated, Martin came and personally greeted our table.  I would like to think that we were super VIP guests, but Martin actually does this with most all of his customers of the restaurant… Regular folk meeting the chef? Now this is not something you see at your average dining establishment!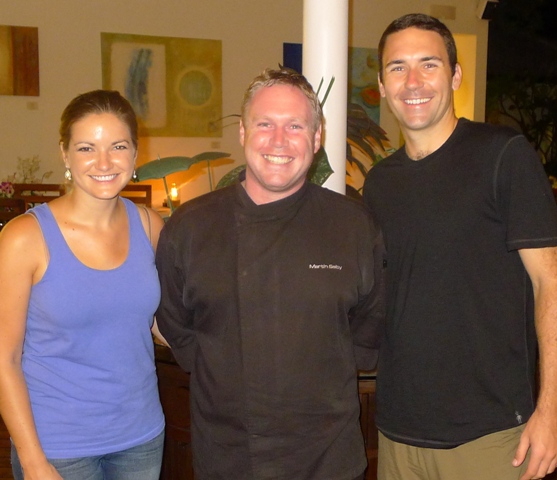 Martin has lived on Koh Samui for several years now, but joined RockPool roughly a year ago as executive chef.  He loves utilizing fresh in-season ingredients to combine the flavors of East and West.  What I loved about RockPool was that Martin put a Spanish twist on his menu… Tapas baby!
Tony and I are lovers of tapas, as small dishes allow us to order and try A LOT.
Martin's  RockPool menu is extensive and I was practically drooling as I was scouring through the pages of the menu.  There were so many yummy sounding dishes to choose from that my head was about to explode!
Luckily, Martin guided us through the ordering process and recommended some of his most cherished dishes.  Being adventurous and curious eaters, Tony and I let him take complete charge.
Here were some of the wonderful dishes we noshed on throughout the tranquil evening at RockPool:
RockPool is renowned for its seafood, so Martin ended up bringing out a plethora of dishes from the restaurant's backyard… the sea!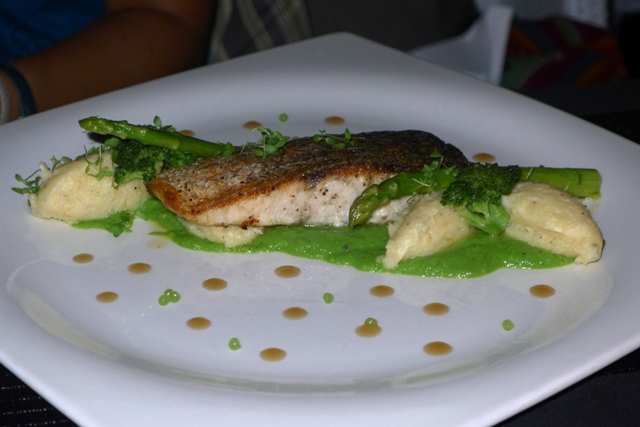 Pan fried Seabass with Ponzu
Talk about FRESH!
We started the meal off with a Spring roll with Salmon, Crab, and honey Caviar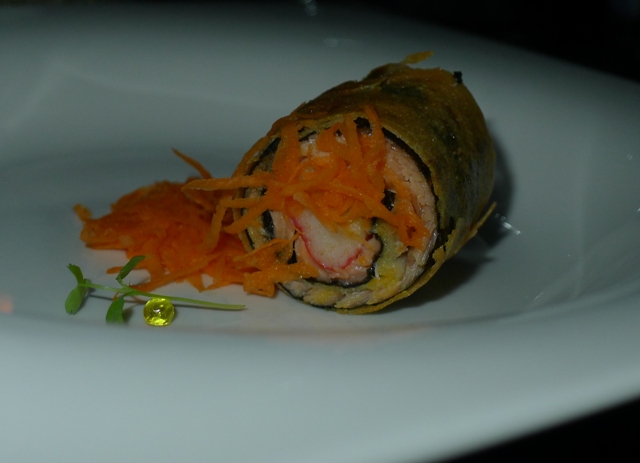 This dish was smokey, had multiple flavors embedded in the roll, and had the perfect balance of salty from the smoked fish and sweet from the honey caviar.
Platter of assorted fresh oysters – Next, Martin brought us out an assortment of 4 different types of oysters to taste.  Normally, when I do an Oyster tasting, there is always at least one variety that I don't particularly enjoy.  But every single oyster Martin served us was delicious!
Spanish mussels with paprika sausage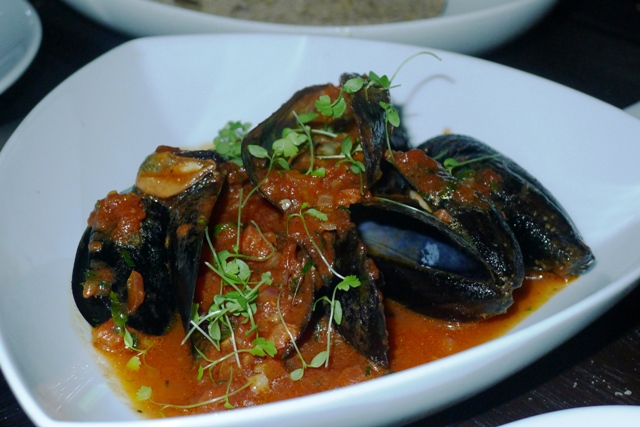 The mussels combined with sausage was hearty and spicy while the fresh table bread was the perfect way to mop up the delicious tomato sauce.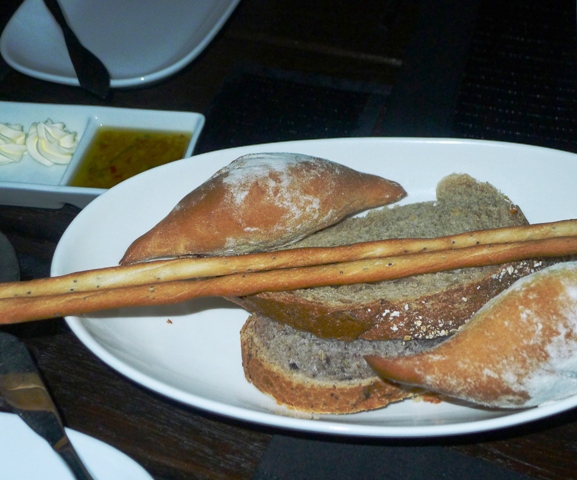 Prawns with roasted garlic and chili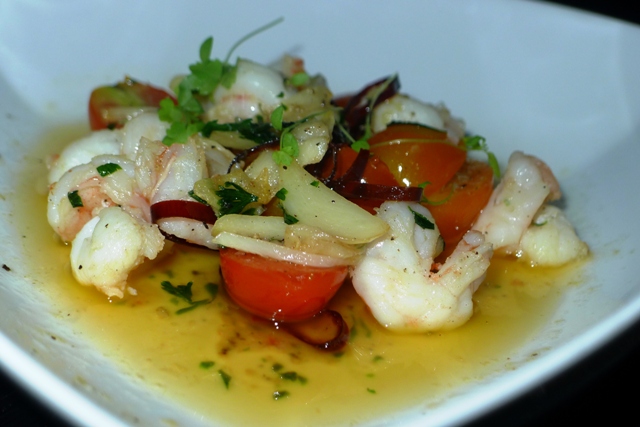 This dish was refreshing and cool but with some chipotle heat!
Bacon-wrapped prawns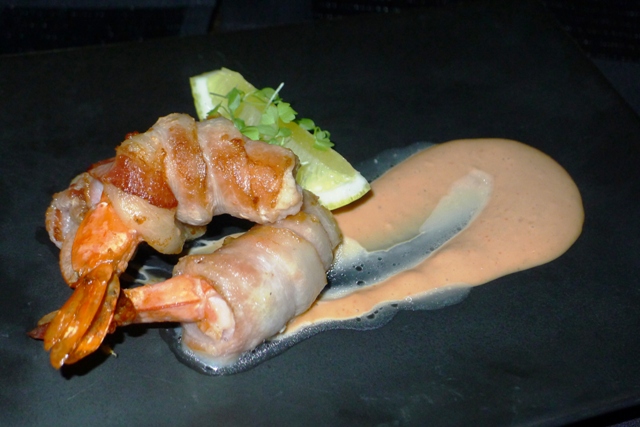 Anything bacon-wrapped is an automatic win, and frankly, it's almost cheating.  Combine all of this with Martin's amazing remoulade wasabi mayo and you have yourself a foodgasm.
After our tapas dishes, Martin brought over a Hendricks gin and tonic sorbet with candied orange peel.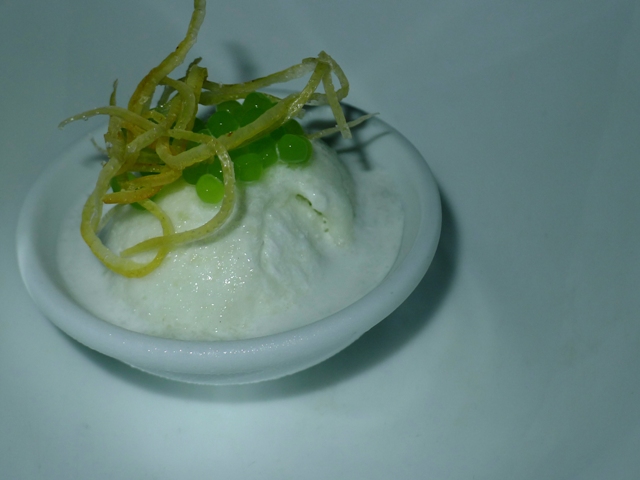 Say what?!
I am not a huge Hendricks gal, so I wasn't sure that I would enjoy this dish, but the flavor was very subtle and it was the perfect pallet cleanser to have before our main course.  Hendricks happens to be Tony's favorite gin, so he was in heaven.
For my main course I opted for the slow braised Wagyu beef cheek marinated in beer and vanilla.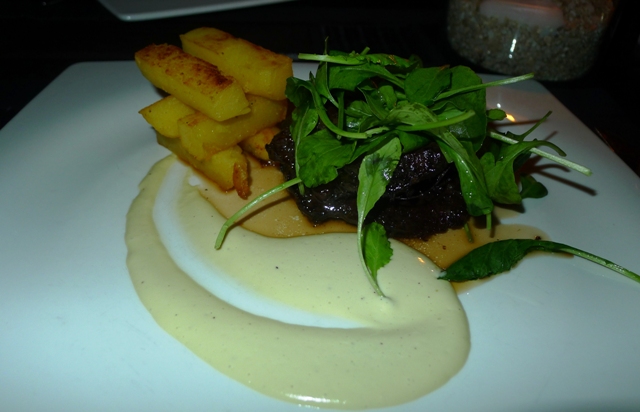 This.
Was.
Ridiculous.
The beef cheek was melt-in-your-mouth fabulous!  It was tender, rich, and buttery soft – everything you want in your meat!  The beef cheek was also accompanied with delicate and creamy Irish oyster emulsion sauce and thick cut french fries cooked in…
Wait for it…
DUCK FAT.
Talk about over the top awesomeness!
Tony ordered the Tuna 'Nicoise' (Seared Ahi Tuna, black olive gel, confit potatoes, tomato and chilli jam), which was equally as delicious.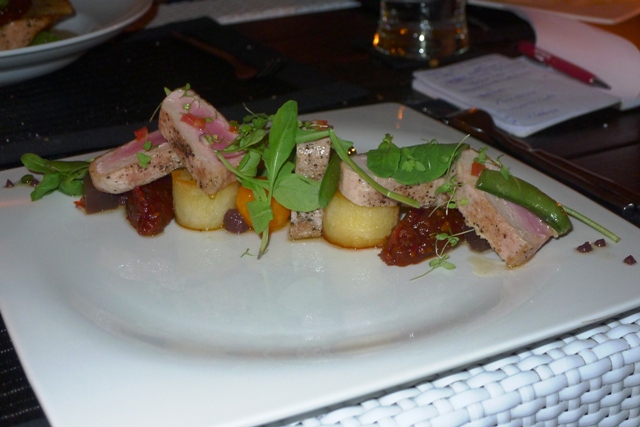 It was cool & warm, spicy & sweet (I adored the chilli jam), and was a wonderfully light dish to enjoy in the Thailand heat.
The other guests at our table, Sara and Tyson, ordered the Confit Pave of Salmon and the pan fried Seabass with Ponzu (Pictured above), which I was able to sneak a bite of – Both delicious…. But after my descriptions of all the other dishes Martin whipped up, are you surprised?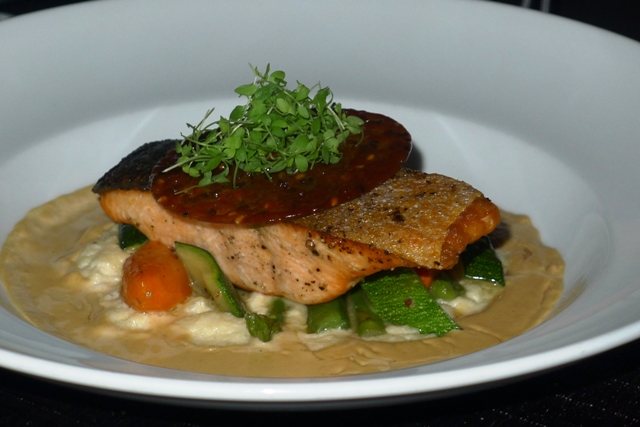 To cap off the evening, Martin brought us out an airy chocolate Soufflé and a strawberry tart.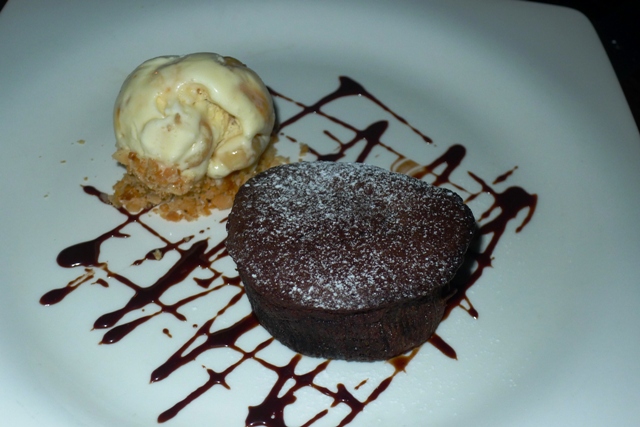 I am a lover of all things chocolate, and while the soufflé was divine, the tart was my favorite of the evening!  It was so refreshing and tangy – The perfect dish to end a perfect evening.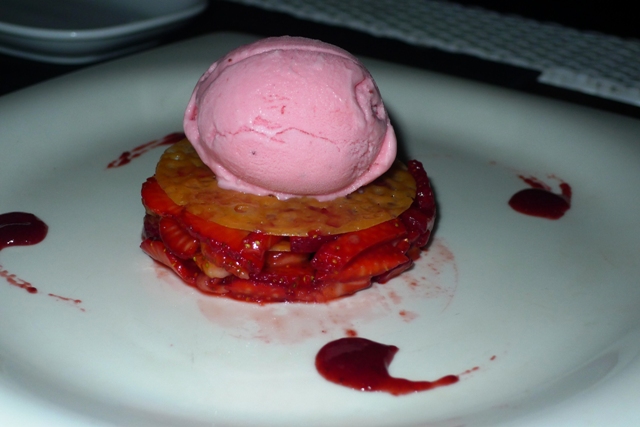 The romantic oceanfront ambiance of the restaurant, the excellent service of the wait staff, and Martin's outstanding Mediterranean creations made this evening a truly unforgettable experience on Koh Samui. If you are visiting Thailand and staying in a Koh Samui hotel, I would advise you to go dine at RockPool.
Hopefully it's a beautiful, clear night out, so you can take full advantage of the gorgeous weather and go on an empty stomach to RockPool at Karma Samui.  Martin will be there to greet you with a warm smile and will whip you up some scrumptious tapas while you are soaking up the natural beauty of Thailand!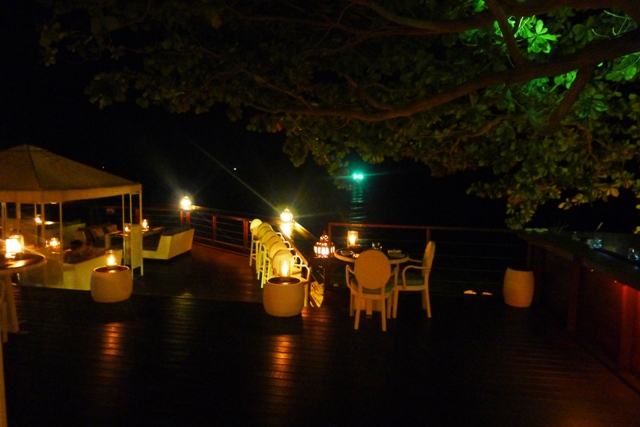 Many thanks to RockPool for sponsoring our wonderful meal.  All opinions, as always, are our own.
About Meg
Exhausted from traveling every week as a Business Management Consultant early in my career, I took a year off in 2012 to travel at my own pace. I am a high-energy girl that loves being active, eating food, drinking wine, and exploring the world with my partner-in-crime (and husband), Tony! I now reside in Portland, Oregon and continue to write about travel, food, wine, and the awesome adventures we have in the Pacific NW!