Now that Tony and I have settled into Portland, Oregon (going on three years now!) we have made it a priority to take at least one big international vacation each year… because once you have the travel bug, it never really dies.
These vacations allow us to explore countries we haven't checked off the list, and allow us to break away from the numerous wedding weekends and camping trips that seem to endlessly book up the rest of the year.
So, this year Tony and I were racking our brains on where to travel to next. Some usual suspects got thrown into the mix: Mexico, Greece, and Ireland to name a few.
But we wanted something different.
During our 2012 trip, we heard Portugal get brought up numerous times on the road from other like-minded travelers we met. Everyone raved about this charming (yet non-touristy) European destination.
And since 2012, the rumors of Portugal travel continued to come in – yet it didn't seem to be a destination that had yet to catch on with the masses.
We didn't know much about Portugal, but knew that it was:
Rich in 15th and 16th century history and architecture
Has delicious food
A world-class wine destination
… We obviously had to give it a go!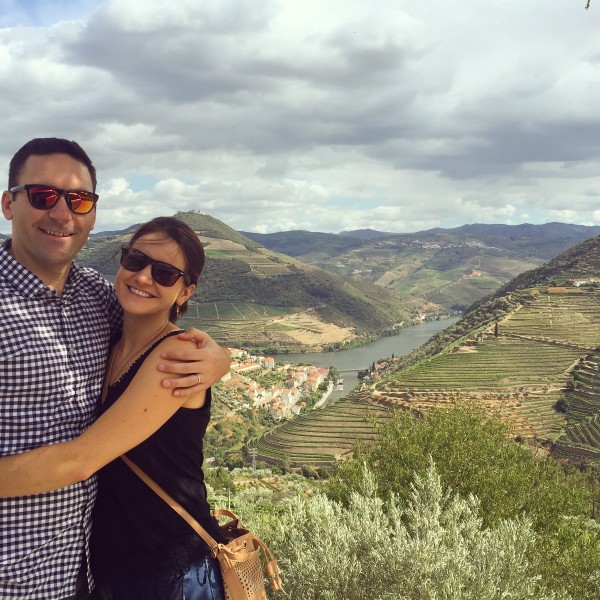 While the food and wine in Portugal didn't match Spain or Italy (in our opinion), it came pretty darn close. Not to mention, Portugal is cheap… DIRT cheap.
To end my ramblings, here are some of our favorite food & wine spots we hit up in both Lisbon and Porto.
I hope you decide to add Portugal travel to your list before it starts becoming popular!
Okay, let's do this…
Portland:
Lechon's Portugal Sunday Supper Series (Portland, OR)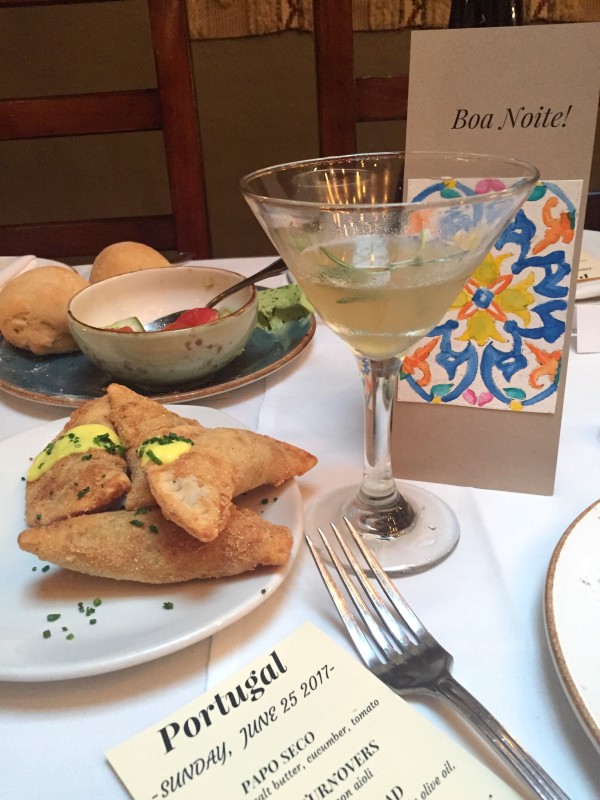 Wait, what? Why is Portland on this list?
I know, I know. We were so eager to try Portuguese food and wine that we couldn't even wait until our flight… So, the NIGHT BEFORE we departed PDX, we checked out the Portugal Sunday Supper at Lechon.
Since last year, the vibrant South American restaurant, Lechon (located on SW Naito Parkway), has been hosting Sunday Suppers. On select Sundays throughout the year Executive Chef, Jaco Smith, and his talented culinary team create a multi-course feast testing out new global cuisines for a family-style supper open to the public.
As an odd coincidence, the Portugal themed Sunday Supper just happened to be the night before we left for our trip to Portugal. Call it serendipitous… call it a little too eager. Bottom line, we went and it was fabulous!
Lechon was packed for the Portugal Supper. Hungry Portlanders gathered around  large tables for their six-course menu that showcased authentic Portuguese dishes (and cocktails) with a modern twist.
Among my favorites were the the Roasted Peri Peri Chicken and the Portuguese Spaghetti in a spicy red sauce tossed with fresh clams. YUM!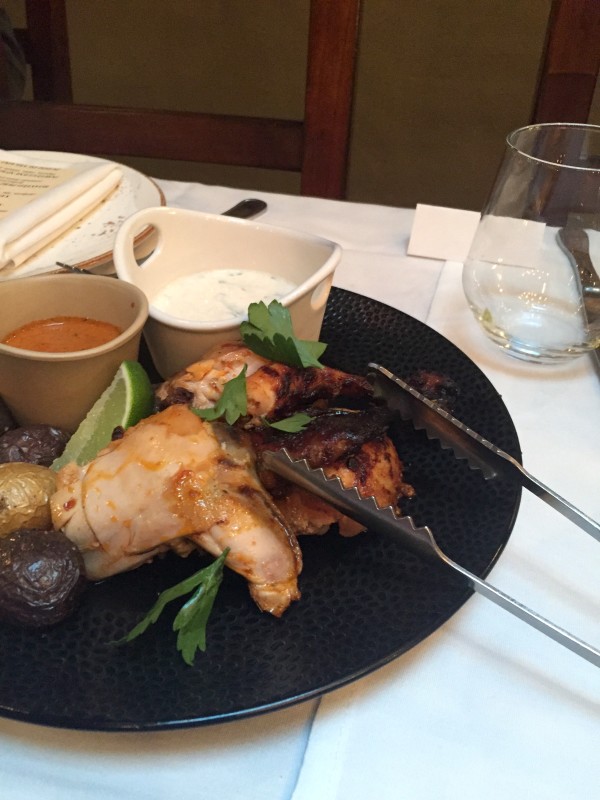 If you live in Portland and haven't checked out one of Lechon's Sunday Suppers, do yourself a service and book one ASAP. They are incredibly tasty and imaginative dinners – and very reasonably priced. Plus, for every attendee, Lechon donates $5 to a charity of their choice.
Lisbon:
Time Out Market
Popular with both locals and tourists, Time Out Market is a MUST SEE in Lisbon if you're a foodie (like me!).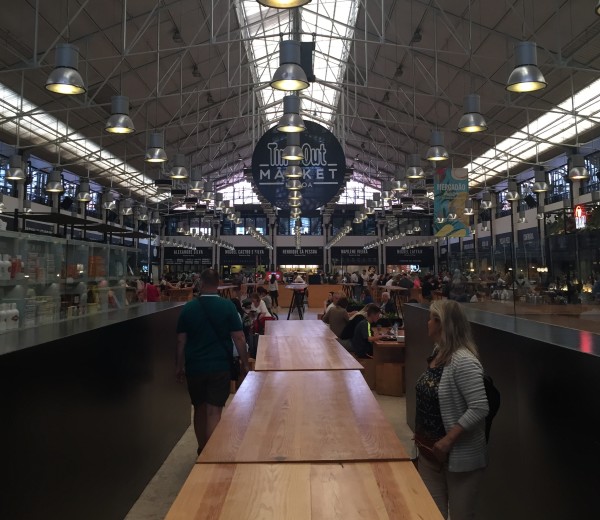 This famous gourmet food market has some amazing food stands run by some of Lisbon's most famous chefs (with even Michelin Star chefs running pop-up shops here). We came to Time Out for lunch and had the most incredible bowl of fresh shrimp in wine butter and perfectly grilled octopus with roasted garlic rice.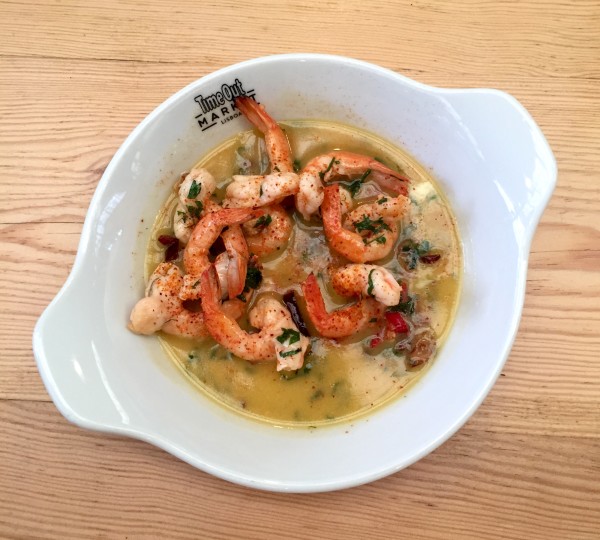 While you are at Time Out, check out Manteigaria for some pasteis de nata (a famous Portuguese dessert). This place is rumored to have the best pasteis de nata in town… and I stand by this rumor. We had our first pasteis de nata experience at Manteigaria and it was magical! The warm mini egg custard pastries came right out of oven and practically melted in my mouth.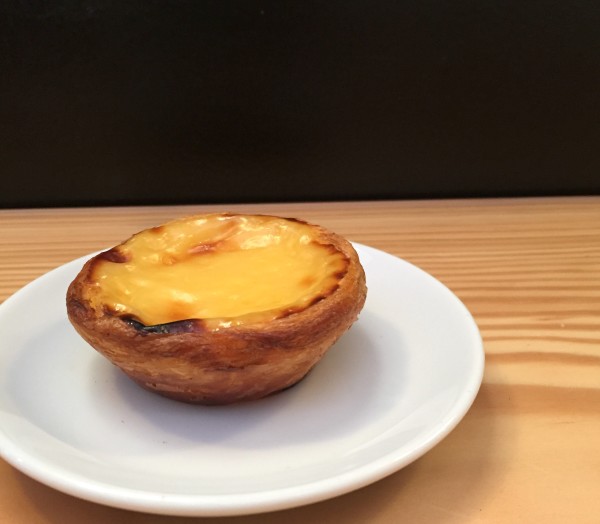 While you are indulging your sweet tooth at the Time Out Market, you should also check out the Santini ice cream shop.  This stuff is the real deal. They are rumored to have the best ice cream in Lisbon, and had TO DIE FOR coconut ice cream with gobs of real coconut shavings mixed in… heaven!
Park Bar
Recommended to us by our friend Dan, this is a fun hipster bar located on the top of a rundown parking garage in the Barrio Alto neighborhood.
From street level, you can take the sketchy garage elevator up to the highest floor in the parking garage, THEN proceed to the stairs for a few extra flights to the top… and here awaits a beautiful oasis: Park Bar.
While the drinks here are nothing to brag about, the views this place has of Lisbon are top notch! The patio area is PACKED and everyone is trying to get a seat overlooking the city, so be prepared to stalk the first-come-first-serve spots on their patio.
A Taberna de Rua de Flores
We dined at A Taberna de Rua de Flores on our final night in Lisbon and it was our favorite meal during our Portugal travels… BY FAR. When we were researching where to dine in Lisbon, all four travel blogs I read recommended this place, so we had to go!
This place is extremely tiny, with only 11 or so tables and looks extremely rustic and simple in its decor. But do not be fooled. This place churns out Michelin-quality food. Their focus is Portuguese dishes with a modern, Asian twist served tapas style. The chalkboard menu changes daily (based on what local ingredients are available) and is very seafood heavy.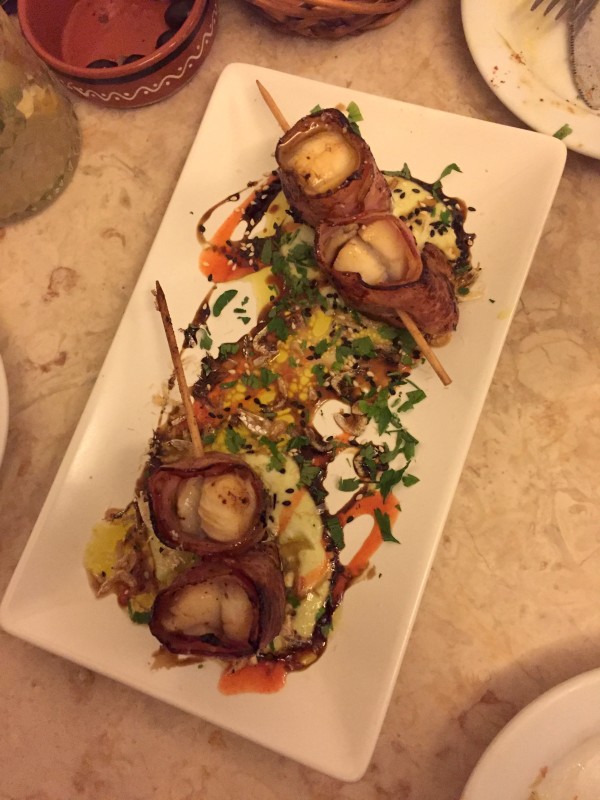 They recommend ordering a couple dishes per person, so it's best to go with three or four people so you can sample as much as humanly possible. Tony and I actually chatted with a fun girl from San Francisco while we were waiting for a table and the three of us ended up dining together!
Pro tip: Go early… like, super early. A Taberna de Rua de Flores does not take reservations and this place always seems to have a crowd of hungry tourists outside it eager to get a table. At 6:30 on a Wednesday night we got on a two hour wait list, and they were turning people away for the night by the time 8:30 rolled around. Also, the guy working the door is so friendly and will bring you drinks outside while you wait. Or, you can go to the bar at Le Consulat down the street for a pre-dinner beverage….
The bar at Le Consulat
This bar was recommended to us by the waiter from A Taberna de Rua de Flores and it was awesome! It's located on the second floor of the Le Consulat hotel and overlooks the quaint plaza below. The entire old-timey decor in the bar reminded me of a jazz bar straight out of New Orleans.
This bar caters to all boozers, as it has both a dedicated cocktail bar in the front of the bar and a wine bar in the back. It was the perfect compromise destination for me (the wine lover) and Tony (the cocktail guy). The cocktails here are wonderful (Tony had a whiskey one that I am still dreaming about) and their wine list is small, yet delicious. We found the entire staff to be very attentive and helpful here too.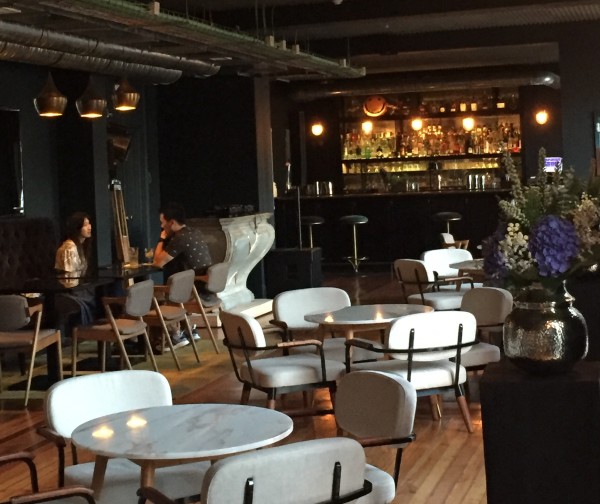 Apparently the new restaurant opening at this hotel will also be operated by the owners of A Taberna de Rua de Flores… I guess I'm just going to visit Lisbon again!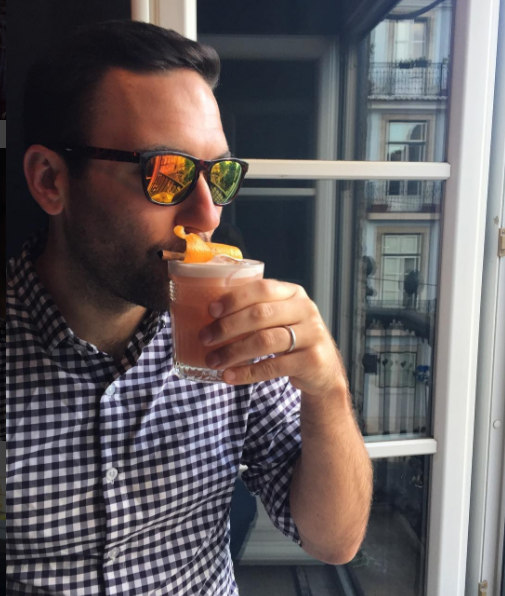 Porto:
Douro Valley – Lab Portugal Tours
Pro tip: If you are making a trip to Porto DO NOT MISS out on visiting the Douro Valley wine region. Tony and I have been to numerous wine regions across the globe (#notsohumblebrag) and this one by far was the most spectacular.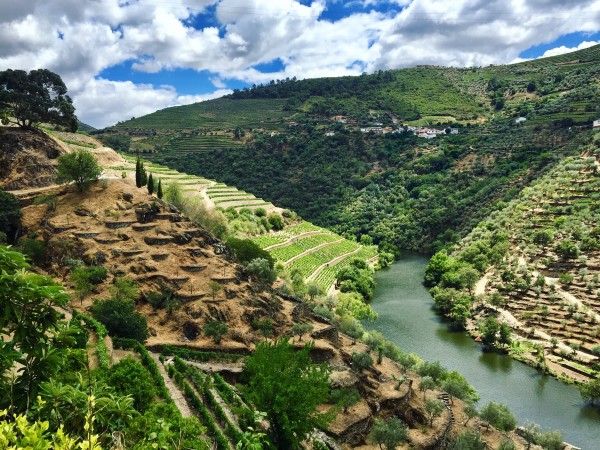 To start, what other wine region specializes in Port?!
Secondly, this wine region is STUNNING. With vines terraced up the steep hills and the Douro River snaking through the valley, you will find it hard to put your camera down to sip on your many glasses of delicious Port.
We splurged and did a private wine tour with Lab Portugal Tours and would do it all over again if we had the chance – 100% worth it.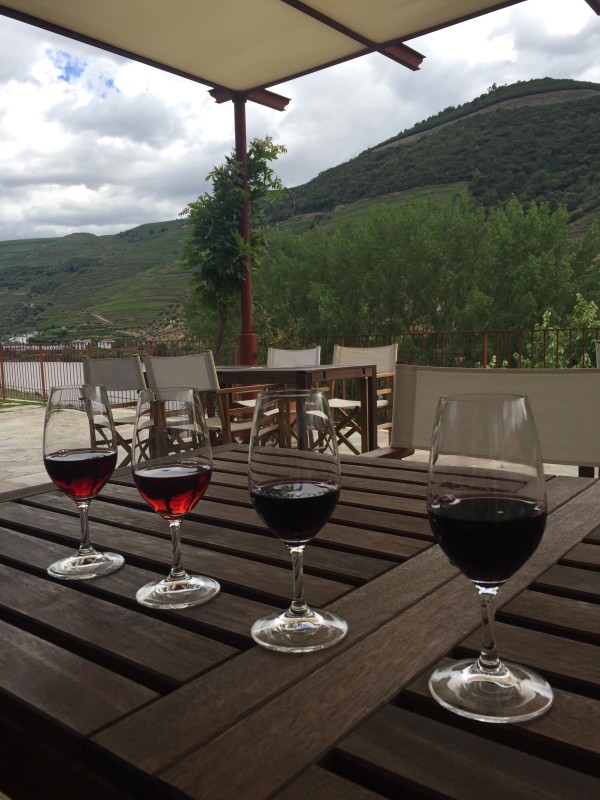 Our driver and tour guide for the day, Miguel, picked us up at our Airbnb in Porto (an hour and a half drive from Douro Valley) and took us to four incredible wineries during our NINE HOUR wine tasting.
We sampled some amazing ports throughout the day and discovered how much we truly love Tawny port! Our favorite winery along the way was Fonseca – both for the quality of the Port wine and the beautiful scenery.
This was by far the most memorable day of our trip.
Restaurante Flor dos Congregados
Recommended by Michelle of Hummingbird High, Flor dos Congregados is one of the oldest restaurants in Porto, specializing in "slow Portuguese food." The ambiance here is so cozy and romantic and the entire staff was incredibly friendly.
Not to be missed: The smoked chorizo… and really any cut of meat!
Intrigo
Recommended to us by the bartender of The Wine Box wine bar (another spot I would highly recommend!), Intrigo is a newer restaurant in Porto and has AMAZING views of the Douro River – and is tucked away from the main tourist drag that runs along the waterfront. The place was empty when we came here, so we were able to dine out on their patio, which was perfection. The service was great, the food was solid (and reasonably priced!), and the ambiance was on point.
Graham's Wine Cellar
This place is WORTH the hike up the hill. Boasting unparalleled views of the Douro River and all of Porto, Graham's Wine Cellar (built in 1890) has delicious Port that you can enjoy on their giant terrace. We can here for one tasting… two hours later, we were 3 glasses (and two cheese plates) deep. We never wanted to leave!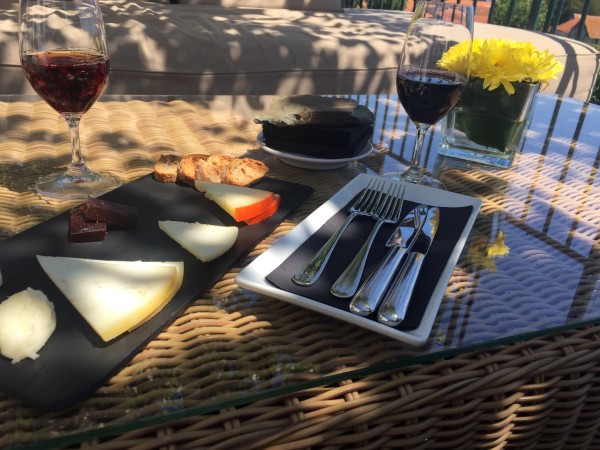 Kopke Port House
As soon as you get off the Ponte Luís I Bridge, you will see Kopke – The oldest port cellar in Porto (originally opened in the 1600s). Kopke is very famous for their Vintage and aged Tawny Ports. The tastings here aren't cheap (mine was $22 euros), but they give you a TON of wine (I had 5 samples, which equaled about 3 full glasses). They even did a chocolate pairing with the wines, which I was a humongous fan of!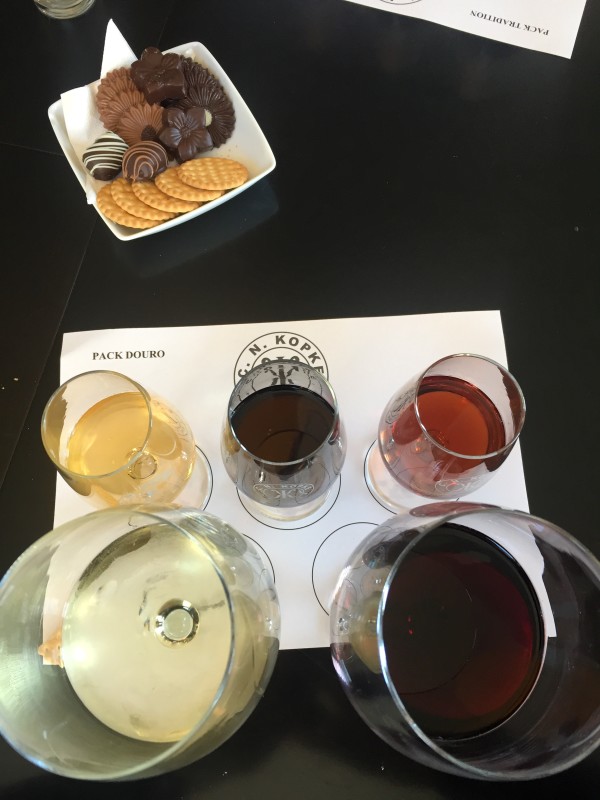 Be warned: They did not skimp on their pours, or their portions of chocolate. Give yourself a couple hours here… drink wine, eat chocolate, and be merry.
Wine Quay Bar
Even though this is in the heart of the touristy waterfront, Wine Quay place is anything but. It's such a cute little wine bar with a great selection of all kinds of wine, in addition to Port. They only have a few tables here, and their outdoor seating is competitive, so I would recommend coming during the off hours. They even give people squirt guns to battle the hungry seagulls circling the bar.
Note: It was closed during our Porto trip, but we also heard great things about the waterfront restaurant/bar, Bacchus Vini.
I hope you find this foodie guide helpful as you plan your Portugal travels. In the Comments, please let me know if you have any questions, or if I missed any Lisbon and Porto hot spots!
About Meg
Exhausted from traveling every week as a Business Management Consultant early in my career, I took a year off in 2012 to travel at my own pace. I am a high-energy girl that loves being active, eating food, drinking wine, and exploring the world with my partner-in-crime (and husband), Tony! I now reside in Portland, Oregon and continue to write about travel, food, wine, and the awesome adventures we have in the Pacific NW!