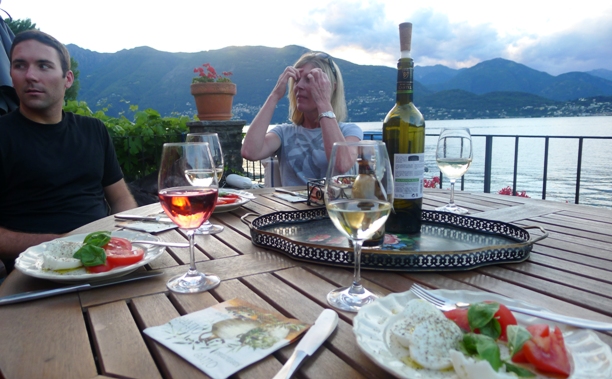 Part of having an incredible dining experience is the company and ambiance that surrounds the meal.
Whether dining with a tranquil view of the ocean or with a glass of wine with friends and family at home, a positive atmosphere can uplift anything you are eating.  An incredible dining experience requires the total package.
Our total package meal this week was in the beautiful town of Gerra Gambarogno, Switzerland.  Tony and I were invited to stay with our friends, Lisa and Fritz, at their waterfront villa on Lake Magiorre for a few nights to kick our feet back and relax.
Gerra Gambarogno was more stunning than I ever could imagine.  As corny as it sounds, it is one of those places where you have to pinch yourself before you realize that you are not dreaming.
On our first night in town (after a long day of travel), Lisa and Fritz invited us to their main house (which resembled George Clooney's abode on Lake Como) for dinner and wine on their waterfront terrace.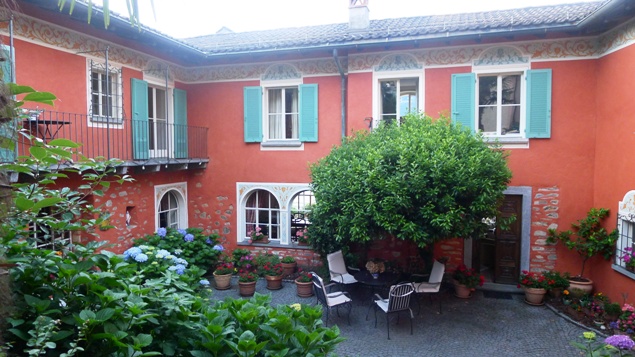 Here on the terrace, the weather was perfect and the four of us got to share travel stories, share laughs, and share a couple of bottles of wine!
Having worked in the wine industry in California, Lisa knew her wines and served us two exquisite bottles to accompany our wonderful meal.  For dinner, we enjoyed a fresh caprese salad and a local, free range chicken roasted with fennel in a clay pot to perfection.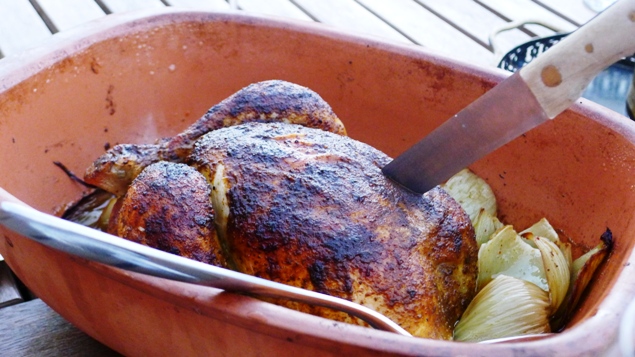 Both the food and wine were to die for and it had been forever since I had eaten such juicy, tasty chicken.  But what made the meal ever the more special was the atmosphere.
I couldn't imagine a more idyllic situation than watching the sun go down over Laggo Maggiore with great drinks, great food, and great friends.
Your turn: Was there a particular meal that you enjoyed that was made even more memorable with good company and good ambiance?  Please share it with us in our Comment section below!