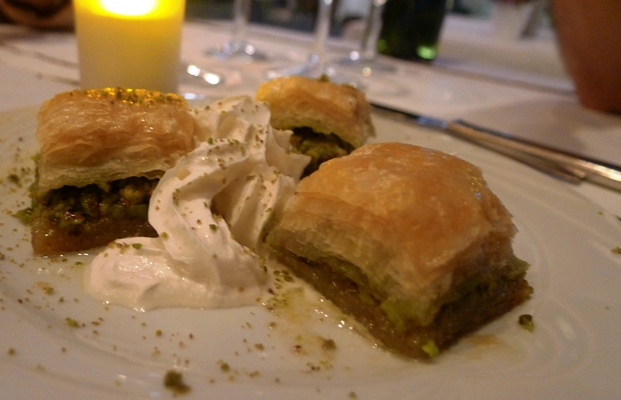 When looking for the perfect dessert, I always default to my true love, chocolate.  But when I am on the road, I like to be adventurous with my pallet and try local dishes.
This past week, Tony and I ventured to Istanbul with Tony's parents, Jerry and Cathy.  In Turkey, chocolate is not present on most dessert menus.  But what you can find at almost every restaurant and café is Baklava!
For those of you who do not know what Baklava is, Wikipedia can help there:
Baklava (bɑːkləvɑ): A rich, sweet pastry made of layers of filo pastry filled with chopped nuts and sweetened with syrup or honey. It is characteristic of the cuisines of the former Ottoman Empire.
If I had to compare this dish to an American dessert, I would say that it tastes somewhat similar to Pecan Pie – One of my many dessert weaknesses.
Of course being Rulli's (foodies and extremists), we had to go on a mad hunt through the city in search of the perfect Baklava.  Not a day went by on our trip where this sweet treat did not pass our lips.
We tried pistachio Baklava: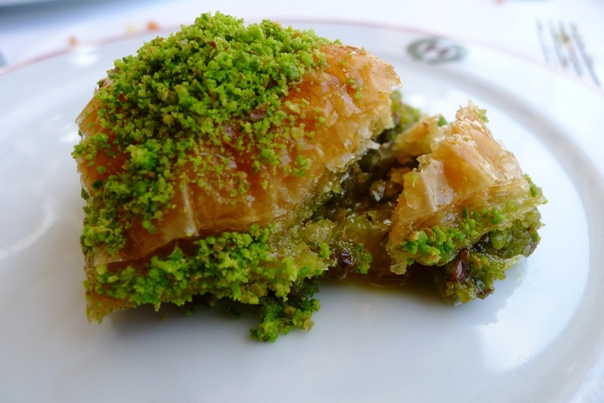 Baklava with clotted cream: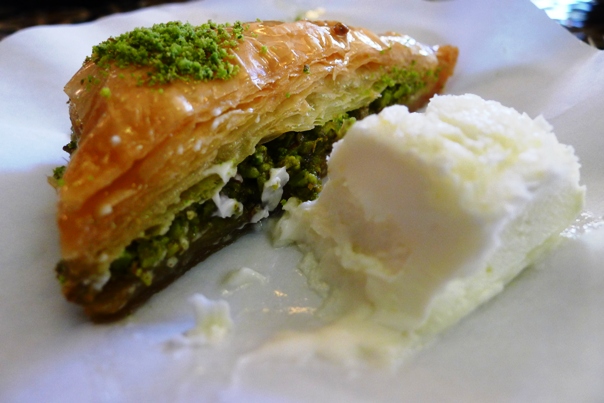 Walnut Baklava… This one is not pictured, mainly because it was my favorite and I ate it before Tony could get the camera out.
And chocolate Baklava: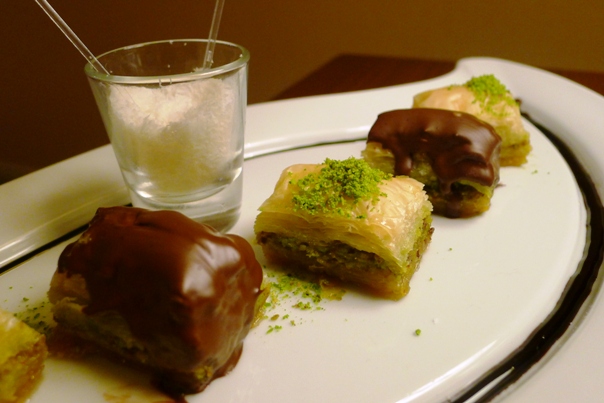 In short, Baklava is OUTSTANDING.  It could be my new favorite dessert and if I ever see it again on a restaurant dessert menu, I may even choose it over chocolate… And that is saying A LOT!
As an added bonus, if you order it at a restaurant, they often bring it to you warm and gooey out of the oven… Simply divine.
At roughly 400 calories a piece (and loaded with corn syrup), how could these little Turkish balls of joy not be epically delicious?!
Ladies and gentleman, trust me, these are worth the calories.  If you ever venture to Turkey, get your butt to your hotel gym, run some serious miles, and enjoy one (or several!) of these suckers every day!
Your Turn: Have you ever had Baklava? What is your favorite dessert that you only discovered while on the road?