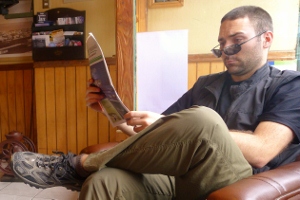 After our week in the wilderness of Patagonia (both in Chile and Argentina) we are back in the land of wifi… hurray!
While we make our way north through the Chilean lake region, check out what some of our favorite travel writers have been up to in an accidentally book centric Weekly Roundup!
I have a passion for books that some might say is borderline creepy. But how can you not drool over this incredible bookstore in Buenos Aires made from a converted theater? If you love books, than you might just find yourself with a jealous girlfriend giving you the stink-eye as soon as you walk in the door.
Is it hypocritical of me to love books, but only buy books on my Kindle now? HELL NO! The Kindle holds thousands of books at a time, lets me buy a book from anywhere in the world, and lets me type notes and highlight my favorite passages (nerd alert). Get over your love of paper and hatred of trees… get a kindle for your next big trip and never look back!
I have never been, what some of you may call, "organized." I consider myself to be more "flirting with disaster" when dealing with a project or deadline. But Lillie's tips on getting organized are great for everyone, whether or not you are on the road or still in your cube. Also, buy Getting Things Done by David Allen… just doing 2-3 of his hundreds of suggestions will you help function in normal society (if you need the help like me at least).
I love me some DFW (David Foster Wallace), especially his essays for hire. Check out this great deconstruction by David Miller of DFW's inspired travel article on cruises. Make sure you read DFW's original essay as well. Really interesting and highly relevant for travel bloggers dealing with sponsored posts and their responsibility to the audience.
Hell Ya BOSTON!!! I always love when Boston gets some love from the travel writers out there and so I just had to spotlight a couple. Brittany goes the extra mile for her boyfriend and dives into Red Sox culture and realizes that yes, Fenway is that awesome. Over at Pause The Moment, Ryan shares a gem of a spot for travelers looking to stay at an inexpensive, yet comfortable, hotel in Boston. Free tix to the aquariam? I'm in!