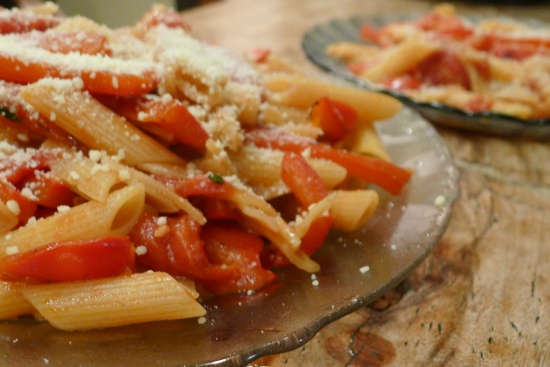 Ahhh, Pasta.
The foundation of every cheap backpacker's menu.
But don't worry… this is not just a simple pasta recipe. Because everyone knows how to make pasta right?
WRONG!
Whether on the road or comfy in your own kitchen, there is such a thing as making bad pasta.
And you know what? You probably are.
How To Finally Make Pasta The RIGHT Way
Prep Time: 5-7 minutes
Cook time: 15 minutes
The Sauce
Do not buy your pasta sauce… it is so easy and so much tastier to make your own. Simply go to the market before you start to cook and buy the tomatoes and whatever veggies you like. For a nice bolognese, buy some sausage or ground beef from the local butcher.
See below for our preferred way to make sauce, but pasta sauce is a very personal thing. No judgments here on what you want to add or takeaway.
The Pasta
Yes. I really am going to explain to you how to cook pasta. The most overlooked, but absolutely key, piece to the entire meal. You do not just boil water, throw in pasta, drain when cooked, and serve with sauce on top.
Lame!
The key to the best pasta of your life… the one secret that Meg and I have deduced from watching years of the food network and experimenting with pasta every other night on the road… is simple:
Cook the sauce in a larger pan than necessary.
Boil the water and add in a little salt and oil if desired.
Throw in the pasta as the water begins to roll.
IMPORTANT: Take the pasta out about a minute before it is al dente (that delicious texture that all true italians love) and instead of draining all of the water, use prongs to plop the pasta (along with some delicious starchy water) into the sauce pan. The starchy water does something transcendent to the sauce as the pasta and sauce bind together when mixed.
After a minute of stirring and massaging the sauce into the pores of the pasta, you should be ready to serve some perfectly cooked al dente pasta.
Ingredients
Recipe for 2 people (plus some small leftovers)
2-3 medium tomatoes
1 large onion
1 large green/red pepper
1 small hot pepper (if you like spice)
3 cloves of garlic (if you aren't going out later or just don't care about your bad breath)
Mushrooms (if not too expensive from the market)
Eggplant
Red wine (You're drinking red wine with your pasta, right?)
Cooking Instructions

Put a pot of water on the stove to boil.
Slice the onions and get them into an oil coated pan asap. We're going to caramelize the heck out of these bad boys.
Now slice the pepper, eggplant, and mushrooms into strips while you mince the hot pepper and garlic. Dice the tomatoes into whatever size you prefer, but we like half inch chunks.
When the onions just begin to brown, throw in the eggplant, peppers, mushrooms, garlic, and hot pepper. Let these cook until nice and soft as well. Do not be afraid to burn the onions. The reason caramelized onions are always so good at restaurants is because they brown them way past when most amateurs would… Burn those suckers!
Once the onions have that beautiful brown hue we're looking for and the eggplant, pepper, mushrooms, hot pepper, and garlic have softened up, throw in the tomatoes with a healthy splash of whatever red wine you are having with your meal.
Keep the lid off of the pan and let the tomatoes soften until you have a nice healthy red liquid of tomatoes and wine marinating in all of those veggies. This should reduce nicely over the next 6 minutes.
The water in the pot should now be boiling, so throw in your pasta and add any salt or oil if you wish.
Test after 3 minutes for the proper texture. Remember, it should be a slightly more firm than al dente. After about 5-6 minutes, you should find what you're looking for (times differ depending on the type of pasta).
Take your prongs and pluck the pasta, still dripping with water, into your sauce.
Mix so that the sauce envelopes the pasta and let this marinate for a minute or two.
Bueno!
Plate your creation and prepare to taste the best pasta you have ever cooked…
That is a LandingStanding Guarantee or your money-back!
Total cost of meal: US$6 for two people plus leftovers (counting the wine – add another $3… we're on a budget!).