It's that time of the year in the Pacific Northwest where there are Friendsgiving's galore, our December calendar is filling up FAST with holiday parties, and everything it getting delightfully dark, rainy, and gloomy in Portland.
This holiday season is leaving me to reflect on this past year in Portland. We moved to Portland in August 2014 – and this time last year, we only had a few local friends to share the holidays with. Now, we are scratching our heads trying to figure out how we (and our waistlines) are going to survive a weekend where we have three separate Friendsgiving's back-to-back. I am truly THANKFUL for all the amazing friends we have met this past year… it is these friends that have made this city feel like home.
Mushy holiday sentiments aside, this is also the time of the year where comfort foods and hot boozy drinks couldn't be anymore needed.
Since it 'tis the season, I thought it would be appropriate to highlight all of the best restaurants in Portland Tony and I have recently checked out that I think would be ideal to hit up over the holidays. So get your fat pants ready – and please share some of your favorite holiday dining spots in the comments!
Acadia Bistro – This is a perfect place for a casual meal with friends or on a date. I came here with a few girlfriends on a weekday night and the place wasn't packed at all, which was so nice because we got seated right away and had excellent service. The prices here are very reasonable and the food is incredible.
The BBQ Shrimp was probably my favorite dish – the sauce it came in was addicting and so good to sop up the table bread with. Their Arugula salad was also bomb, with just the right amount of cheese and nuts to balance everything out. We ordered the Gumbo Trio and all were super tasty, with the special Chicken & Andouille Sausage Gumbo being my favorite (it was the perfect level of spice & comfort!). All the food here is on point, but it's the warming Gumbo that really makes this place a fitting destination for the holidays.
But let's talk about the dessert…. The Vanilla Bean Bread Pudding is OUT OF THIS WORLD – and the most festive dessert for the holidays. I split it with my friend and almost fought her for the last few bites. No matter how full you are, just order this for dessert. You'll be glad you did!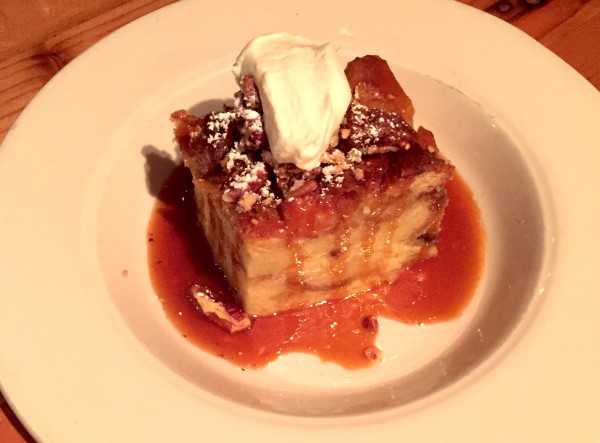 Moonstruck & Sunshine Dairy – Moonstruck is a chocolate lovers paradise. At Moonstruck, they take their chocolate VERY seriously. There is so much thought and detail that goes into every chocolate/truffle. From savory truffles (ginger bacon… WHAT?!) to the classics, this place knows what they are doing. Moonstruck is a great place to get gifts for the holidays and I'm still eager to try their shakes, which always look so mouthwatering.
Moonstruck even recently paired up with Sunshine Diary and is now selling Sunshine's UNBELIEVABLE drinking chocolate in their stores… Did someone say boozy chocolate holiday drinks?! Why, yes please!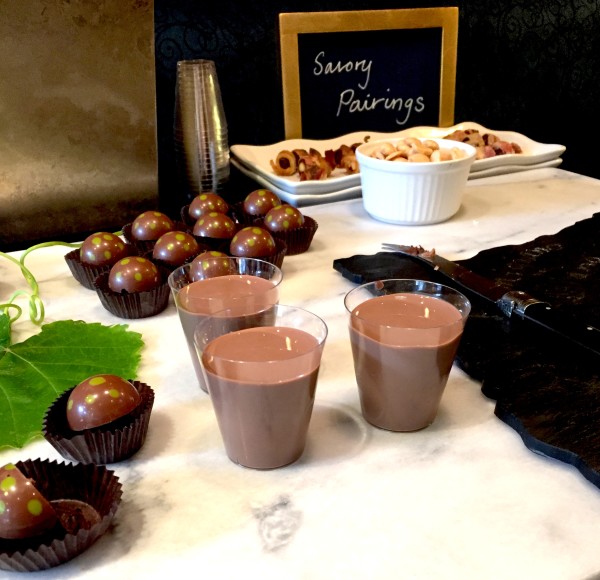 B&T Oyster Bar – I came here for a blogger tasting event and LOVED everything. This tiny candlelit oyster bar has a decor that is both chic and casual, making it the perfect place for date night or late night drinks with friends on a cold wintery night in Portland. They have a large drink selection, with some excellent and creative house cocktails.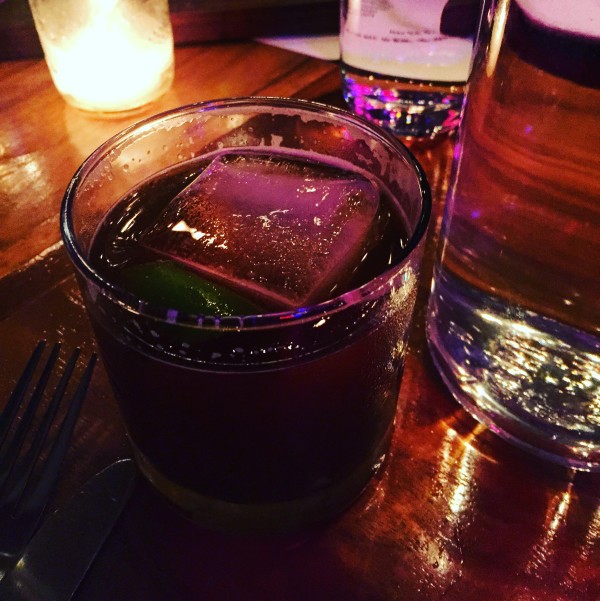 As far as the food goes, I can sum it up in one word: Spectacular. I had some samplings from their late night happy hour menu and adored with their raw oysters, crab roll, and rock shrimp. Oh and their miso cream kale from the regular menu was the best kale dish I have ever consumed, bar none! It's an excellent comforting and hearty "salad" to enjoy this season.
Lauretta Jeans Pies – Because who doesn't love pies over the holidays?! Tony and I came here last year and absolutely went nuts for this place. While we haven't been back since, it just seems like the quintessential place to situate yourself for an evening or mid-afternoon treat during the holiday season.
Stepping Stone Cafe – This is a diner at it's finest. With a quirky decor, bottomless coffee, and humongous portions, this place is just… everything.
Tony and I came here on a rainy day with friends and had an awesome meal of omelets and biscuits and gravy. The biscuits and gravy were, for once, too big of a dish for Tony to finish… Just to clarify, Tony tapping out on a meal is something I have NEVER seen before in all 9 years we have been together. They have "Mancakes" on their menu for crying out loud!!! I guess this is why Stepping Stone earned it's place on Man vs. Food.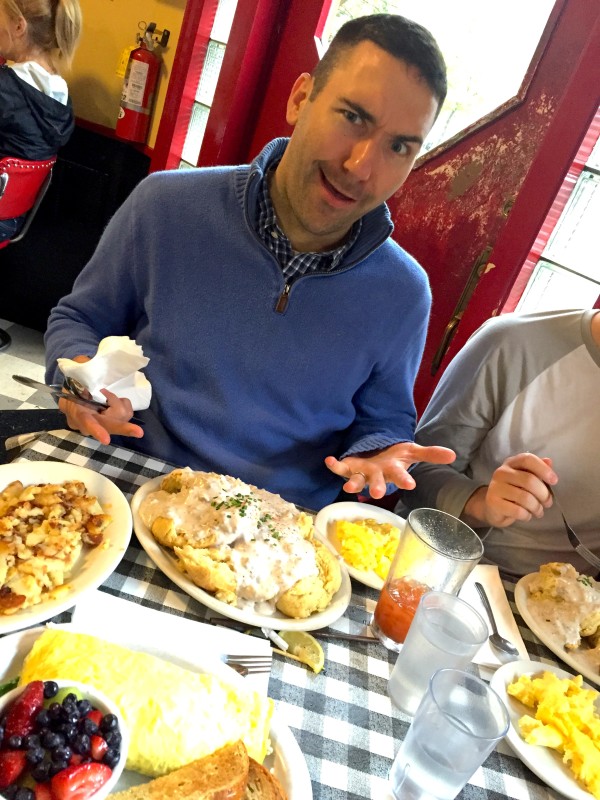 Bottom line, I couldn't think of a more cozy and casual place to brunch it with friends and family over the holidays in Portland.
AND last but not least, these final recommendations come from my dear friend, Alyssa Carter, over at Food In PDX… Enjoy! (written by Alyssa)
Paragon – One of my favorite places to go during the holidays is Paragon in the Pearl District. While it's busy and bustling with that energetic Christmas cheer, it's also warm and cozy. Grab a table by the fireplace and order the best grilled cheese and tomato soup you've ever had – seriously. For just $12, you'll get served up a decadent, buttery grilled cheese on Grand Central bread with a bowl of creamy tomato soup. With an extensive wine and cocktail list to wash it down, you won't be disappointed.
Cool Moon – While it may seem counter intuitive to get ice cream in the middle of winter, Cool Moon's festive, ever-changing list of seasonal flavors (plus its awesome location), makes it the perfect holiday stop. Grab a cone to go and head to Jamison Square to admire the twinkling lights and decked our Christmas tree with friends or family.
Your turn: Do you live in Portland? What are your favorite places to eat/drink in the city over the holidays? Please share in the comments!
About Meg
Exhausted from traveling every week as a Business Management Consultant early in my career, I took a year off in 2012 to travel at my own pace. I am a high-energy girl that loves being active, eating food, drinking wine, and exploring the world with my partner-in-crime (and husband), Tony! I now reside in Portland, Oregon and continue to write about travel, food, wine, and the awesome adventures we have in the Pacific NW!