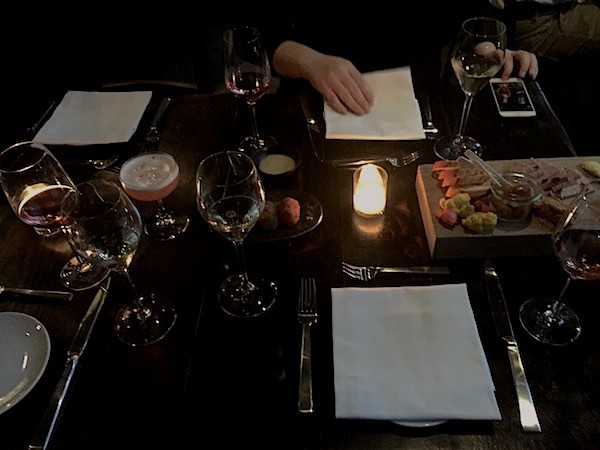 As a semi-newbie to Portland, I am always eager to explore new neighborhoods and places to eat and drink with friends.
Why you ask?
No matter where you are in Portland, or who you are with, you will always find something fun (often quirky) to do and something delicious to eat/drink. This IS the reason why Portland is quite possibly the best city in the world…
Yes, I'm biased, but it's just that good.
Take the Southwest Waterfront for example. What seems like a somewhat desolate neighborhood filled with high rises and condos turns out to be one of the best places for a date night in the area – all thanks to Muselet Wine Bar!
Muselet IS undoubtedly one of the best restaurants in Portland.
Let me set the stage for you:
I was recently invited by friends over at Little Green Pickle for dinner at Muselet. As well versed as I am on all things 'food' in Portland, I was a little shocked that I never heard of this place. After all, Muselet was named one of Wine Enthusiast's 100 Best Wine Restaurants in America for 2015.
When I fired up my phone to see where it was located, I let out a slight grumble when Yelp informed me that it was in the Southwest Waterfront – a hike from my place. BUT it got great reviews on Yelp and the Pickles always know how to pick the best places to eat in Portland… ya see what I did there?
Not questioning it further, Tony and I made our way down to Muselet.
Fast forward 3 hours, and I left Muselet with a full belly and a slight buzz from all the incredible wine that was paired with our tasting menu. In the Uber ride home, I even uttered the words, "that was one of the best meals I have had in Portland"….
Ladies and gents, this city has some remarkable food, so this is not a light statement to be throwing around.
As we sampled a frenzy of Muselet's dishes featuring a variety of ingredients (from trout roe,  pork terrine, to sunchoke mole), I was continually blown away by the impeccable presentation of the food, the intersection of simple ingredients and complex flavors, and the innovation in each dish.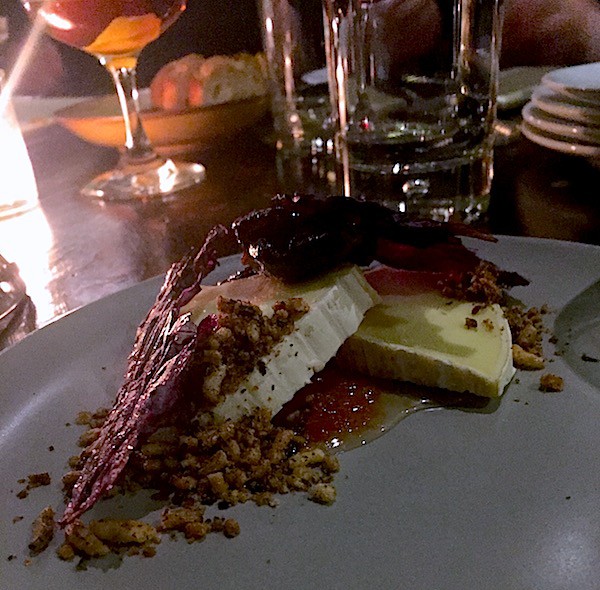 But what made the evening especially memorable was meeting the owner, Ron Acierto, and enjoying some of his favorite wines.
You can often find Ron running around the chic restaurant (with admirable speed, I might add) with a wine bottle in hand and giant smile on his face. Whether you know Ron personally, are Barack Obama, Damian Lillard, or just someone wanting a nice meal on a Saturday night, Ron treats every one of his guests like a celebrity.
And he does it because he 100% LOVES what he does.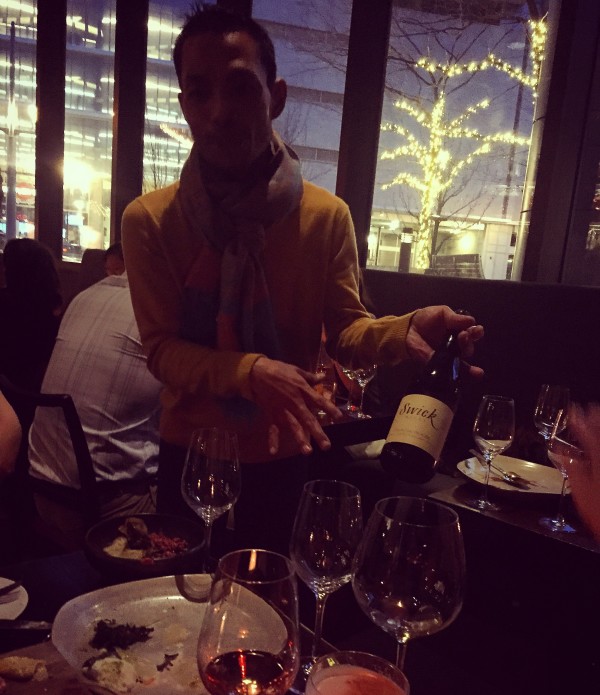 Ask him about his favorite wine at Muselet and he will happily sit down with you one-on-one for an intimate conversation, no matter how swamped the restaurant is.
This passion is inspiring and humbling to see.
As enthusiastic as Ron was about interacting with customers, sharing his admiration (and knowledge) of wine, and running one heck of a business at Muselet, I knew I had to interview him to learn more about his story.
Originally from the Philippines, I also was eager to learn about what from his upbringing brought him to the United States and fueled his passion to run a restaurant in Portland.
I hope you enjoy his story and take a trip down to the Southwest Waterfront to visit Muselet – trust me, you won't be disappointed.
How did your childhood in the Philippines shape your dream to own and operate your own restaurant?
Looking back, I can remember that I was always surrounded with food — usually watching and helping my Mom and aunties in the kitchen — or anything to do with helping the men do the butchering. At family gatherings, there was always something to eat.
Despite these surroundings, I wanted to be a physician — one of my heroes was my adopted brother, an anesthesiologist.
I grew up in the northern province of Ilocos Norte near the South China Sea. My village was in the middle of rice fields. To the east are the mountains and to the west is the sea. I grew up in a very small town, Ngabangab (in Tagalog it means 'chatty') in an area that is fertile, lush and green.
I didn't realize how much my village meant to me until I moved to the states. Now I dream of my family butchering poultry and meat, and then starting a fire with charcoal in the back yard and an hour later, there is an array of meats, veggies, steamed rice and more. It was always a feast.
What inspired you to grow your career in Portland of all cities?
I came to Oregon from Indianapolis in 2003 to work for Cherry Hill Winery in the Eola Amity Hills in 2004 as a hospitality and wine sales manager. I realized immediately that, unlike Idianapolis, this was where my dreams were leading me.
I fell in love with the food and restaurants in Portland. My excitement about Pinot Noir and sparkling wines suggested to me that I could really do something in Portlandia, a place that embraces small businesses and everything local. It was Oregon's incredible bounty that made me realize that this was my new home. I found a fertile, friendly place to realize my dreams and happiness with my partner, a native Oregonian.
Muselet was named one of the 100 Best Wine Restaurants in America for 2015 by Wine Enthusiast magazine – what has earned Muselet this reputation and why/how is the dining experience so unique at Muselet?
The award came as a complete surprise to me. We were in a soft-opening phase early in May 2015 and we weren't doing much promotion. I knew there were some people in the media who were paying attention to what we were doing. The award was an early welcome nod of approval.
What's unique about Muselet is that we are very serious about the relationship of food and wine. We want both to showcase each other. We don't believe in rules too much. We want to engage our guests in a discussion about food and wine, without being pretentious. We want the food to be approachable and welcoming, but we also want to be extraordinary in what we know and what we offer.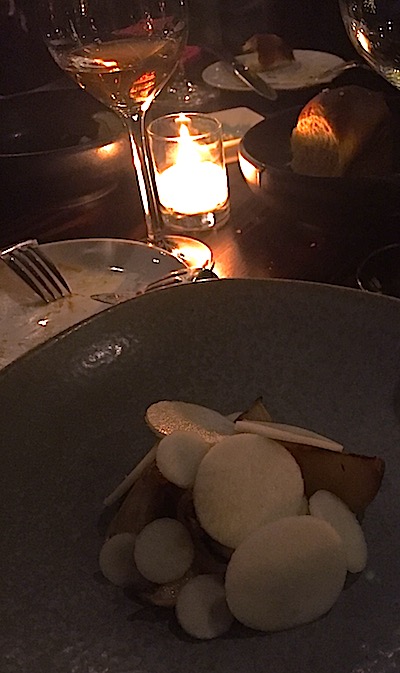 Most of all, we love what we do. The reality is that Muselet is a business that supports many people, but we want it be a FUN business.
How does Chef Greg Zanotti's menu specifically showcase the ingredients of the Pacific Northwest while drawing inspiration from the cuisines of the world's best wine regions?
Greg is a fervent believer in 'no rules.' He takes a simple approach, letting every ingredient be present in the overall flavor of a dish, in perfect balance with the others is simple approach to ingredients.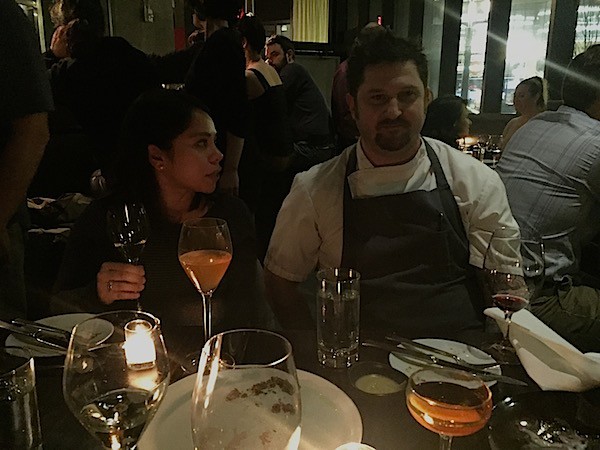 Chef Greg Zanotti chatting with Little Green Pickle's Brooke Adams
While he draws from cuisines around the world for inspiration, his food is rooted here in the Northwest. For example, his rice porridge is a traditional Asian dish, but he enlivens it with a warm farm-fresh egg yolk and Pacific Northwest trout roe.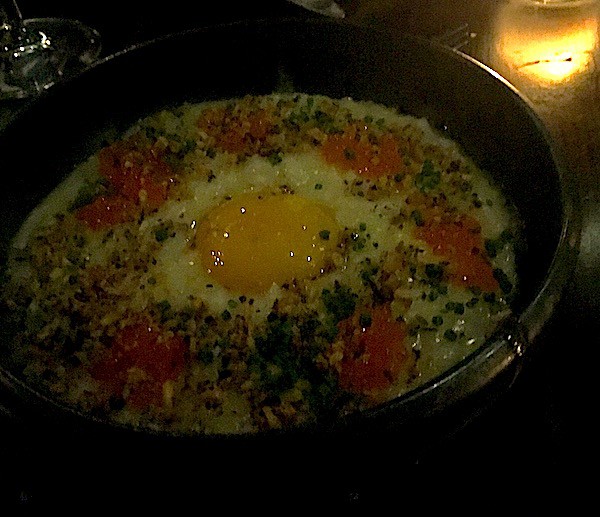 Best dish of the night! Try Muselet's Porridge (seriously)
What are your favorite regions (nationally or internationally) to explore/enjoy wine and why?
I have always been drawn to France, especially Burgundy and Champagne. Our own Willamette Valley AVA is on the exact same geographic parallel as France, so comparisons between the two are particularly interesting.
Since we are so close to California, the wine regions there are endlessly fascinating. The Napa Valley wine production is decades older than Oregon's and I find it fascinating to think of where Oregon will be in 30 years.
What was one food & wine-pairing experience that stands out from your travels and/or background in the industry? What made it so memorable?
First, we are trying to create a new, modern adventure in food and wine at Muselet, and we are trying to do that in an authentic and intentional way that is unabashedly Oregon-proud. With that said, our wines are from all around the world and our food is globally inspired.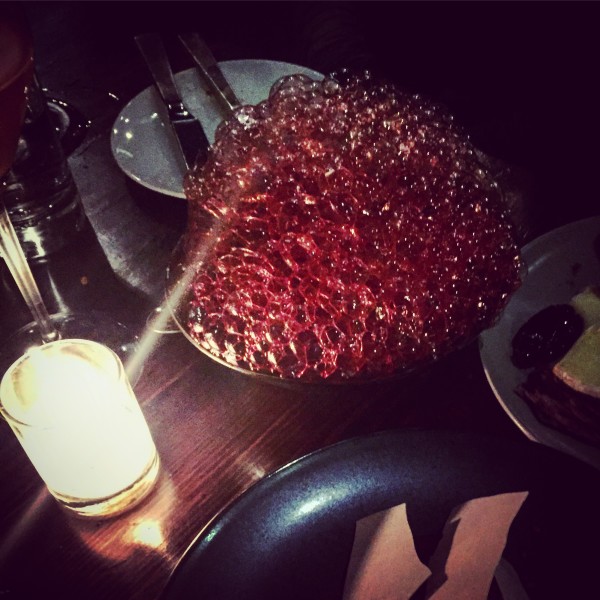 Muselet's 'WOW-factor' bubble-up dessert – a goat's milk custard topped with seasonal berry bubbles!
One of my most memorable dining experiences was at Alinea in Chicago. It's one of the best restaurants in the world and everything is perfection. It would not work here now but maybe in the next few years. Oregonians have a very sensitive 'pretentious' trigger, so we are trying to find just the right balance. Muselet is not for everyone, but for those who appreciate what we do, we intend to provide a world-class experience.
I rarely make it down to the Southwest Waterfront area in PDX. In addition to enjoying Muselet, what would you recommend checking out and doing in this area for your customers?
South Waterfront is steadily becoming a thriving urban community. We are constantly hearing from guests that they had no idea there was so much going on down here. OHSU is rapidly transforming the 'hood into a beehive of activity, from construction to all the students you see in scrubs on the streets. Apartment buildings are being built as fast as they can be, adding to the buzz.
The OHSU Aerial Tram and the new Tillicum Crossing, as well as the Portland Streetcar (stops at our front door) and TriMet's buses and Max, make this the most interesting transportation hub in Portland.
We feel like we're here early and we'll see much more begin to happen very soon. We are promoting that fact that 'we're on your way home' if you live in Lake Oswego, Dunthorpe, West Linn, Milwaukie and Oregon City. We say, 'Stop in for a snack and a glass of wine or a cocktail and sit out rush hour. You'll feel so much better when you do!'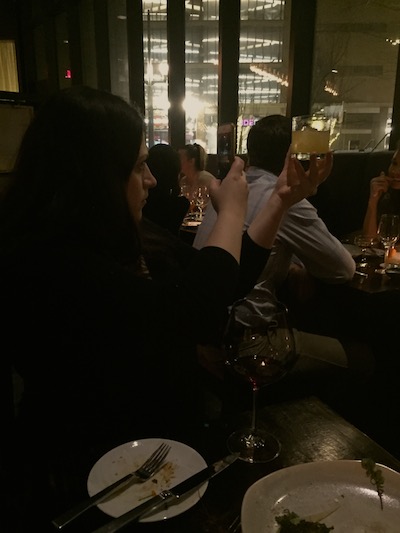 Meredith Davison of Martha Chartreuse enjoys happy hour cocktails at Muselet
What are some of your favorite places to eat and drink in Portland?
I am always in search of great Asian food — it's what I crave. It's very exciting that Portland has become 'Ramen-crazed' — we love Marukin. We also had a stunning meal at Le Pigeon last week, where they take a totally different approach than we take at Muselet. Castagna has always been a big favorite, as well as Natural Selection. The food at Jory at The Allison Inn and Spa is superb wine country food, and their wine cellar is top notch.
I have been fortunate to have been associated with some of the best places — Bluehour, Departure, Jory — that are still among my favorites.
I also have a soft spot for great coffee houses, so I have visited the majority of cafe's. Lastly, give me a great chocolate croissant any day of the week. There is something soulful, romantic and satisfying in finding the most incredible delicate bite of any pastries.
I could also cozy up on a dark dive bar anywhere in town.
About Meg
Exhausted from traveling every week as a Business Management Consultant early in my career, I took a year off in 2012 to travel at my own pace. I am a high-energy girl that loves being active, eating food, drinking wine, and exploring the world with my partner-in-crime (and husband), Tony! I now reside in Portland, Oregon and continue to write about travel, food, wine, and the awesome adventures we have in the Pacific NW!