Check out the bottom of this post for my complete PACKING LIST for the Inca Trail to Machu Picchu 4 day / 3 night hike!
After our Inca Trail hike last March, I wrote a post on tips for hiking the Inca Trail… But little did I know that people had WAY more questions than I had answers.
Thus my reasoning for following up with an article to answer all the follow-up questions people had from my initial list of tips.
How far in advance should people book their Machu Picchu tours? Do you pay online and then contact their office once you're in Cusco ?
The best time to visit Machu Picchu is outside of the rainy season. The peak season (with the best weather) is June to August and when booking during the peak season, you should book it 6 months in advance. Be advised that the trail closes for the entire month of February for cleaning. We actually booked our hike during the rainy season (late March), so we only had to book out 2 months in advance, since it was the low season for the treks.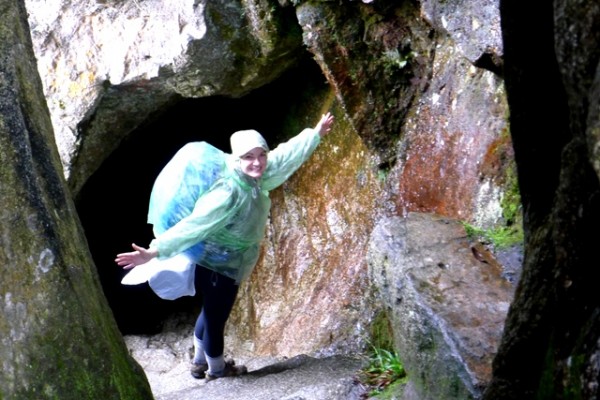 We booked our hike with Peru Treks (they are awesome!) and we paid in full online when we booked. When we got to Cusco, we had to go to their office for check-in and for an orientation meeting several days before our hike to discuss rules of the trail, last minute questions, and tips for what to pack, etc.
Prices between groups for Machu Picchu tours and Inca Trail treks can vary wildly. You can find trips for as cheap as $250-300 (in addition to the Inca Trail entrance fee), but we've heard VERY mixed reviews. Peru Treks was moderately priced compared to their competitors at $500 and it was an excellent value.
What made you choose Peru Treks over the other tour companies?
We had so many recommendations from other backpackers to try Peru Treks and after doing some research, we found that they were among the best tour companies and Peru Treks was incredibly reasonable with their price for the 4 day / 3 night trek. We had such a great experience with them. Excellent equipment, guides, food, and customer care…. They even brought you hot coffee and hot chocolate to your tents for your morning wake up call…. How can you top that?!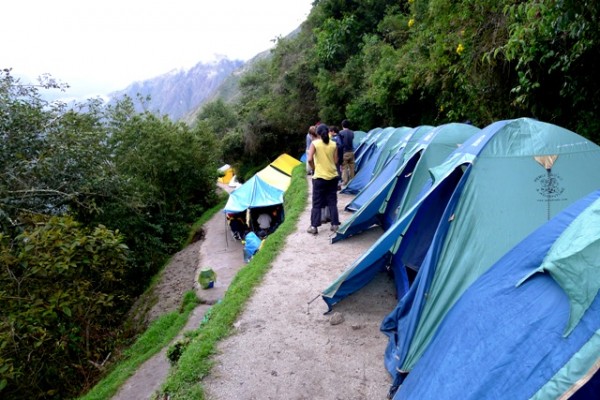 How in shape do you need to be for the Inca Trail hike? Should us old folks worry?
As far as physical fitness, it isn't extremely intense but you should definitely go on some day hikes beforehand to get in shape for the hike. Day 2 of the hike was the hardest for us. Day 2 is only a couple hours of hiking but it a steep hike… But the scenery is so stunning that you forget about the physical activity for much of it!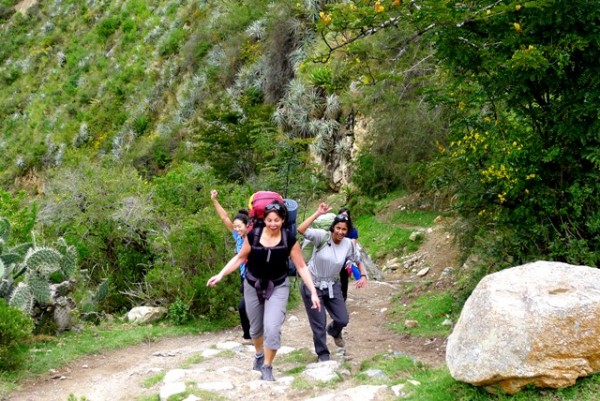 There were 4 people on our trip that were in their 50′s and 60′s and they completed all 4 days just fine. People are advised to go at their own speed, so even if it means getting to the campsite later than most of the group, just go at your own pace and take it slow. The hiking guides will always hang back with people too, so do not worry about losing your way if you fall back from the main crowd.
Regardless of how in shape you are, I would HIGHLY recommend arriving in Cusco at least several days prior to the hike to get acclimated to the altitude in the region.
Should I hire a porter?
The Porter's automatically carry tents, all of the cooking gear, and food & drink. An extra porter can be hired though to carry extra gear. So should you do it? It depends…
The prices to hire an extra porter vary depending on what company you are using. Porter's are great because they can carry a bag for you, which will allow you to pack more and not have to carry much during the days. Tony and I actually carried all of our own stuff (along with the sleeping bags and mats) and were fine. I was able to fit all my clothing and gear in a 32L bag and it wasn't that heavy (10 kilos). We didn't really have access to any warm showers on the hike so you can forget bringing too many toiletries besides toothbrush/toothpaste/deodorant, which will save room in your pack!
Do Coca Leaves really help with the altitude sickness?
Coca leaves are helpful and most of the guides have bags of them available on the trail… and some guides are definite Coca pushers! My biggest piece of advice for fighting off altitude sickness is to drink lots of water… I think that helps more than anything!  I would also bring Advil / Ibuprofen just in case you get a bad headache, but this is something Tony and I never had to do. It is also mandatory to show up 2 days in advance to get acclimated to the altitude, but if you can swing the extra time, try for even longer. The people who were at altitude the longest before the hike started had the fewest problems.
What should I pack for my 4day / 3 night trek?
Here was my entire packing list (lady-specific) and it was more than enough for the evenings and the trek in general:
32L backpack – Deuter Futura 32 (I can't recommend this bag enough. It packs in SO much & very comfortable. I traveled with it for 12 months!)
A GOOD quality camera – Panasonic Lumix DMC-LX5 (You're going to want better photos than your iPhone camera for this hike. But DSLRs will be too heavy to trek around. Tony and I researched the BEST point-and-shoot and the Lumix beat all the others. It was an incredible camera for the hike and takes AMAZING photos)
1 pair hiking shoes – Merrell Women's Siren Sport 2 Waterproof Hiking Shoe (These durable and waterproof hiking shoes are lightweight, non-bulky, are perfect for the trail, and can even be used as a running shoe)
1 headlamp – Ultra Bright LED Headlamp Flashlight (A MUST have when navigating around the bathrooms on the trail at night)
1 pair hiking pants – prAna Monarch Convertible Pant (Comfortable and actually cute. I wear these even when I'm not hiking)
1 pair leggings – Nike Lady Filament Long Running Tights (A super high-quality tight – I have had my pair for 8 years!
1 fleece – North Face Women 'Denali' Fleece Jacket (Super warm and much needed for the very cold nights)
1 zip up hoodie – North Face Women's Mezzaluna Hoodie (This non-bulky, slimming hoodie was perfect for cooler temps)
1 rain coat – North Face Women's Resolve Jacket (Windproof, waterproof, and perfect for layering in rainy weather)
2 quick-dry/no stink shirts – Icebreaker Women's Siren Tank (Worth the splurge! Incredibly durable, warm, and stylish)
3 pairs undies – ExOfficio Women's Give-N-Go Lacy  (Love these! They are cute, moisture-wicking, quick-dry, and odor shielding)
1 sports bra – Nike Pro Bra
1 pair heavy socks – Smartwool Women's Hiking Medium Crew Sock (These warm, high socks are perfect to tuck your pants into when using the gross Inca Trail toilets!)
2 pairs regular socks – Smartwool Light Micro with ReliaWool (Lightweight, moisture wicking, and prevents blisters on the hike)
1 alpaca sweater, 1 alpaca hat, 1 set of alpaca gloves (I would recommend buying these in Cusco, as they are very cheap in Peru). Same with a plastic poncho for very rainy moments on the trail.
Other items: Nuun Energy Hydration Tablets (for emergencies) Toothbrush, toothpaste, baby wipes, hand sanitizer, comb, hair elastics, bandaids, Advil, granola bars & snacks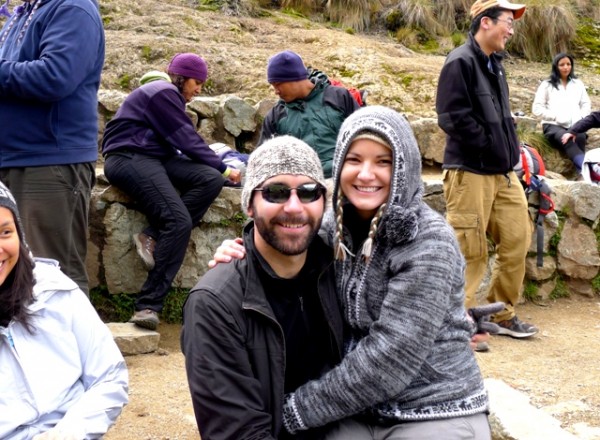 What are the evenings like on the Inca Trail hike (at the campsite)?
Very relaxing! Once people are done with the day's hike, the guides usually give the hikers an hour or two to themselves to relax in the tents or drink tea and coca (which they provide) with some snacks.  Dinner is then served (and is surprisingly good!).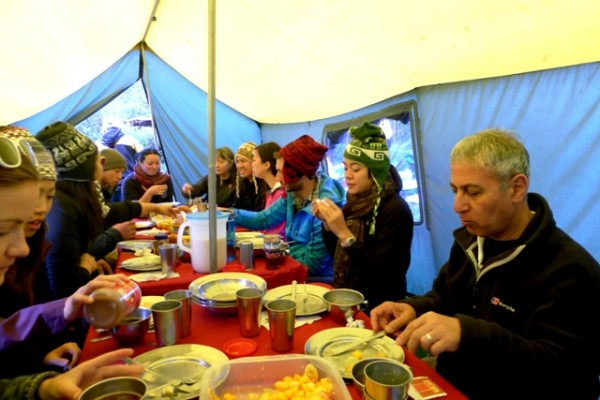 After dinner, the guides usually give a 10 minute run-through with the hikers on what to expect for the next day and then everyone heads to bed!
How much toilet paper should I bring for the hike?
I get this question from SO many people! One roll of TP per person is probably enough for the 4 day / 3 night trek. Just remember to roll your pant legs up or tuck them into your socks before entering the stalls… They are NASTY! And hand sanitizer is a LIFESAVER – Pack it.
What are some other insider tips I should know before my hike?
There really is no electricity in the bathrooms along the Inca Trail, so make sure to pack flashlights for evening bathroom runs (clip on flashlights or headlamps work best so you can be hands free!).  Also, plan on not taking showers on the trail for the 3 nights… if you do stop at a campground with showers, the water is typically ICE cold, which is never pleasant when it is already chilly out.  Mireno wool should help out with this though. I would recommend packing baby wipes as well to help with general cleanliness!
Final Thoughts
I hope you found these helpful and please do not hesitate to ask me more questions – We had an absolute blast on our hike and I am happy to help you create an equally as amazing experience as ours.
Your Turn: Have you hiked the Inca Trail? When do you think is the best time to visit Machu Picchu? What tips do you have worth sharing with our audience? Please share below in the Comments section!
About Meg
Exhausted from traveling every week as a Business Management Consultant early in my career, I took a year off in 2012 to travel at my own pace. I am a high-energy girl that loves being active, eating food, drinking wine, and exploring the world with my partner-in-crime (and husband), Tony! I now reside in Portland, Oregon and continue to write about travel, food, wine, and the awesome adventures we have in the Pacific NW!