There are two things you probably know about us if you've been following along for awhile…
We have no problems getting personal.
We love love love food.
So at the risk of making things weird… let me ask you the most personal question I can think of:
What is your favorite meal?
A: Breakfast
B: Lunch
C: Dinner
Before you skoff, roll your eyes, and mutter how lame, let me warn you that the answer to this question is considered by many (at least me) to show straight into someone's soul.
My answer?
D.
And D would be brunch. That fantastic meal that means you're not at work (who brunches during work hours), you slept in (unless you're up early and eat a breakfast to tide you over… which is just impressive), and you're chowing down with friends (please don't eat brunch alone).
So what does this say about me?
I love to binge. I'm a glutton since brunches typically are buffet style, which means all I can eat. And I'm a social animal as I can't resist a good long hang out session with friends.
And just as my love affair with brunch has a lot to say about me… Berlin's love affair with brunch says a lot about it.
Brunch In Berlin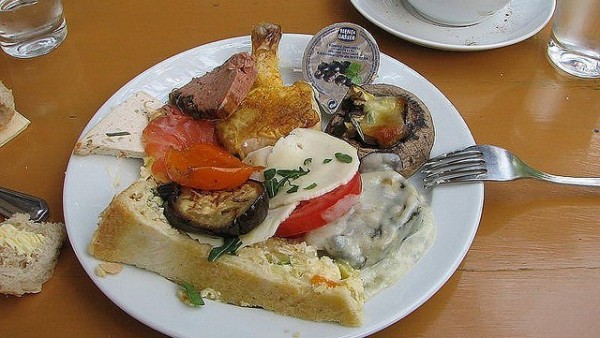 It seems like everywhere you go in Berlin during the weekend, restaurants have signs up listing Sonntagsbrunch (Sunday Brunch)… And almost all are buffets!
Packed with happy Germans and Ex-Pats alike, the atmosphere is casual as the average meal lasts over 2 hours.
There is a brunch for everyone, but be warned, most buffets that we have seen so far have steered clear of the standard US eggs and bacon. At Zitrone, where we ate this weekend, there were meatballs, tomato salads, and even grape leaves!
Berlin's love of brunch has already cemented our love for this city and we cannot wait to spend the next 3 weekends gorging ourselves on all the best the city has to offer. Brunch crawl anyone?
If you're looking to turn your lazy Sunday brunch into something a little more up-tempo, Berlin can even deliver that. Apparently stuffing your face at brunch and imbibing mimosas can be followed by raging at the Berghain, a legendary techno club that people love to visit after a Sunday brunch.
Should we do it? I think we shall…
So get ready as we chronicle our month long stay in Berlin and highlight the best the city has to offer for brunch. If you've heard of a great spot let us know, otherwise, we'll just do them all!
About Tony
Quit his job to try actually following his dreams for once... and is currently loving it. He is working hard to to make this life-style permanent by writing about his adventures and brainstorming money making opportunities with his partner-in-crime, Meg.