I have a very important Breaking News story:
We LOVE food.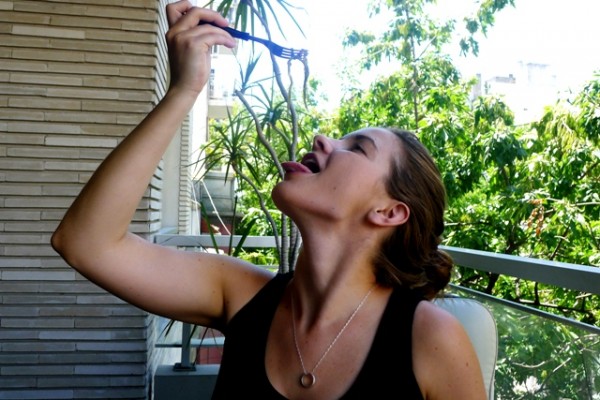 Okay, it's not that little of a fact… it's a HUGE fact.
We love food so much that we sometimes let it dictate where we travel to.  Our adventures to France, Italy, and Thailand weren't just influenced by the history and culture of these countries…. We heard these countries had ridiculous food and we wanted to get all up in there!
One country that we always heard good food press about (prior to our trip around the world) was Argentina.  But everyone said the same two things: "You can get AMAZING beef in Argentina" and "I ate SO much steak in Buenos Aires!"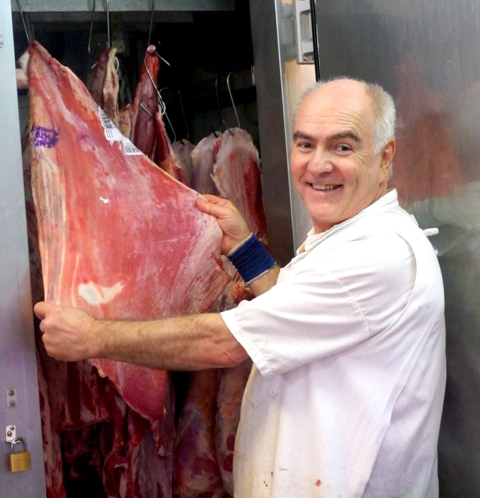 True… you can get a damn good piece of meat in Argentina.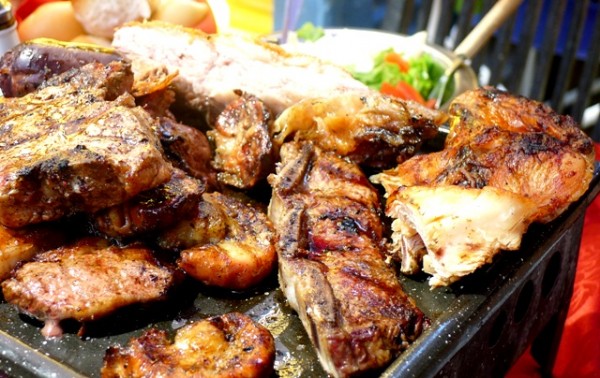 But what we didn't realize until we arrived was that the Buenos Aires cuisine is so much more than just great steak.
Tony and I were shocked by how much variety there was in the food scene in Buenos Aires and to this day, it is one of our favorite places ON THE PLANET for great food.
I now want to share this love for Buenos Aires cuisine with YOU.  To help you plan for your upcoming trip to Buenos Aires (because let's face it, you should just get on a plane and go there right now!), I have come up with a Buenos Aires Dining Guide for your foodie tour through this wonderful Argentinean city.
Now, as a warning, all of the restaurants in Buenos Aires we ventured to happened to be in the Palermo barrio, which was our favorite neighborhood in the city.  I apologize in advance for not really having any places in my Buenos Aires Dining Guide outside of Palermo… but if you have traveled to Buenos Aires, I would love to hear your suggestions on places to eat in the city!
Without further adieu here is a list of our favorite restaurants in Buenos Aires.
Because this is Argentina we are talking about, I will start my list by discussing my favorite place to get steak in Buenos Aires: La Cabrera.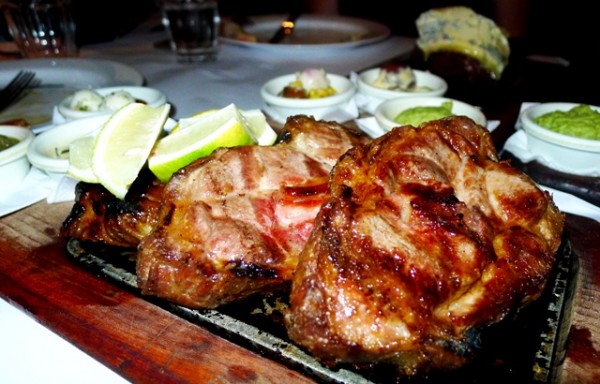 La Cabrera was so good that we went here three times. It's a great place to get a juicy steak – but go during Happy Hour!
Happy Hour runs from  7:00-8:30PM and EVERYTHING (food, wine, etc.) is 50% off. If it wasn't for the discount, I would say this place is too expensive.
We first went to La Cabrera for Valentines Day and got out of there for $33 USD after an appetizer, a 600 gram steak, and a bottle of wine… Probably not a great deal if you are comparing it to a night out in Asia, but it's cheap for Buenos Aires standards!
Some tips for happy hour at La Cabrera: Arrive around 6:45PM to line up outside the door. The line can get long on some nights and if you show up at 7:00, you may not get a seat.
Also, look at the menu in advance (while you are waiting in line) as the waiters try and take your order as soon as you are seated. And also expect to be basically kicked out of there by 8:20, so the restaurant can begin the regular dinner service. It seems like a weird policy, but it's 50% off!!!
Some great orders are the Bife de Chorizo (with bleu cheese topping – Obvi!),  the Ribeye, and the Pork Shoulder stuffed with bacon. Some great appetizers are the Caprese Salad  and the Chorizo.
Portions are HUGE (think 600 gram steaks) and they give you a ton of sides to accompany your meat. Go on an EMPTY stomach.
Definitely check out the closed door dining scene in Buenos Aires.  The underground restaurants are a big part of the culture there and they are all delicious (so we hear). We went to Cocina Sunae, which is a restaurant run out of a small home-style kitchen by a Philippine-American chef named Sunae.  We had a four-course Asian fusion meal at Cocina Sunae and it was our best meal in Buenos Aires.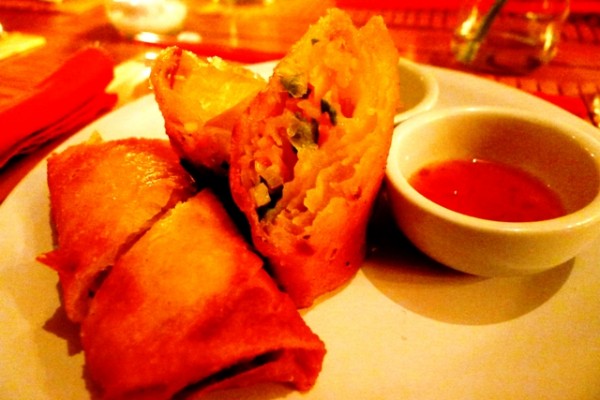 Another closed door restaurant we heard great things about was Casa Mun.
Stephanie from The Travel Chica also writes a TON on the general dining  scene in Buenos Aires and she has written some detailed articles on the closed door restaurants.
BEST sandwich place in Buenos Aires… And probably the best sandwich place we have ever been to.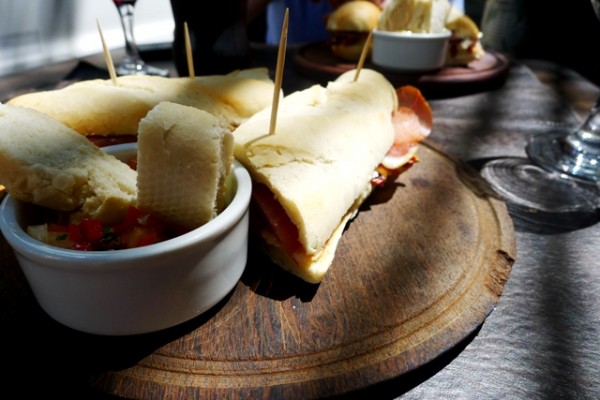 I ordered the Brie sandwich with apple onion chutney with prosciutto added… It was INCREDIBLE!
We never tried the "traditional" Argentinean pizza, which we heard is heavy and loaded with cheese – But we loved the Italian-style pizza at Siamo nel Forno!
We tried the Spinach, Marinara, Margarita with Chorizo, Arugula with Prosciutto, and the Mushroom pizzas (not all in one sitting of course!) and loved them all. The pizzas are thin so order a couple, as they are not super filling.  We also adored the Warm Provolone Wrapped in Prosciutto appetizer…. DO IT and thank me later.
The service here is slow (especially on crowded nights), but it is worth the wait so be patient and you will not be disappointed!
Really yummy and cheap tacos.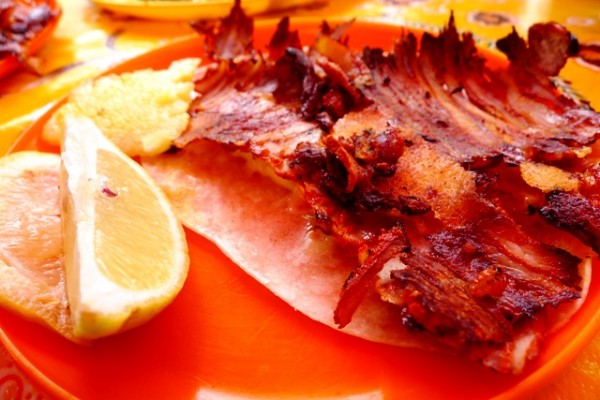 Our favorite dishes here were the Al Pastor and the Pibe tacos.  The Al Pastor was a crispy pork taco (direct from the spit) and came with yummy chunks of pineapple in the tacos, which I personally believe is one ingredient that enhances almost ANY dish.
Ice Creams Shops
Ice cream in Buenos Aires is UNREAL… Why did I NOT take a picture of it?!?!
The ice cream here is kind of a gelato / ice cream hybrid… Absolute perfection.  I would go as far as to  say that it might be better than gelato in Italy!
Any Dulce De Leche flavor is bomb.  Our favorite Buenos Aires ice cream shops were: Volta, Freddo, and Tufic.  We heard Persicco is good too, but never went.
Other Great Buenos Aires Dining Experiences
To check out more excellent restaurants in Buenos Aires, I HIGHLY recommend taking a food tour with Buenos Aires Food Tours.  It is a great way to eat your way around the city and experience the Buenos Aires cuisine like a local.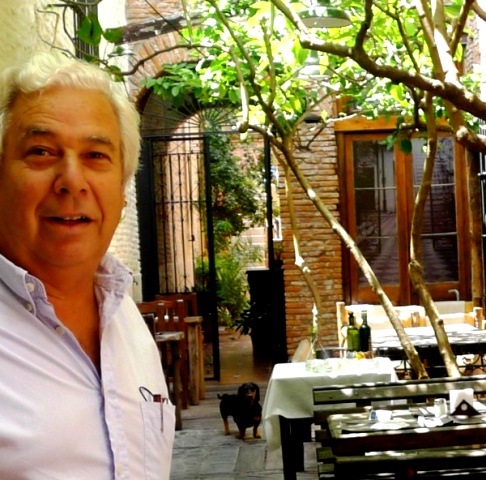 Another great foodie activity in Buenos Aires was our day learning to cook (and eat) like a true Argentinean at our Cooking With Teresita cooking class.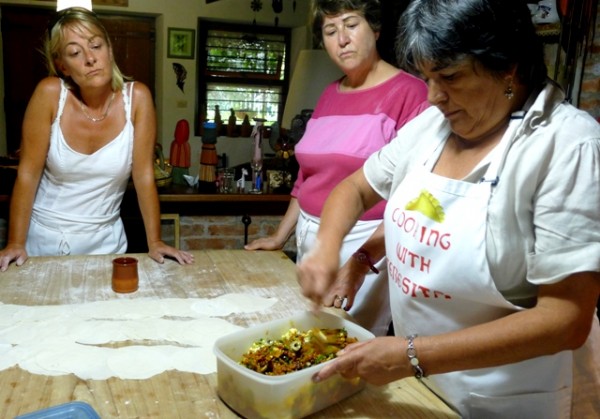 As I mentioned previously, we loved the Palermo barrio so much that we barely got to experience any great restaurants in Buenos Aires outside of that particular neighborhood.  So now I ask you, if you have been to Buenos Aires, please share your Buenos Aires dining tips in the Comments section below!
About Meg
Exhausted from traveling every week as a Business Management Consultant early in my career, I took a year off in 2012 to travel at my own pace. I am a high-energy girl that loves being active, eating food, drinking wine, and exploring the world with my partner-in-crime (and husband), Tony! I now reside in Portland, Oregon and continue to write about travel, food, wine, and the awesome adventures we have in the Pacific NW!