photo credit: unruly chaffinch
I have been saving money since I graduated college.
Well before our RTW adventure had even been dreamt of I was saving because I knew that money in the bank gave me freedom. Freedom to spend money on the things that were important to me.
Freedom to eat incredible food at nice restaurants every now and then…
Freedom to buy nice gifts for people when I can…
And most importantly, freedom to eventually travel.
But to save money and earn this freedom, I have had to sacrifice a few things that others would find painful.
Late nights out at bars with friends…
Fancy one-week vacations from work…
A slick new car…
Luckily, when you prioritize travel as the #1 thing you want in life, you're able to recalibrate your values and realize that the $10 rum and coke being ordered would cover your lodging and dinner in Thailand for a night (so we've heard).
Now that we are on the road without jobs, we are no longer in saving mode. Now it is full-on conservation mode.
Do we make dinner tonight or go out for a nice steak? Should we pay for that museum tour or try and latch on to the free city tour? What was once a daily Starbucks habit now becomes only something for the ultra-wealthy traveling retirees.
I don't mind counting my pennies on the road if it means I can travel longer. But you know what really hurts?
Saving a few bucks by staying in hostel dorms and sleeping in separate twin beds… typically of the bunked variety.
Being married is supposed to guarantee that a lady sleeps next to me most nights! Isn't that why all guys eventually take the plunge?
The cold hard truth of traveling as a couple: You sometimes have to stay in hostel dorms to save on cash. It's just a fact.
But you can't travel a whole year like that. Sometimes you need to book a private room and have more privacy to unpack your stuff, relax, and do married people things (like cuddle… get your minds out of the gutter).
Cheap hostels can turn into expensive hostels though when you are paying for a private. In Buenos Aires, we saw $12 dorm beds turn into $26/person privates (that's $52 per couple for you math majors).
What to do?
Rent an apartment. They can often be cheaper than a private room at a hostel and a WHOLE lot nicer.
I'm talking a living room, porch, private bathroom that is actually clean, kitchen, and work area.
MTV cribs here you come.
But where to start? You don't know the city you're heading to, you don't know the people, and you just have no idea where to begin.
Enter Roomorama

Roomorama is an online portal that let's travelers book short term apartment rentals. It is super easy with a good amount of options overseas depending on the city you are looking to stay. For Buenos Aires, there was more than enough to make us happy.
In their own words:
Roomorama is the discerning traveler's one-stop shop for short-term rentals. Wherever your next trip will be, or wherever your property is, use our online marketplace to connect and transact with hosts and guests who believe in convenient, rewarding and unique travel experiences. With an ever-growing inventory of hospitable accommodations, Roomorama is working to make you feel at home wherever you are.
Why Roomorama?
Besides doing much of the heavy lifting for you (like combining many local apartment listings into one searchable portal, showing availability, and booking directly through the site), they also handle the cash.
I am always leery about handing my scrupulously saved money over to a stranger. This is why having an online site like Roomorama take care of the transaction makes so much sense.
They book the room, but don't fully process it until you are checked-in and have handed over their previously provided unique payment code to the rental owner.
Our Experience
The online experience at Roomorama was incredibly easy. Find a few nice looking apartments… inquire as to their availability… then book and pay via paypal. Simple!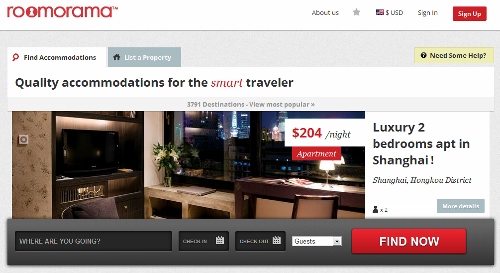 This being our first weekly apartment rental in a foreign country, we were on guard for any of a thousand possibilities that could make renting an apartment a horrible experience.
But dang… were we surprised.
The wifi was fast, the apartment felt safe, and we could not have been happier (as you can tell from our glowing recommendation).
It was in an amazing location in the heart of Palermo Soho…
Beautiful open living room and kitchen with a nice work area for those extra dedicated road warriors…
A large bedroom…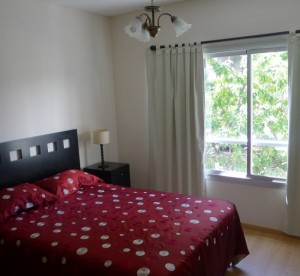 And an incredibly luxurious bathroom (especially after a month of shared hostel bathrooms)…
Bonus points for a lovely porch just perfect for meals.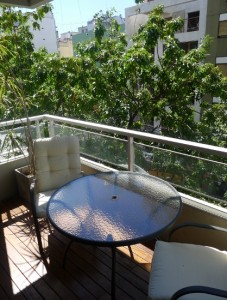 Oh, and most importantly for Buenos Aires… AIR CONDITIONING!
For only US$45 per day, we were able to rent this incredible apartment for the week. Again, just a reminder, but the hostel we were originally staying at charged $52 per day for a private room… and we still would have had to share a bathroom and kitchen and deal with hostel noise!
When To Use Roomorama?
From our perspective, using roomorama makes total sense for the couple traveling for extended periods or any couple staying in one location for more than a few days.
It would even be a good fit for the solo traveler who values privacy over just the lowest room price.
There is a fee to book through Roomorama that increases based on the number of days you reserve. For example, our US$315 reservation for 7 nights had an additional fee of US$30.
Pricey, but not ridiculous. It basically added an extra US$4 to our daily rent… still less than that private hostel. This just meant that we made sure to book a place for at least a week as the fee per day is less the longer you stay.
As always, do your research.
Sometimes you can find cheap private hostel rooms in a great neighborhood with little noise (good luck).
Sometimes you might value the comradarie of hostel life over the peace and quiet of your own apartment.
Sometimes you might not be staying long enough to justify an apartment rental.
But honestly… after staying in this beautiful apartment in Buenos Aires that we booked through Roomorama, I don't know how we're going back to dorm rooms in hostels.
It's going to be rough transition!
LandingStanding is focused on sharing our adventures as a couple on the road, but also on providing you with helpful advice so that you can hopefully join us. Because of our focus on budget traveling as a couple, Roomorama reached out to us so that we could try really living like a local while in Buenos Aires. In return for a discount on the stated price, they asked us to write an unbiased review of our experience. As always, all opinions are our own and we would tell you if we hated it. But we didn't. It rocked.