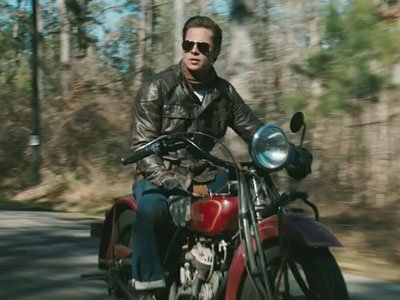 "For what it's worth: it's never too late or, in my case, too early to be whoever you want to be. There's no time limit, stop whenever you want. You can change or stay the same, there are no rules to this thing. We can make the best or the worst of it. I hope you make the best of it. And I hope you see things that startle you. I hope you feel things you never felt before. I hope you meet people with a different point of view. I hope you live a life you're proud of. If you find that you're not, I hope you have the strength to start all over again." – From The Curious Case Of Benjamin Button
"A year from now you may wish you had started today." ― Karen Lamb
If only I could go back 5 years and do things a bit differently… Study something different in school. Study harder. Do an extra semester of travel. Get a job with a passionate entrepreneur who could teach me the ropes. If only…
"If only. Those must be the two saddest words in the world."
– Mercedes Lackey
Your thoughts might be a little different than mine, but the idea of lost time and past regret sounds familiar… Right?
We all do it. But we shouldn't.
Because the funny thing is, no matter when you come to the realization of what you want to be doing, it's never too late.
I was thinking about this a few weeks ago when I sent out this tweet:
Travel Bloggers: What was your major?
I was curious to see what college majors travel bloggers studied in college because they definitely didn't study travel blogging. Their responses are a great example of how it is never too late to change who you are, what you do, and who you surround yourself with.
English and it was the smartest thing I ever did! RT @landingstanding: Travel Bloggers: What was your major?

— Stephanie (@20sTravel) June 26, 2013
@20sTravel @LandingStanding Me too! I think English and humanities were very important parts of my education!

— Alison Rentschler (@alirent) June 26, 2013
@landingstanding English Lit, with a minor in Art History. True Liberal Arts education.

— David Lee (@rtwdave) June 26, 2013
So Steph, Ali, and Dave all studied English and now they all write for a living. They're doing exactly what they studied for!
I highly doubt that :).
But what they did do was take what they studied and apply it to what they wanted to do. Instead of regretting studying English and how an English degree isn't a free pass to travel, they forged their own careers combining what they know and what they wished.
@LandingStanding Art history and history.

— Erin Halvey (@ehalvey) June 26, 2013
International Studies. very vague. RT @landingstanding: Travel Bloggers: What was your major?

— brooke schoenman (@brookeschoenman) June 26, 2013
"@LandingStanding: Travel Bloggers: What was your major? RT – Journalism and Art

— Melanie Hönig (@RoveratHome) June 26, 2013
Bachelor of Computer Science w/ Honours in Multimedia RT @brookeschoenman RT @landingstanding: Travel Bloggers: What was your major?

— Melissa Hogan (@avalonmel) June 26, 2013
In these tweets by Erin, Brooke, Melanie, and Melissa, you can definitely connect the dots between travel blogging and what they studied… but there is no direct correlation.
What ties them together is that they made their own path and probably even found some uses for their majors that they didn't think of when they were getting their diploma's.
@LandingStanding BA in Child and Youth Studies, and then Grad Diploma in Primary Teaching! #travelblogging

— Kate Clarke (@Canuckiwikate) June 26, 2013
This one is my favorite, because most of us would never think a teaching degree could lead to travel. But not Kate! She didn't think that just because she studied teaching in Canada that she was stuck in one place. She took action and moved to New Zealand (!) and has taught primary school there for the past 4 years.
So let me ask you: What did you study in college and are you in a related career now? Is it what you want to be doing? Please share in the comments below!