Croatia is quickly becoming my favorite country on our RTW trip.   I am a woman of simple needs and this tiny country in Eastern Europe has all the goods to keep me happy:
It is stunningly beautiful
It has been warm and sunny 90% of our time here
All of the major cities and towns are right on the coastline – which means EPIC beach days
You money goes very far here, as everything is much cheaper than Western European countries
And, most importantly…
If you don't believe me, just check out Anthony Bourdain's April 23rd No Reservations episode on Croatia.  My favorite line of the episode was when Bourdain declared "If you haven't been to Croatia you're a f*ing idiot."  Aggressive, but he is pretty spot on.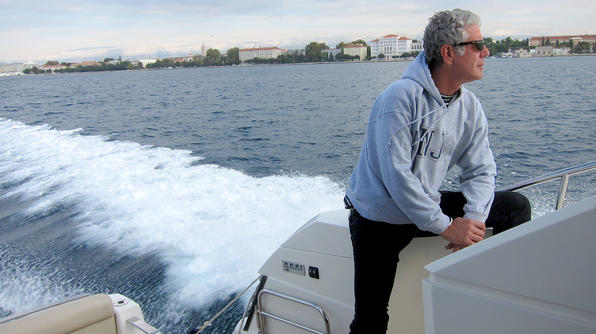 I am obsessed with this show and love all of the episodes… but this one might have been my favorite.  It's a bold statement but you might understand a little better if you came to Croatia to see it with your own eyes.
And when you do decide to visit Croatia, I highly recommend you dig a little deeper into the Croatian culture and heritage with the tourism company Secret Dalmatia.
Alan Mandic, the founder of Secret Dalmatia, is passionate about his home country and takes pride in preserving the traditions and history of Croatia.  His goal for Secret Dalmatia is to share this passion and knowledge uniquely with his clients.
As such, Secret Dalmatia offers signature group tours as well as customized tours that uniquely focus on the art of traveling as a local behind closed door sights. What is special about Secret Dalmatia is that they utilize and leverage their network of friends and family when creating original travel experiences in Croatia.
The result? The feeling of home and love.
Alan invited me and Tony to experience one of Secret Dalmatia's custom experiences – a magnificent cooking class in the attractive port town of Trogir to learn more about the culinary traditions of the land.  As part of this cooking class, we got a full blown hands-on experience right at the chef's own home.
The fun and lovable chef, Tatjana, is a Croatia native that spends her time doing what she loves: Cooking and sharing her knowledge with others through her local, multi-day cooking classes.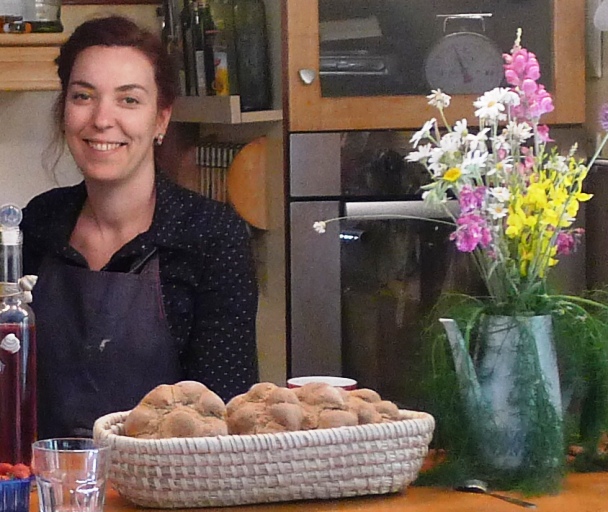 Tatjana also spent much of her life living in Australia… So she obviously has an awesome accent. But what we loved most was that she welcomed us into her home with open arms and made us feel like part of the family.
Tatjana's philosophy on food is also one that I cherish and believe in whole-heartedly.
She believes that when food is made with love, it shows in the final product.
And boy did she prove this statement correct!
During our afternoon with Tatjana, she took us to her local farmers market, where we bought many of our ingredients for the day (including freshly caught fish).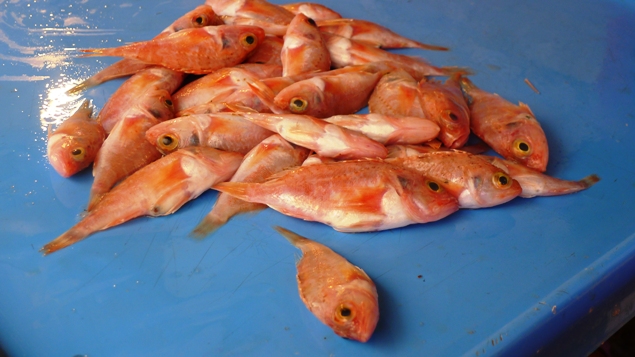 She taught us how to make homemade bread of  nuts, sweet potato, and sage.  Bread is her claim to fame in her family, and after it came out of the oven, I could see why!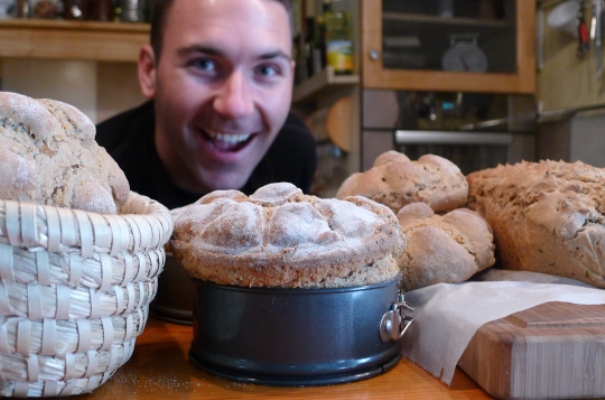 To accompany the fresh out-of-the-oven bread, we made a garlicky fava bean pâté to spread on the warm bread with goat cheese and prosciutto.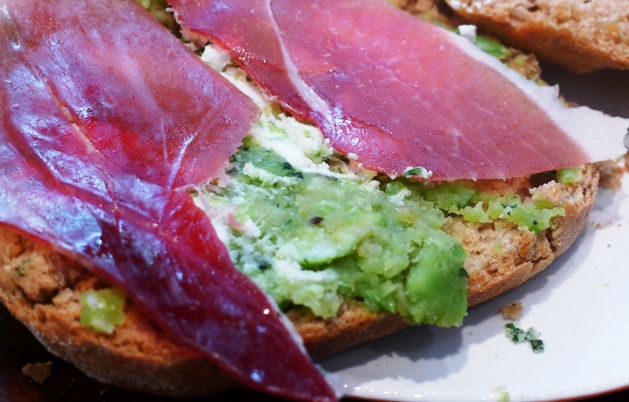 But what made this dish really come together was the Croatian herb mix we whipped up for the sandwich: Crushed fennel seed, sea salt, sage, thyme, bay leaves, parsley, lemon zest, and rosemary.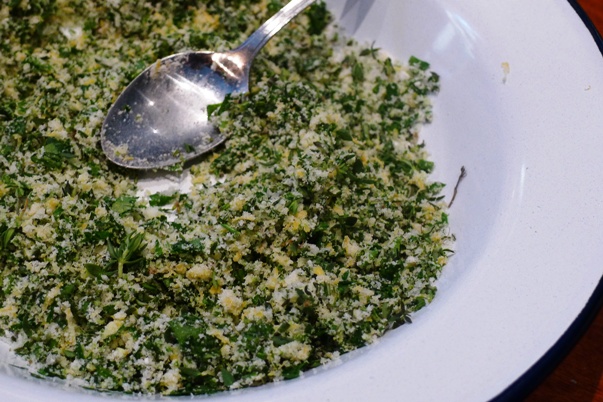 WOW was this good.  It was so obsessed with this mix that Tatjana graciously made a batch for Tony and I to take home with us.
I loved this sandwich so much that I felt compelled to write an entirely separate article on it.
As stuffed as I was after downing the sandwich (along with several additional slices of bread), the meal was just getting started.
After our sandwich "appetizer", we enjoyed a light and zesty fish tartar on crostini bread.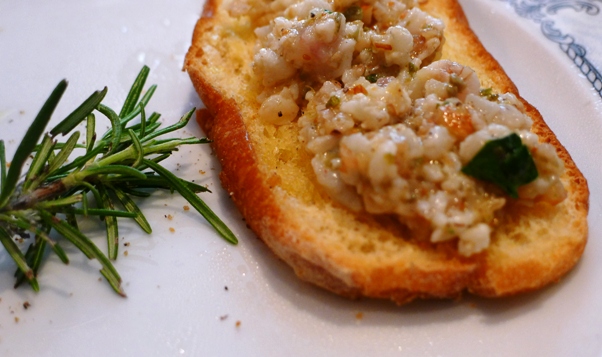 What I loved about this dish was making it completely from scratch: From buying the fish at market, to scaling and cleaning the fish (one of Tony's new skills), to marinating the fish…. And finally, to EATING the fish!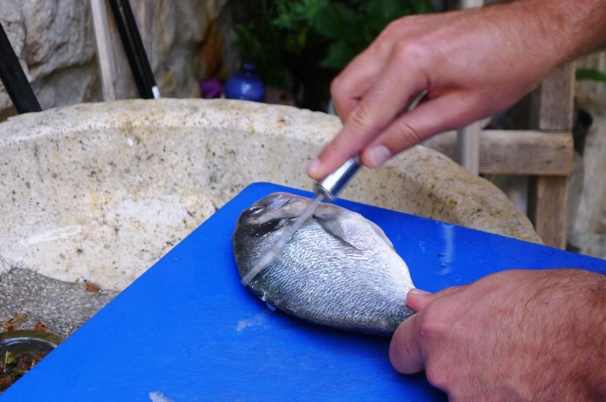 Okay, now I was starting to get REALLY full!
Luckily, Tatjana had us work off some of the sandwich and tartar by teaching us how to make homemade fettuccine-style pasta, which would be a wonderful side dish to our main course of the day:  Pašticada.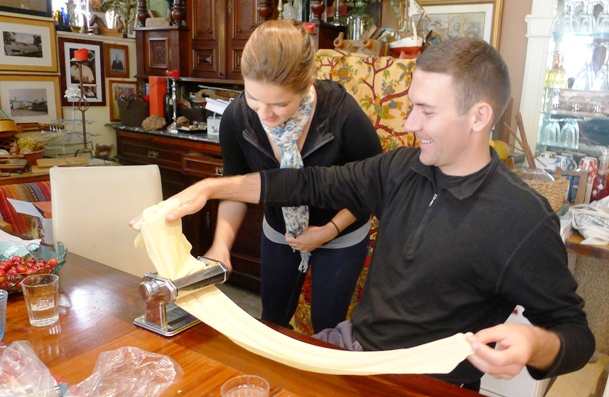 Traditionally, a dish to be served during special occasions (such as Tony and I invading Croatia!) and holidays, Pašticada is beef tenderloin stuffed with prosciutto and slow cooked in a vegetable vinegar broth with figs…
Salty. Sweet. Tender.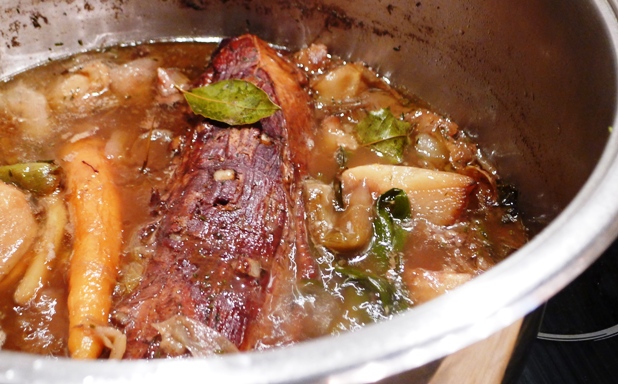 BOMB.
I made embarrassing moaning noises the entire time I ate this dish.  The sauce was exceptional on the meat and melted into the pasta perfectly.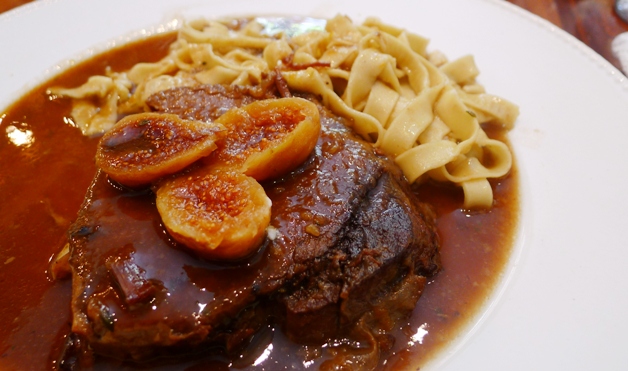 If I lived in Croatia, I would make excuses to cook this "special occasion" dish all the time…
First day of summer? "Let's have Pašticada."
Tony takes out the garbage? "Let's have Pašticada."
You get the point.
With such a rich and heavy-in-my-belly meal, Tatjana knew that the perfect ending to the feast would be a light, pallet-cleansing dessert of sweet Tugarke cherries (indigenous to Croatia), sage brandy, and candied sugar & cinnamon almonds.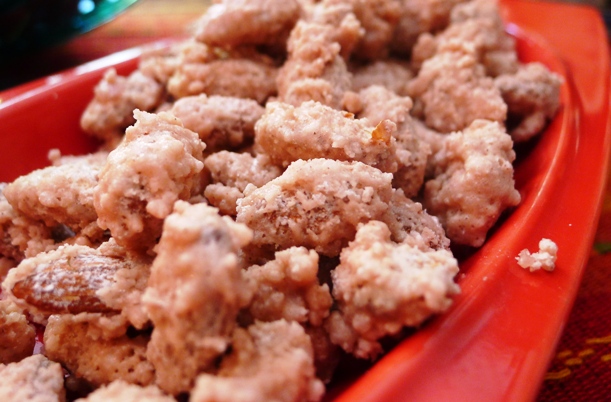 The candied almonds were quite possibly the easiest dessert to ever make and having them hot out of the pan was a life changing, earth shattering experience!
Tatjana's cooking class helped me understand why Anthony Bourdain is so hung up on the wonderful country of Croatia, it's people, and it's cuisine. What we experienced was an extraordinary day living like the locals, eating like the locals, and interacting with the locals.
This is something that we would have been hard pressed to find without Secret Dalmatia showing us the way!
LandingStanding is focused on sharing our adventures as a couple on the road, but also on providing you with helpful advice so that you can hopefully join us. We partnered with Secret Dalmatia as we love food and view cooking classes as one of the best activities you can do to learn about the culinary culture of a country. In return for a sponsored class, Secret Dalmatia asked us to write an unbiased review of our experience. As always, all opinions are our own and we would tell you if we hated it. But we didn't. It rocked.
About Meg
Exhausted from traveling every week as a Business Management Consultant early in my career, I took a year off in 2012 to travel at my own pace. I am a high-energy girl that loves being active, eating food, drinking wine, and exploring the world with my partner-in-crime (and husband), Tony! I now reside in Portland, Oregon and continue to write about travel, food, wine, and the awesome adventures we have in the Pacific NW!