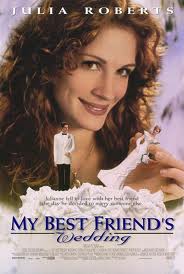 I remember watching My Best Friend's Wedding when I was 13 years old and thinking that Julia Roberts character, Julianne, had the best career ever.
The opening scene showed her in a fancy restaurant in Chicago nibbling on a variety of mouth watering dishes as an esteemed food critic.
As soon as I saw this scene, I immediately began telling people that I had found my dream job.
10 years later I discovered Anthony Bourdain on the Travel Channel show, No Reservations, and rediscovered the world's best job.
So did I become a food critic like Julianne and Bourdain?
Yep!
… Well, sort of.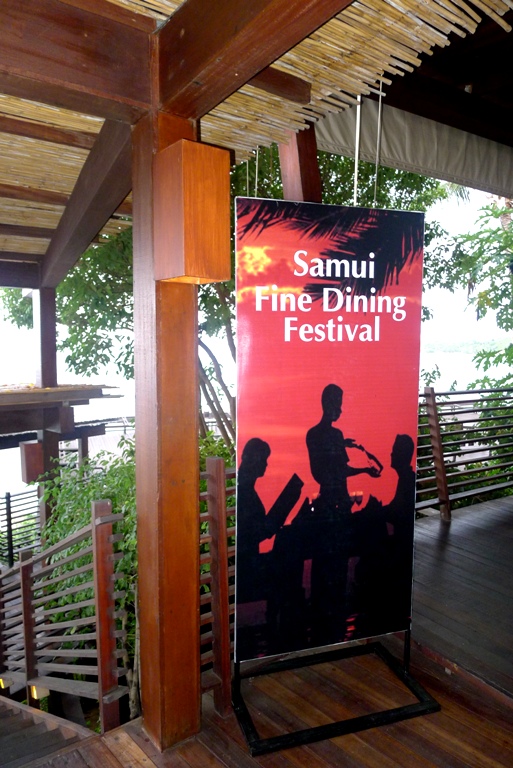 Tony and I happened to be house sitting on the island of Koh Samui in Thailand during the island's 2nd Samui Fine Dining Festival. During our time on the island, we got special invitations by chefs at the Red Snapper and RockPool to come feast on their set menus for this special festival and review what they had created.
We had incredible dining experiences at both restaurants and we were set to leave Koh Samui with tanned skin and full bellies…
And then the  night before our departure, we got a last minute dinner invite from the restaurant Dining on the Rocks, at the Six Senses Resort. Which happened to be right down the road from where we were staying.
How could we say no?
Immediately hopping on this opportunity, we journeyed down the hill for what was soon to be our first experience with Modern Interpretive Cuisine!
Upon arriving at the Six Senses Resort, I was captivated by the charm of the property.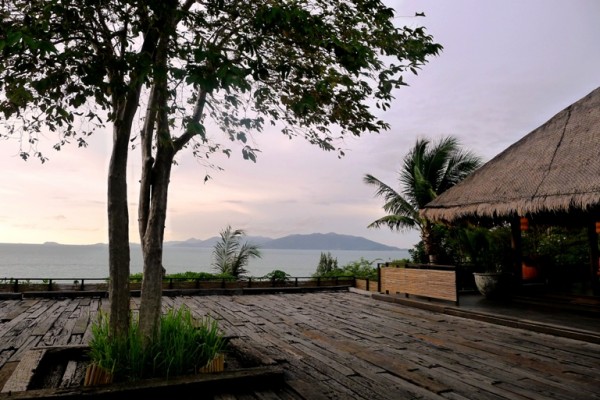 The resort felt very luxurious, but also retained its true island feel and natural habitat.  With grass roof villas nestled back in the hills of the property, the whole nature of the resort felt uninterrupted.  Even with 66 guest villas spread throughout the resort, you still felt a sense of utter seclusion.
I loved the glamorous home we stayed at up the road, but part of me dreamed about staying at this tropical paradise for one evening.
Shortly upon arriving, Alice, the Personal Assistant to the General Manager & the Public Relations Manager, escorted us in a golf cart down the winding roads of the resort to bring us to the Dining on the Rocks restaurant.  She was incredibly friendly and we had such a great time talking with her about the background of this stunning getaway.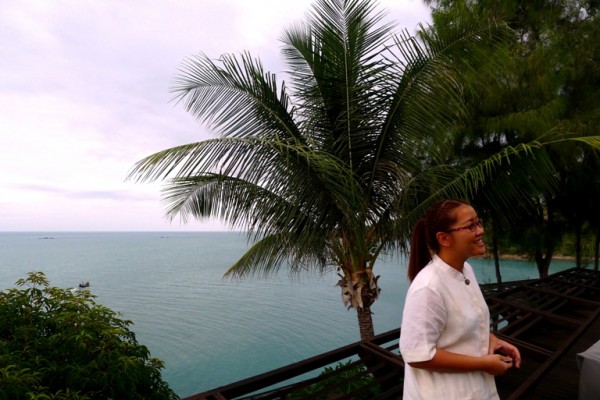 Once we arrived at Dining on the Rocks, my jaw literally dropped.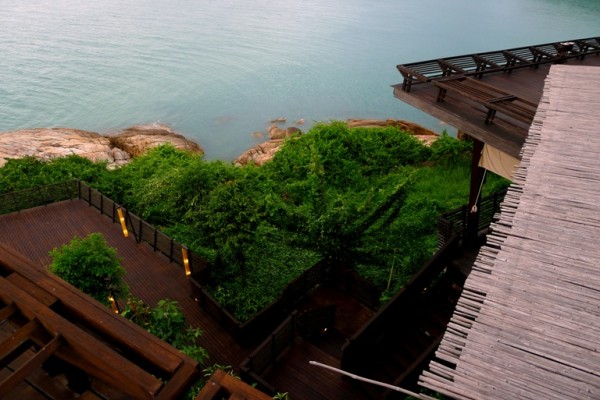 This place was out of this world.  The restaurant had ten terraced decks of weathered teak, bamboo & Thai fishing racks, and looked like an enchanting tree house.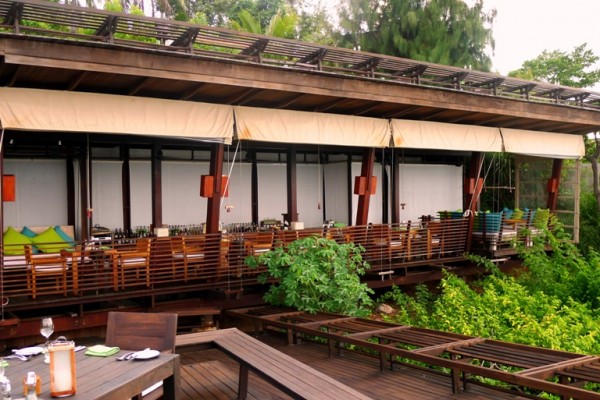 Move over Swiss Family Robinson, Dining on the Rocks has you beat!
Not only was the architecture of the restaurant stunning, but it boasts a 270 degree panoramic view of the Golf of Thailand.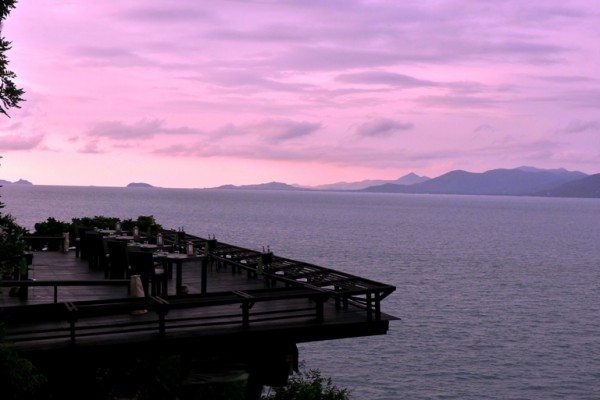 Talk about ambiance!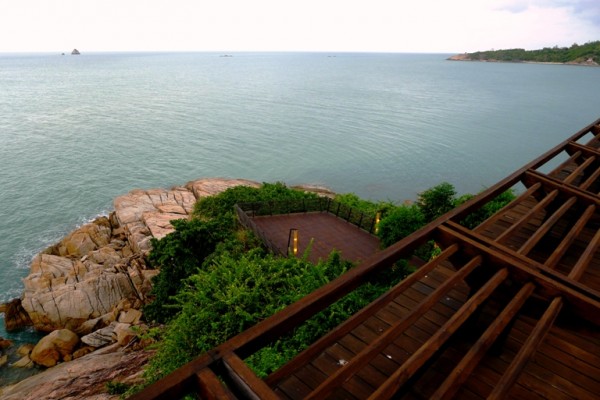 Perfect place for a destination wedding
While Tony and I were taking everything in, Alice brought us over the restaurant's signature cocktail – A revitalizing martini of lemongrass, bitters, lychee juice, and herbs.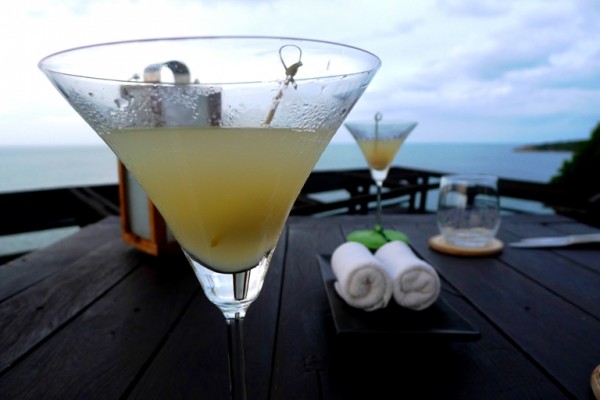 I normally have an aversion to martinis but this was RIDICULOUS.  It quite possibly was one of the most delicious drinks I have ever guzzled down… and guzzled down I did.
I knew we would be participating in a wine tasting with the dinner, but I couldn't help myself from greedily drinking this refreshing drink.
The result: A light and happy buzz going into dinner… Whoops!
Before our set menu and wine pairing extravaganza began, the chef, Allan, came out to introduce himself.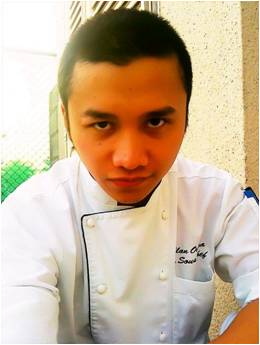 Allan has been a chef at Dining on the Rocks for only the past 5 months, however his experience in the culinary world is extensive and profound.  He spent his childhood traveling around the world with his dad and learning about global cuisines along the way.  When he became a chef, he built his expertise through studying and practicing in various places throughout Europe and the Middle East.
His true passion in cooking lies in pushing boundaries with his creations and putting ingenious twists on culinary classics.
He spends months testing various ratios of ingredients and flavor blends to find the perfect dish.
For Allan, cooking is an art… and a science.
We instantly hit it off with Allan, as he shared a mutual love of Anthony Bourdain with Tony and me.
After spending several minutes chatting it up, I was highly anticipating dinner.  I was so excited to see his work put to the test.
Here were some of the incredibly innovative and imaginative dishes that we tried over the course of the meal.  Since these dishes were so complex, I thought the only way to do them justice was to describe them exactly as how they were written in our tasting menu:
 Salmon salad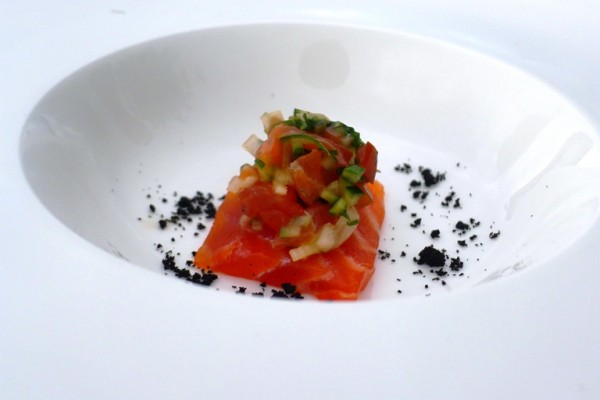 This was an off the menu pre-meal treat! With Allan's 1:3 ratio of salt to sugar in this dish, it had the perfect amount of sweet and savory.  It was tasted almost lightly smoked, and wasn't overly salty.  The cucumber in the dish was also so refreshing and a great way to kickoff the rest of the meal.
Going along with our pre-treat was some pretty EPIC table bread.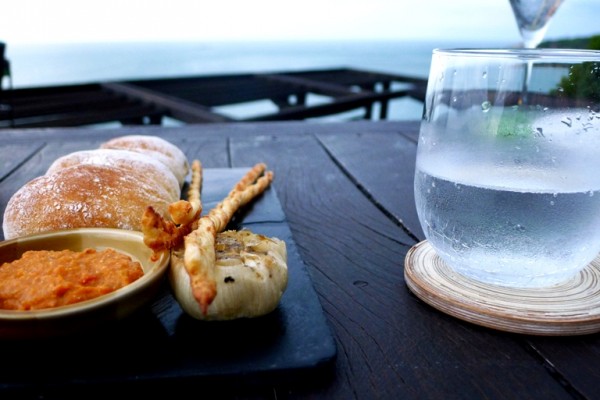 Normally, I don't rave (or even eat) the table bread, but this bread was divine.  The bread was freshly baked and came with savory Parmesan sticks. But what made this dish rock was the simple roasted garlic head and the peppery soft red pepper dip that accompanied the bread basket.
We loved this bread so much that the waiter brought us out a second basket… even with all the food and wine that we knew was coming our way!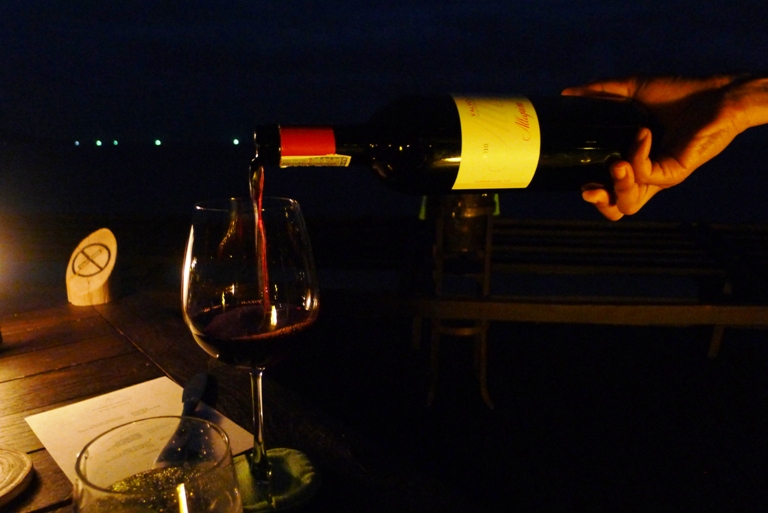 1 Second scallop blast, lemon oil, basil, and Meunière (served with Australian D'Arenberg Reisling)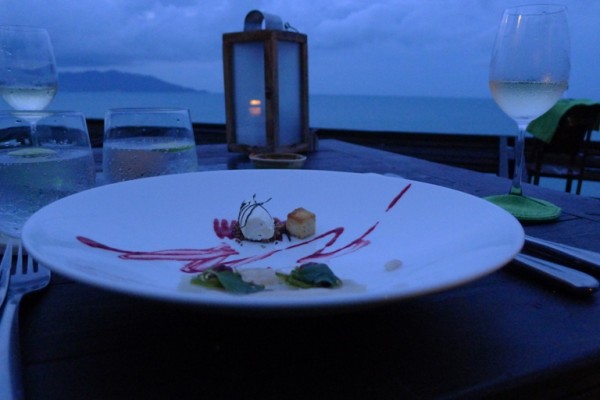 For this dish, the scallop was sliced sashimi-style and was cooked using the technique of drizzling hot lemon oil over the scallop… WOW was this good.
Topped with raspberry sauce and pomegranate caviar, this plate had a subtle sweetness that I adored.  On the side was also a lemon butter ice cream, which was smooth and creamy and reminded me of a delicious mascarpone treat.
Top that off with the crisp apple taste of the Riesling and I was in heaven!
Bubblegum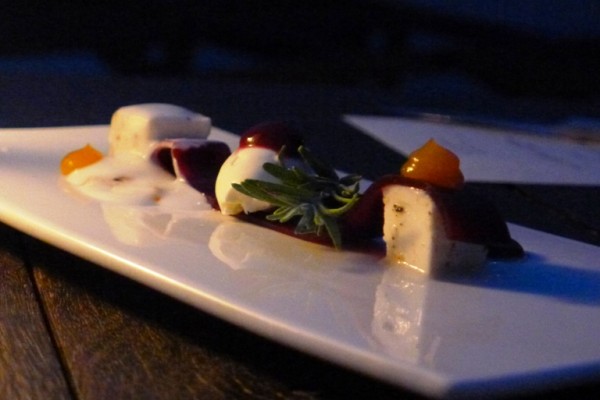 After being teased with the faint sweetness of the scallop dish, I was already thinking about dessert… Luckily, my dreams came true and I got a mid-meal dessert of BUBBLE GUM.
Bubblegum at a restaurant?!
Yep. And it was PHENOM.
This was probably my favorite dish of the night… simply for its uniqueness.  This dish took Allan two months to design so that the ingredients combined to taste exactly like bubblegum, and boy did it show in the final product.
It was both sweet and savory with the flavors of blueberry and salt bursting in your mouth.  Allan also used maple syrup in this dish to give it the bubblegum flavor.  Underneath the bubblegum was a "Beetroot carpet" that brought me back to my childhood days of eating Fruit Roll-Ups… this dish was so fun and I was in love!
Chicken quesadilla liquid tortilla, orange marmalade, tapenade, bell pepper, and tomato (served with Allegrini Valpolicella 2010)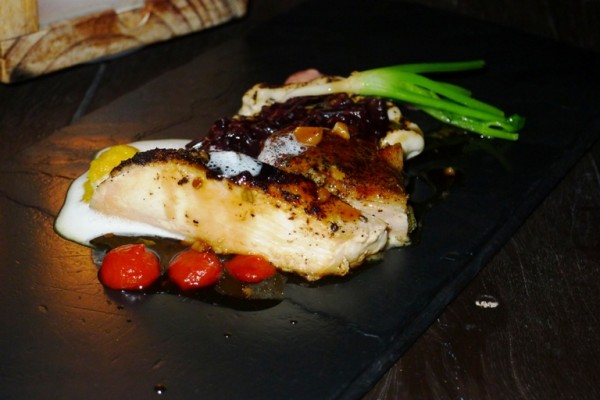 As soon as this dish was placed in front of us, I knew it was going to be out of this world.  It smelled AMAZING.  I couldn't wait to jump right into this crazy twist on the classic quesadilla.
Verdict? It was just as good as I had imagined it to be!
I normally am not a fan of ordering chicken at restaurants, mainly because I cook it all the time at home and chicken is chicken, right?!
Wrong… At least not the way Allan cooks and prepares it.
I thought the orange marmalade was going to overpower this dish, but it ended up blending in beautifully with all the other elements on the plate and added a Chinese sweet and sour taste to the dish.  The chicken had a crispy grill char to it and the parmesan foam gave the dish a hint of saltiness.
Combine the savory flavors of the quesadilla with the chocolate taste of the Valpolicella wine and this was Tony's favorite course of the night… Can't say I blame him.
Let's just say that I will never turn my nose up again to ordering chicken in a restaurant!
Lamb chermoulah, corn porridge, goat cheese, sauerkraut, hummus and anise salsa (Served with Chilean Hugo Casanova Cabernet Sauvignon)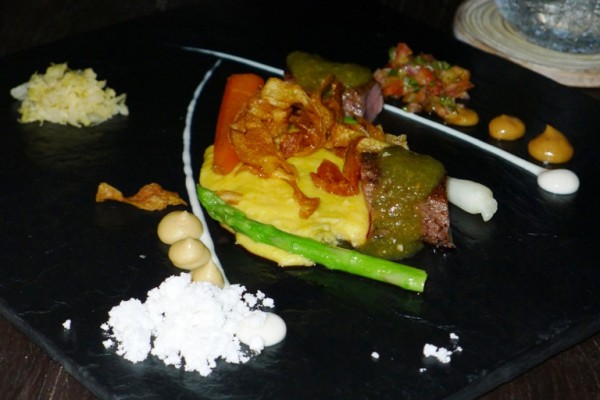 Before the lamb was brought out, the waitor served us the Chilean Cab Sav.  The peppery aftertaste of the Hugo Casanova was winning over my heart.  It took all my best efforts not to finish this glass before the lamb came out… This is a pairing after all!
Okay enough of the wine tangent… back to the lamb.
This dish was lovely and everything on it was homemade. The lamb was perfectly cooked medium rare, the corn porridge was orgasmic, the tender sauerkraut had been cured for 3 MONTHS, and the goat cheese in the dish was so light.
In contrast, the Tamarind anise sauce was bold and exciting… Probably my favorite part of the dish. But as good as each thing was separately on the plate, all the interesting flavors combined together were superb!
Chocolata (served with Portugese Dow's tawny port)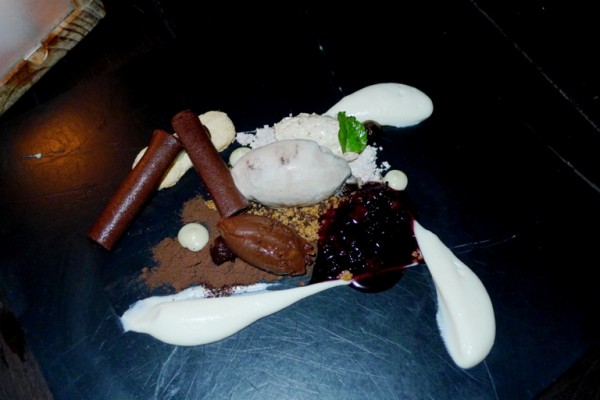 The "Chocolata" sounds simple, but it was definitely not.
In this dish, there were 8 different flavors and elements on the plate.  Allan's goal is to make this dish a talking point at the table.  He challenges diners to make their own assumptions and guess what they taste when everything comes together (similar to a wine tasting!).
Tony and I had such a great time guessing what the "secret flavor" was.  I personally was obsessed with the rich chocolate torte in the center but everything together was a flavor explosion in your mouth.  Throughout devouring this dessert, we thought it tasted like everything from a Cannoli to a Kit Kat Bar.
When Allan came back to the table to collect our scraped-clean plates, he said that the elements when combined were supposed to remind us of Tiramisu…. and with the presence of the cappuccino mousse and the Tiramisu ice cream on the plate it totally did.
My mind was blown.
Towards the end of the night, Allan explained to us that he does not consider cooking as work.  For him, the kitchen is his playground… And it truly showed in the presentation and taste of all his dishes.
For Tony and I, Dining on the Rocks was the most unique dining experience we have ever been apart of. The molecular and deconstructed twists to the dishes took the average dish from ordinary to extraordinary
What Allan tries to create for his diners is an experience.  And between the breathtaking beachfront / tree house ambiance of Dining on the Rocks and his remarkably unique dishes, that is exactly what our evening was.  An experience on Koh Samui that we will always cherish in our travel memories.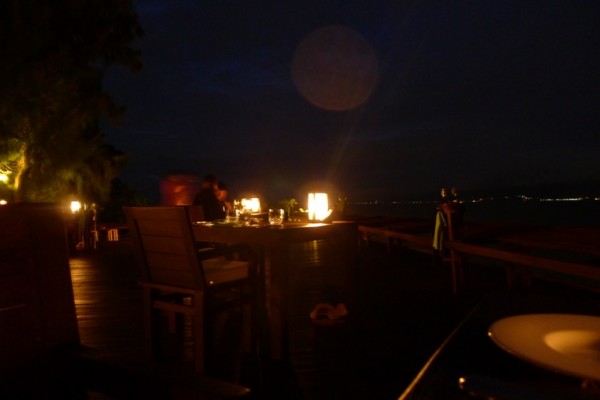 "Art is something you cant buy, but its something you can only feel".
~ Allan Octesa
(Chef at Dining On The Rocks) 
 Many thanks to Six Senses and Dining on the Rocks for sponsoring our wonderful meal.  All opinions, as always, are our own.
About Meg
Exhausted from traveling every week as a Business Management Consultant early in my career, I took a year off in 2012 to travel at my own pace. I am a high-energy girl that loves being active, eating food, drinking wine, and exploring the world with my partner-in-crime (and husband), Tony! I now reside in Portland, Oregon and continue to write about travel, food, wine, and the awesome adventures we have in the Pacific NW!