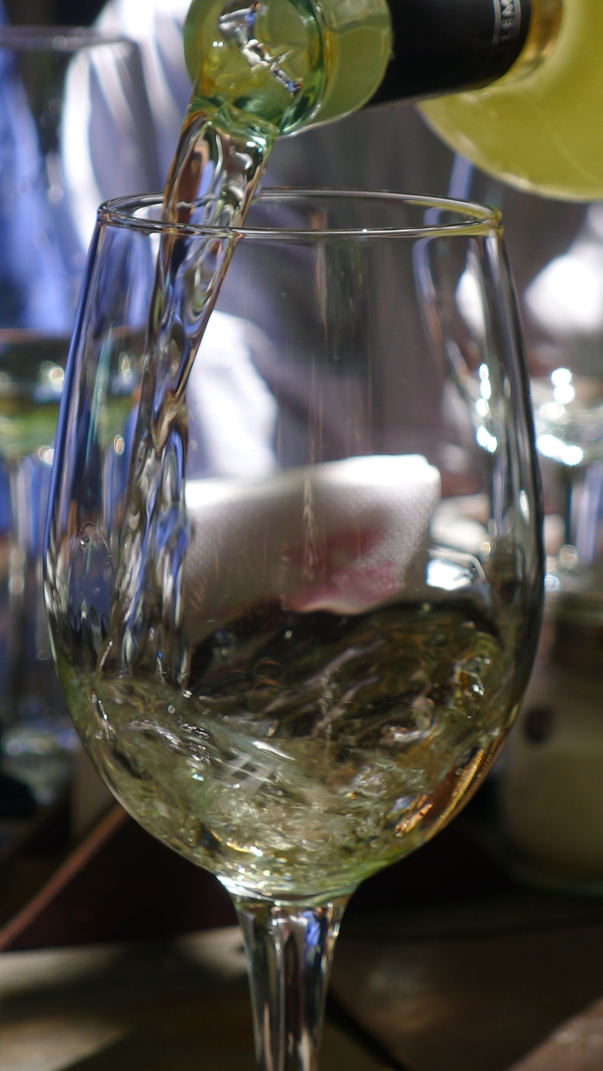 If you have been actively reading our blog, you are probably well aware by now that the way to my heart is through my stomach…
… And Buenos Aires has me head over heels in love.
Being the lucky girl that I am, this love affair started within the first 24 hours of arriving in this magical city. Now, I may not be a believer in love at first sight, but love at first bite is a whole different story!
On the second day of our trip, Tony and I were graciously invited to attend a day of eating and drinking our way through the city via Buenos Aires Food Tours. This seemed too good to pass up!
Before I start divulging into the gluttonous day we spent with Buenos Aires Food Tours, I will give you a little background on the company: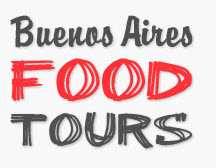 Buenos Aires Food Tours was started up by ethnic dining expert Graciela (whom also founded Miami Culinary Tours) roughly a year ago and provides culinary walking tours around the San Telmo, La Boca, and Recoleta neighborhoods (a.k.a. Barrios).
This unique tour group, however, is not just about food.  Aside from pigging out on all the regional delicacies, they also want their customers to gain knowledge about the local community, the history of the city, and the beautiful architecture that defines Buenos Aires.
In addition to the distinctive approach on their tours, Buenos Aires Food Tours got exceptionally good TripAdvisor reviews.  After everything that I learned and read about this company, I was dying to see them in action.
We signed up for the San Telmo Food Tour, which was right in the neighborhood we were hostelling in.  To be honest, I wasn't sure what to expect going into the day.  I had never done a food tour before but, from what I gathered in my research, I imagined a BUNCH of walking around the city, followed by sampling small bites to eat at street vendors and markets.
As it turned out, it was so much different than what I expected… And so much better!
As I previously mentioned, I expected the day to involve a lot of walking, followed by mini samples of various street food.  Awesome? Yes.  Right up my ally? You betcha! But what about this scenario:
A full day of eating wonderful food and drinking luscious Argentinean wines at romantic local restaurants.  The day is peaceful, the ambiance is casual, and the company is superb.
In addition, there is an incredibly warm and knowledgeable local tour guide (and avid foodie) educating you on the local history and traditions as he orders more and more "must-tries" for the table.
Now, I am not sure about you but this second scenario is my idea of a dream day.  And that is exactly what we got on our Buenos Aires Food Tour.
Our tour guide, Jorge, started the day off by walking our group through Mercado San Telmo to teach us about the notorious cuts of meat in Argentina. During our time in the Mercado, he had us interacting with quirky butchers who were enthusiastic to show us the ropes to the world of meat, where no part of the pig or cow goes uneaten!
We then moved onto our first restaurant of the day, Pasaje Solar, which is situated in a charming house from the late nineteenth century.  Our group got seated in the romantic outdoor patio area that was surrounded by flowers and exposed brick from the house.  I immediately began to feel tranquil and in my element.
Jorge ordered a bottle of Argentinean Elementos Torrontes white wine for the table and that provided just enough lubrication for us to become BFF's with the rest of our wonderful tour group.
There was Marv and Margie, the power couple from New York taking advantage of a 2 week vacation. Despite them being Yankees fans, we somehow managed to really enjoy their company…
Then there was Stephen and Anna, a lovely European couple passionate about travel. He was from England and she was from Italy… so of course Tony had to bombard her with his questions and love for all things Italian.
The table conversation was flowing freely (along with the wine) and just as I started thinking the day couldn't get any better, the food started to arrive at the table. Since there were a TON of traditional dishes consumed over the course of the meal, I figure it will be easiest to break the menu down a little bit below:
Pickled eggplant: This was our first dish.  A little appetizie if you will (I love my food abbreviations). This dish was a perfect balance of sweet and vinegary and tasted refreshing (yet hearty) smothered on top of the delicious table bread.
Pizza with black olive dough: Yes, this was a pizza by any standards – melted cheese, tomato, etc.  But black olive dough?! This took this dish up so many notches it wasn't even fair. Why haven't we thought of this back in the states? Dear Dominos, this is your calling!
Fried eggplant with tomatoes and cheese: Like the black olive pizza dough, having eggplant substitute regular pizza dough simply rocked. And it was fried.  Enough said. I think this is how I am going to make pizzas from now on.
Fried flank steak caprese: Okay noooow we have steak in replace of the dough.  Argentina is getting a little crazy on me!  This was soooo darn good.
Spanish Tortilla with red sausage:  From studying abroad in Spain, I have had many a Spanish Tortilla, but for those of you who are unfamiliar with it, think of it as a thick potato and egg omelet.  Delicious.  Now take that and add succulent Argentinean red sausage.  Let's just say that Tony was in heaven.
Some additional treats ordered for the table included fried chard as well as stuffed mushrooms with parsley.  Both of these dishes were great, but the five dishes above were by far my favorites of the meal.
When we were finished with our meal at Pasaje Solar, I thought the tour was finished for the day… And if it was, I would have left completely satisfied.
But then Jorge announced that we needed to move on to the restaurant where we would be eating LUNCH.
Como?!?!
I just had myself an Italian/Argentinean feast… Now you want me to eat more?!
But who was I to say no?
So on we ventured to Resto del Viejo Hotel for lunch.
This restaurant was a fancy-pants restaurant that was decorated with stunning chandeliers, beautiful paintings, and an old fashioned bar.
Once again, Jorge ordered us up some fabulous wine for the table to start the meal off right.
I had a glass (okay, maybe two) of the Wayna 2007 Malbec, which I was obsessed with and Tony enjoyed a glass of the Alta Vista 2010 Torrontes.
Now we aren't big white wine drinkers back home, but Argentina knows how to whip up some delicious white concoctions.
This wine was exquisite!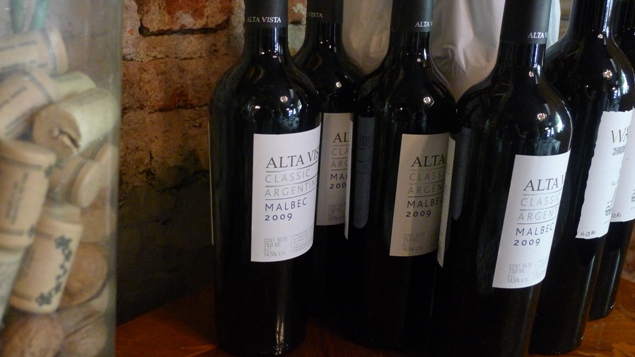 For lunch we gorged on veal milanese with homemade potato chips and grilled pork loin.  It is pretty clear at this point how Argentina got such a great reputation for its meat.
For dessert, Jorge had the waitor bring us sweet potato jelly with cheese cubes.  The dish came out, and I gotta say, it did NOT look appetizing.  However, I am a big believer that you should always try a dish once before turning your nose up to it.
Luckily, it turned out to be pretty good.
Now, if I was given the option between ordering this again or ordering a big chocolate brownie sundae, I would without a doubt order the sundae!  But I was pleasantly surprised by how much I like the jellied sweet potato.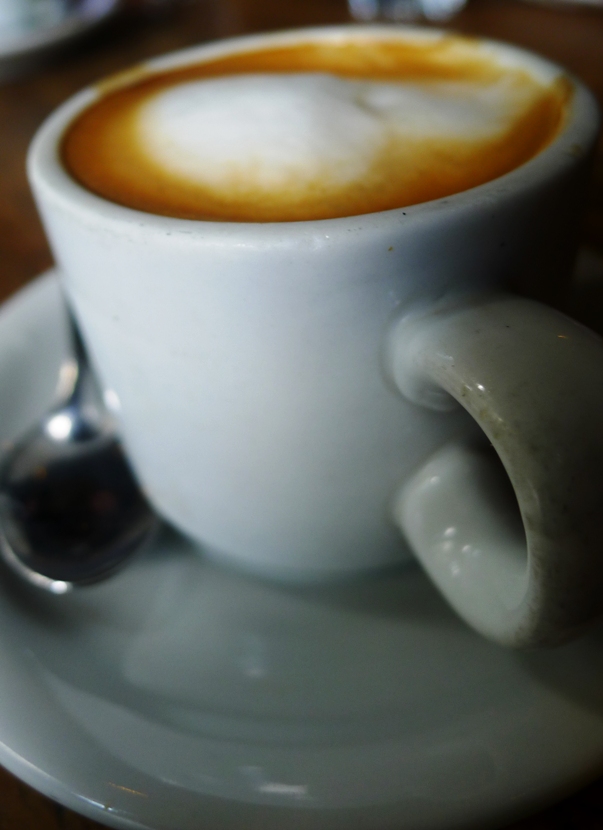 The meal finished up and the day was winding down.  At this point, I am mildly buzzed, ridiculously full, and loving life… And Jorge. I was also about 10 minutes away from curling up in a dark alley to take a nap.
Jorge must have seen the dopiness in the groups' eyes… and he combated it in the most perfect way…
Coffee time!
For the last part of the tour, Jorge marched us into Bar Plaza Dorrego, which is the oldest bar in Buenos Aires (established in 1881) for some espresso. This wooden paneled bar has maintained its old school charm with pictures of celebrities (who used to stop by) hanging on its walls and names carved into the wooden chairs and benches.
The draft beer and coffee also comes with a side of roasted peanuts and its completely kosher to throw your leftover shells on the floor, adding to its rustic flare.  It was the perfect way to end a perfect day.
Tony and I had an outstanding time on our Buenos Aires Food Tour.  It was a relaxing (and gluttonous!) day filled with great food, great wine, and great people.  Jorge was an amazing tour guide and his enthusiasm about Argentinean cuisine was contagious.  The day turned out to be completely different than what I had imagined, and I was grateful for that.
If you have a chance to travel to Buenos Aires, book a food tour immediately!  You will not be disappointed.  It's such a great way to see the city and learn more about the culture of Buenos Aires – Plus who can pass up the opportunity to eat and drink ALL DAY LONG?
I sure can't!
Disclosure: Tony and I were sponsored guests of Buenos Aires Food Tours and thus did not pay for our tour. As always, our opinions are our own and unbiased. If we hate it… you will know.
About Meg
Exhausted from traveling every week as a Business Management Consultant early in my career, I took a year off in 2012 to travel at my own pace. I am a high-energy girl that loves being active, eating food, drinking wine, and exploring the world with my partner-in-crime (and husband), Tony! I now reside in Portland, Oregon and continue to write about travel, food, wine, and the awesome adventures we have in the Pacific NW!