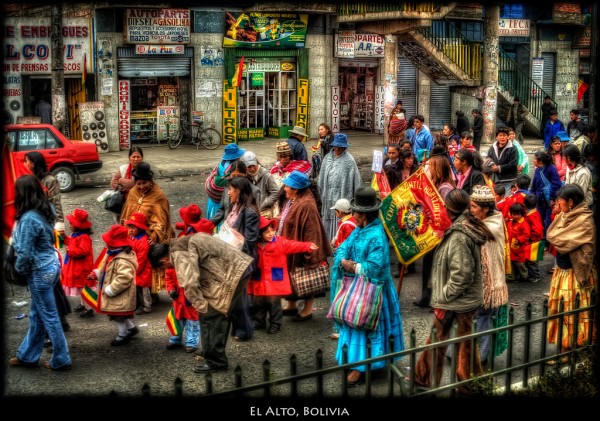 "The world is not as dangerous as you think," was a common refrain from us when talking to our friends and family back in the states.
This is COMPLETELY true… for the most part… most of the time.
The only place on our travels where we ever felt aggressively unsafe was La Paz, Bolivia, one of the countries two capitals (the other being Sucre).
Armed guards outside most of the cities ATM's.
That hard to describe, but easily recognized, feeling of being constantly watched while walking through the city.
Rumors in online forums about robberies and targeted violence.
Since nothing terrible actually happened to us, it's hard to say how much our fears can be credited to pure paranoia versus justified wariness. I do know that because of our constant "high-alert" level, we barely took our camera out to snap pics in any part of the city. Sorry for the lack of our own photos!
One place we went while in La Paz that totally earned its reputation as being dangerous was the Thursday Market in El Alto. While Meg normally plans the details of most of our day trips, I was in charge of this one to El Alto… so we were of course flying blind with respect to how much danger we could potentially encounter. But don't fear: (Spoiler!) We survived.
El Alto, Bolivia – The Market To End All Markets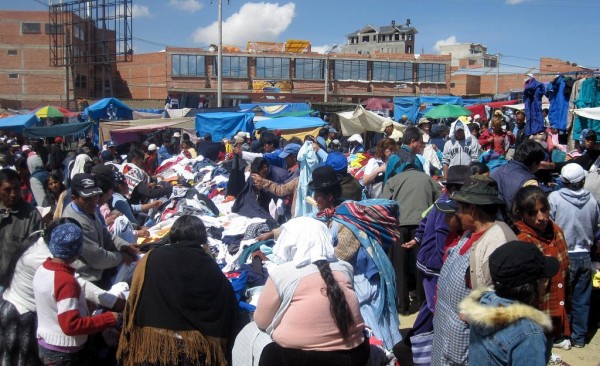 A google search of markets near La Paz will quickly lead you to references of El Alto and it's monster Thursday market.
El Alto used to be a suburb of La Paz, but has become its own city with a population of nearly 1.5 million people. It is one of the highest major cities in the world at 13,615 feet… Be sure to take deep breaths!
It is also the biggest city in the world built and inhabited by Native Americans. When I read that it had Bolivia's biggest open air market, I was curious to see something so unique.
And unique it was.
We rode a local mini-bus (really a large van built for 8 with 20 people crammed in) 35 minutes from La Paz to an entrance of the market.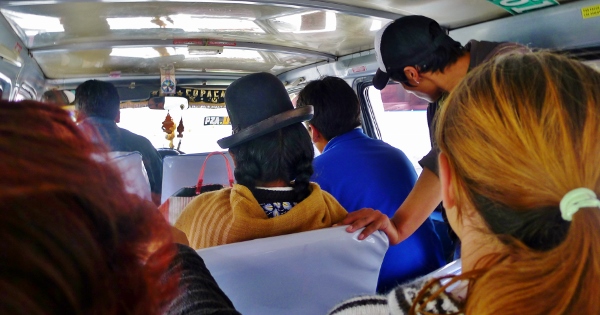 Overwhelmed is not strong enough of a word to describe how we felt. Stretching over 5 square Kilometers, this market had everything:
Used car parts covering an area the size of multiple football fields.
People selling used books and parts of used books.
Illegal copies of CD's, DVD's, and computer software.
Half used medical equipment…
USED SYRINGES!!!
Clothing.
iPods and iPhones.
Yeah, you read that right… USED SYRINGES!
This market literally had everything. People were selling anything they had ever found in the back of their closet or in the trash.
After walking around for half an hour, it also dawned on us that we were the only foreigners in the entire market. While thankful that we were seeing something so off the beaten path, this also was my first clue that maybe there was a reason other tourists didn't venture to the market that often.
We brought our camera to the market, but decided against taking pictures for two reasons. The first being that we were the only foreigners there and didn't want to stick out more than we already did. The second was that we did not feel comfortable taking pictures of such poverty. All of this is a roundabout way of saying: Sorry we don't have many of our own pictures! We had to use other peoples….
After an hour of wandering around the market, we were definitely ready to leave. The only problem… we had no idea where the exit was. If you do decide to venture to this market, definitely take a second to get your bearings upon first entering. You would not believe how easy it is to get lost.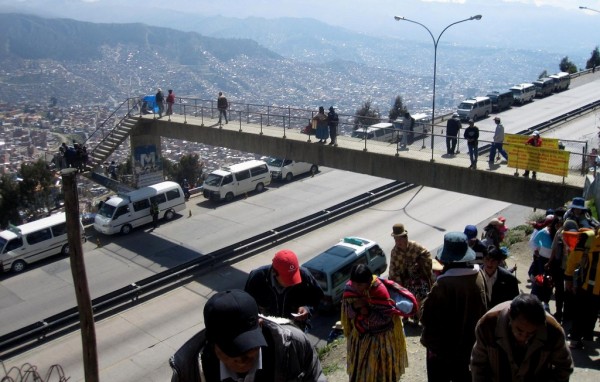 So while we were ready to leave after one hour, we spent a total of three hours at the market! Definitely interesting, but the day became a lot more exciting in hindsight when we got back to our hotel in La Paz and Meg researched where we had just been.
Whoops! I was supposed to do that before we went…
After 20 minutes of Googling, Meg slowly turned to me and without saying a word, passed her computer into my lap. She had multiple browser tabs open, all discussing El Alto market and how El Alto itself was not the safest area for tourists. Pickpocketing and straight-up robbery were common. Additionally, there had been a recent spree of tourists getting into mini-buses on the way to the market and being robbed at gunpoint and held for multiple days before being released.
To which I could only say to Meg… "At least they were released?"
We probably would not have gone to the market if we had read a few of these reviews before we went, but I was actually glad that we hadn't. It was an incredibly unique experience, even more so once we realized how few tourists actually go.
Your Turn: Have you ever accidentally gone to a place more dangerous than you thought? Would you go to El Alto Market now that you know about its reputation? Please share below in the Comments section!

About Tony
Quit his job to try actually following his dreams for once... and is currently loving it. He is working hard to to make this life-style permanent by writing about his adventures and brainstorming money making opportunities with his partner-in-crime, Meg.