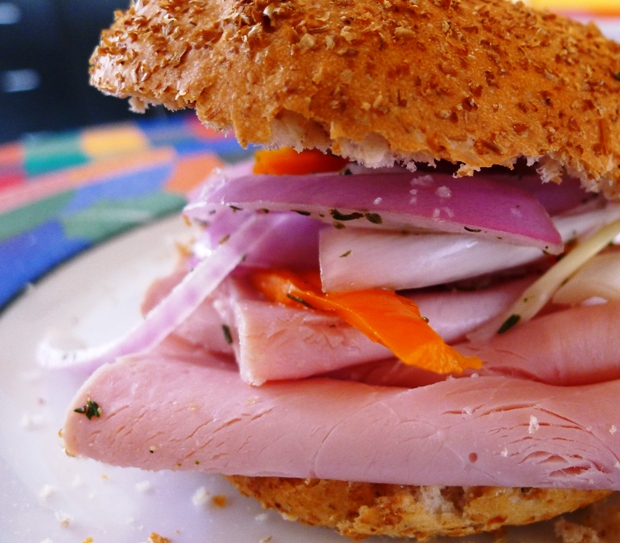 Having just arrived in Cusco, Peru, Tony and I decided to get ourselves into the Peruvian groove by whipping up a  traditional Peruvian lunch in our hostel's kitchen.
A lot of Peruvian dishes have many ingredients and are pretty labor intensive (i.e. Empanadas, Rellenos, Chupe de Camarones), but we found the Peruvian Butifarra Pork Sandwich to be a quick and simple meal to make on the road.
For the ingredients, we ended up going down to Cusco's famous San Pedro Market, which is Cusco's largest fresh market stock full of every type of meat, fruit, and vegetables (the San Pedro Market is also a great place to find Andean handcrafts, food stands, juice bars, and fresh flowers).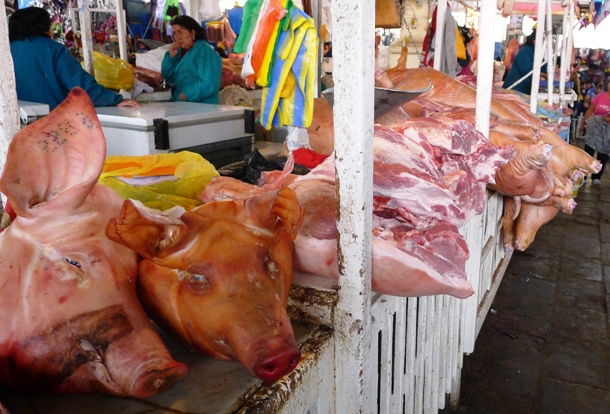 Sidenote: We are DEF going back there this week for lunch!
The recipe for two Peruvian Butifarra Pork Sandwiches is as follows (courtesy of About.com):
Prep Time: 10 minutes
Cook Time: 40 minutes (time to soak and marinate the Criolla Salsa)
Total Time: 50 minutes
Salsa Criolla Ingredients:
1 red onion, sliced in very thin half moons
1 ají or jalapeño peppers, sliced into very thin matchsticks
1/2 tablespoon chopped cilantro or parsley, or both
1 tablespoons lime juice
1/2 tablespoon vinegar
Salt and pepper to taste
Note:  We travel with The Mobile Foodie Survival Kit, which is a small tube of various organic spices to use when cooking.  For this recipe, we ended up using thyme from our kit instead of cilantro or parsley.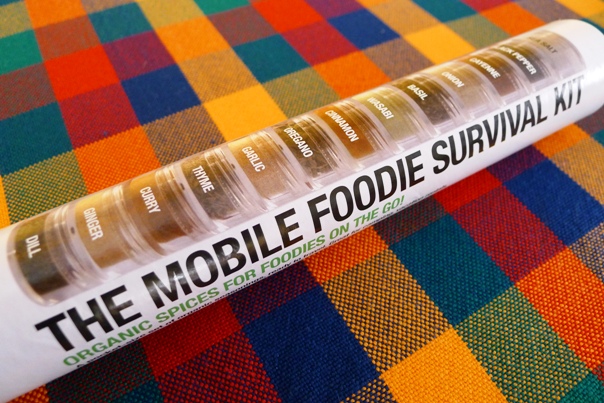 Sandwich Ingredients:
2 French bread sandwich rolls
1/2 pound sliced jamón del país
1/2 cup Salsa Criolla
Lettuce
Mayonnaise (optional)
Salt and pepper
Note: Use wheat rolls for a healthier sandwich… YAY fiber!
Note: We were too lazy to make the jamón del país from scratch, so we just got sliced pork tenderloin from the supermarket for our sandwiches.
Salsa Criolla Preparation:
Soak the onions in salt water for 10 minutes. Drain and let dry.
Mix onion with the rest of the ingredients. Cover with plastic wrap and let marinate at room temperature for 30 minutes before serving.
Sandwich Preparation:
Split the rolls in half lengthwise and spread insides lightly with mayonnaise if desired.
Divide jamón among the two rolls, and place inside rolls with lettuce.
Add 1/4 cup Salsa Criolla to each roll. Season with salt and pepper to taste.
Serve and enjoy!
Result:
This sandwich was dynamite. The Peruvian Salsa Criolla in the sandwich made the dish zesty, spicy, and refreshing. The limes we bought at the market were a lot sweeter than traditional limes, but they were a delicious addition to the salsa, as they gave the onions and jalapeño a hint of sweetness… My sweet tooth was grateful!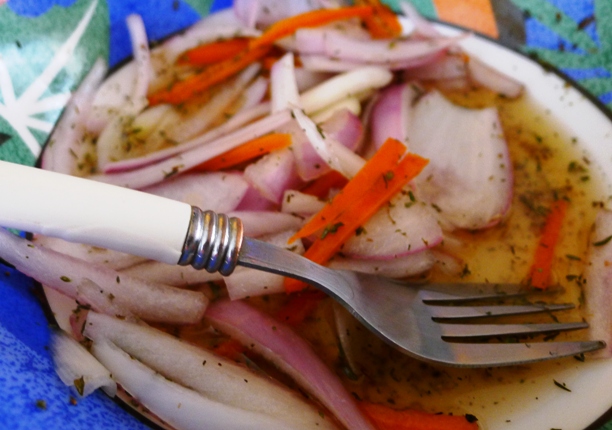 Most importantly, the Butifarra Pork Sandwich was so easy to make. It will definitely be a dish we make again for lunch!
About Meg
Exhausted from traveling every week as a Business Management Consultant early in my career, I took a year off in 2012 to travel at my own pace. I am a high-energy girl that loves being active, eating food, drinking wine, and exploring the world with my partner-in-crime (and husband), Tony! I now reside in Portland, Oregon and continue to write about travel, food, wine, and the awesome adventures we have in the Pacific NW!