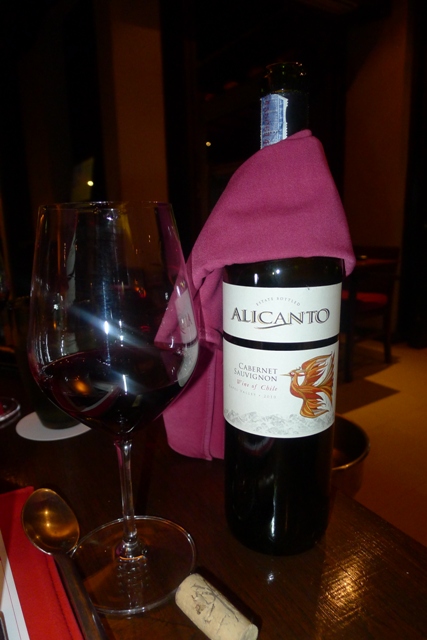 Whenever I dine out, I always ask for the chef's recommendation when I am ordering my meal, because I like to think that the chef knows best!  So you can probably imagine my general enthusiasm towards set menus and tastings of a kitchen's greatest creations.
When Tony and I used to live in Boston, we were always eagerly anticipating the time of year when the best restaurants in the city would open their doors to hungry Bostonians for delicious set menu feasts. This magical event is known as Boston Restaurant Week.
Being on our RTW trip this year, I was sad to miss the Boston Restaurant Week held in August… But then the universe delivered and I got to experience a similar event halfway across the world in a country with quite possibly the best cuisine on the planet:
Thailand.
For a second year running, the Thai island of Koh Samui has hosted the Samui Fine Dining Festival to showcase the amazing food scene that the island has to offer.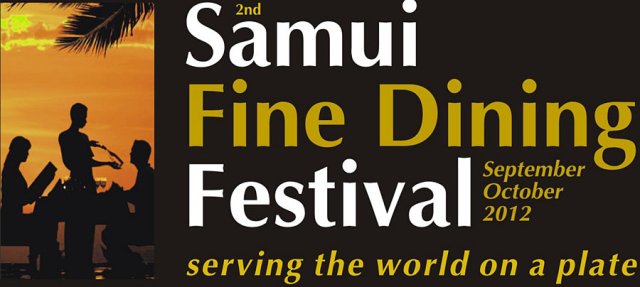 In their own words:
The 2nd Samui Fine Dining Festival is a Dining Extravaganza presented by the island's top restaurants and an elite of Executive chefs.

From September 1- October 31, each restaurant offers an individual Fine Dining menu for your dining pleasure.
Basically, if you are a foodie, then plan to visit Koh Samui during the months of September or October.
Tony and I got the chance to get a sneak peak of this dining festival by an invitation from executive chef, Sébastien Meunier, to dine at his restaurant, Red Snapper Restaurant & Bar.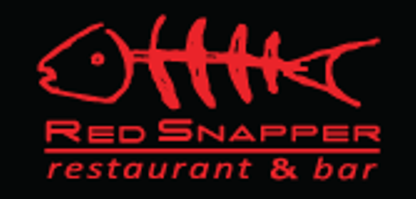 Originally from France, Sébastien has extensive experience working in Michelin rated kitchens and has spent time traveling and learning the culinary trades of Indonesian, Malaysian, and Thai cuisines.  He has taken this knowledge and has created exquisite dishes at Red Snapper to reflect and fuse both his French roots and his Asian cooking expertise.
The result?  One heck of a fine dining experience!
Tony and I arrived at the restaurant and were immediately greeted by Sébastien and our server for the evening, Pueng.
They were both extremely friendly and we felt very special to be meeting the famed chef behind the operation.  We felt right at home in this chic and modern open air restaurant.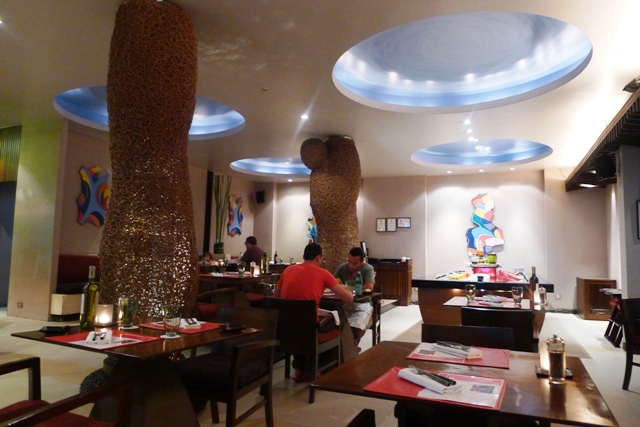 During our visit, Red Snapper Restaurant was also celebrating their 9 year anniversary and the spirit amongst the staff was contagious.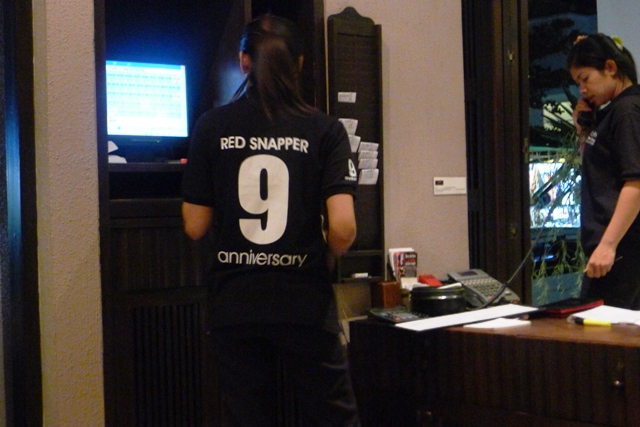 As soon as we were seated, Pueng opened up a complementary bottle of Cabernet Sauvignon for us to enjoy during our meal… Yup, it was going to be a good night!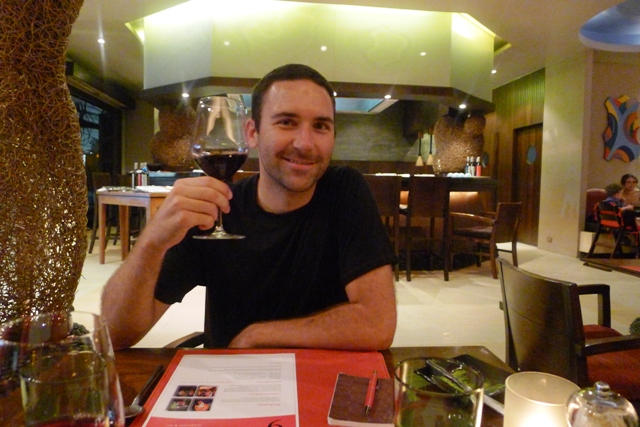 Here were the superb dishes that we had the opportunity to enjoy over the course of the evening:
Bread With A Trio Of Pesto, Sundried Tomato Butter, And Oil & Vinegar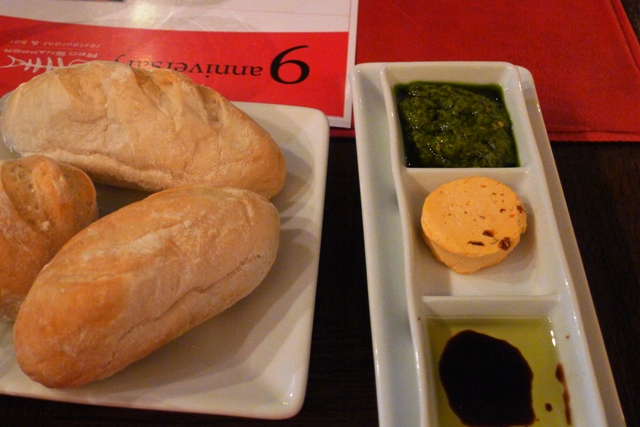 Given the fact that we were about to embark on a 5 course tasting menu, I wanted to save all the room in my belly for the dishes to come, but I was starving when we arrived and the pesto and tomato butter looked too good to pass up.  I am glad I decided to try this because the pesto was especially addicting and radiated both Italian and Asian flavors.
Tuna Verrine With Mango & Beetroot, Green Peas And Vanilla Emulsion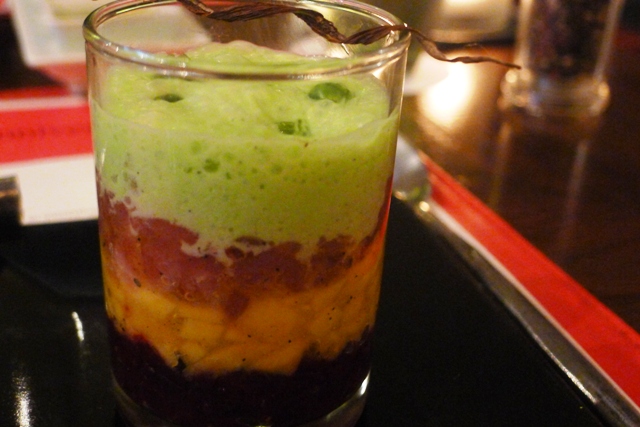 A glass filled with 5 layers of goodness.  It was the perfect treat to get my pallet pumped up for the meal.  Smooth tuna tartare, juicy  mango and beetroot, crispy peas, and frothy vanilla emulsion… it was a texture explosion my mouth.  The balance of creamy to crunchy in this dish was divine.
Truffle & Black Trompet Mushroom Risotto With Asparagus & Crispy Parmesan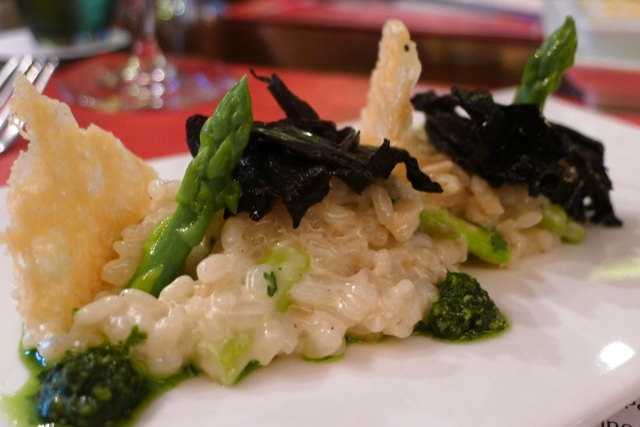 This risotto could rival any risotto that we consumed in Italy.  It had a delicate earthy flavor and was ridiculously creamy.  However, the addition of the asparagus and crispy Parmesan gave this soft dish a little crunch. Sébastien also snuck in some of his delicious pesto at the bottom of the dish, which I was a huge fan of!
Tandoori Baked Butter Fish, Almond Cream, Celery Mousseling, Cloves & Fresh Coriander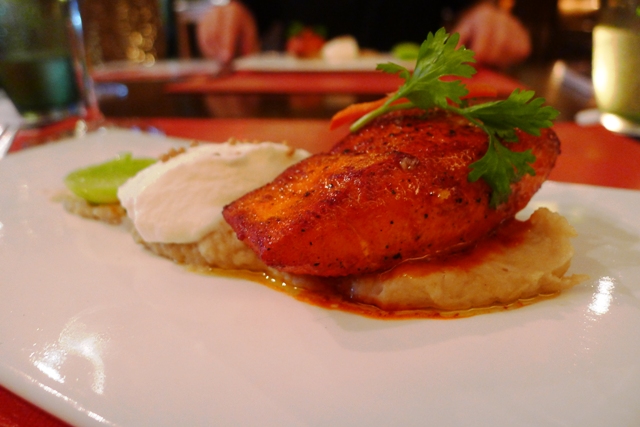 This was personally my favorite dish of the main-dinner courses.  I have had tandoori chicken before, but never tandoori fish and this was wonderfully prepared.  Besides the tender fish, each item on the plate was just okay… But combine them and all the flavors and textures came together remarkably.  The mousse was also heavily infused with the flavor of cloves, which made this dish exceptionally unique.
"Charolais" Beef Skirt Steak With Long Pepper & Ginger Puy Lentils & Raspberry Bordelaise Sauce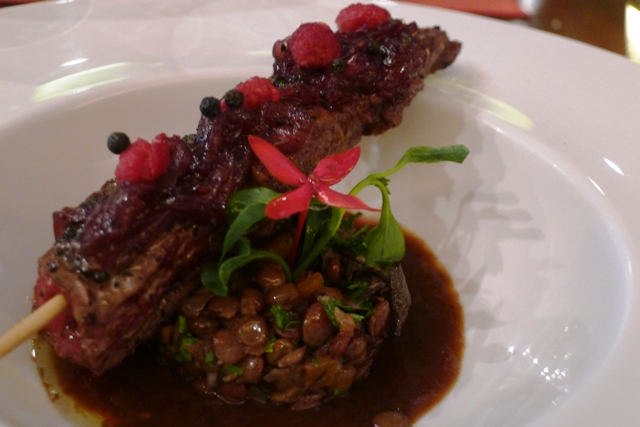 This dish was rich and meaty, so obviously it was Tony's favorite of the night.  The steak was fall-off-the-bone tender.  The dish tasted earthy, but the raspberry sauce gave it a surprising zing.  The lentils were also cooked al dente, which added an extra texture dimension to the dish.
Dessert Symphony – Dark Chocolate Pave, Lemon Pie, Crème Brûlée, Tiramisu , & A Limoncello Shooter Served With Coconut Ice-Cream & Pralines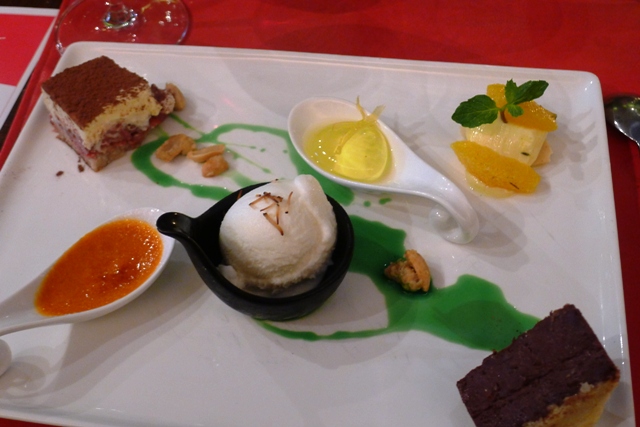 It is probably no big shocker that this dish was the absolute BEST part of my evening.  When I first read the menu, I assumed I had to choose ONE of these desserts…. But no.  I got served ALL of them.
I should have known that the dessert was going to be large and in charge when Pueng came over to our table to announce that there would be a 15 minute "break" to let us digest before they brought out the dessert course… She really did have my best interests at heart. I was in fat kid heaven.
I started tackling the dish by first trying the Limoncello shooter, which reminded me of my jello shot slamming days from college.
At this point in the night, Tony declared that he was "unfit" to drive home.
After the buzz from the shot wore off, I dug into the rest of my dessert.  The Crème Brûlée was actually red pepper flavored, which was so odd but surprisingly delicious…. A sweet and savory treat if you will!  The tiramisu had raspberries in it, which made it the most unique tiramisu I have ever tried. The lemon pie was perfectly tart and refreshing.
But my two favorite desserts were (of course) the dark chocolate pave, which was decadently intense (even for my chocolate-picky pallet) and the coconut ice cream… in Thailand, coconut ANTYHING is an immediate win.  When Tony had his first spoonful of the ice cream, he instantly closed his eyes and made some embarrassing foodgasm noises.
By the time all the desserts were cleaned from my plate, I was pleasantly full and on cloud nine.  To cap off the perfect meal, a talented cover band began to play some classic tunes that were perfectly suited for the restaurant's relaxed ambiance.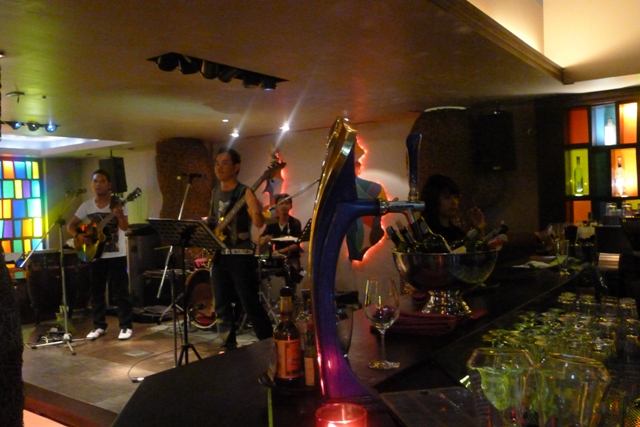 Tony and I slumped back in our chairs and almost went to sleep right at the dinner table.
The whole night was absolute perfection.  Before we left the Red Snapper, we made sure to share our gratitude with Sébastien for inviting us to his remarkable restaurant and for cooking us up an unforgettable meal.
So if you are on the island of Koh Samui, do not miss this opportunity to check out some great participating restaurants in the Samui Fine Dining Festival… And DO NOT miss out on dining at the Red Snapper Restaurant.  Trust me, you will not be disappointed with Sébastien's work.
I hope Tony and I have the opportunity to try out some other culinary gems on the island for the remainder of our stay on Koh Samui… Stay tuned!
Your Turn:  Ever participate in a tasting menu?  Share your story below in our comments section!
Many thanks to The Red Snapper Restaurant & Bar for sponsoring our wonderful meal.  All opinions, as always, are our own.
About Meg
Exhausted from traveling every week as a Business Management Consultant early in my career, I took a year off in 2012 to travel at my own pace. I am a high-energy girl that loves being active, eating food, drinking wine, and exploring the world with my partner-in-crime (and husband), Tony! I now reside in Portland, Oregon and continue to write about travel, food, wine, and the awesome adventures we have in the Pacific NW!