When Tony and I first started our RTW trip, we enjoyed writing up our "first impressions" articles on each city we visited…. Well, that didn't last beyond Buenos Aires.  Caught up in the madness of travel, having so many other great things we wanted to write about, and just plain forgetting, we fell off the wagon of that article series pretty darn fast.
But then I travelled to Bangkok.
Southeast Asia always seemed so far in the distance of our RTW trip.  But here I was 7 months into our trip on a plane from Berlin to Bangkok.
On the plane to Bangkok, my mind was racing.  I had never been to Asia and had no idea what to expect.  The little tidbits that I did know about Bangkok came from watching episodes of Anthony Bourdain and The Hangover 2… Accurate or not, I was a little intimidated.  For me, Asia seemed like a complete sensory overload.
So what were my first impressions? How did my first four days in Asia (in the bustling hub of Bangkok) play out?
Vibe
I was definitely right on Bangkok being a sensory overload.  At almost every twist and turn, there's a street vendor selling random oddities (I have seen some weird foods to say the least!), tuk tuk drivers harassing you to ride with them, people driving like maniacs (you swear sometimes they are actually trying to hit you)… It's pure chaos.
And you know what?
I kind of liked it.
Warning: Bangkok locals are known for ripping off tourists… Tuk tuk drivers, cab drivers, and random lurkers outside tourist sites are infamous for this. Don't trust any of them that say the site you want to see is closed for the day…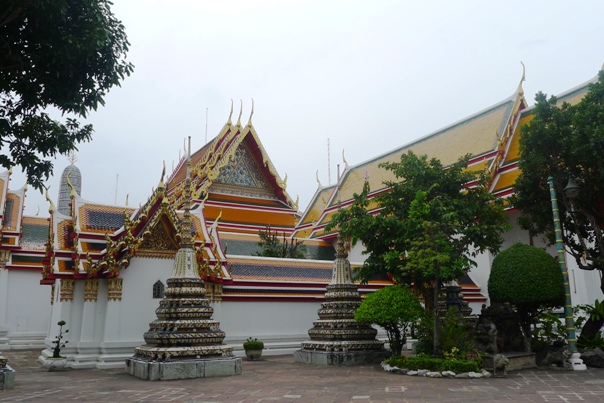 Wat Pho Temple
Just be sure to do you research in advance so you know where to go (and what you should be paying) when you are out sightseeing.
Weather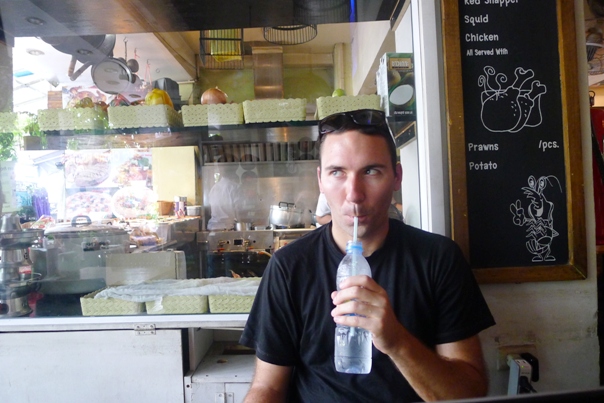 Drink lots of water to combat the heat!
Prepare to get sweaty.
Bangkok is humid as hell and as hot as the Caribbean.  I learned quickly here that there is no point in taking a shower during the morning or daytime, because you are just going to need one 10 minutes later.
The only way to combat the heat is to pick lodging with air conditioning, drink lots of water, and consume plenty of yummy fresh fruit shakes throughout the day!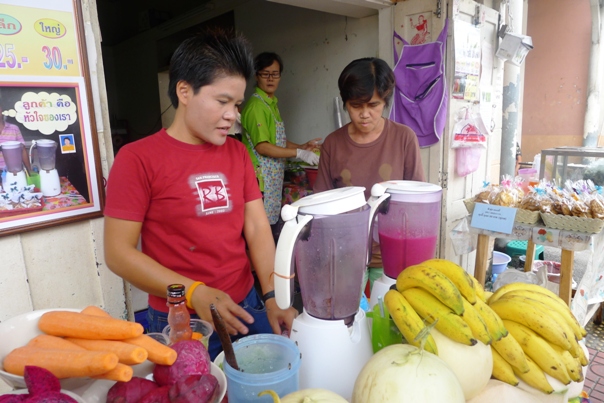 A smoothie a day keeps the humidity at bay… sort of.
Food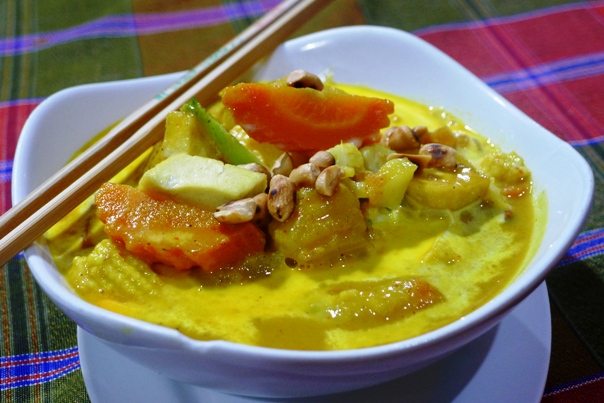 Delicious Massaman Curry
Oh. My. Lord. The food here is good.
In fact, it's mind blowing.
I have always been a fan of Thai food, but I now know that what I have been subjected to over the past 27 years has been "American Thai food." You simply can't compare it to the real deal.  And in Bangkok, the real deal typically costs only $1 USD per entrée.
Bangkok has an incredible street food scene, where you can eat anything from fried crickets to delicious pad thai.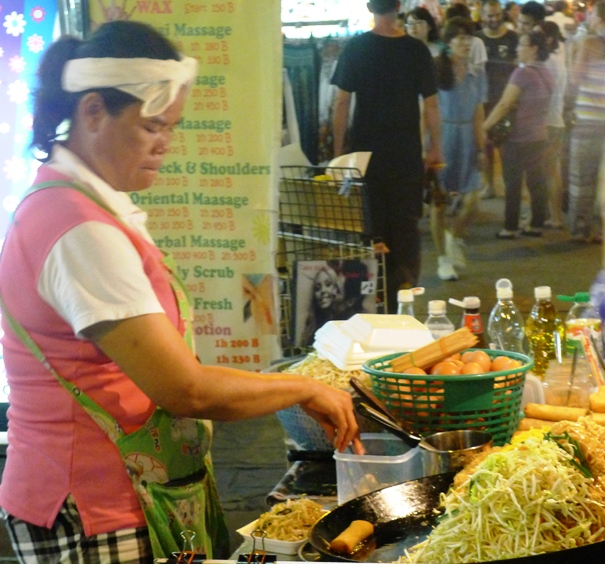 However, if you have a little extra cash to spend, many people recommend checking out the legendary rooftop dining and bar scene for some great views of the city with your food & drinks.
Note: For all you non-adventurous eaters, Bangkok is good at catering to its tourists, so there is plenty of Western food options scattered throughout the city as well.
Nightlife
I'll admit it.  Tony and I are an old married couple.
We are not big partiers and are completely content with our date nights spent at home (or in our hotel) watching TV shows and going to bed at the wee hour of 10PM.
But for those of you that like a big night on the town, Bangkok delivers. We stayed in a quiet neighborhood nearby the famous backpackers' Mecca of Khaosan Road.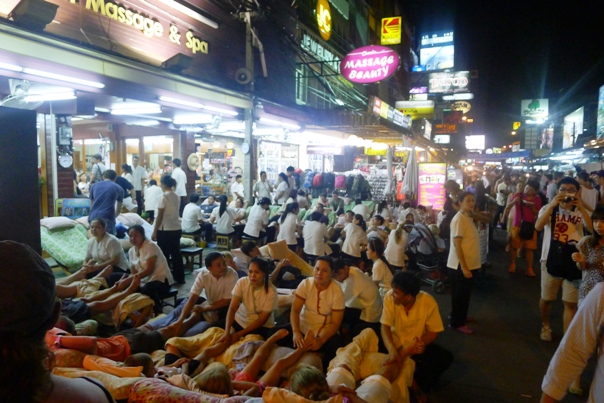 Insanity on Khaosan Road 
On a couple occasions, we ventured over to this crazy street to "people watch" and can vouch for the city's lively nightlife.  Whether you fancy hardcore clubbing, a fruity cocktail at a beach shack-style bar playing live music, or a lady boy club, Bangkok has you covered.
We only spent 4 days in Bangkok, so I know my opinion on the city is limited… but I loved what I saw! 
Tony and I have since ventured to the remote island of Koh Mak and will be spending roughly three weeks here before our month-long house sitting job on the island of Ko Samui.  The island vibe in Thailand is much different from the madness of Bangkok.
While I loved Bangkok, I could get used to everyday life on the beach.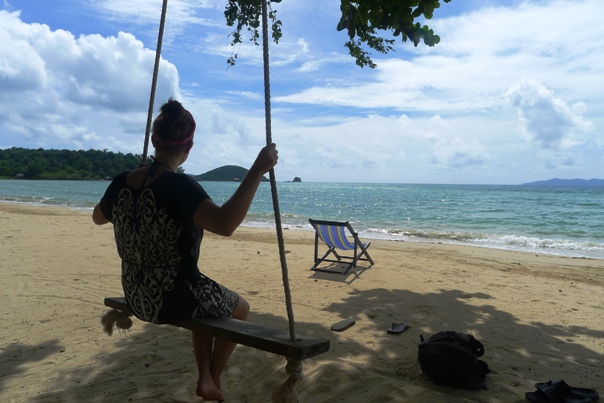 Your turn:  Have you ever been to Bangkok?  Love it or hate it? Please share below in the comments section.
About Meg
Exhausted from traveling every week as a Business Management Consultant early in my career, I took a year off in 2012 to travel at my own pace. I am a high-energy girl that loves being active, eating food, drinking wine, and exploring the world with my partner-in-crime (and husband), Tony! I now reside in Portland, Oregon and continue to write about travel, food, wine, and the awesome adventures we have in the Pacific NW!