Today we're continuing a look through Meg's classic series on how to have a kick-ass wedding while also saving for an around the world trip. Meg dominated our wedding planning and highlights 5 ways she was able to save big for the big day.
Have you already tried any of her methods for your big day? Will you think about trying any of them if your big day is still approaching?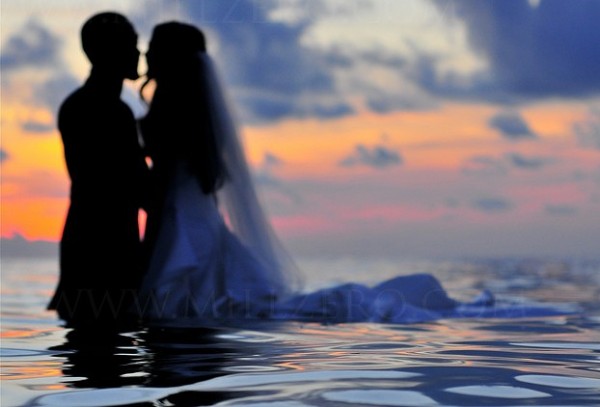 As mentioned in my previous article, when Tony and I got engaged, our parents gave us a set amount of money to spend however we wanted – Whether it be on a fancy wedding, a down payment for a house, etc.  We collectively made the decision that we wanted to use this cash towards something more than just one insane wedding bash.
…And here we are today about to travel the world for an ENTIRE year with some of that cash!!! [ editors note: And we're still going strong 8 months into our trip :)]
Having said this, we still wanted to make our wedding special.
5 Small (Yet Essential) Way We Kept Our Wedding Day Under $5,000
1.  All Dresses Are Created Equal: Don't fall into the "wedding gown" trap.  A wedding dress is just supposed to be in the "white-family", correct?  But who says that your dress needs to be an actual bridal gown?  A white dress is a white dress.
Wedding gowns have the same exact quality of fabric and detail as your traditional dress… for 3X the price!
For my wedding, I actually found a stunning floor-length dress that I just ordered in white… and wa-LAH, I had myself the perfect wedding gown – for just $250!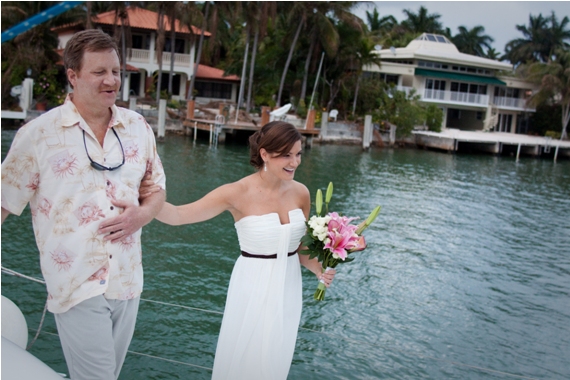 2.  Skip the DJ: I am a firm believer that big weddings are just that much better with a kickass band… So this tip might work better for the smaller weddings.
Instead of hiring a DJ or a band to provide the entertainment for your wedding, why not leverage your MP3 and create your own wedding playlist to jam out at for the wedding?  Tony and I got married on a boat and had a blast on our couch one lazy Sunday afternoon as we created one EPIC wedding playlist to play on the surround sound system on board.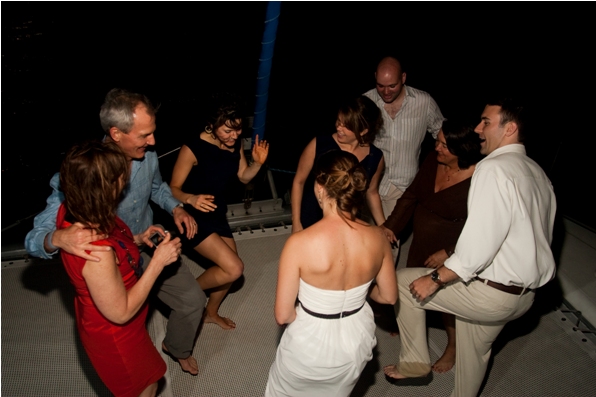 The best thing about this scenario is that you have more control over your music and can avoid the random kinks the DJ throws into the mix – Anybody up for the Chicken Dance?
3.  Drop the "Wedding" Label When it Comes to Hair and Make-up: I am typically a do-it-yourself (DIY) kind of girl, but I CANNOT do anything ingenious with my hair beyond your typical ponytail.
So I decided to stick with the pros on my big day.  However, when I looked at salon websites, I noticed that a regular "Up-Do" was $75, while a "Wedding Up-Do" was $250…WAAAIT a minute.  They are the same thing, aren't they?!?
This seemed like a total rip-off to me.
Having said that, I called up a local salon and told them that I wanted to schedule a hair appointment for an up-do.  I never mentioned the word "wedding" when I was making my appointment.  They quoted me $75 over the phone.
When I went in for my appointment they asked what the occasion was and I informed them that it was for my wedding.  Unfortunately for them, they had already quoted me at the lower price and couldn't do a darn thing about it… And I managed to keep the extra $175 in my pocket… where it belonged!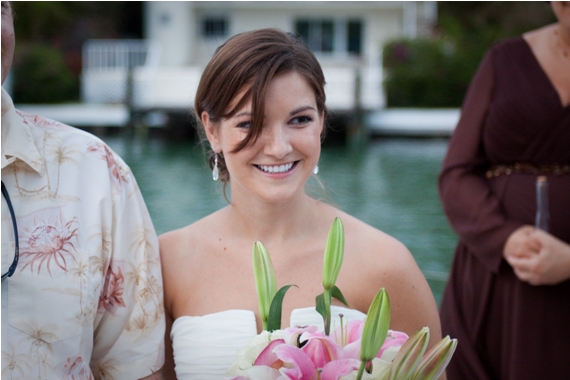 4.  Make Your Own Flower Arrangements:  Since Tony and I got married on a sailboat at sunset, the ambiance was pretty much in the bag and minimalistic was the way to go.  But I still wanted a bridal bouquet as well as flowers for both my Matron and Maid of Honor.
However I didn't realize that bridal bouquets alone can cost over $150 if you have them designed by a florist.  Once again, this seemed like a rip-off.
So on the day of our wedding, my tasteful mother and mother-in law went to our local Whole Foods and hand-picked beautiful floral arrangements for the our three bouquets.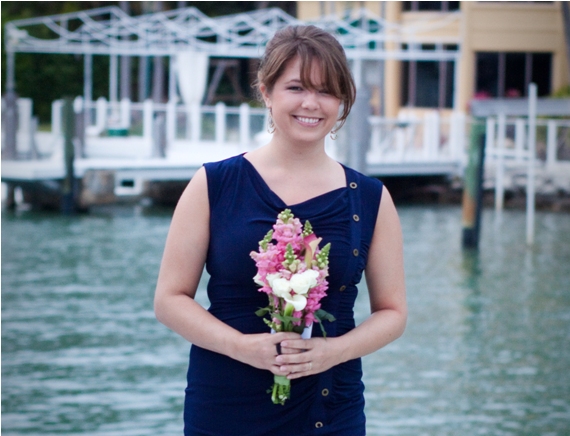 To this day, I still get complements on my flower arrangements when I show people my wedding photos… You would never know they were hand-made and only cost $30.  Amazing!
5.  Think Outside the Cake Box:  At almost every wedding you go to, you have the traditional tiered wedding cake that can cost thousands of dollars… This is the money you pay for the photo-worthy design of the cake – not the quality of the cake.  In fact, most of the time, the cake just isn't all that good.
There are so many more creative (and yummy) things you can do with your wedding dessert to keep your costs low – and the mouths of your guests watering!
For example, Tony and I had Brioche Bread Pudding for our wedding dessert.  My sister got married in the Florida Keys and had sliced Key Lime Pie for all the guests.  You can also do s'mores, cupcakes, make-your-own ice cream sundaes… The list goes on and I am getting hungry just thinking about it!!!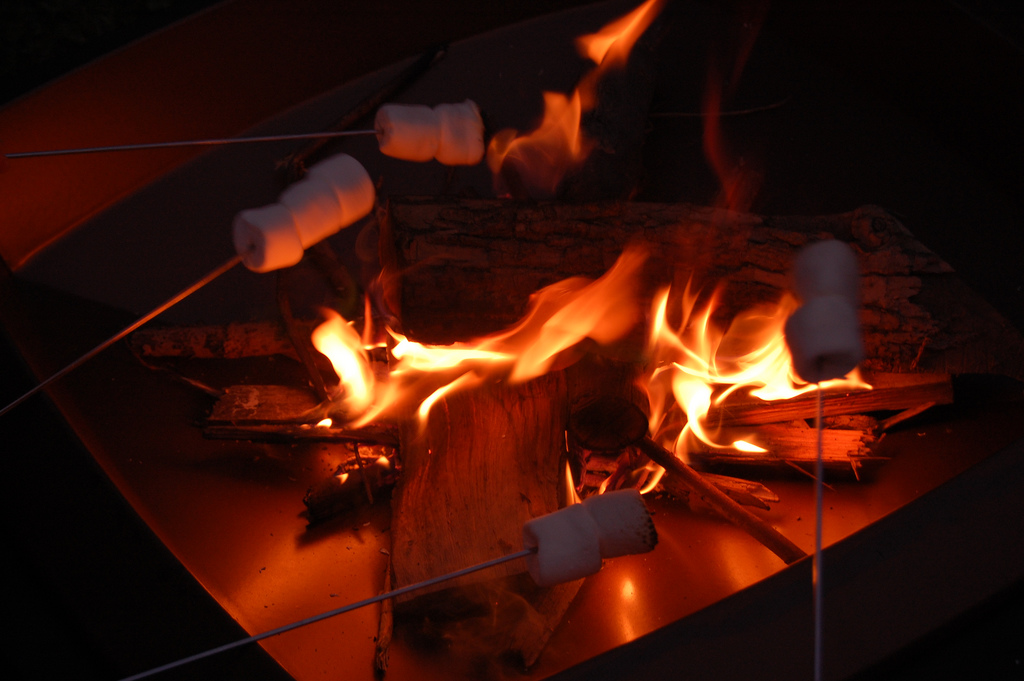 Bonus Tips
Now these five tips were just some of the things that I personally did for my wedding to keep my costs down.  However, there are plenty of more creative ideas out there that you can do for your big day.  How about:
Get creative with your venue – Try a backyard BBQ wedding!
Remember that you are only going to wear your wedding dress for a few hours… Instead of spending a fortune on a brand-spanking-new dress from a posh boutique bridal shop, why not rent your dress, buy your dress online, or even buy a "gently used" dress?  A couple of my girlfriends went down this road and they had some of the most beautiful dresses of the bunch!
Seek out qualified local university students for your DJ and Photography gigs.
Leverage Evites instead of spending money on costly snail-mail wedding invitations
Put a tab down at the bar instead of paying for an "Open Bar" upfront.  At my sister's wedding an open bar cost $75 a person… But besides her younger friends still "living the college dream", how many people do you think ACTUALLY drank $75 worth of booze (besides my shot loving, table-top dancing 89 year-old grandma)?
Create mini photographers:  Give your guests memory cards for their digital cameras to snap shots during the wedding and collect the cards at the end of the night to compile your own wedding album.
Make your own wedding favors – Nothing says "thank you for coming to our wedding" like homemade cookies!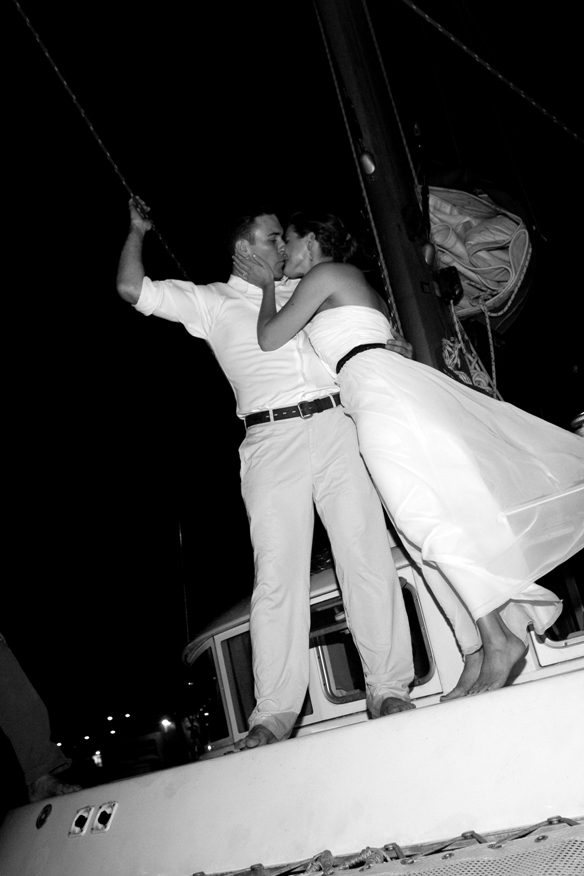 Bottom line, your wedding day will be hands-down the most extraordinary day of your life – whether you decide to spend $50K or $5K on it.  The choice is yours on how you want to spend all of that wedding money.
For me and Tony, we decided to cut MANY corners on our big day and spend the majority of our wedding fund planning the trip of a lifetime!
… And to this day, NO REGRETS!
Your Turn: Did you spend big on your wedding? Did you come up with some creative ways to save? What about those who have yet to take the plunge… what do you want to do for the big day?
About Meg
Exhausted from traveling every week as a Business Management Consultant early in my career, I took a year off in 2012 to travel at my own pace. I am a high-energy girl that loves being active, eating food, drinking wine, and exploring the world with my partner-in-crime (and husband), Tony! I now reside in Portland, Oregon and continue to write about travel, food, wine, and the awesome adventures we have in the Pacific NW!