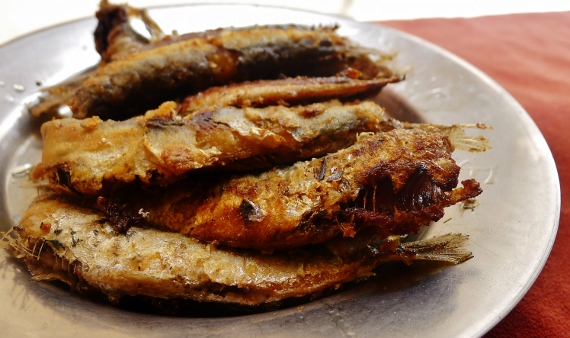 If there is one constant about the beach, it is this:
After a sunny day in the sand and surf, after you are crispy from too much sun and salt, when the idea of a nap is just about the best thing you have ever heard… EVERYTHING tastes fantastic.
But don't let this unimpeachable fact diminish the greatness of my choice for best thing I ate this week.
Fried Mackerel From The Grandma Downstairs
Happy and delirious from a day at the beach, I sit on the couch in my swimsuit debating the tough choices. You know… nap or movie?
With a whistle from the window and a knock on the door, my contemplation is interrupted as I go to answer.
It is our landlord's 80 year old mother, who only speaks Croatian, with a big plate of freshly fried Mackerel for us.
The lack of overwhelming fishiness lets me know that these Mackerel must have been caught that day and the amount of burns I gather on my mouth and fingers from scarfing them down lets me believe they are freshly out of the fry pan.
OH MY GOSH….
Ridiculous simplicity.
Simply ridiculous taste.
Proving that good food does not have to be fancy food. It also makes me wonder how much place and timing affects our tastebuds.
Would these Mackerel have been Foodgasmic if I had eaten them anywhere else? Do you have to be in the right frame of mind for a dish to truly reach Foodgasmic levels?
What do you think? Is there such a thing as objective greatness with food or does it all depend on where and when you are?