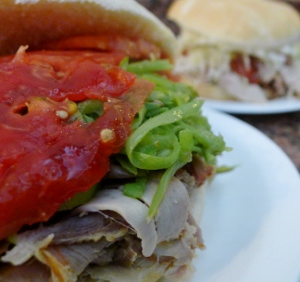 Maybe it was that first college class where you found the subject actually interesting and realized you wanted to learn more…
Maybe you confidently walked into that party your Senior year in college and saw that cute girl across the room…
Maybe it was that job interview where the interviewer and your future boss laughed at all of your jokes…
… but for whatever reason, you knew ahead of time, before anything spine-tingling good had even occurred, that your life would be forever altered.
That was me at La Fuente Alemana.
Fuente Alemana – Best Damn Sandwich
Stoves, surrounded by cooks, surrounded by a square counter, surrounded by patrons without an extra seat available, surrounded by a standing room only counter filled with hungry locals waiting their turn.
Such was the scene that greeted us as we entered La Fuente Alemana.
Overwhelmed?
Heck, no!
If there ever was a place to have lunch in Santiago, this had to be it.
After 1.5 weeks in Santiago, we knew the drill.
How To Order At La Fuente Alemana
Ignore the cashier line which is just for people who already had their fill and need to pay their bill.
Grab two open seats (one for you and the other for the sexy lady you are with), but if they are not open just squeeze into the standing room counter on the outside of the restaurant.
Make some serious, borderline harassment-style, eyes at the waitress and know what you want before she looks back.
Order and then patiently wait for your delicious sandwiches to be served.
What To Get
The Lomito is a must. You can order it with anything on top, but might I suggest the Chilean sauerkraut (just go with it), avocado, and mayo (AKA The Completo). Oh, and there will be some super moist pork in there between two amazing slices of bread.
Try the Chacerero. There is a ridiculously good Chacerero place in Boston near where I used to work, so I had to see if the real-life thing held up. Shockingly, while La Fuente Alemana's Chacerero was fantastic, I think the champion's belt goes to that delicious shop in Boston.
"Cuál es tu favorita?" Or for the gringos out there… "What is your favorite?" Let yourself be surprised by your waitresses favorite dish. it must be good, right? She works there all day and still hasn't gotten sick of it… it must be amazing!
Don't be worried if you've just had lunch. Stop in anyways and pig out. You will not regret it.
How To Eat These Monster Sandwiches
Check out the locals. They are all around you inside the restaurant so take a quick scan. Despite what some people might say, when we were there all of the locals look refined eating this monster sandwich with their fork and knife. It's just too big and messy to use your hands!
Get in there. Don't be shy. These suckers aren't meant to be handled with care.
Keep your head down and your elbows in. With few seats available, personal space is at a premium. Don't bother trying to make small talk with the locals as everyone, yourself included, will be too busy devouring a delicious slab of heaven.
La Fuente Alemana – The Final Word

A sandwich is what you make when late for work and need something for lunch.
A sandwich is a couple pieces of bread with a few pieces of meat and maybe a veggie or two in-between.
A sandwich is not what is served at La Fuente Alemana.
What they serve is a religion.
La Fuente Alemana is where you worship meat and bless yourself with their delicious sauces.
Like all seminal moments in life, I could sense that something big was about to happen as I entered the restaurants doors.
Little did I know, I would leave as only the latest disciple for the temple that is La Fuente Alemana.