September is a month not to be missed here in Oregon. To start, the weather here is spectacular – minus the 100 degree heat coming our way this week… global warming is REAL people.
But September also marks the month of the annual food festival, Feast Portland!
Feast is a 4-day foodie event that brings together the country's best chefs, tastemakers, wineries, breweries, and distilleries all under one roof… the "roof" here being the city of Portland as there are numerous Feast events spread throughout the city from September 14th – 17th.
And since we're 2 weeks away from this foodie extravaganza, I wanted to give you a rundown on what to expect at each Feast Main Event this year. As an almost 3-year veteran to Feast, I consider myself a pro.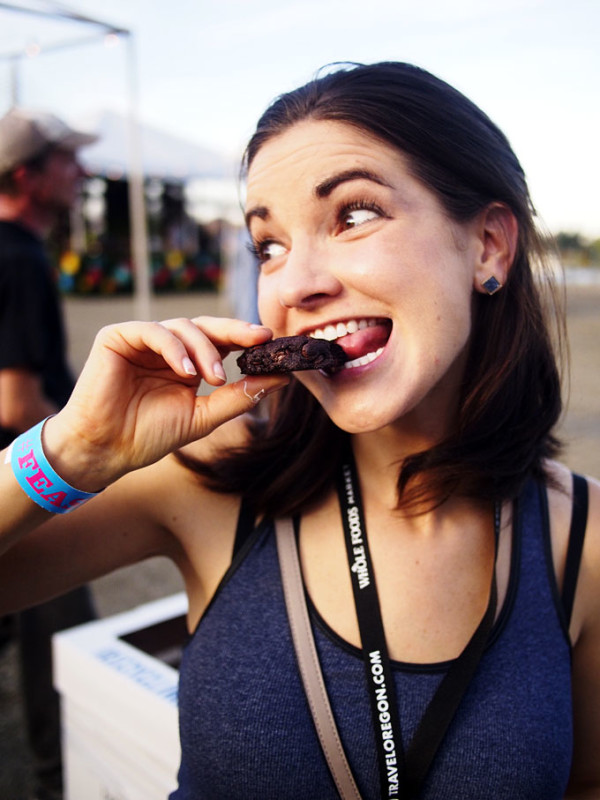 Photo Credit: The Kitchen Paper
If you have tickets, you're going to want to read this to prepare your belly and liver. And if you don't have tickets, you might want to scoop up some last minute tix… trust me, you won't want to miss these events!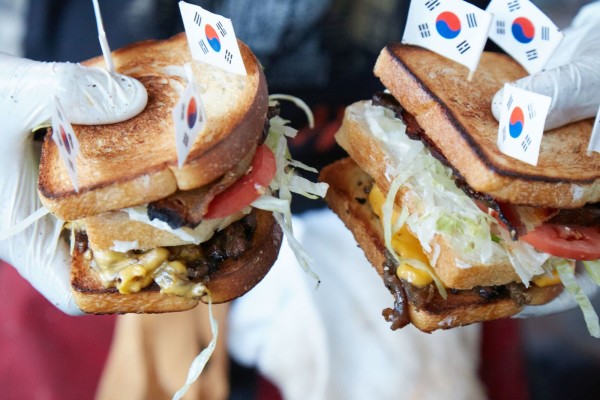 Photo Credit: Michael Kraus, Feast 2016
#SandoSmackdown takes place at the iconic Rose Quarter (home of the Trail Blazers and Winterhawks). This year, 19 chefs will be put to the test when they put together some crazy delicious spins on the classic definition of "sandwich."
Voting for your favorite sandwich is part of the game (one chef will earn the championship trophy) and fat pants are HIGHLY recommended.
Throw down some epic cocktails, exceptional craft brews, and fine wines, all while tasting some of the best sandwiches the good ol' US of A has to offer.
See a list of all the participating chefs here: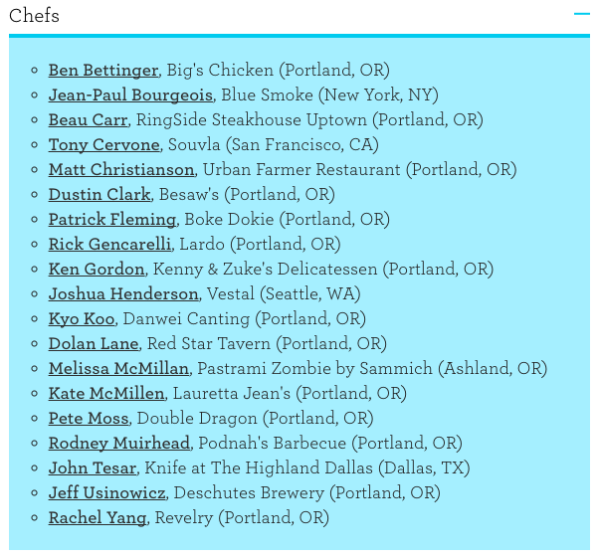 Pro tip: Take things slowly at Sandwich Invitational. It's incredibly easy to overdo it here…
Let me paint you a scenario: Tony attended Sandwich Invitational with me back in 2015. With clear eyes and a full heart, he went FULL STEAM into this event. Eager and hungry, Tony went into beast mode and proceeded to eat 14 SANDWICHES (?!?!)… long story short, he whined a lot about his inevitable bellyache, left the event early, and didn't get out of bed the rest of the weekend. He may still be recovering 2 years later.
#FAIL
Pace yourself people… you have been warned.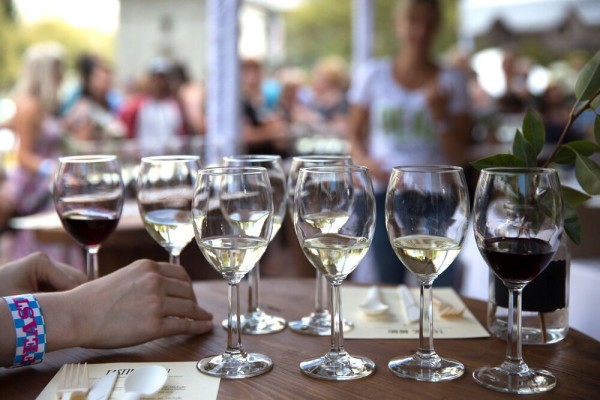 Photo Credit: Alan Weiner, Feast 2016
This will be my 3rd year attending the Grand Tasting and I am pretty darn pumped! The Grand Tasting takes place both Saturday and Sunday at Pioneer Courthouse Square and celebrates all that is awesome about the food and drink culture here in Oregon.
Enjoy sipping on wine? They have countless Oregon wineries pouring only the best!
Like a good beer? There will be 10 breweries and cider houses to keep your glass full.
Lover of food? Well, obviously they will have A LOT of this.
You can expect 80 vendors, including renowned chefs, vintners, brewers, bakers, cheesemakers, and food artisans from the Northwest and across the country… Do you need any more convincing?! 😉
Some stands I am DYING to check out: QuickFish Poke Bar, Nicky USA, ALL the winery stalls, NOLA Doughnuts, and of course… Salt & Straw!
GO people.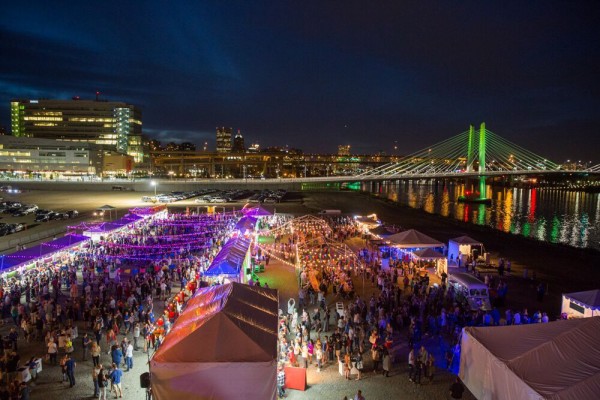 Photo Credit: Alan Weiner, Feast 2016
I attended Night Market last year and it was far and away the best experience I have had at Feast. Just like 2016, this year's 2017 Night Market (held at the beautiful Zidell Yards, with fantastic evening views of the city!) will be Latin American themed.
Expect chefs putting out all the stops with vibrant Latin dishes, over the top decorations, and dance-inducing music pumping throughout this awesome outdoor venue.
A few featured chefs not to be missed: Greg Denton and Gabrielle Quiñónez Denton of OX Restaurant, Scott Ketterman of Crown Paella, and Jenn Louis of Ray… Oh heck, just hit 'em all up!
Pro Tip: Lines get CRAY, so go early to try and beat the crowds. Also, go in with a plan. Prioritize which chefs you want to check out and be sure to check these out early. Better yet, if you go to Night Market with a buddy, you two can divide and conquer by standing in a couple lines at once. Two birds, one stone… Then, once you have hit all your "top picks", wait until later in the evening (when the lines die down) to check out some other booths.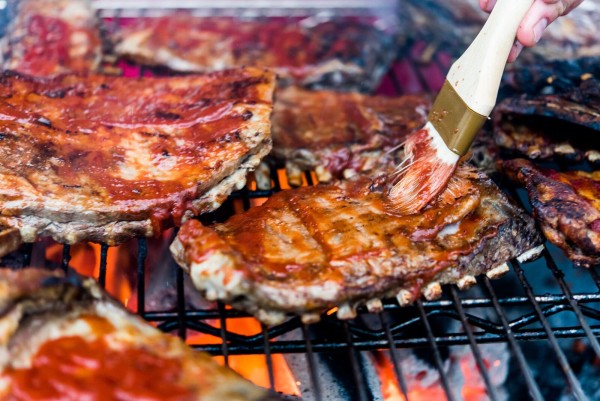 Photo Credit: Aubrie LeGault, Feast 2016
I have YET to go to SMOKED, but my fingers are crossed to be able to attend in 2018… This year is going to go by painfully slow!
Tickets to SMOKED always sell out almost instantaneously, but for good reason. Just read their event description below:
"Where there's smoke, there's fire. And where there's fire, there's Smoked—Feast's over-the-top take on the backyard cookout of your wildest imagination. It all goes down at The Fields in the Pearl District, where there's grass under your feet and the iconic Fremont Bridge providing the backdrop. When the sun dips behind the Forest Park, the glow of giant flaming grills lights the way as 22 world-class chefs serve up the amazing and the unexpected. There's a noteworthy array of cocktails, fine wines and craft beers to cool it all down, too. It's every carnivore's smoky dream sequence—but you'll be fully awake, wandering from grill station to grill station in a meat-fueled blissful state." – Feast Portland
… Ugh, my FOMO is already kicking in.
This year you can expect chefs from Langbaan, The Country Cat, Bamboo Sushi, Toro Bravo, and so many more!
Just like Night Market, SMOKED has some WILD lines, so prepare accordingly.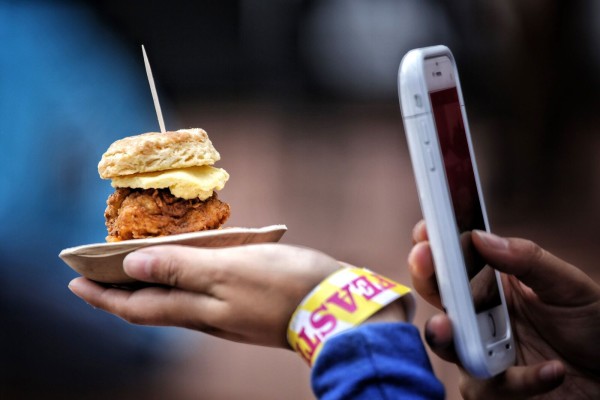 Photo Credit: Feast 2016
Controversial opinion here: Portland may not be known for it's Italian, Pizza, Cheesesteaks, BBQ, or any other cuisine/nibble that so many other U.S. cities are famous for…
But we DOMINATE brunch. And take it VERY seriously.
Enter Brunch Village.
Brunch Village is held each year on the Sunday of Feast weekend, which is when I am pretty much tapped OUT for the weekend. But if you have paced yourself properly all weekend, this event is not to be missed.
Expect some amazing egg dishes, biscuits galore, and pastries and desserts to make even Parisians salivate.
This year they have an incredible chef lineup at Brunch Village, such as Maya Lovelace from Mae (I hear her fried chicken is BOMB), Sam Smith from Tusk, and… wait for it… Christina Tosi from Milk Bar in NYC!!!!
To wrap things up, I hope this article has pumped you up for Feast 2o17 or has at least inspired you to get tickets if you haven't already done so. Many of these Main Events I listed above are already sold out, but Feast also has some fantastic smaller events, dinner series, and drink tank events worth checking out: feastportland.com/category/all-events/
Mangia people!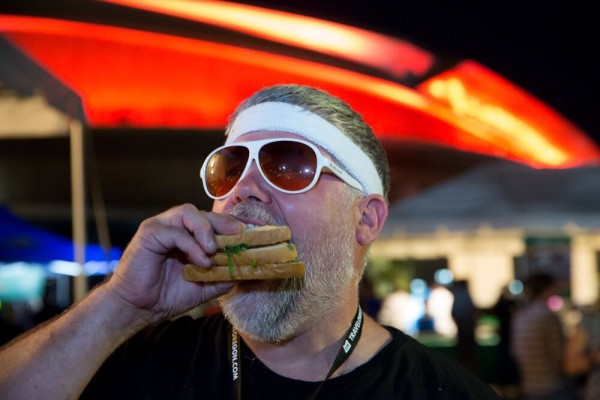 Photo Credit: Alan Weiner, Feast 2016
About Meg
Exhausted from traveling every week as a Business Management Consultant early in my career, I took a year off in 2012 to travel at my own pace. I am a high-energy girl that loves being active, eating food, drinking wine, and exploring the world with my partner-in-crime (and husband), Tony! I now reside in Portland, Oregon and continue to write about travel, food, wine, and the awesome adventures we have in the Pacific NW!