Is getting work done possible while traveling? Between the constant moves between cities and irregular schedule, how can you get anything done?
Yes you can and the "how" of it is pretty simple.
If you are someone who gets things done when you're at home or at work, you will get things done when you travel.
However, if you find yourself having trouble completing projects when everything is setup perfectly, then travel DEFINITELY does not increase your chances of success with getting work done.
So how do you get yourself to a point where you can do hard, good work while traveling?
Start working to finish projects while you're still at rest and not traveling.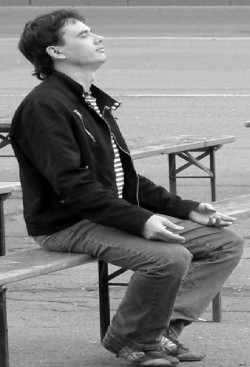 Make a habit of finishing the things you start before you start traveling.
Quit exploring every possible option.
Outline the exact next step you need to take.
Change your goal from success to completion.
Learn from your completed projects and improve upon them for your next project.
Bre Pettis, the CEO of Makerbot (a seriously cool company you need to check out), said it best in his "Cult of Done Manifesto":
There are three states of being. Not knowing, action and completion.
Accept that everything is a draft. It helps to get it done.
There is no editing stage.
Pretending you know what you're doing is almost the same as knowing what you are doing, so just accept that you know what you're doing even if you don't and do it.
Banish procrastination. If you wait more than a week to get an idea done, abandon it.
The point of being done is not to finish but to get other things done.
Once you're done you can throw it away.
Laugh at perfection. It's boring and keeps you from being done.
People without dirty hands are wrong. Doing something makes you right.
Failure counts as done. So do mistakes.
Destruction is a variant of done.
If you have an idea and publish it on the internet, that counts as a ghost of done.
Done is the engine of more.
I am still striving to be better and this manifesto is a great guide on how to start accomplishing more.
If you want to know how to get work done while traveling… then I guess what I'm saying is start getting things done now.
Your Turn: How do you get work done when you travel? Please share your tips with us in the Comments section!
About Tony
Quit his job to try actually following his dreams for once... and is currently loving it. He is working hard to to make this life-style permanent by writing about his adventures and brainstorming money making opportunities with his partner-in-crime, Meg.