A staycation (also spelled stay-cation, stacation, or staykation) is a neologism for a period in which an individual or family stays and relaxes at a hotel or motel close (~5 km) to their residence. ~Source: Wikipedia

We have been living with my folks in their new home on the island of Kauai since the beginning of December.  As much as I love my folks, we needed a few nights to ourselves halfway through our stay in Hawaii…
They call this a first world problem. 
Right after the holidays, Josh and Caroline of Traveling9to5 came to visit us for the month of January. We thought it would be a great idea to get out of the house for a couple of nights with our pals and escape to the luxurious Grand Hyatt Kauai on the other side of the island.
It was an incredibly fun and peaceful 3 days away from home… well almost away.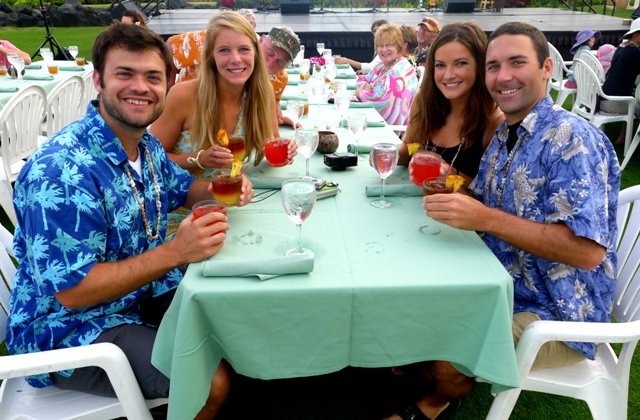 Here is everything I loved about our Staycation at the Grand Hyatt Kauai:
Lobby
The entire lobby boasts unbroken panoramic views of the Pacific.  After immediately walking through the open air entrance, you feel like you have just walked into the middle of a postcard photo shoot.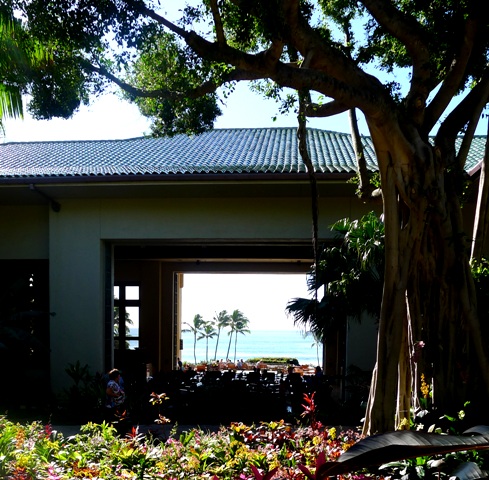 Rooms
The gorgeous setting doesn't cease after leaving the lobby.  At every twist and turn, you can soak in all the sights, sounds, and smells of paradise.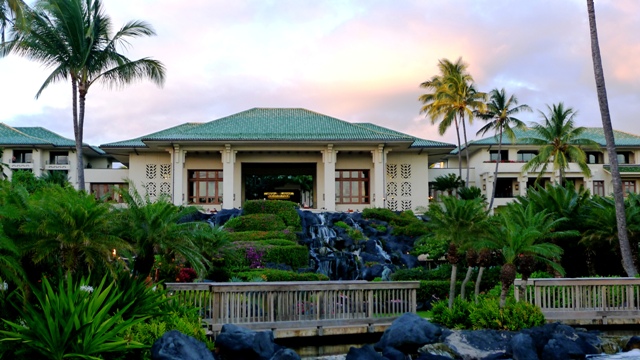 After swiping your key and opening the door to your guestroom, you immediately take in spectacular ocean views from your patio and have a fresh fruit platter there to greet you upon arrival.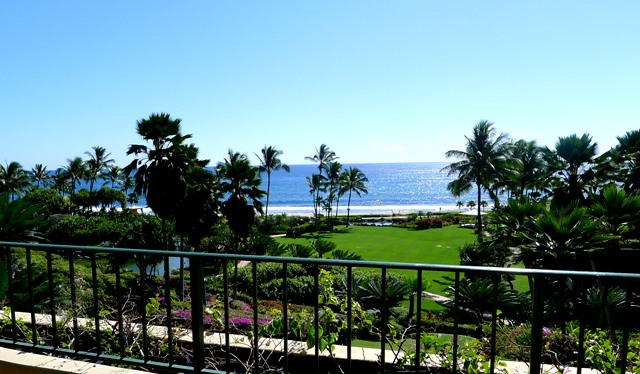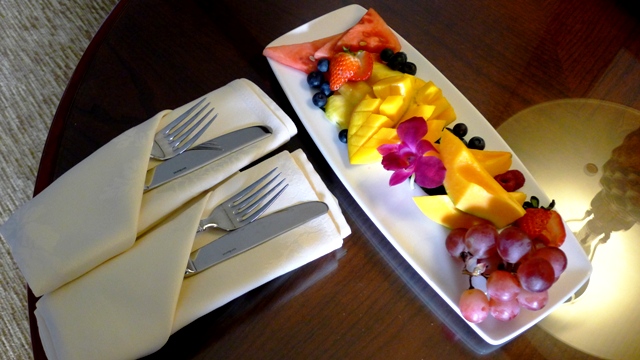 To top it all off, there were yummy chocolates to greet me each night on my pillow… You know I was a fan of this perk!
Pool
I would hardly call the Grand Hyatt Kauai's pool a pool…. It is more like an aquatic wonderland.  The pool covers the main part of the large property and extends out to the beach.  Separating the main pool area from the beach is a wrap-around salt water lagoon, which blends in perfectly with the ambiance and nature of Kauai.
In the main pool, there is an adult pool, multiple Jacuzzis, and a kid pool – Complete with cascading waterfalls, hidden caves, and a 150 foot water slide!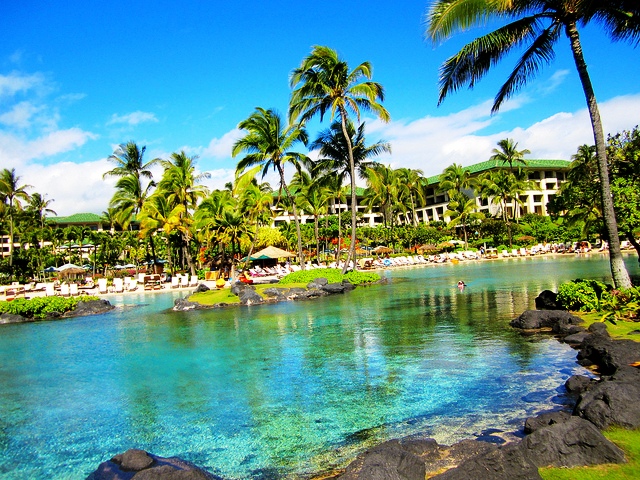 As you can imagine, this was where we spent 90% of our time.
The adult pool was quiet and peaceful when we wanted some R&R and the water slide, pool volleyball, and grottos brought us back to our childhood years… Unfortunately, we occasionally brought our childish antics back to the "adult" pool.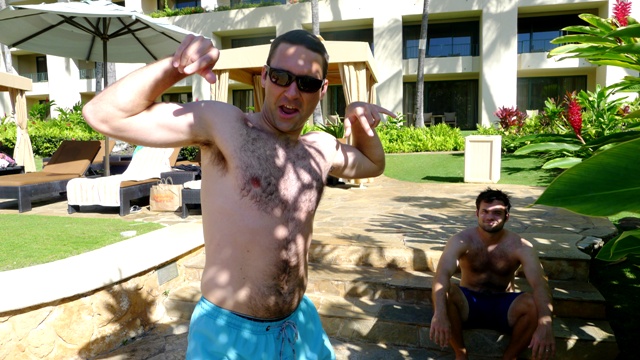 For being a Diamond member with the Hyatt's Gold Passport loyalty program, we got a complementary poolside cabana for one day.
We decided to take FULL advantage of this little gift. 
We got down to the cabana first thing in the morning and spent all day ordering pool-side mimosas, Kalua Pork nachos, and basically being loud enough to (once again) turn the "adult" pool into a place that was not quiet and relaxing for anyone within 50 yards of our rambunctious group!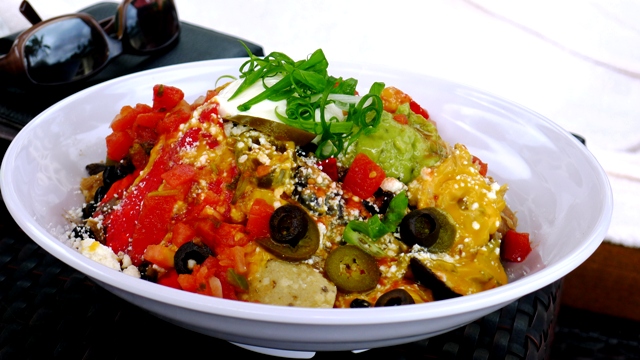 Amenities
Another great part of being a Diamond member with the Hyatt is having access to the Executive Lounges… and the Executive Lounge at The Grand Hyatt Kauai is not to be missed.  With comfy couches, a chill patio area with views of the Pacific, and games galore, it was a great place for the four of us to unwind from our crazy days at the pool.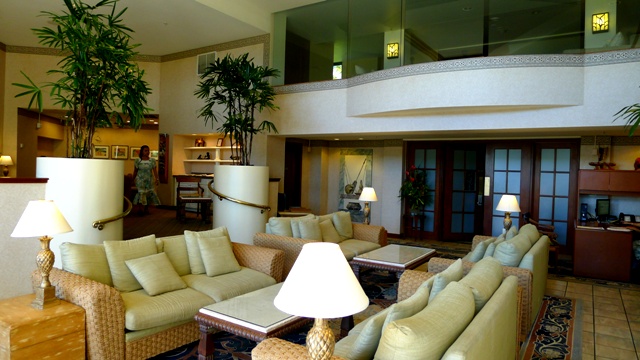 They also served a continental breakfast, afternoon snacks & refreshments, and evening desserts & cocktails…. We did NOT let these free treats go to waste!!!
To work off all the food and alcohol we consumed during our stay, the Grand Hyatt Kauai also had a full gym available to keep us in tip-top shape.  My favorite part of the gym was the giant jug of watermelon-infused water outside by the lap pool.  This water was so darn AMAZING that I drank it by the gallons… It was the perfect detox drink after a day of sipping beers at the pool!
Entertainment
Every Sunday and Thursday night, the Grand Hyatt Kauai throws one heck of a cool Luau.  The Luau is situated in an outdoor picturesque setting right on the beach.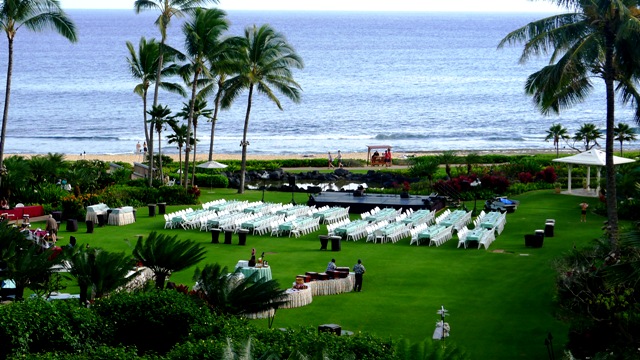 To start the night off, cheerful employees greet you with Leis and Mai Tais…. which are bottomless throughout the night!
During the Luau, there is an authentic Luau show and a buffet full of amazing Hawaiian foods.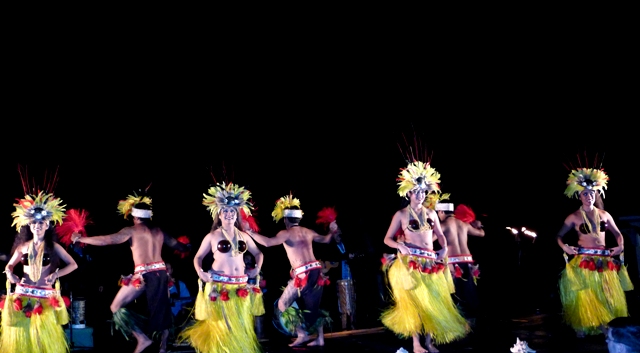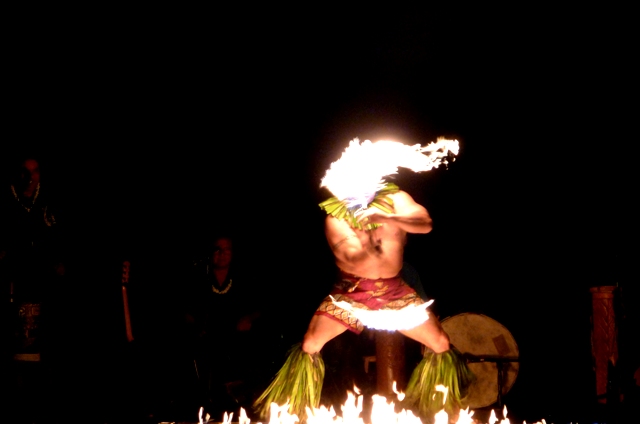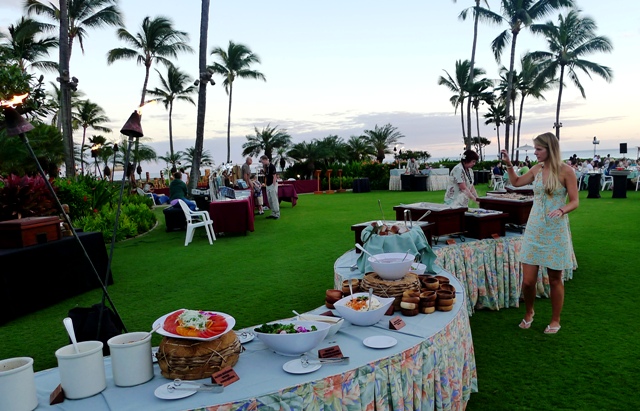 Some of us had a little too much fun with the buffet.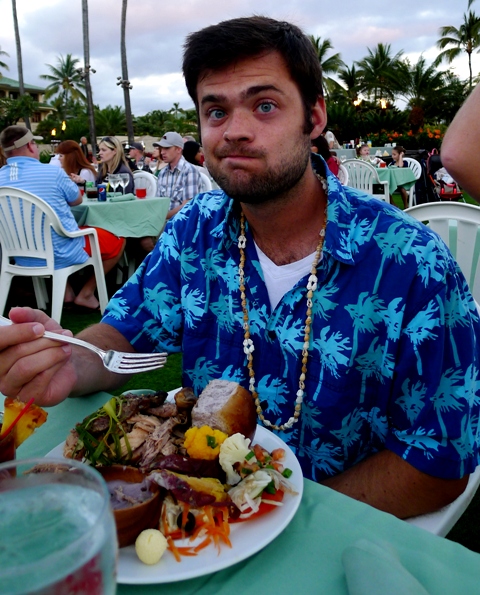 As much as I loved all the food served during dinner, I was saving room in my belly so I could go crazy on the desserts…. which took up an ENTIRE table at the Luau!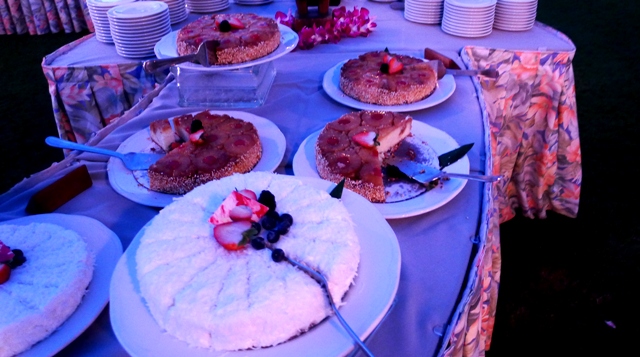 Unlimited pork, sweets, and booze….
The aftermath of this fiasco wasn't pretty.
At the end of our 3 days at the Grand Hyatt Kauai, I was completely tranquil, tan…. and a little hungover.  It was the sure sign of a good time!
The four of us were very sad to leave… but I guess going back to my parent's beautiful house in Kauai wasn't a bad tradeoff!
However, if you don't have family living on the beautiful island of Kauai, I HIGHLY recommend staying at the Grand Hyatt Kauai during your visit for some serious pampering and a true taste of paradise.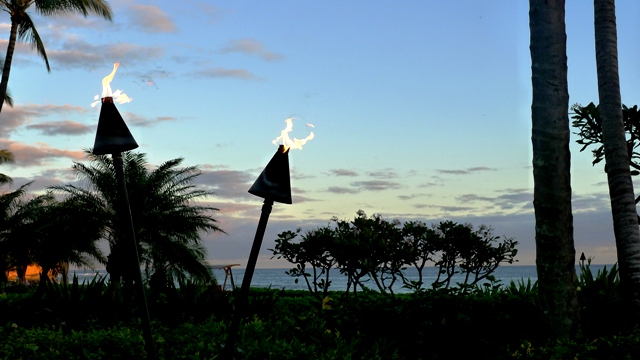 Your Turn: Have you ever taken a staycation? Please share your experiences below in the Comments section!
Our stay at the Grand Hyatt Kauai was sponsored, but all opinions (as always) are our own.
About Meg
Exhausted from traveling every week as a Business Management Consultant early in my career, I took a year off in 2012 to travel at my own pace. I am a high-energy girl that loves being active, eating food, drinking wine, and exploring the world with my partner-in-crime (and husband), Tony! I now reside in Portland, Oregon and continue to write about travel, food, wine, and the awesome adventures we have in the Pacific NW!