I don't know about you, but this time of year, Tony and I find ourselves bouncing around from one holiday gathering to the next. Whether meeting up for pre-Friendsgiving drinks (yes, that's a thing), traipsing through the city on an ugly sweater holiday pub crawl, or  just wanting to  hunker down in a dimly lit bar with a festive drink in hand, the holidays have us taking full advantage of Portland's vibrant Happy Hour scene.
With all the boozy wisdom I now have of this city, I want to take a moment to pay tribute to some of my favorite happy hour hot spots… after all, this is the season of giving thanks!
I hope ya check some of these marvelous places out over the holidays, or when you come to visit the city!
Park Kitchen (Happy Hour from 5-6) – I don't typically make it downtown, but Park Kitchen warrants the trip. Their happy hour basically features most of the dishes from their regular menu, for a fraction of the price. The happy hour item not to be missed: the grilled pork terrine slider with Park Kitchen's special (oh so special) sauce.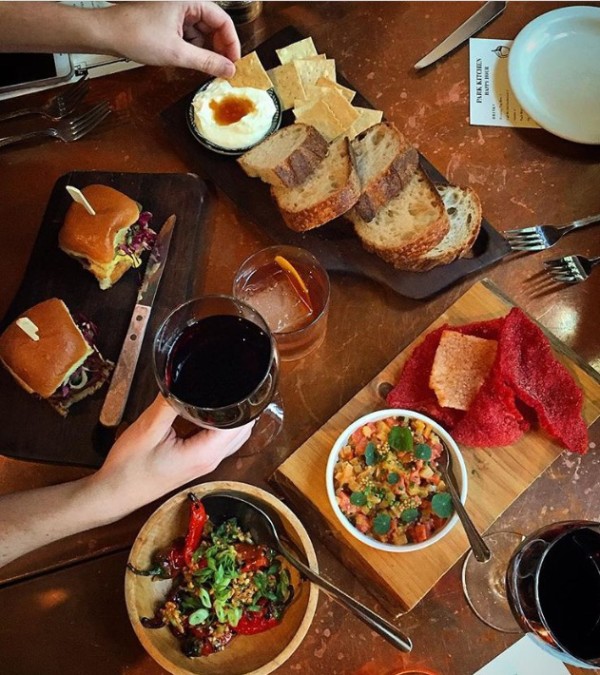 Park Kitchen also just launched their "One House" Gratuity Free concept to create more sustainable and rewarding positions for their employees… Now that's eating and drinking you can feel good about!
Lauretta Jeans (Happy Hour from 5-7) – This magical Division St. pie place is right down the street from our place, yet I don't come here nearly as much as I should.
Why is a pie place even on my Happy Hour roundup? Because they offer HAPPY HOUR PIE. Yup. Every day from 5-7pm, all their scrumptious pie slices are $3.50 a slice! You're welcome.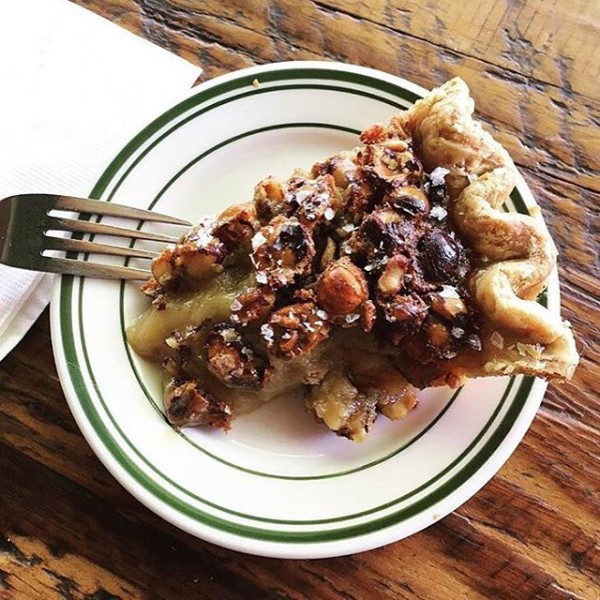 Aalto Lounge (Happy Hour from 5-7) – Now, let me preface by saying that Aalto is not my favorite bar by any means. While the cocktails are mighty delicious here, I have never been a huge fan of their lounge-esque ambiance. But putting my anti-lounge sentiments aside, their happy hour menu has a $2 grilled cheese & tomato soup deal… $2 FOLKS!
M Bar (Happy Hour from 6-8) – I already featured M Bar in my first Portland Bars article, but it just holds such a special place in my heart. Not only do they have fantastic hours for their happy hour, but their ambiance is fan-freaking-tastic, and you can get a damn good glass of wine for as cheap as $3… and their pours are humungo.  I've made my case.
Lechon (Happy Hour Tues-Sun: 3p-6p; Monday: 3p-close) – Lechon in the SW Waterfront has some of the best cocktails in Portland, and their food is out of this world.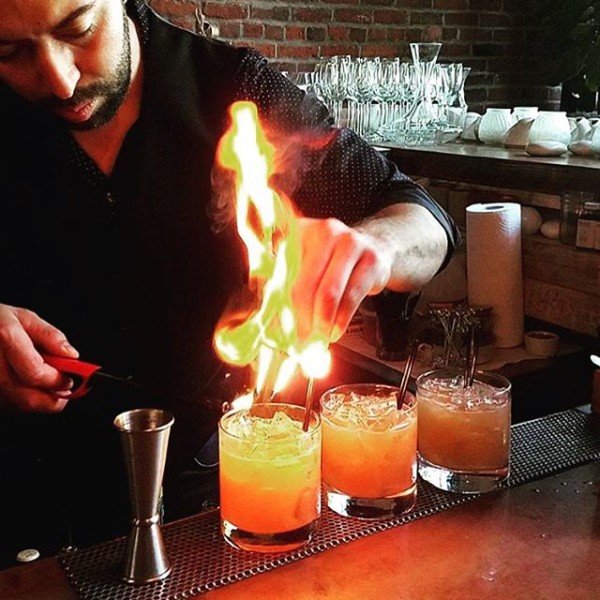 The happy hour item not to be missed: their perfectly fried cheese empanadas with caramelized onions, monterey jack, fontina cheese, and ancho aioli.
Need more Portland happy hour inspiration? Let Eater's handy map guide you: Portland's Essential Happy Hour Deals
Love a good fireplace during the holidays? Obviously the answer is yes, because who doesn't love a good fire during the holidays? Thankfully, my buddy Alex Frane has you covered with an entire roundup article over on Drink Portland dedicated to the best Portland Bars with Fireplaces.
In need of a night in? One of my favorite things during the holidays is a cozy night in, next to a warm fire, with a tall glass of wine in hand. But what to drink? While I'm not a huge Pino Noir fan, the whole rest of Oregon is… but I recently tried the Angela Estate 2013 Pinot Noir and loved it! This Pinot Noir recently was awarded the solo gold medal for Pinot Noir in the US at the 33rd Annual International Wine Challenge. At $48 it's a bit pricey, but perfect for a holiday celebration or a quiet date night in.
Your Turn: What are some of your favorite places to enjoy happy hour in Portland? 
About Meg
Exhausted from traveling every week as a Business Management Consultant early in my career, I took a year off in 2012 to travel at my own pace. I am a high-energy girl that loves being active, eating food, drinking wine, and exploring the world with my partner-in-crime (and husband), Tony! I now reside in Portland, Oregon and continue to write about travel, food, wine, and the awesome adventures we have in the Pacific NW!