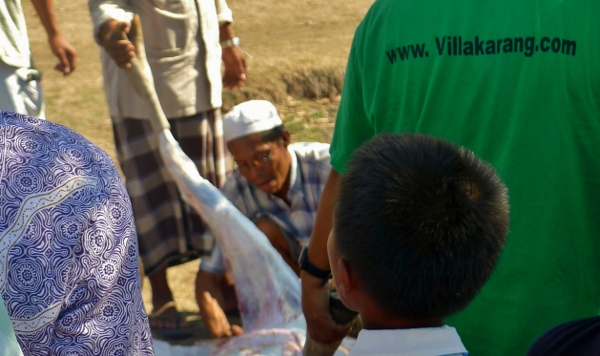 9 men are skinning a just-killed cow as their children run around the carcass screaming and playing tag.
The carcasses of dead goats are scattered around the small field, all in varying stages of the butchering process.
The wives of the men are carrying the freshly cut pieces of meat, organs, and heads back to their homes…
This was not what we expected when the men working at our bungalow invited us to their breakfast celebrating Hari Raya Haji.
But before we discuss how our morning local breakfast on Gili Air turned into a walk through an animal slaughter, let's understand what this holiday is.
Islam On Gili Air & Hari Raya Haji
Islam on Gili Air is practiced by almost all locals on the island. There is one mosque in the center of the island and its prayer calls can be heard throughout the day. However, while religion is important on Gili Air, the general atmosphere is one more of casual observance… easily seen by the restaurants proudly advertising magic mushrooms and the smell of marijuana in the air (the islands motto is: no police, no pollution).
While by no means a religious scholar, here is the little I learned about the holiday of Hari Raya Haji while on the island (and Wikipedia):
Hari Raya Haji or Eid-Al-Adha is an important Muslim festival celebrated on the 10th day of the last month of the Islamic calendar.
It occurs as a remembrance of Abraham's decision to sacrifice Ishmael, his son, based on God's command. God spared Ishmael once Abraham proved his devotion and a goat was sacrificed instead.
The typical celebration usually includes waking up early for prayer, the sacrifice of at least one goat, the exchange of gifts, the wearing of new clothes, and is a public holiday.
Occurs during the annual Hajj, a pilgrimage to Mecca, every able-bodied Muslim who can afford it must do. The people on Gili Air also take this day to celebrate the few on the island who have already embarked on their pilgrimage for the year.
Getting Invited To A Local Feast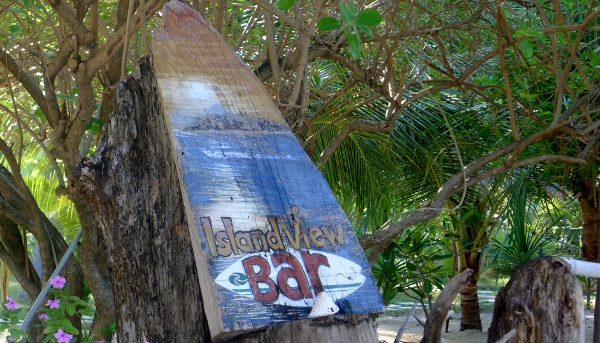 We came back from dinner the night before Hari Raya Haji around 9pm to find the men working at our bungalows waiting for us.
"Just wanted to let you know, Mr. Rulli," said Aduan (pronounced like Edwin, at least to my American ear), "that breakfast will be later tomorrow. We have a religious ceremony to attend."
"No problem, Aduan. We'll see you at 10am then."  Despite how much we looked forward to our early breakfasts by the beach, I was not too broken up about sleeping in a little.
"Unless," he said as I turned to walk back to my bungalow, "you wish to join us for the festivities tomorrow?"
"No, no. I really appreciate the offer, but we don't want to intrude." My thoughts of sleeping blinding me to what a cool opportunity was being presented.
"There will be lots of free food…" Even after only a week of knowing us, Aduan knew the key to our heart.
And just like that, we agreed that Aduan would meet us at 8am outside the bungalows and walk us to the festivities.
Celebrating Hari Raya Haji With Locals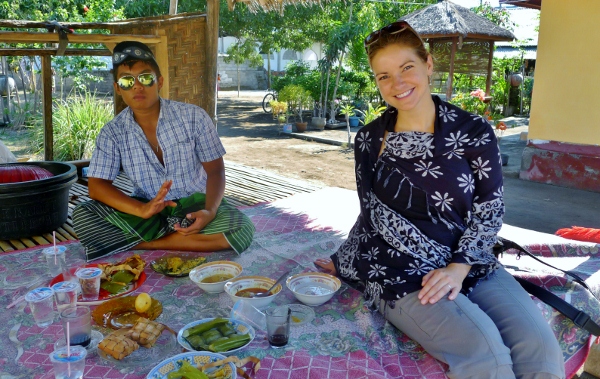 Aduan met us in the morning and we walked 15 minutes back to his family's house, which was right behind the island's only Mosque. He had us sit down on a raised platform and disappeared inside his home.
Not sure what to expect, we had thought we would be going into the Mosque to celebrate with everyone. But that idea went away as soon as Aduan emerged from his home carrying a large platter of food.
"Eat whatever you want!" After a long pause by Meg and I, Aduan then began to show us the proper way to eat the food.
The key was ripping pieces of the rice, which had been steamed in banana leaves into a kind of wet bread, and dipping them into the various bowls. Peanuts, coconut, spicy chicken, fried hard-boiled eggs, and breakfast cakes were all in front of us.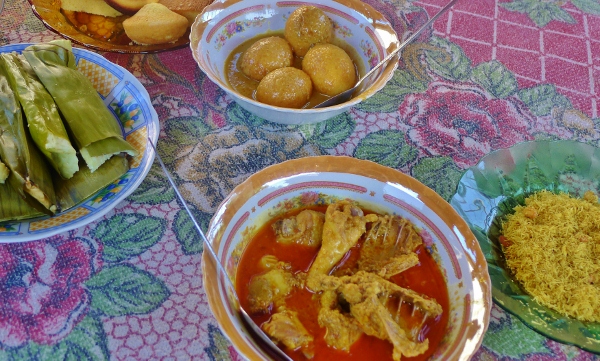 It was delicious.
While eating, Aduan also let us know that the ceremony had taken place earlier in the morning and that all there was to do now was eat. He and his family had already eaten, so everything presented to us had been saved special just for our appearance.
We felt incredibly lucky to be a part of their day, which seemed to resemble American Thanksgiving in that it seemed to revolve around heaps of food.
As we were finishing our giant meal, the wife of Aduan's neighbor returned and slapped a butchered goat's head on our table.
The Slaughter
"Every few months and on the Haji, our island butchers a few of its cows and goats. We then all share the meat." Aduan explained to our long list of questions about the goat head on our table.
"Would you like to see?" Before Aduan had finished the question, Meg and I were already standing with camera in hand.
After walking under a few of the thousands of mango trees on the island, which Aduan's neighbor kept picking for us, we arrived at the field.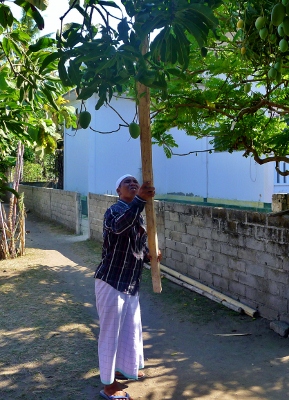 Mango picking on Gili Air!
What we saw was a large cow surrounded by a group of men with many goats scattered around the cow. They had all been killed within the last 15 minutes and were in various stages of being butchered.
The cow and the men butchering it were surrounded by women waiting to carry their pieces home and children playing tag around the carcass.
Meg and I are big believers in the idea that if we are going to eat meat, we should be fully aware of where that meat comes from. This meant that we were fascinated by the entire process as we could see the cuts of meat we were used to seeing on our plates, still attached to the cow. But for those of you who do get squeamish, the photos below might be a little graphic… You were warned!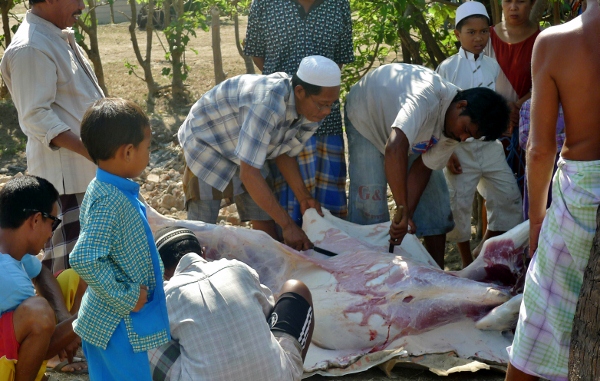 It takes a village!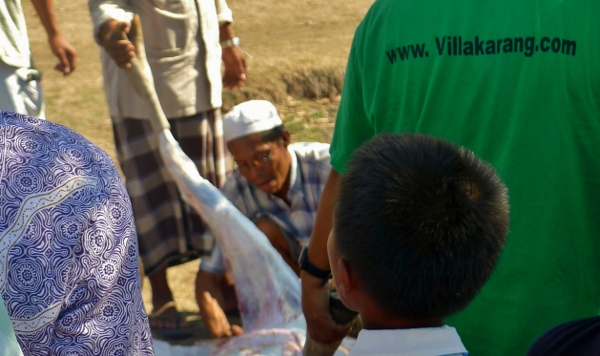 Everyone takes part.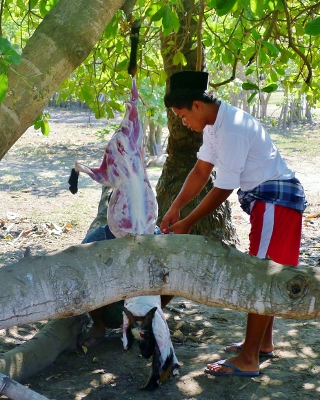 A goat being taken a part by a local.
The most surreal part of this scene was the man playing with two freshly amputated goat testicles. He kept popping them out of the goat scrotum (something I never thought I would type), like some monstrous game of peekaboo, to his 6 year old son's delight… and mine. It was pretty hilarious.
Playing with goat testicles… always funny.
The locals were welcoming the entire morning as we ate their food and snapped pictures of their butchering. They wanted us to enjoy their culture and have a good time. Both of which we did.
Bridging Cultures
Besides having a fantastic, if incredibly too large, breakfast, we also got experience a real part of these people's lives. This is often something we never get to do as there is always a barrier between tourist and local.
But for one day this barrier collapsed and we learned how much we all have in common.
We all have a deep love of tasty food.
We pride ourselves in our culture and our community.
We rely on our friends.
And testicles are always funny. Always.