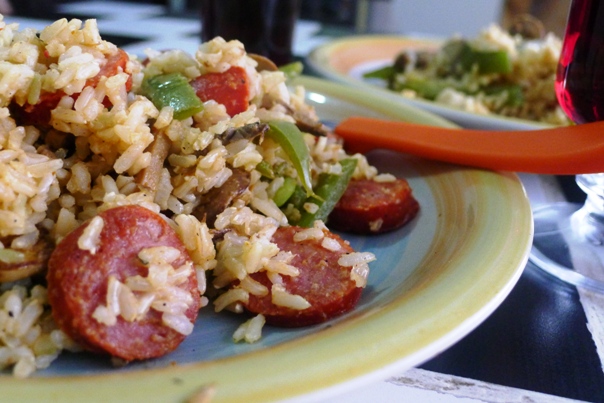 Tony and I cooked this meal in our hostel after an exhausting day of hiking in Patagonia.  The mixture of brown rice, veggies, and sausage was the perfect combo to revive our tired bodies – and fill our grumbling stomachs.  We love our spicy food so the added hot sauce gave this dish the extra kick that it needed.
Added bonus: This meal was so cheap that we had money left over that night for some cheap (yet delicious) vino!
Prep Time: 5 minutes
Cook time: 30 minutes
Ingredients:
2 green bell peppers
1 medium onion
Brown rice
1 can of sliced mushrooms (use fresh if available)
2 large hot Italian sausage links
Hot sauce
Cooking Instructions:
Dice the green bell peppers and onion
Prepare brown rice per package instructions (takes roughly 20-30 minutes)
Sautee pepper, onion, and mushrooms in a pan with a dash of olive oil until golden and tender
Cut the sausage in ½ inch thick round slices
In a separate pan (or in the same pan you used for the mushrooms and pepper) pan cook the sausage until golden brown
Once all ingredients are cooked, toss them together and stir in desired amount of hot sauce.
Plate immediately and enjoy!
Total Cost in Chile: Considering we made enough for leftovers for lunch the next day, the price per person for this dinner was roughly $3.50 USD.
About Meg
Exhausted from traveling every week as a Business Management Consultant early in my career, I took a year off in 2012 to travel at my own pace. I am a high-energy girl that loves being active, eating food, drinking wine, and exploring the world with my partner-in-crime (and husband), Tony! I now reside in Portland, Oregon and continue to write about travel, food, wine, and the awesome adventures we have in the Pacific NW!