During the past year and a half, Tony and I have traveled consistently both domestically and internationally. We have stayed in hostels, we have stayed in hotels, and we have rented apartments. But on some occasions we have had the luxury of staying with close friends and family.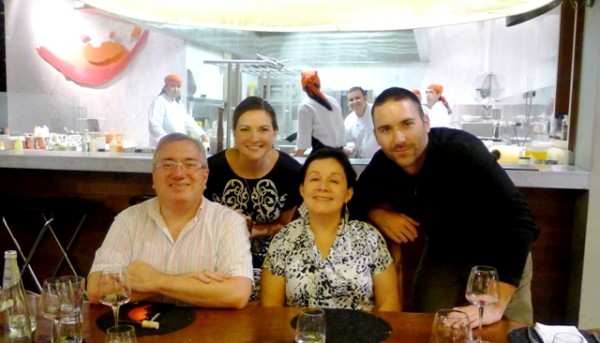 Visiting friends, Jorge and Yani, in Santiago, Chile
Enjoying the comforts of home all while catching up with loved ones provided some of our best memories on the road.  In my opinion, no five star restaurant beats a simple home cooked meal shared over good conversation and good wine.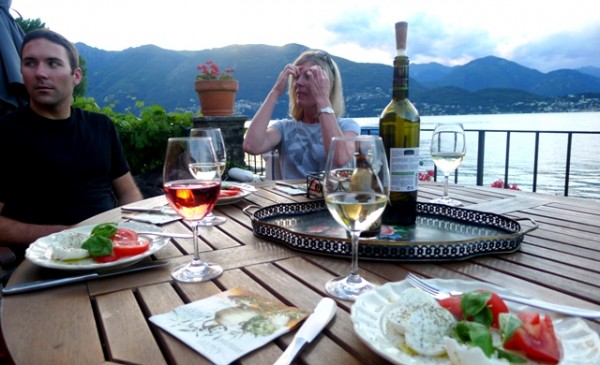 Enjoying a home cooked meal with family friends, Lisa and Fritz, in Switzerland
It is hard to fully show our appreciation to those that have graciously opened their doors for us throughout our RTW trip. Nevertheless, we try our best.
In honor of our current cross country road trip from Boston to San Francisco (where we have stayed with friends and family on each stop along the way) I have compiled a little "how to" list for any travelers that are currently (or are planning to be) staying with host families on the road.  Depending on your budget, time, etc. you don't necessarily have to follow EVERY step in this list, but just use this list as a framework for being an excellent guest to your host… And to show your appreciation as best as you can!
How To Be A Good House Guest

Spending Easter week with my childhood best friend, Martha, in Minneapolis
1. Bring A Housewarming Gift – Whether it's a glass of wine, box of chocolates, or a big bear hug, make your host feel cherished as soon as they open their door for you.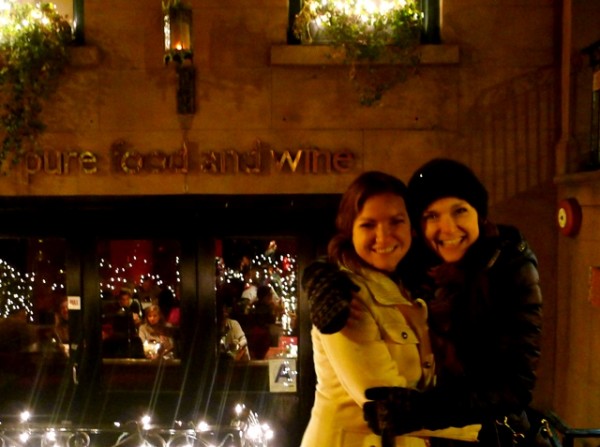 Big hug for our sister, Maggie, in NYC
2. Clean Up After Yourself – Part of being a good guest is leaving as little of a mark as possible. Clean your dishes, dry the bathroom floor after you have used the shower… Be sure to leave everything you touch spotless!
3. Don't Clutter The Shared Spaces – A home already becomes more cluttered with more people in it. Do your part to keep the clutter at a minimum by storing your luggage in your own guest bedroom/space. Furthermore, don't leave your trash and general stuff around in the kitchen and living room areas that others are actively using.
4. Keep Your Guest Room Or Space Clean At All Times – Even if you have your own closed off room, KEEP IT CLEAN! Make your bed, keep your clothes off the floor, etc.  Just because your bedroom door is closed doesn't mean you can go wild.
5. Offer To Help Clean/Cook/Run Errands/Etc. – Hosting people in your house can be tough, time consuming, and draining! Make your stay with your host as easy as possible by lending a helpful hand whenever possible.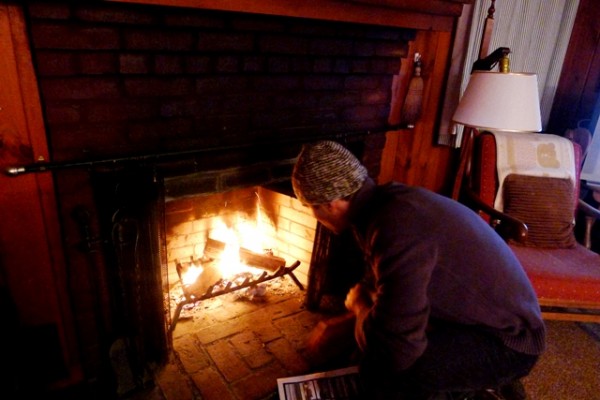 Tony helping build a fire at our friend, Ben's, ski cabin in Maine
6. Help Pay For Groceries – Hosting people in your house can also be EXPENSIVE. Help alleviate the financial burden of your hosts by helping pay for all shared expenses incurred during your stay.
7. Treat Your Hosts To A Meal/Drink Out – Going along with my previous tip, if you end up going out for a meal or drink with the host, pick up (or at least split) the tab to further show your appreciation.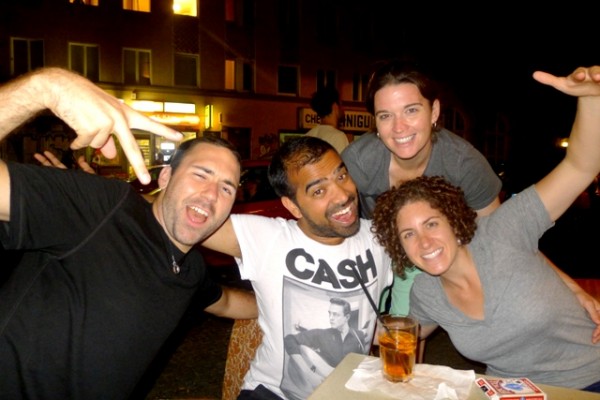 Taking our lovely hostesses, Leah and Leanne, out for a drink in Berlin
8. Be Quiet When Other People Are Resting/Working/Sleeping – Remember: When you are staying with a host family, you are their guest… This is not your own home! Be flexible and courteous in their living space.  When your hosts need space and quiet time, let them have it!
9. Engage With Your Host – Whether you are super close with your host or you barely know them, don't treat them like they're a door mat. Put your own personal agenda and travel itinerary aside and enjoy a good conversation with them over a shared meal or glass of wine. Show them that you are in their home to see them… not just use their couch for a good night's sleep. Be social!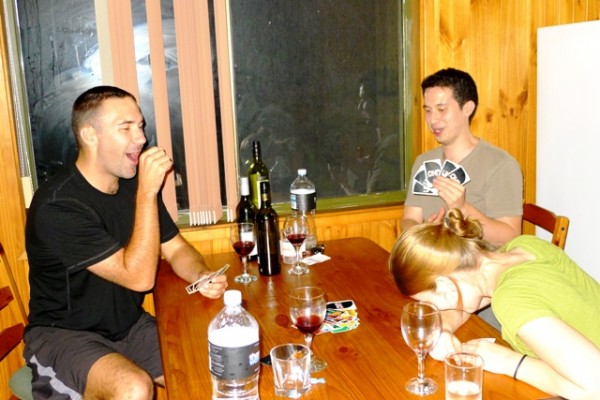 Having a blast with our hosts, Pat and Brooke, in Hunter Valley, Australia
10. Leave Everything How You Found It – At the end of your stay, make sure you thoroughly clean up your living space and leave everything just the way it was before you arrived. Better yet, put your sheets and towels in the laundry to make your exit even easier for your host.
11. Follow-up With A Handwritten Thank You Note Or A Thank You Email – My mom always used to nag me when I was growing up about writing thank you notes.  However, this little nag stuck with me.  A thank you note is a cheap and easy gesture to show your host that you appreciate their kindness.
12. Keep In Touch – Whether your host is a best bud or a distant relative, don't just abuse them, use them, and lose them. Continue to show your gratitude by keeping in touch with them AFTER  you leave.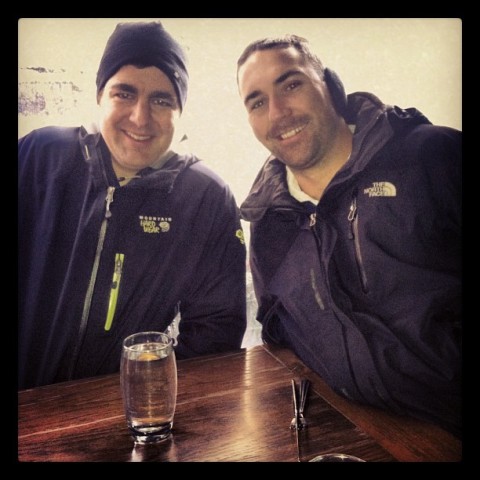 Buds forever! Catching up with our friend, Kipp, in Chicago
Your Turn: What tips do you have for how to be a good house guest? Please share below in the Comments section!
About Meg
Exhausted from traveling every week as a Business Management Consultant early in my career, I took a year off in 2012 to travel at my own pace. I am a high-energy girl that loves being active, eating food, drinking wine, and exploring the world with my partner-in-crime (and husband), Tony! I now reside in Portland, Oregon and continue to write about travel, food, wine, and the awesome adventures we have in the Pacific NW!