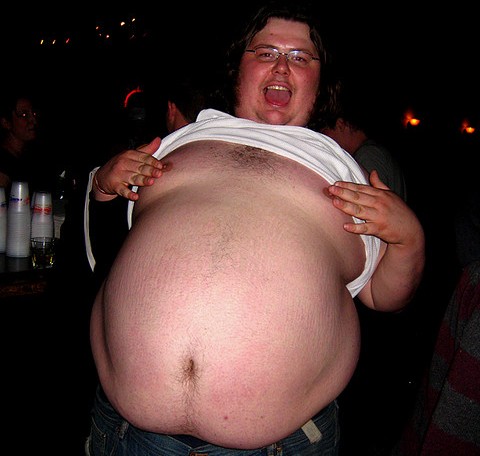 Being a backpacker on a limited budget, "all you can eat" basically means "eat as much as humanly possible so you can save some money on meals later"… or maybe even skip a meal or two altogether.
After countless meals of stale crackers on long bus rides through South America, whenever heaps and heaps of delicious food are presented in front of me, I take FULL advantage.
Now don't get me wrong, buffets are NOT a regular thing for us… We are not that gluttonous! So before you judge, just remember that when I speak of buffet feasting, I am speaking of only a few occasions on our RTW trip.
Okay, let's proceed…
In the beginning of our RTW adventure, whenever I was at a buffet, I was able to relate to the guy from Into The Wild when he kills the giant Moose and then realizes that he bit off more than he could chew…  The only difference being that he died of actual starvation, while I just feared dying of temporary obesity.
But I have since learned how to master many a buffet.  In fact, with some simple tricks up my sleeve, I now look at buffets as a challenge and can conquer them effortlessly.
While recently staying at the Sydney Harbour Marriott Hotel, Tony and I were invited for dinner to the hotel's restaurant, Icons Brasserie.  To my delight, this restaurant featured an enormous and delicious seafood buffet for me to practice my new skills at.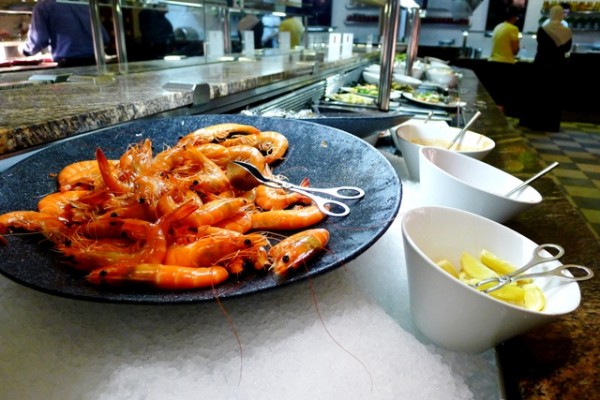 As such, I will take you through some tips on how to utterly destroy any buffet.
Get A Good Workout In Prior To Your Buffet Massacre
I always like to get in a good sweat session before eating at a buffet so I have more room in my stomach…That's normal, right?
In order to fully prepare your mind and body for a buffet pig-out, a hard workout beforehand is your best ally.  Not only does working out rev up your appetite for a post-workout feast, but you may just feel that less guilty chowing down on your 3rd piece of cake.
Luckily, the Marriott had a perfectly equipped gym for my pre-buffet workout. I got such a good workout in that my heart rate was still up during our dinner and I felt like I was burning off my huge meal as I consumed it… its science.
Wear Stretchy Clothing
Do not go to a buffet with a new boyfriend/girlfriend and do not go to a buffet on a first date…. Why? Because there is nothing sexy about a buffet… Well, except the food of course.  Do not dress to impress.  Dress to eat.  Wear loose fitting comfortable clothes and go with someone who isn't going to judge you for wearing your pajamas to dinner… or even better, go with someone who will join you on the dress code.
Do An Initial Walk Through
Buffets have a lot of food… That's obvious.  But a really good buffet has a lot of VARIETY.  If you're at a really good buffet, you can get overwhelmed by all our options.
For example, the buffet at Icons Brasserie not only had a cold and hot station, but they also had a raw bar of seafood, a made-to-order stir-fry station, an ENTIRE table dedicated to cheese, and about 20 different desserts… Now, this is what I call a buffet!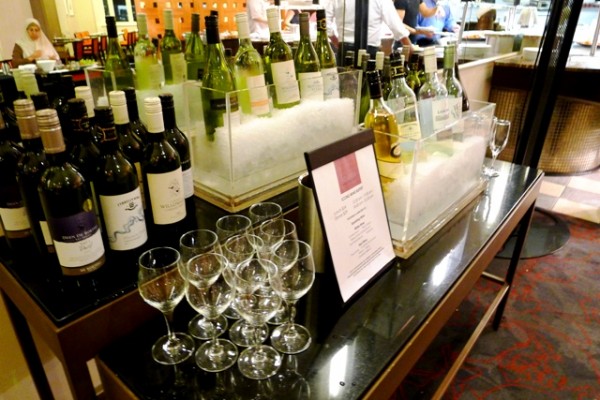 An all you can drink wine bar?  Deadly…
To help your cause, do an initial walk through to eyeball all the food placed out in front of you.  In fact, don't even bring a plate up with you during your walk through… You simply are window shopping.
Do Not Fill Up On Table Bread And Salads
People, this is not the time to eat healthy.  You are at a buffet for crying out loud!  So unless a salad at the buffet looks absolutely divine, steer clear and save some room in your stomach for those guilty pleasure foods.
I would also put cheese and crackers in this category as well, but on a case-by-case situation.  If the cheese looks gourmet and dynamite, go for it.  I personally gorged on some yummy gourmet cheese at Icons Brasserie, and I do not regret one sliver of it!
Do Some Hardcore Grazing On Your First Trip To The Buffet
I have a deep rooted fear at buffets that I will become full, only to discover that there was a deliciously tasty treat that I completely MISSED when I was eating heaps and heaps of some so-so food.  I try and mitigate this fear by sampling as much as I can (in very little quantities) during my first trip to the buffet.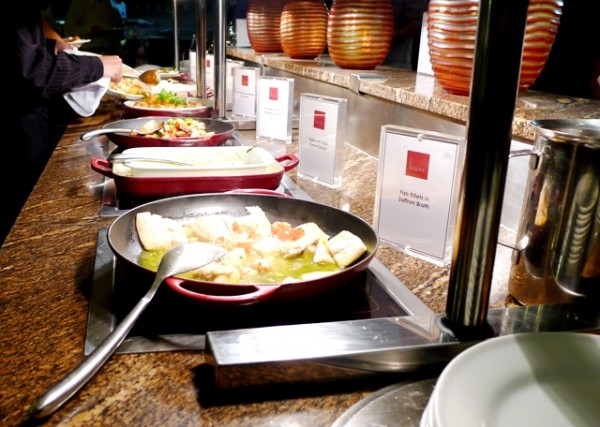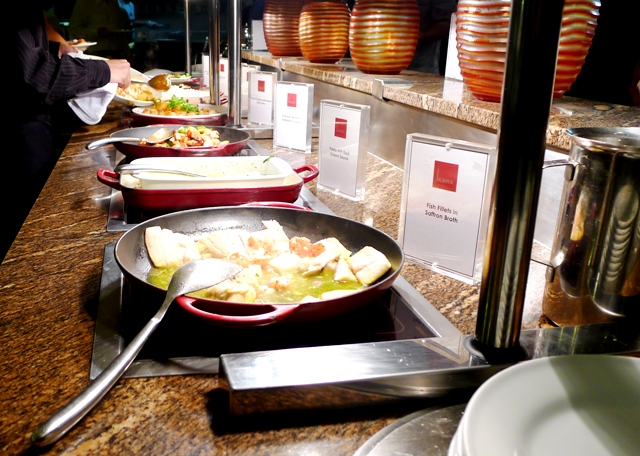 This allows me to discover my favorite treats early on in the buffet dominating process, so I can go back for more (while still having plenty of room in my stomach) later on.
Go Back For Your Favorites
Once you have done some initial grazing, it's time to go back up to the buffet for round #2 and fill your plate as much as you want with all your favorites from round #1.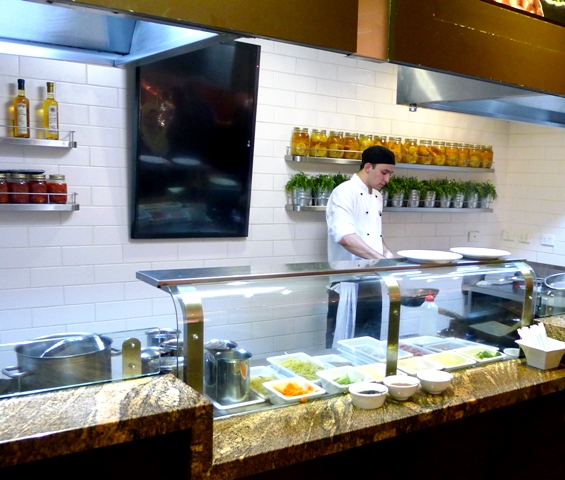 The stir fry station at Icons Brasserie was definitely my favorite!
Save Room For Dessert
For me, the dessert course is the grand finale of my show.  I have a ginormous sweet tooth… And that's a ginormous understatement.  Knowing this little fact about myself, I always make sure to not overdo it on the savory dishes… Because, when it comes to unlimited desserts, all is fair in love and war.
Since this is also the final course of the evening, you can throw all your chips on the table and go all in until your body physically will not let you go any further.
This is also where the window shopping comes into play.  If you do a thorough walk around the buffet prior to eating, you can get a feel for how much room you want to save in your belly for dessert.  How many delicious cakes and pies are on the table?  Do they have an ice cream bar?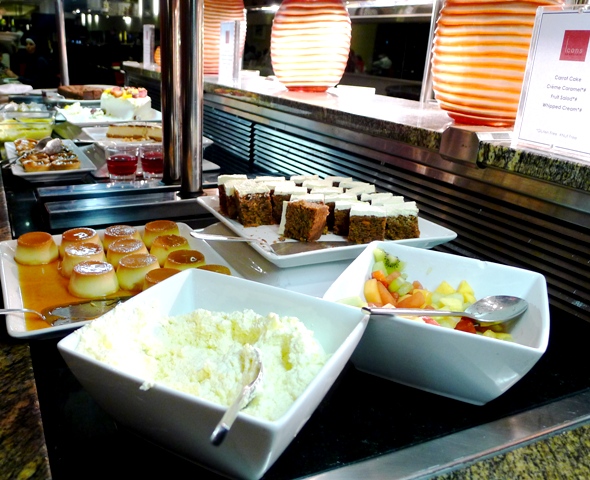 These are all questions you should have answered within the first 5 minutes of entering the restaurant… And certainly before you start eating.
At Icons, I actually went fairly light on the dinner course, because the dessert buffet was INCREDIBLE.  Warm bread puddings, fruit parfaits, Crème brûlée, pecan bars, chocolate tortes… They did not mess around.  I ate so much that I started getting weird looks from our waitress when I went back for a 3rd helping of dessert… What do you expect lady, you work at a buffet.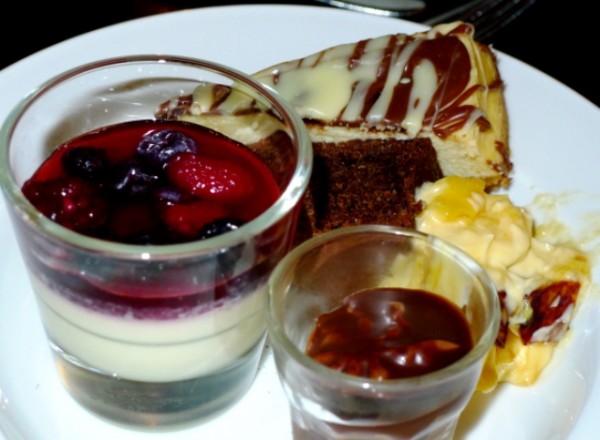 This was just ONE of my dessert plates
If you have properly dominated a buffet, you will leave the restaurant full to the max, but ultimately satisfied. You will feel no regret for not having tried this or eating too much of that… And you certainly should not feel guilty about all the calories you just consumed (unless buffets are a regular thing for you).
After all, Buffets are all about TREATING YO'SELF!
Your Turn: Do you like buffets?  What are your tips for buffet domination?  Please share below in our Comments section!
Our experience at this buffet was sponsored by Marriot, but all opinions are our own.
About Meg
Exhausted from traveling every week as a Business Management Consultant early in my career, I took a year off in 2012 to travel at my own pace. I am a high-energy girl that loves being active, eating food, drinking wine, and exploring the world with my partner-in-crime (and husband), Tony! I now reside in Portland, Oregon and continue to write about travel, food, wine, and the awesome adventures we have in the Pacific NW!