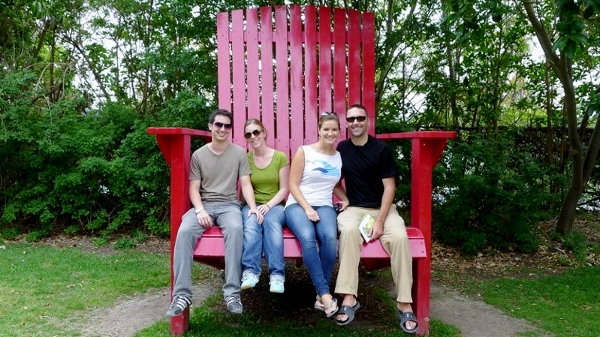 What do you get when you mix 2 insane couples with even more insane amounts of wine? I'll tell you…
You get our 2012 Hunter Valley trip.
We met Brooke and Pat at the Travel Blogger Conference in Umbria last April and immediately clicked. By the time we made it to Australia in November, epic things were in store.
We met up in Sydney a few times and had a blast, but the craziness began when they took us Hunter Valley.
Hunter Valley & Getting Ready To Taste Some Wine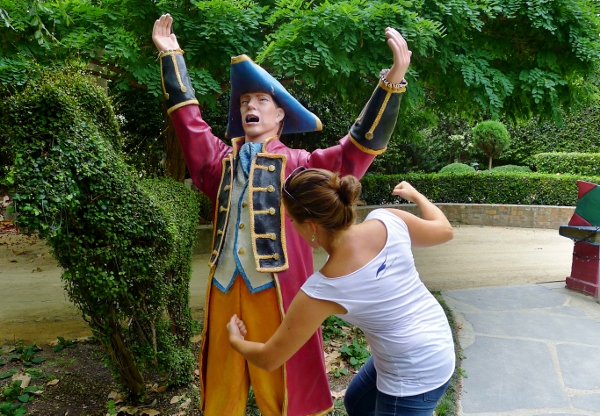 Brooke & Pat learn you really can't take us anywhere classy…
Located about 3 hours from Sydney, Hunter Valley is a must visit if you like wine. Brooke and Pat scored us an adorable cabin within a few miles of numerous wineries, so we were ready to taste!
The game plan was to grab wine, beer, and groceries and settle in at the cabin for the night. Definitely didn't want to get too wild with a full day of wine tasting lined up early the next morning…
But with good friends and lots of food, we quickly turned things up a notch.
One simple game of Uno turned into a marathon battle of wits with ever-escalating stakes. Pat was the first to lose 3 games and his punishment was that he had to dip his finger in every wine we tasted and then rub it on his lips during wine-tasting the next day. Brooke was the next to lose 3 games, which meant she had to raise her hands to the roof and loudly yell "pop-pop" upon entering every new winery. Finally, Meg lost, and it was decided she had to utter the phrase "just the way I like my men" whenever anyone described their wine…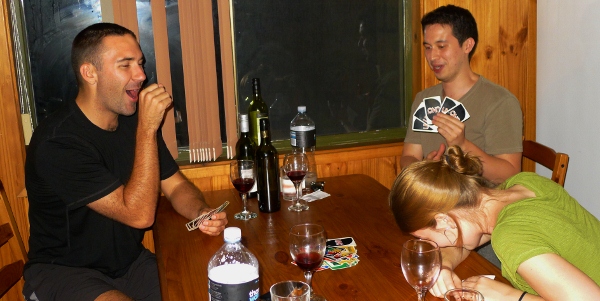 I quickly learned that laughing at Brooke's Uno misfortune…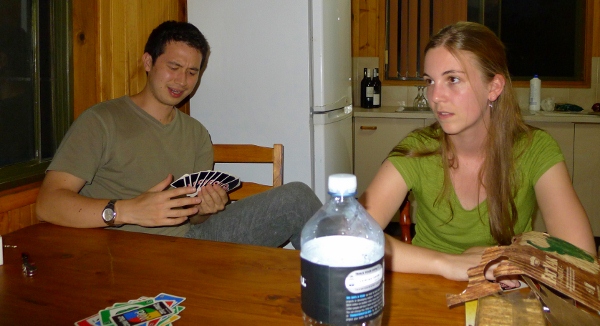 …Can be super scary:)
As hilarious as it was to give the rules out the night before, it was just as terrifying to see them in action the next day.
Wine Tasting In Australian Wine Country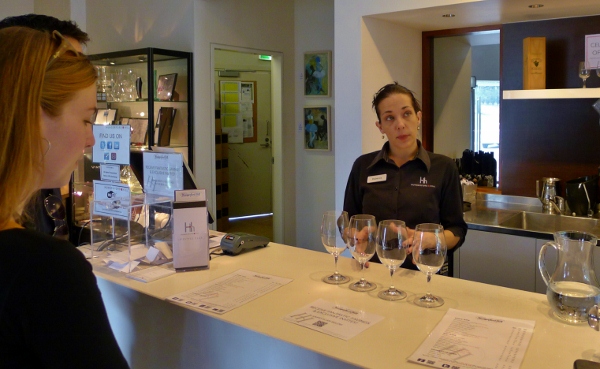 Luckily, Australians in wine country are pretty dang cool and all of our antics at the wine tastings unfolded without creating too large of an international incident.
We started and finished the day at our favorite winery: Hungerford Hill Wines.
Why? Because how can you resist a seemingly endless free tasting session?
It was here where we jotted down the names of a few of our favorites in case we didn't find anything better the rest of the day and wanted to come back to buy a few bottles. Despite some other great wines in the region, Hungerford's EPIC Chardonnay blew me away and pretty much guaranteed a return trip once the tastings elsewhere were finished.
Tasting like liquid buttery popcorn, I bought a bottle and then spent the next 4 nights having a glass of it in my left hand and a bag of microwave popcorn in my lap. So freakin' good.
Wine Tasting Around The World
In the past year, we have done wine-tastings in Napa (USA), Mendoza (Argentina), Split (Croatia), and Ko Samui (Thailand). Are you wondering how we found time to travel between drinking? So are we!
After a full day of wine tasting in Hunter Valley, we are definitely adding it to our list of must visit places for travelers. Every winery provided a ridiculous amount of free tastings, which is not as common in other wine regions. The tasting rooms were run by extremely knowledgeable, yet highly entertaining folks who could give you the ins and out of a particular vintage or just let you enjoy the company of the group you are with. Plus, how can you not love wine country that include lots and lots of Kangaroo!!!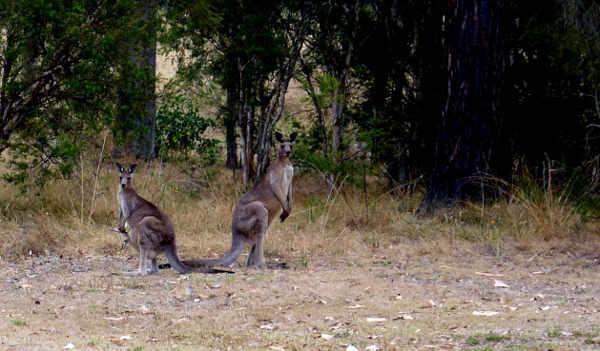 If you have a few days in Sydney, it is definitely worth a side trip to Hunter Valley. Just be sure to invite a few close friends to get the most out of the experience!