We try our best to travel modestly and be budget-conscious 90% of the time.  But we also are true believers in conscious spending.  In other words, we like to prioritize how we spend our money.  If we can save money where we can, then we can splurge on things that we place at a high importance.  One example of this is that we like to stay in quality accommodations after a long travel itinerary.
After spending December and January in Kauai, Hawaii at my parents new abode, it was time for us to travel back to the mainland.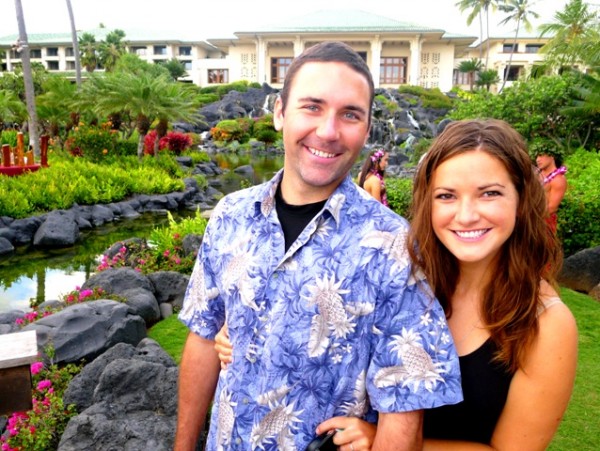 Our first stop was to visit Tony's sister, Maggie, in the Big Apple.  Knowing that the flight from Hawaii to NYC was going to be long and tiring, we decided to book our accommodations at the Hyatt Grand Central NYC to recharge our batteries after our flight  from Hawaii.
With our NYC itinerary mapped out with Maggie and our fancy hotel accommodations at the Hyatt Grand Central New York, we were ready to take on the big city.
What we didn't realize was that we were heading into the eye of the storm…. Blizzard "Nemo" to be exact
We were all tan and comfortable after 2 months in Hawaii when we departed the airport in Honolulu….  But that was ALL about to change upon arriving in NYC.
As I exited the airport and stepped into the freezing NYC air, I instantly felt like the Jamaican Bobsled Team in the movie Cool Runnings when they landed in Canada for the very first time.
Coming from Hawaii, I had no winter clothes packed in my backpack (since we had been chasing summer all year).  So, in true Cool Runnings form, I layered up with as many articles of clothings as I could. After all was said and done, I was sporting hiking pants, a men's XL flannel shirt my dad lent me, and a polka dot scarf. Combine that with a 9 hour red-eye and I looked pretty darn homeless.
I definitely was not arriving at the Hyatt Grand Central New York in style.
Seeing as how we arrived at 7AM to the beautiful hotel, our room wasn't ready for check-in. But we did get access to the Grand Lounge so that we could relax while our room was being prepared.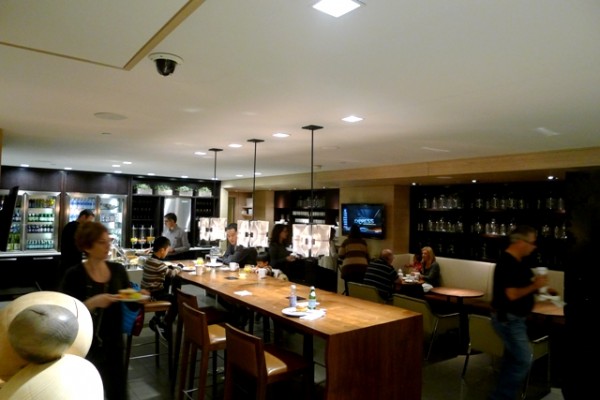 After a chilly cab ride to the hotel, I was in serious need of a good defrosting session and  I was hoping the Grand Lounge would help me out in this department.
Well guess what?  It TOTALLY did!
We arrived to the Grand Lounge just in time to fill our empty travel bellies up with a delicious breakfast and coffee to warm us up and re-energized after the 9 hour flight.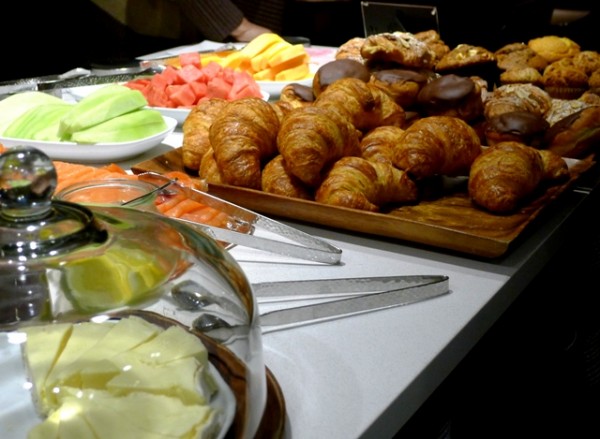 With me looking homeless and with all our luggage splayed across the floor, it looked as though Occupy Wall Street took over the Grand Lounge….
I will take this moment now to apologize to the Hyatt Grand Central New York for any damage I might have done to your hotel's prestigious reputation on the morning of February 7th, 2013.
Our morning spent at the Grand Lounge was so soothing that we stayed there as long as we could.  We luckily stuck around long enough to experience the cookies and snacks set out for the afternoon hours.  I say "luckily" because it was at the Grand Lounge where we tasted the BEST COOKIES EVER.  Bold statement, I know.
There was nothing extravagant about these chocolate chip cookies. They didn't have any crazy additions in them (nuts, cacao nibs, whatever).  They were just exactly how any mom in the states should make them: crunchy on the outside, moist and chewy on the inside, and full of bittersweet chips.  These hit all those requirements and were simply amazing. They were the perfect comfort food to have during a snowstorm…. I digress
Once we checked into the room, we were able to get a great view of the vicious Nemo blizzard outside… the view of NYC was pretty sweet too!  Tony and I haven't experienced snow for an entire year, so we had a great time marveling at the madness outside the Hyatt Grand Central.
After seeing the flurries accumulate right outside of our window, Tony and I wanted nothing more than to take a hot shower and curl up in the luscious hotel bed to get some shut eye,,, and a good winter cuddle session in. With comfy decor, dim lighting, and cozy robes & slippers in the closet, it was the perfect recipe for an afternoon indoors during a cold winter storm… The only thing missing was a fireplace!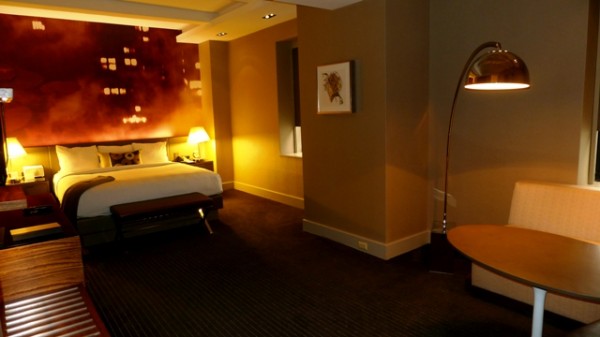 Once we got some quality R&R in our warm and comfy room, we bundled up and set out for a night beyond the cozy confines of the Hyatt Grand Central.  We were in NYC visiting Tony's sister, Maggie, and no winter blizzard was going to stop us!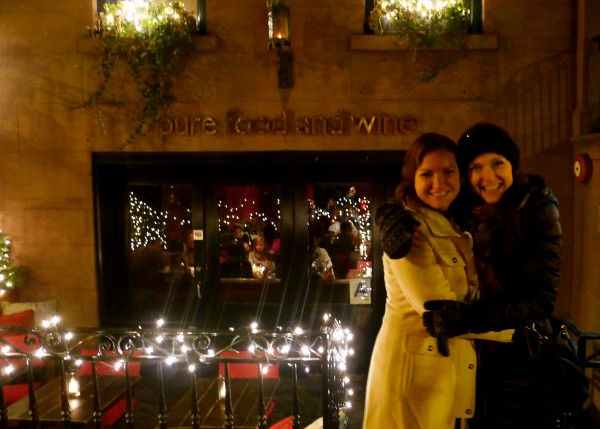 Despite the biting cold, we had a marvelous dinner out at Pure Food & Wine and also tasted the famous and epically good Toasted Marshmallow Milkshake at The Stand…. Best Milkshake EVER.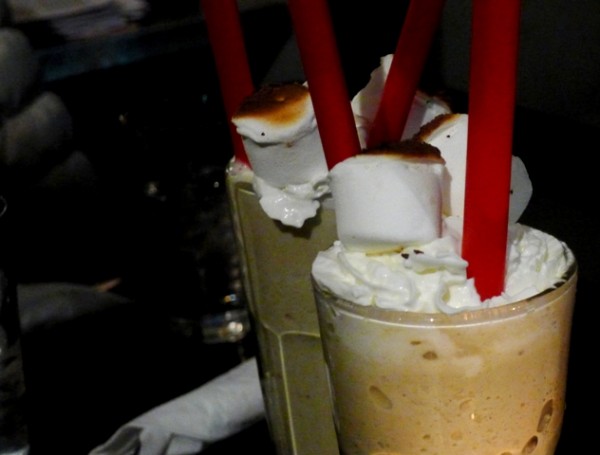 Okay, after both the bold cookie statement and the bold milkshake statement, let me just say that I HONESTLY don't throw these "best ever" statements around willy nilly all the time.  I am just speaking the truth.  This shake is soooo good that it was actually featured on Food Network's Best Thing I Ever Ate show… There is your proof that I am not insane.  But I don't want to go off on a tangent, so for now let's just say that there will be an article on the Toasted Marshmallow shake to follow.
After roaming the wonderful city of New York in the storm, it was time to retire our cold and tired feet for the night and head back to the Hyatt Grand Central.  Upon entering our room, we noticed that we not only got a luxurious turndown service, but that champagne and chocolate covered strawberries along with a complete cheese plate was brought up to our room… This hotel know how to pamper it's guests!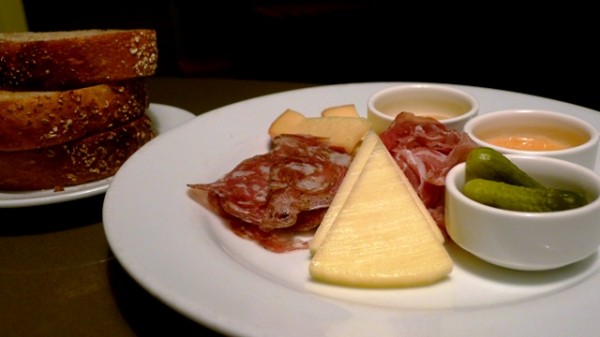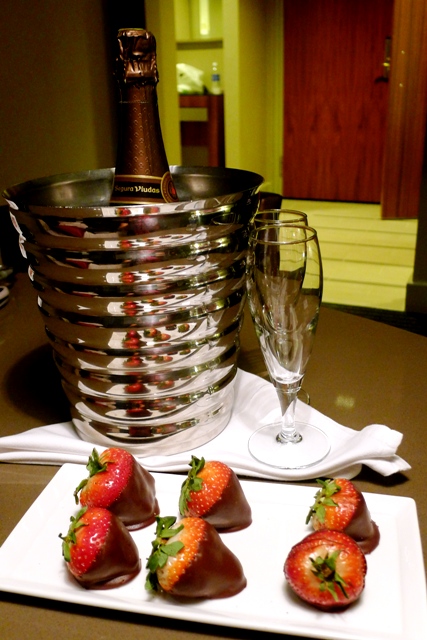 Even though we ate a ton for dinner, we had no issues chowing down on the Hyatt Grand Central's treats…. I don't know what it is about snowstorms, but I can never seem to eat enough food during them!  I like to think my body is preparing for hibernation.
To sum up our weekend in NYC, I am so glad we made the conscious decision to treat ourselves to a stay at the Hyatt Grand Central New York after a brutally long flight from Hawaii.  Not only was it a great place to recharge our batteries, but it also was the perfect place to weather the blizzard of Nemo.  It was a wonderful weekend in NYC and even the worst parts of the storm didn't hold us back from seeing the sites and eating our way through the city.  I have to think that being able to warm up and recover in such a nice hotel helped us conquer the city and the storm without any major issues!
Our stay at the Hyatt Grand Central in NYC was sponsored by the hotel. In addition, Meg has Diamond status which allows for a few perks. All opinions expressed are our own.
About Meg
Exhausted from traveling every week as a Business Management Consultant early in my career, I took a year off in 2012 to travel at my own pace. I am a high-energy girl that loves being active, eating food, drinking wine, and exploring the world with my partner-in-crime (and husband), Tony! I now reside in Portland, Oregon and continue to write about travel, food, wine, and the awesome adventures we have in the Pacific NW!