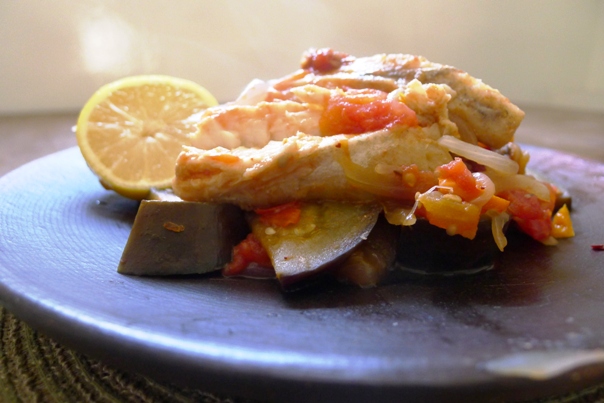 Fish in a hostel?!  Are these LandingStanding people crazy?!
Yes, maybe.  Fish can be intimidating to cook, right? It's delicate and easy to destroy if you cook it for just one tiny minute too many. So why in the world would we attempt to cook it in a hostel? And how?
Simplicity is how.
This was our first experiment with a gourmet meal at a hostel.  It may not sound all that gourmet (it's not a soufflé or anything), but after days of tomato and avocado on bread, it was a pretty darn fancy meal.
My initial thought of cooking delicate fish in a hostel was that we were going to royally mess this fish up.   However, when it comes to cooking fresh fish, the KISS (Keep It Simple Stupid) method is the #1 rule to follow.  And boy was this fish FRESH.
After several days in Santiago, Tony and I checked out the famous Mercado Central, which is the city's central fish market.  It is here you will find whole squid, hoards of machas (a.k.a. clams), eel the size of Amazon snakes, and much more.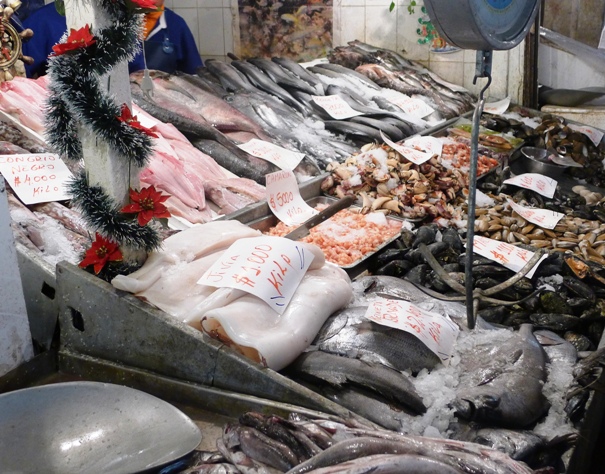 Tony and I visited the market a couple of time to snap a few photos of the place but on this one day, we decided to plug our noses and dive into the market as actual customers.
Tony and I weren't familiar with any of the fish being sold (besides Salmon), so we decided to take a risk and order a couple filets of the Tollo (a delicate white fish similar to Halibut).  After we had the fish scaled and wrapped up, we headed across the street to Santiago's premier fruit and vegetable market, La Vega, to pick up veggies to accompany our beautiful filets.
Now, some might cringe when I confess that we cooked our delicate fish in a pan as opposed to gently baking it, but when you are living in a hostel and your resources in the kitchen are limited, you gotta make do.  Surprisingly, the fish was delicious pan cooked – and ridiculously quick and easy to make!
Here is our recipe for our kickass fish.
Prep Time: 5 minutes
Cook time: 15 minutes
Ingredients:
2 filets of Tollo fish (or any fish filleted thinly)
1 medium onion
1 large tomato
1  eggplant
1 Jalapeno chili pepper (this gives the dish the perfect amount of spicy kick)
Cooking Instructions:
Dice up all the veggies and chili pepper
Sautee the onion in a pan with a dash of olive oil until caramelized and tender.  As Tony points out, it's okay to burn those suckers
Toss in the remaining veggies into the pan to cook down with the onions
Season the fish with salt and pepper
In a separate pan, cook the fish with olive oil and lemon for roughly one or two minutes on each side (depending on thickness).  When your fork can poke cleanly through the fish and there is no resistance, the fish is done.
Combine the veggies and fish and plate… Enjoy!
Total Cost: Most local markets are super cheap in South America and we were able to make this gourmet meal for $7 for two people.
About Meg
Exhausted from traveling every week as a Business Management Consultant early in my career, I took a year off in 2012 to travel at my own pace. I am a high-energy girl that loves being active, eating food, drinking wine, and exploring the world with my partner-in-crime (and husband), Tony! I now reside in Portland, Oregon and continue to write about travel, food, wine, and the awesome adventures we have in the Pacific NW!