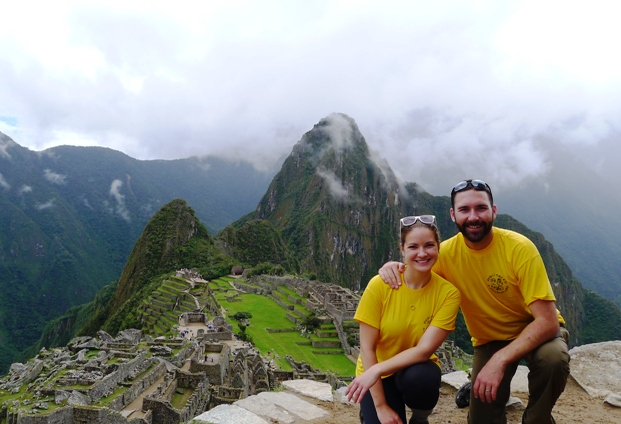 Check out the bottom of this post for my complete PACKING LIST for the Inca Trail to Machu Picchu 4 day / 3 night hike!
Hiking the Inca Trail to Machu Picchu was hands down the highlight of our three months in South America.  Going into our RTW trip, we knew that joining a classic four day trek to Machu Picchu would be the one excursion that we would splurge on while abroad.
We booked our hike out a couple months in advance and eagerly counted down the days to our March 28th trek as we travelled through Chile, Argentina, Bolivia, and Peru.
There will be more articles on our Machu Picchu adventures to come… but for now, I would like to share with you the five discoveries that we stumbled across while on our legendary trek.
For anyone looking to hike to Machu Picchu in the future, I advise you to read closely!
Hiking The Inca Trail Is Harder Than We Thought
I am not sure what we expected going into our trek, but it sure was a harder four days than we initially imagined.  When talking with other backpackers who already hiked the Inca Trail, everybody talked about how great the sights were, but NOBODY talked about the hike itself.
Like a woman having just given birth to a child, previous hikers were too overwhelmed by the beauty of Machu Picchu that they seemed to forget about the labor itself to get to the end.
Well people, I am here to tell you that the four day hike to get to Machu Picchu is HARD.  Be sure to hit the gym and get in shape before starting your trek…
The girls finishing off the climb strong
… And when your freakishly fit tour guide tells you that the next portion of your hike is "Inca flat", prepare to die.
Every Difficult Part Of The Trail Is WORTH IT
Yes, the hike was hard and I often wanted to shoot myself when hiking up a mountain by using those steep Inca stairs. But ending at Machu Picchu, exploring ancient ruins, and continually stumbling across stunning landscapes made every treacherous twist and turn along the way worth it.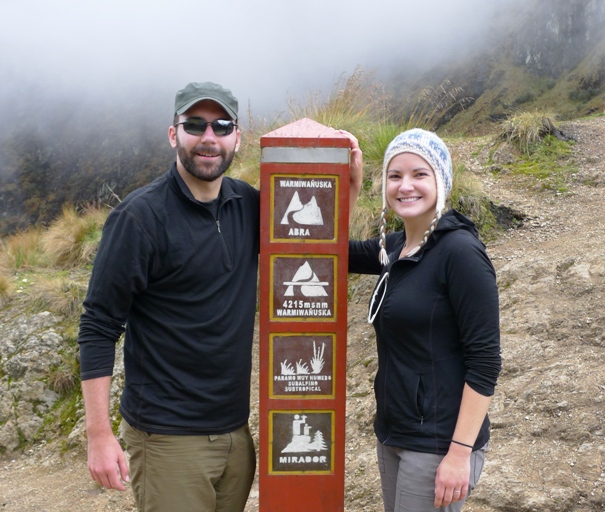 At the top of the Day 2 hike feeling badass
When It Comes To The Weather, Expect The Unexpected 
I know some backpackers that hiked the entire four days in a torrential downpour… So I like to think that our group lucked out by having three days of great weather.  But the fourth day (the day we would finally be arriving to Machu Picchu) was foggy, rainy, cold, and just plain miserable.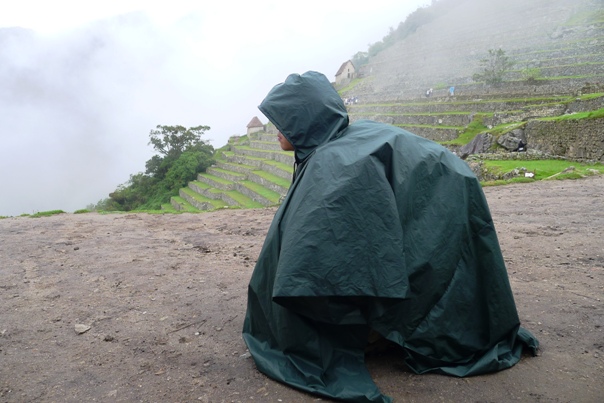 Cold and miserable… But it was all worth it!
In addition, the nights are cold and the jungle is damp. My recommendation for you future MP hikers would be to bring a poncho (or two), have a proper rain cover for your backpack, pack a variety of clothing so you have layers to work with, and cross your fingers for sunshine!
Make Sure You Choose A Good Trekking Company
We did our classic Inca Trail hike with the company Peru Treks.  Let me just say that they ROCKED.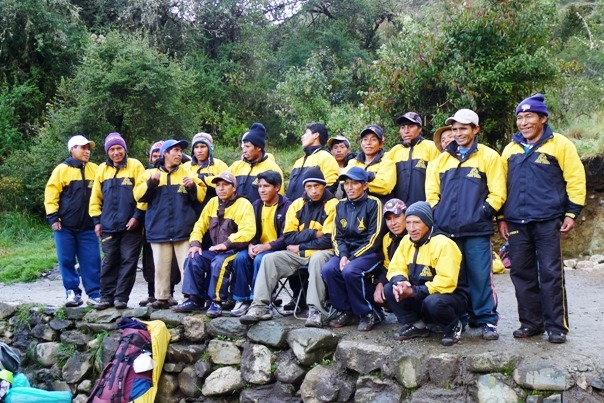 The most amazing men on the planet… Love the porters!
Peru Treks rocked so much that I have decided to write an entirely separate article on how awesome they were on our hike… But for now, let me just say that you often get what you pay for.  Do your research, read reviews, and talk with previous trekkers on the best companies out there.  Hiking the Inca Trail with the right crew can mean the difference between a magnificent four days and an absolute nightmare.
Get Comfortable With The Concept Of "Inca Toilets"
Forget the luxuries of toilet paper. Forget the luxuries of a toilet seat. Forget the luxury of… a toilet. On the hike, the best bathroom you will find is a rickety hut with a small hole in the ground to do your biz…
And that's it. 
So bring a couple rolls of TP to have on hand, keep hand sanitizer on you at all times, and be sure to roll your pant legs up when approaching these poop-ridden palaces… And remember, the good ol' outdoors also makes for a great bano.
My Inca Trail Packing List
32L backpack – Deuter Futura 32 (I can't recommend this bag enough. It packs in SO much & very comfortable. I traveled with it for 12 months!)
A GOOD quality camera – Panasonic Lumix DMC-LX5 (You're going to want better photos than your iPhone camera for this hike. But DSLRs will be too heavy to trek around. Tony and I researched the BEST point-and-shoot and the Lumix beat all the others. It was an incredible camera for the hike and takes AMAZING photos)
1 pair hiking shoes – Merrell Women's Siren Sport 2 Waterproof Hiking Shoe (These durable and waterproof hiking shoes are lightweight, non-bulky, are perfect for the trail, and can even be used as a running shoe)
1 headlamp – Ultra Bright LED Headlamp Flashlight (A MUST have when navigating around the bathrooms on the trail at night)
1 pair hiking pants – prAna Monarch Convertible Pant (Comfortable and actually cute. I wear these even when I'm not hiking)
1 pair leggings – Nike Lady Filament Long Running Tights (A super high-quality tight – I have had my pair for 8 years!
1 fleece – North Face Women 'Denali' Fleece Jacket (Super warm and much needed for the very cold nights)
1 zip up hoodie – North Face Women's Mezzaluna Hoodie (This non-bulky, slimming hoodie was perfect for cooler temps)
1 rain coat – North Face Women's Resolve Jacket (Windproof, waterproof, and perfect for layering in rainy weather)
2 quick-dry/no stink shirts – Icebreaker Women's Siren Tank (Worth the splurge! Incredibly durable, warm, and stylish)
3 pairs undies – ExOfficio Women's Give-N-Go Lacy  (Love these! They are cute, moisture-wicking, quick-dry, and odor shielding)
1 sports bra – Nike Pro Bra
1 pair heavy socks – Smartwool Women's Hiking Medium Crew Sock (These warm, high socks are perfect to tuck your pants into when using the gross Inca Trail toilets!)
2 pairs regular socks – Smartwool Light Micro with ReliaWool (Lightweight, moisture wicking, and prevents blisters on the hike)
1 alpaca sweater, 1 alpaca hat, 1 set of alpaca gloves (I would recommend buying these in Cusco, as they are very cheap in Peru). Same with a plastic poncho for very rainy moments on the trail.
Other items: Nuun Energy Hydration Tablets (for emergencies) Toothbrush, toothpaste, baby wipes, hand sanitizer, comb, hair elastics, bandaids, Advil, granola bars & snacks
About Meg
Exhausted from traveling every week as a Business Management Consultant early in my career, I took a year off in 2012 to travel at my own pace. I am a high-energy girl that loves being active, eating food, drinking wine, and exploring the world with my partner-in-crime (and husband), Tony! I now reside in Portland, Oregon and continue to write about travel, food, wine, and the awesome adventures we have in the Pacific NW!