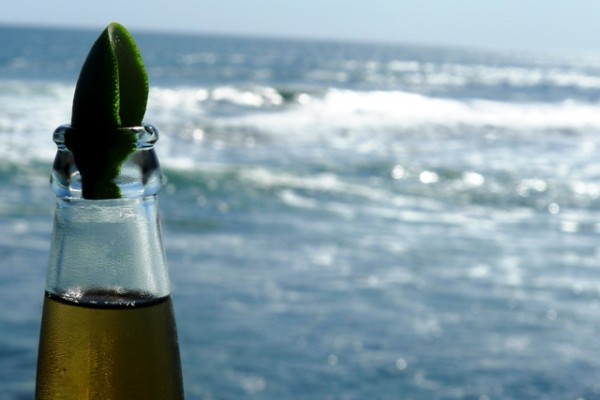 This time last year, Tony and I were sitting at our desks at work emailing each other back and forth eagerly planning for our trip around the world.  Planning was almost as exciting as the journey itself.  But looking back now, we never fully stuck to those original plans.
We decided to forgo purchasing around the world airline tickets, as we wanted complete flexibility to change our travel plans as needs be…. And change we did.
When planning our Asia adventures, we were told not to miss Vietnam, Laos and Cambodia… No surprise there, as this is the traditional backpackers circuit. From even before we left for our RTW trip, these three countries were on the map.  But after extending our trip in Thailand an extra month (we just couldn't part with the food there) and realizing that we couldn't get a Visa for Vietnam, we went back to the drawing board.
While we were at our imaginary drawing board, we had a Skype date with fellow nomads, Caroline and Josh of Traveling 9 to 5.  Having recently traveled to Asia, they told us Indonesia was the place to be.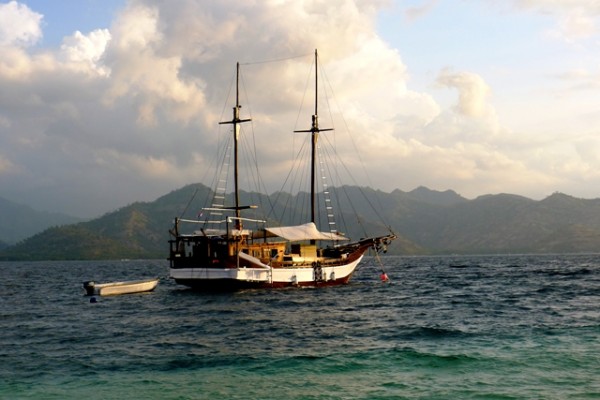 Five minutes after our call, we had our flights booked… We may be a little too trusting with people!
Luckily, Caroline and Josh did not steer us in the wrong direction.  I am so thankful we took their recommendation to travel to Indonesia because Tony and I fell in love with this country's beauty and charm.
So, I am now here to pass on the great advice…
VISIT INDONESIA!
To help plan your trip to this fabulous country, I have provided some tips on places to go and where to stay…. Enjoy!
Bali
Bali sparked my interest from the movie, Eat Pray Love.  Bali was the country where Julia Roberts found her "Love"… And since I was traveling with the love of my life, I figured Bali would be the perfect destination for us.
Within 10 minutes of arriving into Bali, I noticed that Bali was waaay more built up than pictured in Eat Pray Love.  On the drive from the airport to our hotel, we must have passed 5 McDonalds, 3 Dominos, TGI Fridays…. You name it, Bali has it.
As a little random fact, Bali also has McDonalds DELIVERY.  Let me just say that I really hope this is not going to become a "thing" in the states, or else obesity rates will skyrocket even further and Morgan Spurlock will have new material for a Supersize Me sequel… I digress.
Besides Bali being more built up than imagined, the surfing was great and we had a blast learning to hang ten on the beautiful beaches for the 4 days we stayed in Bali.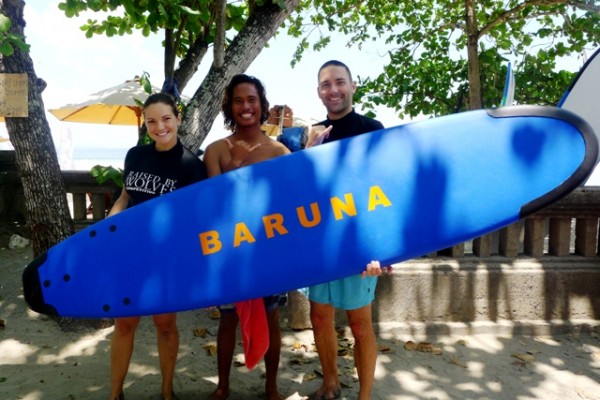 Where To Stay:
Prices are a little steeper in Bali than many places in Southeast Asia because it's so touristy.  But we stayed at the Echoland Bed and Breakfast and loved it.
Echoland was situated alongside a Balinese farm and was a 5 minute walk to Echo Beach, where there were great restaurants, bars, and souvenir shops.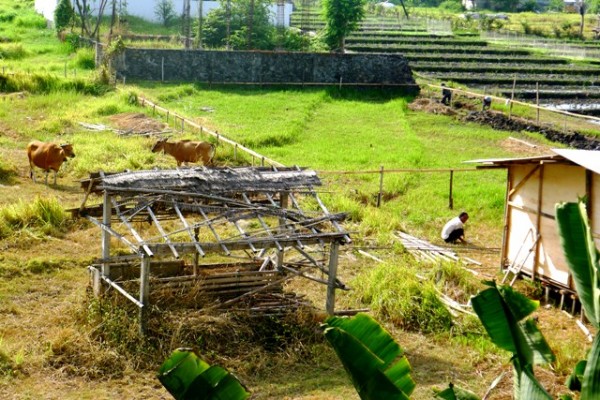 As an added bonus, there was a convenient store right next to the hotel, which was fully stocked with my beloved Magnum ice cream bars.  As a result, this evening pit stop became a nightly ritual of ours during our stay in Bali!
The rooms at Echoland were clean and comfortable with good air conditioning (a MUST in Bali) and I loved the semi-outdoor showers in the bathrooms… It made me feel like I was on a true beach vacation.
What I loved most about Echoland was the breakfast every morning.  Situated on the rooftop with great views of Echo Beach, the staff served up delicious breakfasts of coffee, fresh fruit juices, yogurt with fruit, eggs, pancakes, and traditional Balinese breakfast dishes.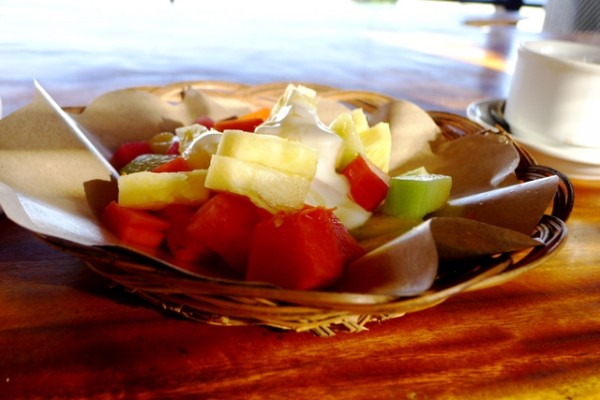 It was the perfect way to start the day before hitting the waves!
Gili Air In The Gili Islands
As much as I loved Bali, Gili Air was more of my scene.
Gili Air was highly recommended by Josh and Caroline, who loved it so much that they extended their stay there a couple weeks.
Known for its remote island feel (and for its incredible diving reputation), the Gili Islands are how I picture the Caribbean to have been back in the 60's or 70's.  Even after all these years of backpackers and vacationers trampling through SE Asia, it still feels undiscovered … I almost feel like I am breaking a rule just by writing a public article on how awesome these islands are!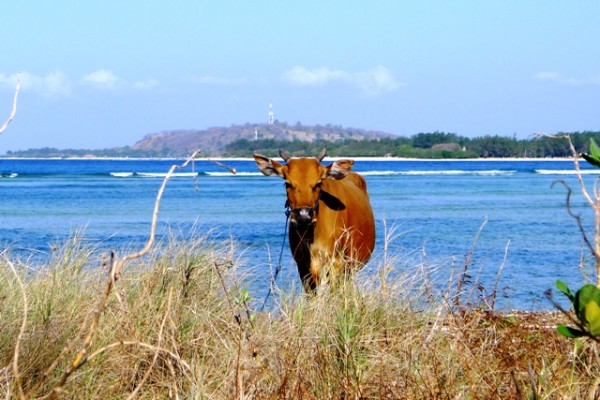 There are 3 Gili Islands: Gili Trawangan (also known as Gili T), Gili Air, and Gili Meno.  Gili T is known to be the party island and is the most densely populated.  On the contrary, Gili Meno is the perfect destination for honeymooners, as it is the smallest of the three islands and the most secluded by a long shot.
Putting our Goldilocks hats on, we felt that Gili Air would be juuuust right… And it was also the island that Caroline and Josh recommended we stay on, so it obviously was amazing!
We stayed on Gili Air for 3 weeks and got sucked into its relaxed atmosphere.  The locals were unbelievably friendly, and unlike Bali where there seems to be a great division between the local community and the tourists, we felt like the two communities blended together very well in the Gili's.
The snorkeling and diving were also out of this world on Gili Air (and around Trawangan and Meno).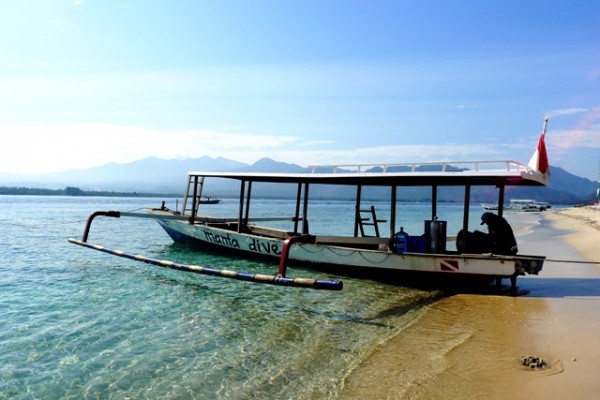 To walk around the island by beach took roughly 1+ hours, and you literally could pick any spot on the beach and were guaranteed to have phenomenal snorkeling and scuba conditions right off the shore.
In addition to the great atmosphere and scuba scene, Gili Air had cheap and wonderful food.  Most of the beachfront restaurants were owned by resorts and catered to Westerners, but the village of Gili Air had some great local hotspots… Well, so I am told.  We actually only went to one place during our entire stay on Gili Air.  This heavenly place was known as Warung Muslim.
Also recommended to us by Caroline and Josh (next time we see them, I am giving them both a BIG hug!), Warung Muslim is basically a roadside shack run by 2 local women that serve up delicious mixed rice (Nasi) and noddle (Mie) dishes.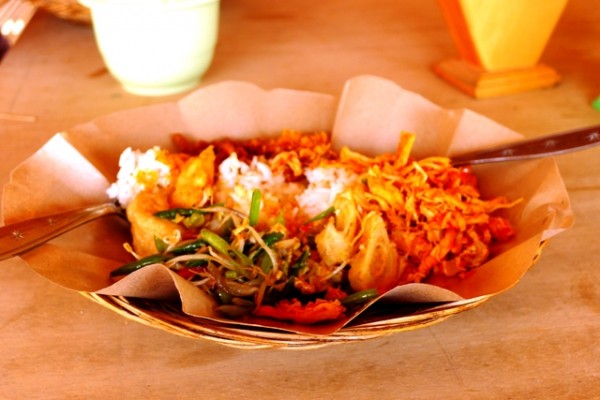 Just by first sight, Warung Muslim is NEVER a place I would eat at if it weren't for Caroline and Josh's stellar reviews.  Upon entering the shack, the food looks like it has been left out for hours/days and everything from floor to ceiling is SWARMING with flies.  This place would be condemned in about 2 seconds back in the U.S.
But I kid you not, the Nasi Ayam (chicken mixed rice) dish was phenomenal.  Spicy shredded chicken, tofu, sautéed veggies, tempeh strips, roasted peanuts, toasted coconut, and fried corn… This dish was one giant food orgy in your mouth.  It was so delicious, nutritious, and ONLY $1 PER PLATE!!
After all is said and done, are you surprised that Tony and I ate there almost twice daily for three weeks straight?
Where To Stay:
Tony and I stayed at Island View Bungalows while on Gili Air and loved it.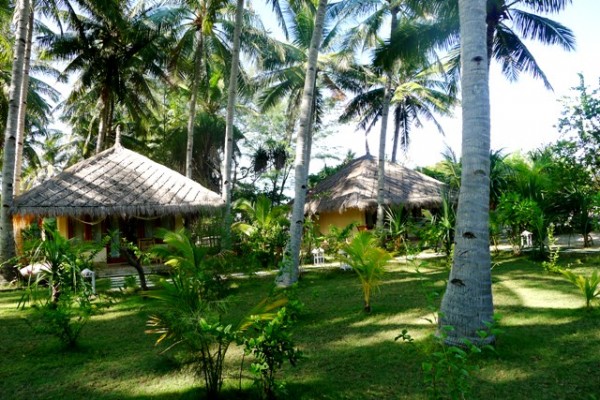 The resort is on the west side of the island in a very remote area. It boasted fabulous views of the sunset and was right on the beach. Island View is unbelievably quiet and peaceful and is the perfect place for honeymooners looking to escape it all.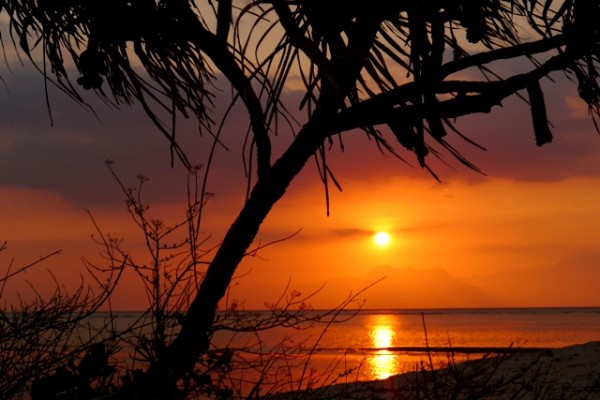 The walk into town (restaurants, dive shops, etc.) was 15 minutes by beach (and scorching hot), but it was a great daily workout for us two beach bums!
The staff at Island View was unbelievably friendly.  On occasion, they also served up a beach-side BBQ (complete with a bonfire to entertain my pyro husband) for dinner.  It was also pure heaven waking up every morning and having a delicious breakfast served to us right on the beach.  Omelets, pancakes, and sand on my feet… Life was good on Gili Air!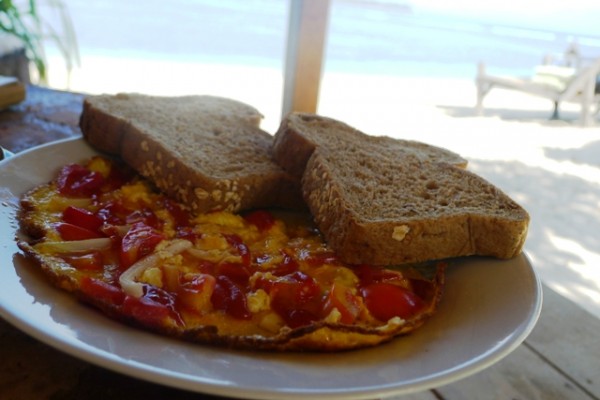 Warning: Internet on the island sucks.  Plain and simple.  In fact, during our time there, the satellite providing all the WiFi on the island was down.  Luckily, the beachfront restaurant, Scallywags, had their own WiFi that we ended up using every day… But even that was spotty at best.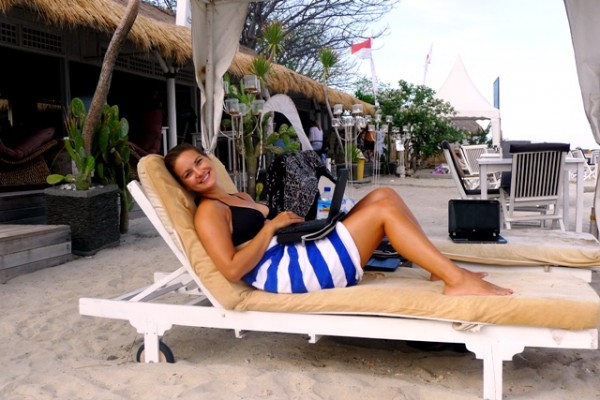 Sidenote: If you ever need to venture down to Scallywags for internet, don't forget to try their fresh juices (The Pineapple, Guava, Mint was Tony's favorite), their homemade cheeseburger, and their delicious homemade (and warm) chocolate brownie!
After a month in Indonesia, I was tan, relaxed, and on cloud nine.  It was such a perfect getaway and I am so glad we took a leap of faith when Caroline and Josh told us to go… Now it's your turn!
Special thanks to the Echoland Resort & Island View Bungalows for partially sponsoring our stays with them. As always, all opinions are our own.
Disclaimer: We have since learned that getting a Visa for Vietnam was definitely doable for us…  Note to self: Always QA your husband's travel planning "research"! 
A Vietnam visa can be applied for online from anywhere in the world and you should be able to pick it up at the airport in Vietnam within 3 days of applying… check out these links for easy applications: http://vietnam.visahq.com/ OR http://www.myvietnamvisa.com/how-it-works.html.
About Meg
Exhausted from traveling every week as a Business Management Consultant early in my career, I took a year off in 2012 to travel at my own pace. I am a high-energy girl that loves being active, eating food, drinking wine, and exploring the world with my partner-in-crime (and husband), Tony! I now reside in Portland, Oregon and continue to write about travel, food, wine, and the awesome adventures we have in the Pacific NW!