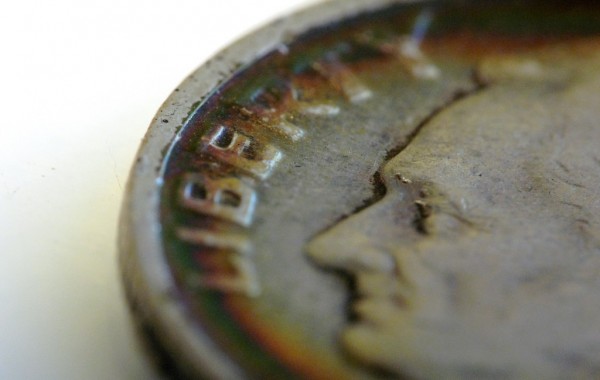 Budgets are boring. Projections are always wrong.
Both of these statements are true, but ignore the bigger picture.
Without a proper budget, you will spend too much on the little things and have no money left for food or a bed. Without a projection, you will have no idea how much to save for your travels and if you're budget is on track.
For the pair of us, we projected that paying for insurance, food, places to sleep, activities, transportation, and whatever else might come our way would cost us $100 per day.
Many people do not include insurance in their travel budget, but it comprises a large portion of our total expenses and it felt like cheating to ignore it here. Due to my pre-existing condition, it is a MUST that I maintain coverage in the US and COBRA is expensive! Hopefully for you, this part of your budget will be much less!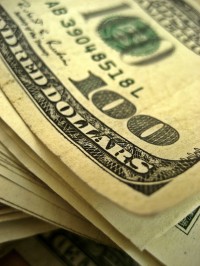 We felt that some countries might cost more, some might cost less, but on average, $100 per day seemed like a great target.
We are proud to say that after 8 months, we our still working our way through our travel savings and are on track to hit our average.
So let me share what we have learned about the costs of travel and then show you exactly how our expenses break down.
6 Money Lessons Learned From Travel
HOW you travel is much more important than WHERE you travel.
Apartment rentals are often cheaper for couples than hostels.
Traveling during the shoulders of the off-season (right before or after high season) gets you a first class experience for second class prices.
Staying longer in one place makes overall expenses less, as your transportation costs are fewer and spread out over a larger period of time.
Having access to a kitchen can save BIG BUCKS on your dining expenses.
In exchange for work, many people will give you food and shelter for free (we have house-sat and done WWOOFing so far).
So how did we learn these lessons? We kept a ridiculous record of every penny spent and I breakdown some of the details below.
The Breakdown

Yes. You are reading that right. We spent 23 more days in Europe and averaged almost $50 less per day in expenses.
Don't people say that Europe is way more expensive than South America?
Not us… not now!
Take a look at our top 5 expenses in South America vs Europe and the percentage they each comprised of our costs:

There were two big activities in South America that we just couldn't ignore. We knew we  just had to hike the Inca Trail to reach Machu Picchu and that we wanted to do the 3-day tour of the Bolivian Salt Flats. These two tours make up almost all of our expenses in this category.
While we did fewer tours in Europe (which helped with the costs), we also had a couple other things working in our favor:
Used Meg's frequent flyer miles to book two tickets from Lima, Peru to Paris, France.
Attended Travel Blogger's Unite conference in Italy that allowed us to attend expensive tours as part of a sponsored trip.
Tried WWOOFing in Italy and did not have to pay for food or lodging for 2 weeks.
Spent one week traveling with my parents in Turkey with them paying for much of our experience.
Now before you say: "Oh I get it now… the difference in prices is that you didn't have to pay for an expensive flight to Europe like you did to South America." Let me point out that if we allocate our South American flight to our European expenses (a little more than $1,500), we still spent $30 less per day in Europe.
The true difference that actually drove the reduction in our costs was that we changed the way we traveled.
Instead of bouncing around between different cities every few days, we took it much slower in Europe. Over a month was spent in Croatia and another month in Berlin. By living like a local, we drastically reduced our costs.
First, check out our expenses in South America by country: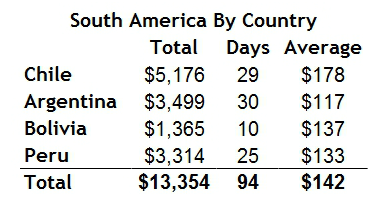 Yikes! Way over our $100 per day budget…
Now take a look at what we spent in each European country: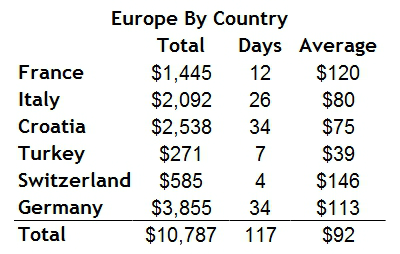 If you notice, we spent 60 days in Croatia and Italy and averaged less than $80 per day. That should not be possible based on how expensive everyone says Europe is!
In Croatia, we stayed in a tiny one-bed apartment during the off-season (May) for only $23 per night while buying groceries and making our own dinners. It was the perfect place for us to recharge our batteries and save a little money in the process.
However, if you are paying extra close attention, you will notice that we are still over our $100 per day budget – even with Europe averaging less than $100 per day.
But fear not!
Southeast Asia is ridiculously cheap and we are reducing costs even further by house-sitting for a month in Thailand. In addition, we will be spending over half the month of December with Meg's parents in Hawaii, which should help us squeak by on our last few remaining dollars.
Fingers crossed!
Your Turn: Do you keep track of your expenses when traveling? How do you do it? Can anyone top our 35 category spreadsheet?
About Tony
Quit his job to try actually following his dreams for once... and is currently loving it. He is working hard to to make this life-style permanent by writing about his adventures and brainstorming money making opportunities with his partner-in-crime, Meg.