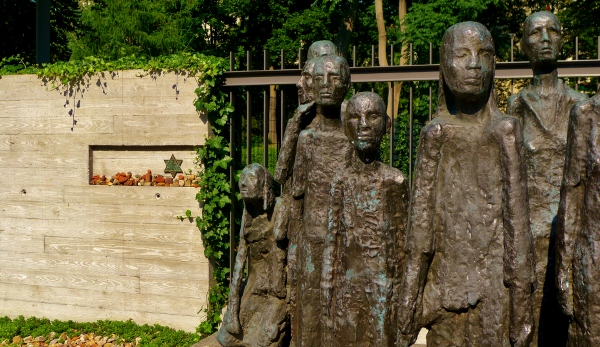 Berlin is a city dominated by history. Story upon story of shared struggles, pain, shame, and triumph.
So packed with history in fact, that much is hidden in the shadows of larger events.
The history of Jewish Berlin resides in these shadows. Obscured by the tragedy of World War II and the Holocaust, the story of Berlin's Jewish population actually starts in (or can be traced back to) the 13th century.
This is where Julian, a resident of Berlin briefly in his childhood (but who considers himself a Southern Californian), entered the picture. He was our docent from Context Travel and the man in charge of shining a light on this aspect of Berlin's history. Passionate about Memorial Theory, he focused our walking seminar on how Berlin has chosen to remember significant events related to Jewish history.
Over the entire 2.5 hours, Julian gave detailed explanations about the history of each place we visited. Most impressively, he was able to provide answers to an absurd degree of detail no matter how random the questions.
But that is what Context Travel prides itself in – incredible docents that come from a network of scholars and specialists from varied disciplines who do not just know the highlights, but are very well versed in all aspects of a particular seminars history. Every docent will flavor a seminar with aspects from their specialty and passions, which makes for a much richer experience as a tourist. The company even prefers the name "walking seminar" as opposed to tour, since they aim to provide "narrative participatory experiences."
Our Tour With Context Travel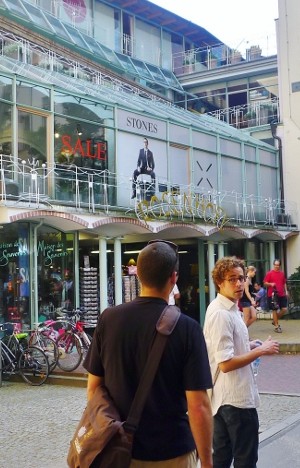 Our walking seminar focused on Berlin's Jewish community and their relationship with Berlin throughout the centuries. Numerous stops represented events from different eras and nothing could encapsulate this idea better than our first stop, the so-called "Old Synagogue."
Established in 1714, the "Old Synagogue" was the first synagogue built in the city and it is not as "old" as I would have thought, considering there is evidence of Jews in Berlin dating back to the 13th century.
However, due to centuries of tension between the Jewish population and Berliners, it was not until the early 18th century when tentative steps towards religious tolerance were taken. But the history of Jews in Berlin is one of repeated ebb and flow. Either pushed out beyond the edge of society or barely welcomed within the borders, a step towards tolerance was almost always followed by a reactionary lurch in the opposite direction.
All that now remains of the "Old Synagogue" is the outline of the foundation. It was vandalized by the Nazi's in 1938 as part of the infamous "Night Of Broken Glass," and then used as a post office in World War II that was ultimately destroyed by Allied bombing.
Immediately next to the foundation of the "Old Synagogue" is a memorial to one of the few successful local uprisings during Nazi rule. It had been the sight of a prison where 1,800 Jewish men, married to non-Jewish German women, were taken and held in 1943. The wives of these men, along with sympathetic locals, rose up to protest this incarceration and eventually forced the government to release the captives.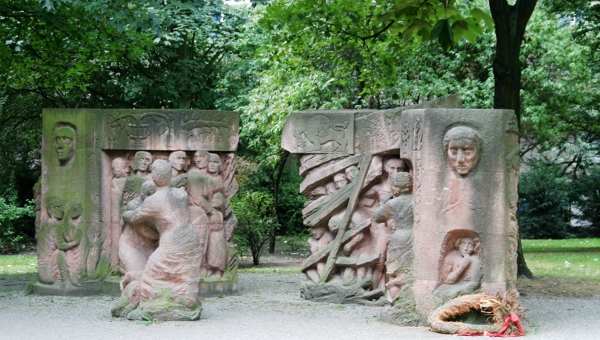 Like everything relating to Jewish history in Berlin and World War II, the monument for this successful protest portrays the many layers of emotion that this event triggers. There is the main sculpture depicting the imprisoned men and their wives outside the gates protesting, but it also includes a lone sculpted man, 40 meters away, passively sitting and watching. A silent reminder about the danger of inaction.
While our day started at the "Old Synagogue," it took us all over the old Jewish neighborhood. Our docent, Julian, never stopped sharing his knowledge with us and always took care to frame every singular event into a greater historical context. Something I truly appreciated since without this, many tours can become just simple sightseeing. He even gave us refuge from the blistering heat by taking a quick break in a delicious local ice cream shop… if you know us at all you know that this is the most direct route to our hearts!
Context Travel is in 20 cities and definitely a great way to learn about a place you're visiting (or even a place you live)! They give walking seminars in Boston and despite the numerous generic tours we have taken there in the past, I am definitely going to try one with Context when we get home.
Context Travel sponsored our walking seminar while in Berlin, but all opinions are our own and convey are true thoughts.