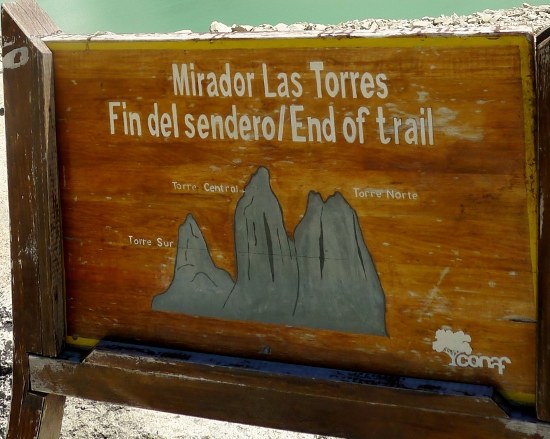 Meg enthusiastically mocks me everytime I say it, but since getting off of the plane in Punta Arenas, Chile, I can't help but be overwhelmed by the remoteness of Patagonia… We are at the very end of the world!
There, I said it. Maybe now I can try and get past it.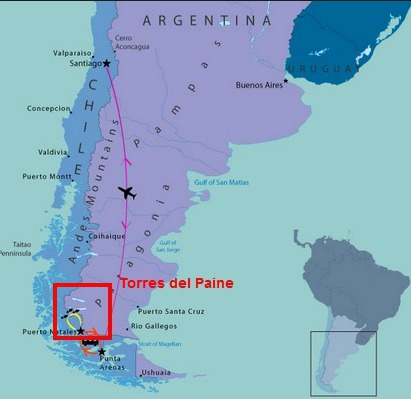 Yeah… it's wayyyy down there. And yes, that is Antarctica just below us.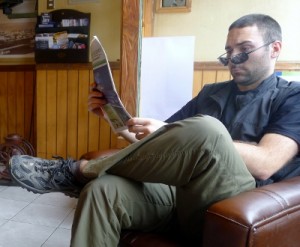 Catching up on the news
After a brief coffee break in Punta Arenas after we landed, we hitched a ride on the last bus to Puerto Natales, which was going to be our launching point into Torres del Paine.
You might have recently heard of about Torres del Paine as a good chunk was burned in a savage forest fire only 3 weeks ago, with many parts still closed to the public. Newsflash: Don't burn your TP when in a forest… as an Israeli tourist just learned.
While fairly new to me as a must-see destination, it quickly grabbed my imagination as the land that time forgot. For hundreds of miles in any direction, it is mountains, rivers, and shimmering blue lakes.
Torres del Paine – The Towers Trek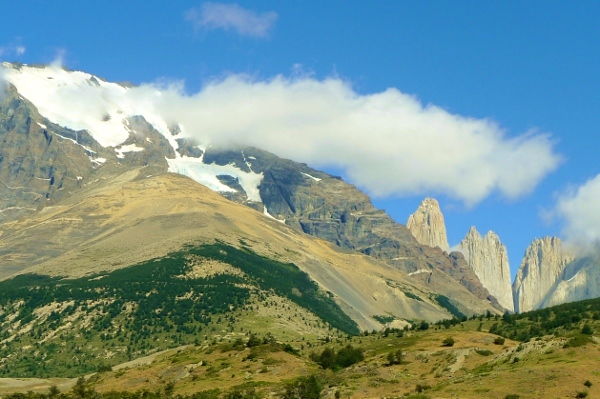 Those three peaks to the right are just 5 hours of trekking away….
With the high expense of getting to the park and our aversion to renting camping gear to stay overnight, we thought it best to get the most bang for our buck and do the route to Las Torres (AKA The Towers) as a day hike.
Sidenote: Make sure to bring enough cash as just a day hike will set you back $30 for park entrance, $24 for round trip bus tickets to the park, and $10 of bus rides once in the park… After shedding all of that cash before the hike even began, Las Torres had a lot of pressure to be Fan-freaking-tastic.
Packing too light?
With just daypacks strapped to our back (and yes for those of you paying close attention… that daypack also does double duty and carries everything Meg owns for the next year) with some granola bars, bread, and water, we were packed super light. Many others on the trail were loaded with enough gear to supply Lewis and Clark for a year long expedition! We were either incredibly well-prepared and old pros at trekking or severely screwed from lack or resources… definitely no in-between.
The trail to Las Torres is labelled moderate to difficult, but trust me, after the first hour and a half of straight uphill switchbacks I definitely felt comfortable calling it difficult.
After that first hour and half though, the trail levelled off somewhat… which is where it became even more sinister.
Following a river through a valley, the trail snaked up and then down the side of the bordering mountain so that as you finally reached the top of one hill, you faced another 200 feet down before starting the climb up again.
While our feet were already aching, the beauty of what surrounded us eased the pain… slightly.
After another hour and a half of climbing up one hill only to come down another, we finally reached a campsite.
Aha! Here is the reason why all of the other hikers were packed with ridiculous amounts of gear. Many hikers in Torres del Paine pack tents, sleeping bags, and all sorts of camping gear to make a multi-day adventure out of their trek.
Not this guy though…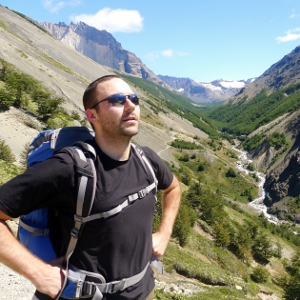 Is it a bird? Is it a plane?
I barely survived the day carrying a day bag. Good thing Meg is already married to me because being this pathetic would surely turn a girlfriend into an ex-girlfriend…
Once past the campground, we finally took advantage of the fresh springwater (everyone said it was safe, Mom… I swear!) and refilled our bottles. Nothing tastes sweeter than fresh cold spring water while on a 9 mile trek.
45 minutes after refilling our waters we finally came to a sign saying only 45 more minutes to the top of the trek. Only 45 more minutes!
Worst.
45 minutes.
Ever.
The trail was pure gravel and straight uphill with switchbacks that only went 10 feet ahead before switching back. With no trees, our fellow trekkers could also be seen in the distance, laboring worse then we were and still not close to the top…
There was nothing to do though at this point but climb… and climb we did.
As excruciating as this last part was, it also made reaching the top that much sweeter. Also, since we had barely done any planning up to this point, we had no idea what we would even be seeing at the end of this mammoth hike.
And wow… were we ever surprised.
Above the tree line, past the gravel switchback trails, lies a beautiful turquoise pond fenced by the three towers (South, Central, and North).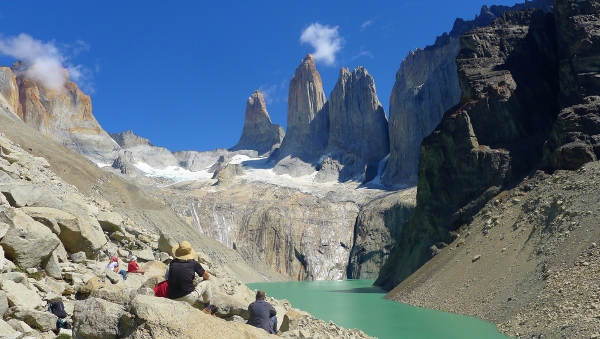 Definitely worth it…
I have never been more surprised than when witnessing this truly astonishing creation of mother nature.  Other trekkers were mainly in silence as they contemplated the true majesty of this place, along with the not so small fact that they would have to reverse the arduous climb that brought them here.
While the trek back down was just as brutal as the trek up, the fact that we got to see such beauty made us oddly at peace. It felt as if we had started the day with no expectations, only to have them slowly increase as the climb became ridiculously tough, and finally to have whatever inflated expectations we had be surpassed by the actual site of the towers.
It was all worth it.
Thank god.
Time to drink