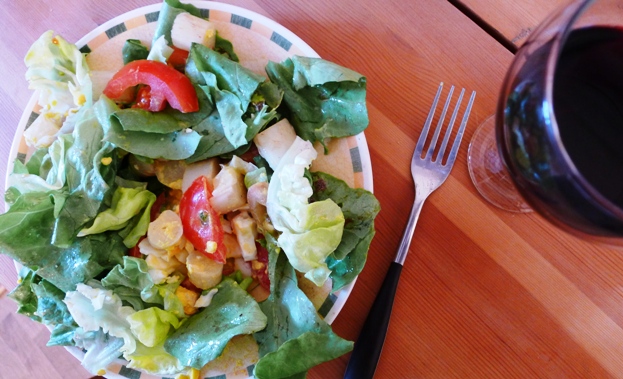 As part of our France excursion, Tony and I wanted to spend a week living like the French out in the beautiful countryside.  We decided to go all out and stay in an adorable cottage in Normandy literally out in the middle of nowhere.
Going into the week, I looked at this trip to rural France as a mini retreat, or spa week.  I had high expectations for getting 10 hours of sleep each night, taking long runs on the winding country roads, and (most importantly) cooking every meal and eating HEALTHY!
In the countryside in France, fresh fruits and veggies are readily at your fingertips at all times – Hence why I was super pumped for our Normandy getaway.
On our first day in Normandy, the owner of our cottage greeted us with a bowl of eggs straight from his very own chickens and a luscious, freshly-picked head of lettuce from his garden…
… I am in love!
My mind immediately started brainstorming salad options where I could utilize these ingredients. Luckily, the nearby town was hosting a weekly farmers market full of organic and local meats, cheeses, veggies, fruits, and breads.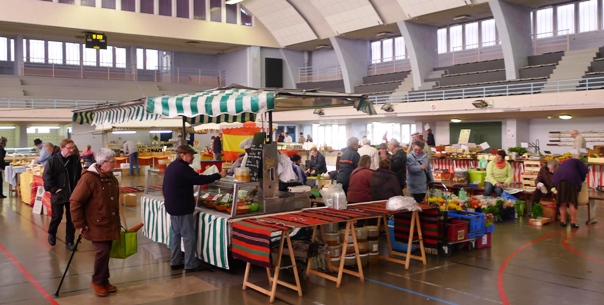 With the thoughts of a bright salad on my mind, we perused the market and bought some white asparagus (which neither of us has ever eaten) and ruby red tomatoes to accompany our lettuce and eggs.
Once we arrived back home, I immediately started whipping up my dream salad…
… And let's just say that this was THE BEST DARN SALAD I HAVE EVER HAD.
Fact.
Granted, all the ingredients that we used to make this salad were ridiculously fresh… but I like to also think that the combo of tomato, white asparagus, and egg is pretty genius – and healthy!
To make this epic salad, I highly recommend you use the freshest ingredients you can find to enhance the overall experience. And like all salads, feel free to play around and try different ingredients to find your own winning salad combo… Just be sure to share them with me later!
Here are the ingredients and instructions to my exquisite Normandy salad:
Ingredients (makes 2 salads):
One head of lettuce
6 white asparagus spears
4 small to medium tomatoes
Balsamic vinaigrette (use as desired)
Oil (use as desired)
Directions:
Cook the eggs using the following fool proof steps for cooking hard-boiled eggs.
Bring a pot of water to boil and add in the asparagus spears. Let boil for roughly 5 minutes (depending on thickness of asparagus).  Test desired tenderness of asparagus with fork  and drain water once complete.  Let cook asparagus cool.
Wash lettuce and rip leaves to break apart into bite sized pieces.  Add to plates.
Slice the tomato and asparagus (cut asparagus into 1/2 inch thick cubes) and add on top of the bed of lettuce.
Peel the cooled hard-boiled eggs.  Slice eggs and add on top of the bed of lettuce.
Drizzle balsamic vinaigrette and oil over the salad as desired.
Mix it all together and enjoy!
About Meg
Exhausted from traveling every week as a Business Management Consultant early in my career, I took a year off in 2012 to travel at my own pace. I am a high-energy girl that loves being active, eating food, drinking wine, and exploring the world with my partner-in-crime (and husband), Tony! I now reside in Portland, Oregon and continue to write about travel, food, wine, and the awesome adventures we have in the Pacific NW!